Freedom from Want, 2018. Photographs by Hank Willis Thomas and Emily Shur in collaboration with Wyatt Gallery and Eric Gottesman. Courtesy of For Freedoms.
Assembly Curated presents the reimagining of Norman Rockwell's iconic Four Freedoms by the artist collective For Freedoms, in collaboration with Hank Willis Thomas and Emily Shur, alongside Eric Gottesman and Wyatt Gallery. In 1943, Rockwell created four paintings based on Franklin D. Roosevelt's four fundamental human freedoms: freedom of speech, freedom from fear, freedom from want, and freedom of worship. These paintings toured the country on exhibition, became icons of American values, and were also used as propaganda to fund WWII. In 2018, For Freedoms gathered friends, artists, activists, and community organizers to reimagine these freedoms today through a photographic lens, thus creating new icons that highlight and embrace America's diversity and multitude of perspectives. These images have an agenda, too: to catalyze people who have felt left out to contribute their own voice to the political process; to stand for something, to speak up, or to just feel empowered to participate.
This collection features the 16 most iconic images from the series, some of which are sold out in print edition. Each NFT will also unlock access to special For Freedoms events as part of their ongoing Another Justice initiative, and For Freedoms will donate twenty percent of their proceeds towards the upcoming launch of The Center for Justice at UCLA. The Four Freedoms prints have been featured in exhibitions across the globe including the Museum of Fine Arts, Houston, Cornell Museum of Fine Arts at Rollins College, and the Hirshhorn Museum and Sculpture Garden, among others. Moreover, the photographs from this series are part of the Whitney Museum of American Art's collection, have been presented throughout the country on billboards, and on the magazine cover of Time.
For Freedoms is an artist collective that centers art and creativity as a catalyst for transformative connection and collective liberation. Founded in 2016 by a coalition of artists, academics and organizers, including Hank Willis Thomas, Eric Gottesman, Michelle Woo, and Wyatt Gallery, For Freedoms promotes infinite expansion through art, and is dedicated to awakening a culture of listening, healing, and justice. The collective spoke to Phillips about the scope and mission of the project, as well as how the images resonate across in a whole new representative context.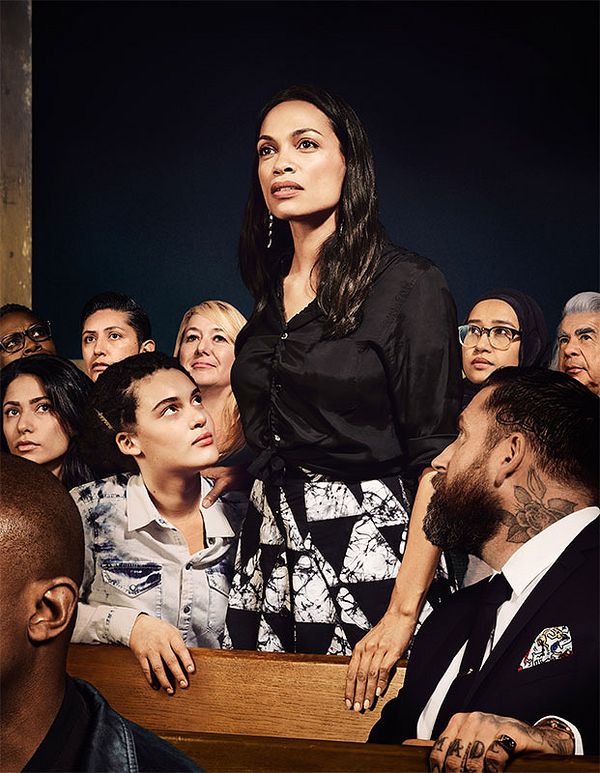 Freedom of Speech, 2018. Photographs by Hank Willis Thomas and Emily Shur in collaboration with Wyatt Gallery and Eric Gottesman. Courtesy of For Freedoms.
PHILLIPS: Tell us a bit about the background of the project and how the NFTs came to be.
HANK WILLIS THOMAS: Norman Rockwell is arguably the most important American illustrator of the twentieth century. He has in many ways helped to define America. However, many years later, we can look back at that time and recognize certain images and certain people who might not have felt included in Rockwell's interpretation of the great American dream. What we've done is invite people from various cultural, ethnic, and religious experiences to come together and paint a new picture of twenty-first century America.
WYATT GALLERY: Four years ago, led by Hank's vision, we organized friends, activists, artists, thought leaders, and community organizers in Los Angeles in order to co-create these images. The photo shoots took two long weekends and a powerful team of many talented people. These images could not be possible without all the participants and all of the photography production team lead by Emily Shur. These images later reached millions of people during the 50 State Initiative by For Freedoms in 2018, through publication in an array of forms — social media, magazine covers, billboards, and exhibitions. In 2022, the most prominent new medium is NFTs and the Metaverse. We feel it's important to contribute to this new space by having a presence and inserting art that sparks dialogue and civic action. We are curious to see how our work can have new forms of impact in the web3 space.
We also believe that everyone should have access to art, and we believe that NFTs are bridging the way for that to happen more easily. We also saw an opportunity to use proceeds of these images to help fund the launch of the Center For Justice organization at UCLA, which is part of our current campaign Another Justice: By Any Medium Necessary. We're grateful to partner with Assembly, who is one of the leaders and community builders in the photography NFT space.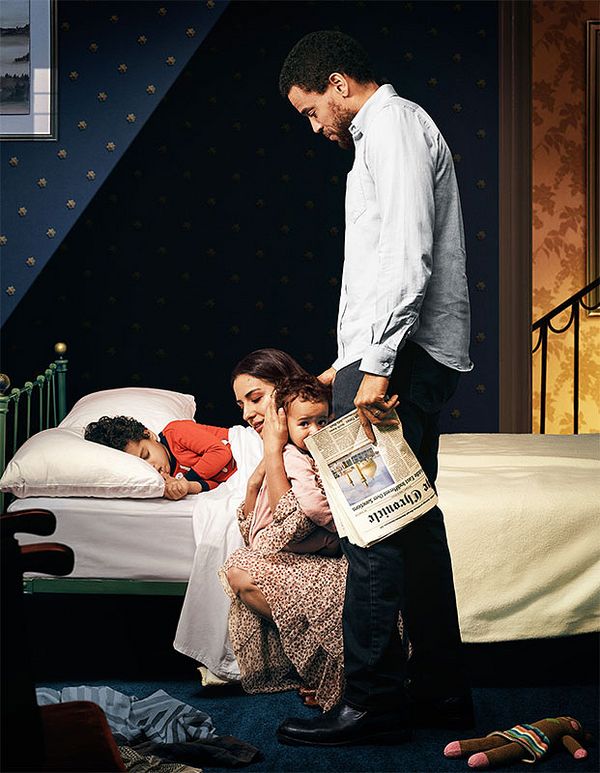 Freedom from Fear, 2018. Photographs by Hank Willis Thomas and Emily Shur in collaboration with Wyatt Gallery and Eric Gottesman. Courtesy of For Freedoms.
P: There's an uncanny element to the original Rockwell works — how did you go about recreating them in a more representational context?
EMILY SHUR: Our goal was to pay homage to the aesthetics of the original works; retaining the quality of light, color, and composition while creating a more updated version of what America looks like today. On a technical level, it proved to be quite challenging to recreate Rockwell's paintings as photographs. In order to achieve a similar perspective and depth of field, we had to employ a range of techniques that resulted in each individual image becoming an intricate composite of multiple elements. Regarding the multiplicity of identities represented, although we photographed hundreds of people to make up the entire series of 82 images, we recognize we likely did not scratch the surface of the full diversity of American life. We embraced the magical truth that in 50 years or so, someone will look at these works and see many types of identities — some we know now, and some we don't even know yet — that were left out.
P: What sorts of unconscious assumptions are addressed by the project?
ERIC GOTTESMAN: We want to ask a question about what it means to have an American identity. What we are recognizing in reframing these images is that there is no one image of what it means to be American. When these paintings were originally made, the US Government used Rockwell's originals to make posters to raise money for the war. These artworks were literal propaganda. By circulating four million sets of these images, the Office of War Information raised over $130 million (over $2.5 billion in today's dollars). Because they were so widely seen, they became iconic images of what it means to be American. We want to ask — who was left out of this original rendering of what it meant to be American? How do we live up to our words and to the aspirations that America set out? From the very founding of the United States, countless people were left out from what our country said it stood for. For instance, while Rockwell's images circulated in the Saturday Evening Post, the US government was in the process of putting 120,000 Japanese Americans in internment camps. How does this kind of cognitive dissonance take shape, even today? How does what our nation says it stands for conflict with creating a culture of Listening, Justice, Healing, and Awakening?
One assumption that we want to challenge is the idea that it would ever be possible to represent the full range of American identities — how could we ever fully trace this expansive, ever-evolving, rapidly changing definition of what it means to be American?
P: In the relationship between content and form, do you think the works take on a new dimension as NFTs?
WYATT GALLERY: Yes, I think these images will take on a new dimension as NFTs because they will be permanently on the blockchain, and can live in the Metaverse as well. It will be interesting to see what conversations they start. By minting these images onto the blockchain, we hope to raise questions of representation in the art world's newest town square. Knowing that the future of interaction is ever-increasingly web3 — and centralized in the Metaverse — we also want to raise questions about who is included, represented, or welcomed in the space of Web3.
The medium of NFTs support artists' livelihoods by making it easier to make sales and offer continued avenues for receiving royalties off the resale of their work. Even more, we're excited by the opportunity that art can become easier to collect for anyone through the blockchain.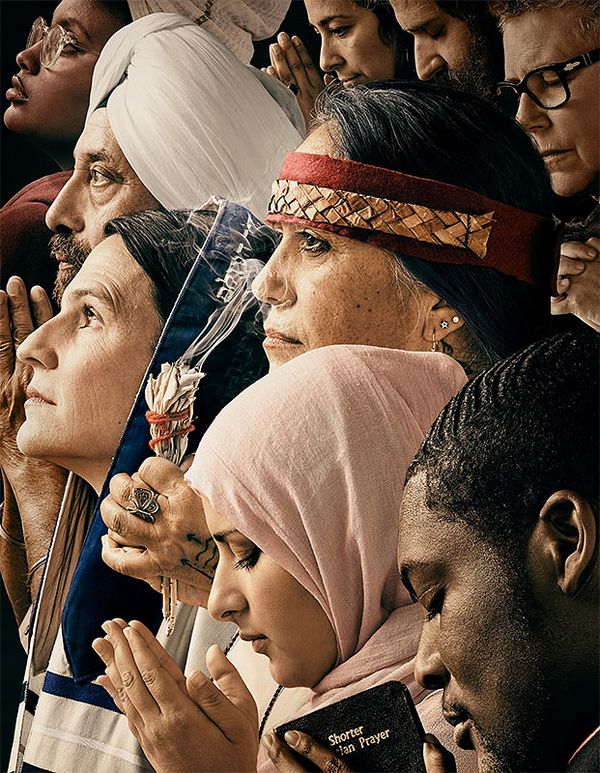 Freedom of Worship, 2018. Photographs by Hank Willis Thomas and Emily Shur in collaboration with Wyatt Gallery and Eric Gottesman. Courtesy of For Freedoms.
Discover More from Four Freedoms x Assembly x Another Justice >
---
Recommended Reading