- By Clara Kessi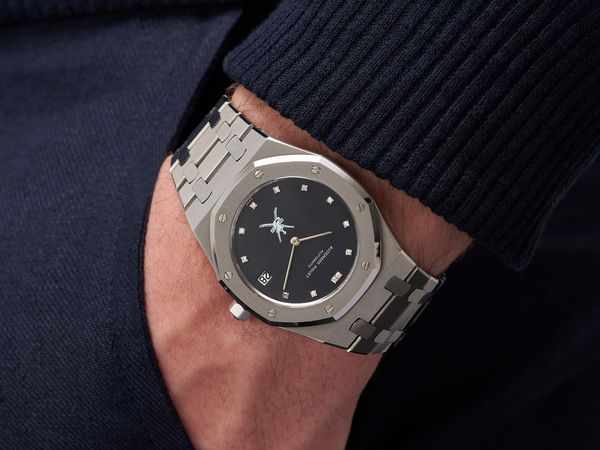 From a distance, the hundreds of small square pyramids play with the light, giving depth and gravitas to the dial. This subtle combination of geometrical shapes takes on its full meaning when viewed in relation to the Royal Oak's faceted case. Originally created by the prestigious Geneva dial-maker Stern, the first dials of the reference 5402ST were solemnly offered in bleu nuit. It would not be until 1977, when the Royal Oak became available in yellow gold, white gold and in a two-tone version, that its guilloche dial became available in an array of colours, sometimes changing the material of the monogram, the hour-markers and even replacing the latter with diamonds (such as lot 46 and 52). 1977 was the year when the Royal Oak opened Pandora's box, and to our delight, it would never stop surprising us with new stunning graphic combinations.
Audemars Piguet constantly reinvents the existing Royal Oak design, and has always provided interesting and unusual updates to complement its core design. From producing lavishly diamond-studded masterpieces, to striking Yves Klein blue tapisserie dials, Audemars Piguet continually innovates by providing creative and fresh twists to the iconic model.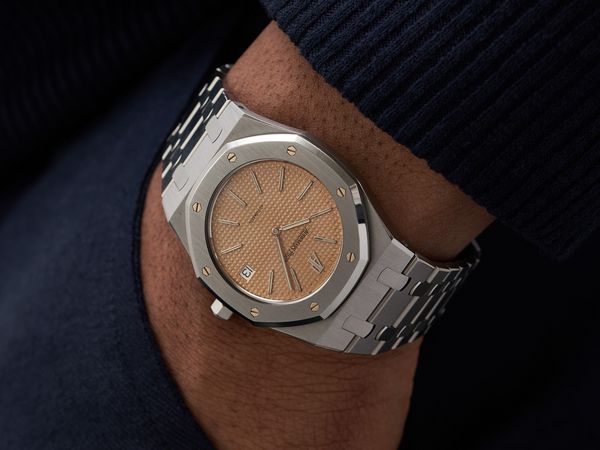 To celebrate its 20th anniversary in 1992, Audemars Piguet presented a new limited edition of nearly 1,000 pieces reference 14802 to pay tribute to the original "Jumbo" Royal Oak model. Of the 1,000 pieces released, 691 examples were produced in steel (with 2 dial variants), 286 in yellow gold (with 4 dial variants), along with 20 in platinum (with 2 dial variants). Although there is no record of how many were presented with special dials, reference 14802 was the first model to introduce salmon pink dials (lot 22) as well as hammered "Tuscany blue" iterations (lot 10). Extremely rare, incredibly attractive, and resplendent, these two variations have since become overwhelmingly desirable to collectors. The flawless, arresting, and dynamic "Tuscan" dial draws its name from the unique texture of the dial. When examined closely, one will find that no two dials are exactly alike. The fine and delicate ridges on the dial catch the light perfectly, and can change in tone pending on the angle. The reference 14802 in platinum is, thus far, the one and only time-only Royal Oak model to feature a Tuscan dial. All others are to be found on perpetual calendar timepieces (lot 24).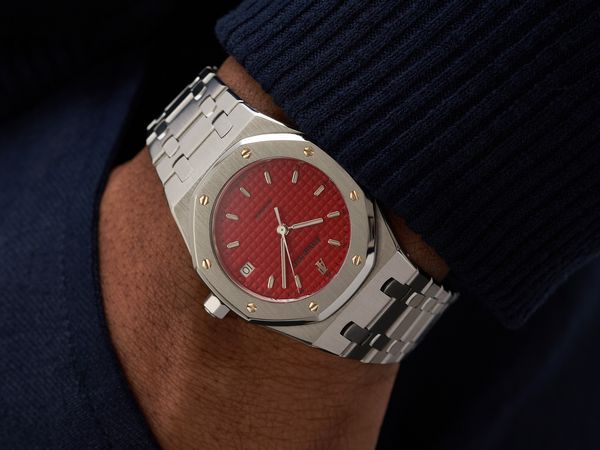 Displaying Audemars Piguet's innovative use of colour, and the firm's willingness to undertake daring design challenges, it was with the reference 14790, a smaller 36mm diameter Royal Oak, that Audemars Piguet started to really have fun and play with striking coloured dials.
Produced from 1995 until 2002, a limited number of the reference 14790 were fitted with dials in bright red, vivid blue and vibrant yellow. In lieu of the classic ivory or dark colours, these arresting coloured watches offered its wearer a brand new, carefree, modern look, incredibly eye catching and surprising. Phillips is proud to offer an example of each of these three colours: red (lot 12), blue (lot 81) and yellow (lot 49), making this a virtually unique occasion to be able to assemble the most bedazzling trinity of reference 14790.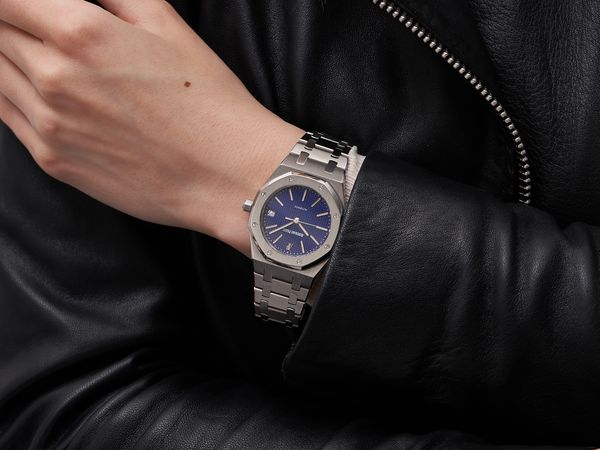 Amongst these experiments, one cannot fail to mention the infamous "Yves Klein" dial. Nicknamed after the celebrated French artist by the watch community, this intense, electric, deep blue dial resembles the eye-catching "International Klein Blue" (IKB) pigment developed by the painter. Yves Klein used to say: "Blue is the invisible becoming visible. Blue has no dimensions, it is beyond the dimensions of which other colours partake." His words couldn't have resonated better when one takes a closer look at an Yves Klein Royal Oak (lots 11, 51, 59, 81 and 86).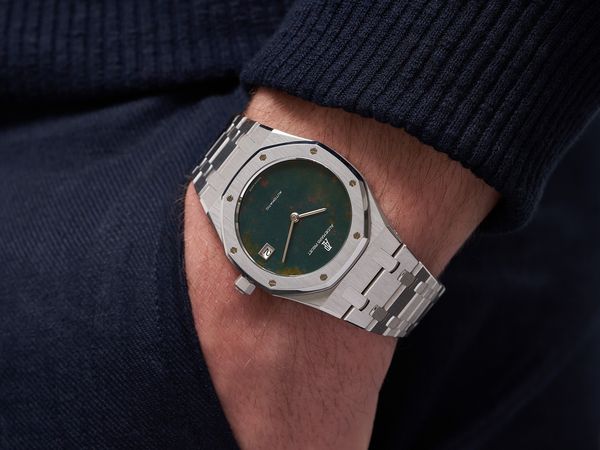 As the first expression of a high-end sports concept in watchmaking, the Royal Oak has never stopped shaking up its own codes, leaving an indelible mark on its times and giving birth to a line of more than 500 models; some more known than others and some relatively undiscovered. As such reference 14701, a variation of the reference 14700, was made for just over a year in the early 1990s, producing only 10 examples. We are pleased to present at auction, lot 38, a reference 14701BC in white gold with a captivating Jasper dial (also known as blood stone).
One of only 5 pieces made in white gold, the watch features an incredibly rare and charismatic hardstone dial that is defined by its forest green hue and subtle copper-colored flecks throughout. The material exults elegance while contrasting with the white gold case for a powerful aesthetic result. Extremely rare, Jasper also carries ancestral virtues, and has been used for centuries as a talisman for protection and a source of strength.
50 years on, over 500 Royal Oak models have been created, turning this iconoclast into a cultural icon within and beyond watchmaking. Its exceptional journey throughout the years demonstrates its unique ability to bring different worlds together.
At the crossroads of art, sport, innovation, craftsmanship and tradition, its dials are the eternal reminders of the ever-evolving design and creativity of the watchmakers of Le Brassus.