- By Alexandre Ghotbi
For those who are too young to remember, a casual/sports steel watch with a prestigious horological name just didn't exist until about 50 years ago. But the 70s were not only the age of bellbottoms, flower power, experimental music and drugs, but for all WIS the arrival of the luxury sports watch filled the horologically famished sportsters (or those wanting to look as good on the slopes in Gstaad or on their yacht in Monte-Carlo as with a bespoke suit) with joy and gratitude. It is in 1977 that Vacheron Constantin launched its first official sports watch, the sleek chic 222 evolving into the Overseas via the 333 and now since 2022 back to the 222 with the reboot of the original model in the Historiques collection.
Vacheron Constantin had been toying with the idea of a sporty luxury watch for some time but it was in 1977 that the brand officially launched a sleek and cool watch that would rapidly become an icon for the brand and later the inspirator of the Overseas. The 222 was launched in celebration of Vacheron Constantin's – you guessed it – 222nd anniversary.
Contrary to popular belief it is not Gerald Genta but young design maverick Jorg Hysek who is responsible for the 222's disruptive design. Documentation from the time states "Vacheron Constantin has introduced a functional exclusive model to commemorate its own age. This code name masks a heart of gold: a calibre 1121 movement, driven by its rotor in 21k gold, an extra thin self winding design with shock protection. Born from the heart of the matter noblest steel or purest gold, the 222 is entirely crafted by hand. Exclusive in form and function, it is designed for those who confront realities of today"
The said "realities" most probably being the difficulty of pronouncing Caipiriñha correctly while sunbathing on Copacabana beach with a gorgeous model in a swin suit …but I'm getting off topic…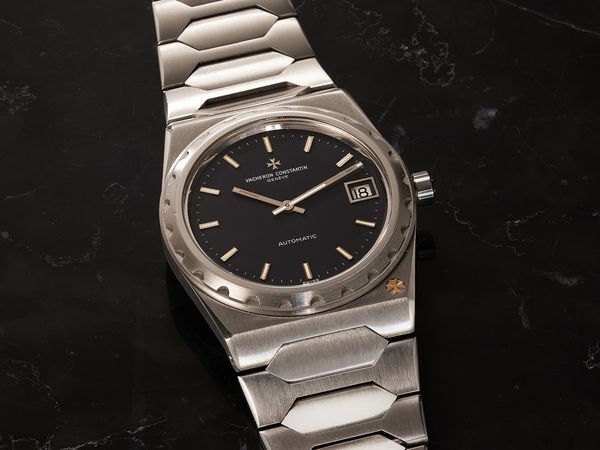 The 222 was produced in 3 variations, steel, gold/steel and all yellow gold and in 3 case sizes - 37mm (automatic cal. 1121, date without seconds), 34mm ( automatic cal. 1124, date and central seconds) and 25mm (quartz cal. 1009, without date or seconds). Its case was somewhat tonneau shaped with a clever one piece construction opened by a screwed in porthole type fluted bezel giving it a 120m water resistance. The 222 was available only with an integrated bracelet of the same metal as the case.
From a purely aesthetical point of view it seems that Hysek was inspired by the serrated bezel from the ref 4709 of 1951. The case furthermore included a protective antimagnetic screen, a rather unusual feature for the period.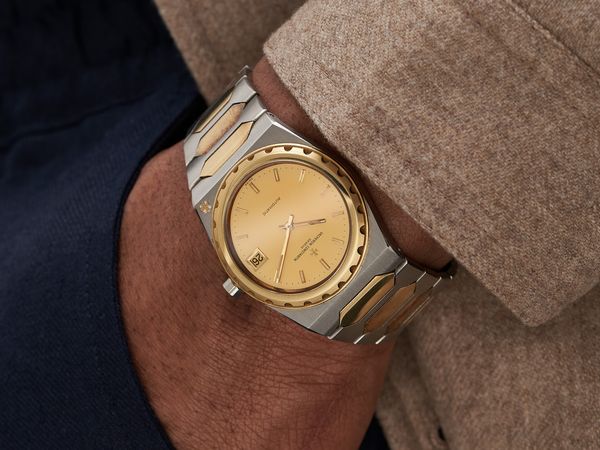 Movement wise the 222 housed what many consider as one of the best and most reliable slim automatic calibres: cal 1121 developed by Jaeger LeCoultre as the caliber 920 in 1967 for exclusive joint use by Audemars Piguet and Vacheron Constantin (Jaeger LeCoultre never used this movement itself). Interestingly the Big Three as Vacheron Constantin, Audemars Piguet and Patek Philippe are known used the same ebauche for their leisure/sports models launched in the 70s (respectively the Royal Oak, 222 and Nautilus). Patek Philippe switching to its cal 335 sometime in the mid 80s.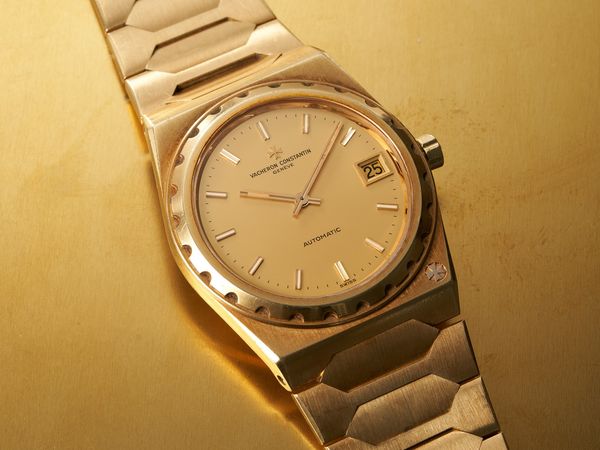 When it comes to watches it is said that if the model is a success in Italy then it will be a success elsewhere and the 222 became an instant hit with the design savvy Italian cognoscenti and still today is considered as a design classic among the Italian and European collectors.
Unfortunately the 222 was discontinued in 1984 after 7 short years and made in less than 500 pieces in steel, around 150 in yellow gold and less than 100 in steel/yellow gold.
The 222 is part of those icons who disappeared too soon, like Tupac, River Phoenix or Basquiat and this has created its myth. One is left wondering what would have happened had it never been discontinued.