- By Tiffany To
With 301 lots offered in the Geneva Watch Auction XIV, there are timepieces that may elude even the most seasoned collector. Chosen for their rarity and aesthetics, below are six standout timepieces – all with a low estimate under 15,000 CHF – that are completely different to each other in nature, yet deliver maximum impact and undoubtedly bring sheer horological and aesthetic pleasure to any beholder.
Lot 144: Habring² X Massena Lab - An elegant and attractive bronze wristwatch with glossy gilt sector dial, dead beat seconds and second dial number 1 of a limited edition of 50
CHF4,000.00 - 8,000.00
Providing immense value, the present watch is offered without reserve and is "as good as it gets" within its price range. Massena LAB is the brainchild of William Massena, an established collector and veteran within the watch industry. The present Erwin LAB1 was the very first collaboration that Massena LAB created with Habring². At the time of launch, the limited edition series sold out within days, proving its popularity in the collecting world. The movement is developed fully in house by Habring² and features a dead beat seconds mechanism. Housing the movement is a surprising polished bronze "Calatrava" style case closer in color to vintage yellow gold than to the matte bronze we are more used to seeing. The black glossy dial with gilt printing is an homage to the gorgeous sector dials found in some of the most beautiful watches in the 1930s.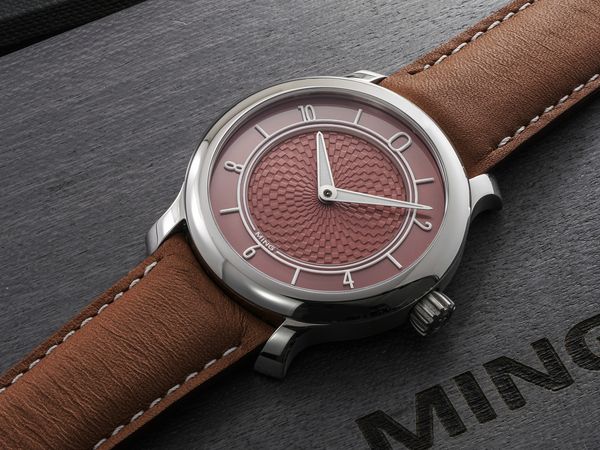 Lot 145: Ming - A very attractive stainless steel wristwatch with two tone copper dial
CHF 2,000.00 – 4,000.00
MING is an incredibly creative micro brand whose first watch was launched in 2017 and has ever since hit a chord with collectors. Making only a handful of watches within each model, each series is sold out within minutes of being released. The brand takes the name of one of its founders and core drivers: Ming Thein, a physicist by training and a world renown photographer. A long time watch collector he decided that he wanted to create his own brand and offer a watch impeccably made but at a very competitive price point. The 17.06 Copper is housed in a 38mm case featuring brushed and polished surfaces setting a perfect frame for the superb architecture of the dial with its central guilloché pattern and outer polished surface. The MING 17.06 Copper was awarded the Horological Revelation prize at the 2019 Edition of the Grand Prix d'Horlogerie de Genève.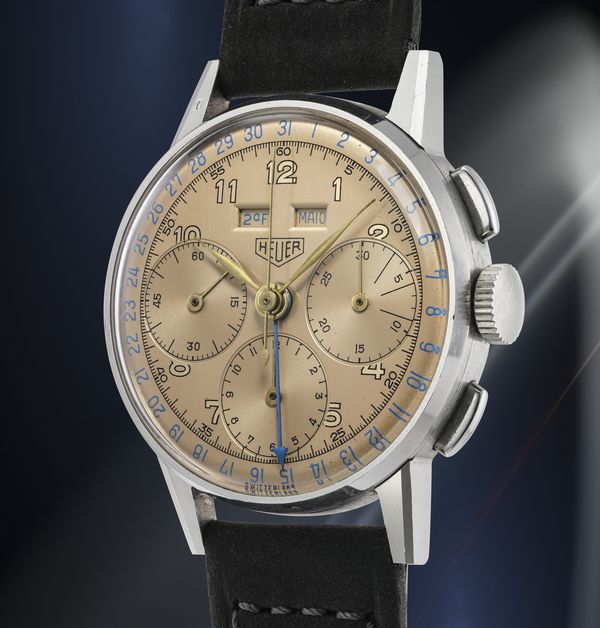 Lot 135: Heuer - An exceptionally well-preserved and most probably unpolished stainless steel triple calendar chronograph wristwatch with salmon dial and Portuguese hallmark
CHF5,000.00 - 10,000.00
The present triple calendar chronograph wristwatch by Heuer brings immense value to the wearer and is a sight to behold. Not only a complicated timepiece, it is distinguished by its extremely impressive and virtually unpolished condition - traits that are virtually unheard of today, particularly because most Heuer timepieces were originally purchased to be used as tool watches. The condition of this timepiece is incredible - the lugs are incredibly sharp with crisp beveling, and the contrasting polished and brushed finishes are undoubtedly original, and display how the timepiece originally left the factory. Furthermore, there is a crisp Portuguese import mark stamped on the upper left lug. It would have disappeared if the watch had been re-polished in any way. The stunning and incredibly rare salmon dial barely shows any sign of aging, and the case remains as crisp as it was the day it left the factory. Such gems hardly appear on the market, no less is such untouched and original condition.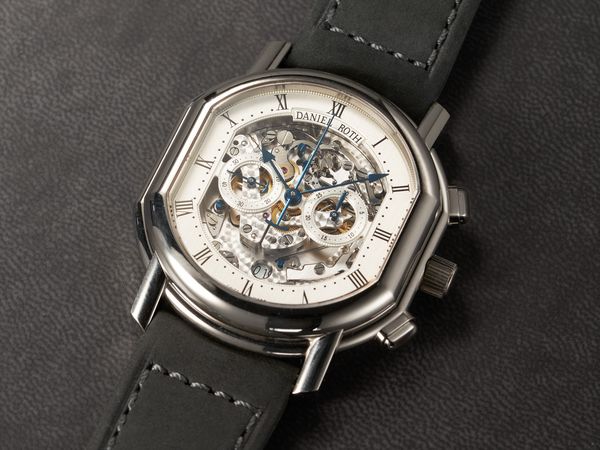 Lot 161: Daniel Roth - An attractive and mesmerizing white gold openwork chronograph wristwatch with box
CHF6,000.00 - 12,000.00
One of the most brilliant watchmakers of his generation, Daniel Roth first worked for Audemars Piguet in the late 1960s. It was in 1973 that he changed the face of modern horology when he joined Breguet, then a brand on the verge of bankruptcy that only made a handful of timepieces. Roth recreated wristwatches directly inspired by Abraham-Louis Breguet's pocket watches, producing some of the first modern perpetual calendar and tourbillon wristwatches. Roth left Breguet in 1987 to start his own brand and immediately created a personal design language, the most obvious being the unusual shape of his watches that later came to be defined as an ellipsocurvex. The present white gold chronograph uses Roth's signature case design but with an open worked movement offering a superb view on the intricacies of the workings of the chronograph. In fact the movement has been inversed as for the column wheel and chronographic functions to be visible on the dial side rather than the caseback. The present Daniel Roth is rare, beautiful and has a pinch of nostalgia for a time when horology was reinventing itself.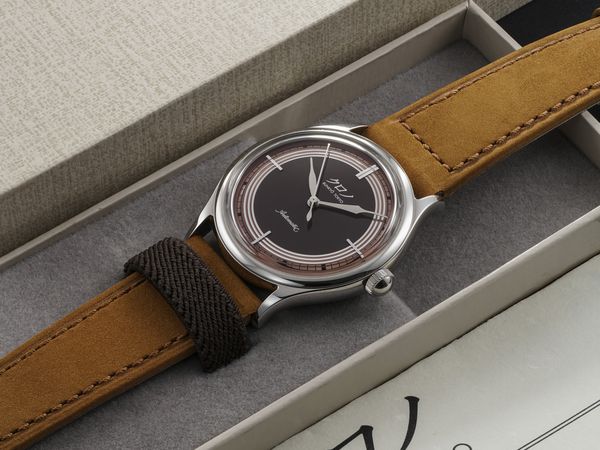 Lot 203: Kurono Tokyo by Hajime Asaoka - A very attractive stainless steel wristwatch with two tone dial, warranty and presentation box, numbered 31 of a limited edition of 50 pieces
CHF2,000.00 - 4,000.00
Hajime Asaoka is a designer turned self-taught independent watchmaker, who has been surprising the watch world with his incredible fully hand made mechanical timepieces produced out of his workshops in Tokyo. To offer pieces bearing his design ethos, quality and attention to details at more affordable prices, Asaoka launched Kurono Tokyo in 2019. Asaoka-san's new creations immediately found a cult like following with each new collection being sold out within minutes of being announced. The present "Reiwa" series with its attractive two-tone chocolate and copper dial was launched in 2019 in a limited edition of 50 pieces. The name refers to the current era of Japan's official calendar: The Reiwa era began on May 1, 2019 as Naruhito ascended the throne as Emperor of Japan. So 2019 is known as "Reiwa 1" in the calendar. Reiwa also translates to "Beautiful Harmony" and according to Asaoka this is reflected in the design with its complex two-part dial that provides a glint of metallic sophistication at the periphery - offset by the serenity of a perfect solid-colored center. The dial and caseback are signed Bunkyō Tokyo - referring to the area in Tokyo where Asaoka's design studio is located. The present Reiwa was sold out within 6 minutes of being launched and is offered with its full set of accessories and in almost unworn condition.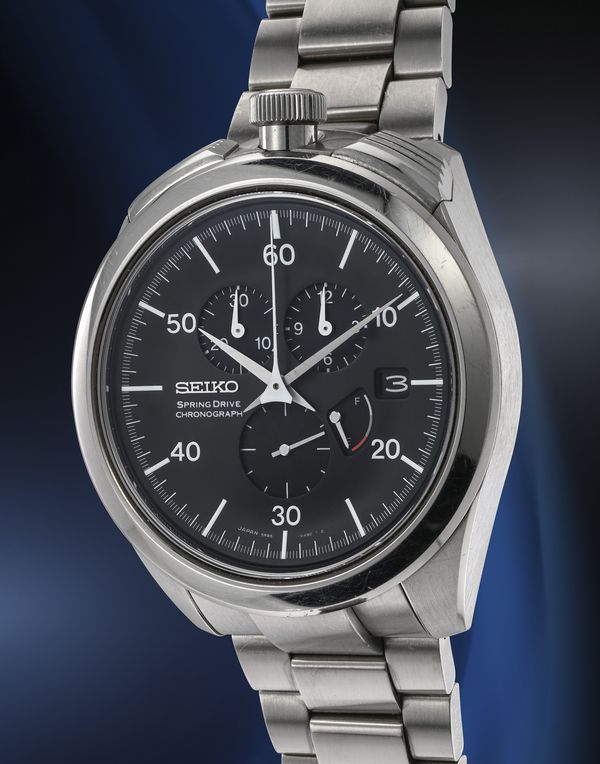 Lot 254: Seiko Izul - A highly rare titanium dual time chronograph wristwatch with power reserve and spring drive
CHF4,000.00 - 8,000.00
The Izul is most likely one of the coolest watches you never heard about – so rare is this timepiece, that it is to the best of our knowledge the first time that the model appears on the auction market and is not an opportunity to be missed.
Made exclusively for the Japanese market for a few years between 2007 and 2009, the line was inspired by olympic chronographs and immediately impresses with its 47mm titanium case and usual crown/pushers positioning at 12 o'clock. It actually features two case constructions: beyond the present one, a second one which allows for the dial to be rotated upside-down. The "Izul" brand joined Credor, Grand Seiko and Galante as the top line of the Seiko production, before being quickly discontinued due to the lukewarm reception it received from the Japanese market, most likely due to its size and unusual looks which proved unsuccessful in the country. This explains not only its rarity, but also the fact that the model is mostly unknown even by long-time collectors: a true hidden gem of watch collecting. Izul watches are powered by the spring drive calibre 5R85 without GMT function - a modification only seen in this watch. Incorporating a groundbreaking movement, impressive looks, and an incredible level of rarity, the present piece will satisfy the most demanding collectors of uncommon timepieces.