Detail from David Hockney A Rake's Progress: 14 plates, 1963
Editions Alecto was at the forefront of publishing Contemporary Editions in Britain throughout the 1960s and '70s. Founded in Cambridge by undergraduate students, the company set up shop in London in 1962 and later moved into their studios at 27 Kelso Place by the mid-1960s.Their radical approach to the distribution of Editions helped launch the careers of many seminal British artists, including Patrick Caulfield, Richard Hamilton, Allen Jones, Gillian Ayres and Eduardo Paolozzi among many others.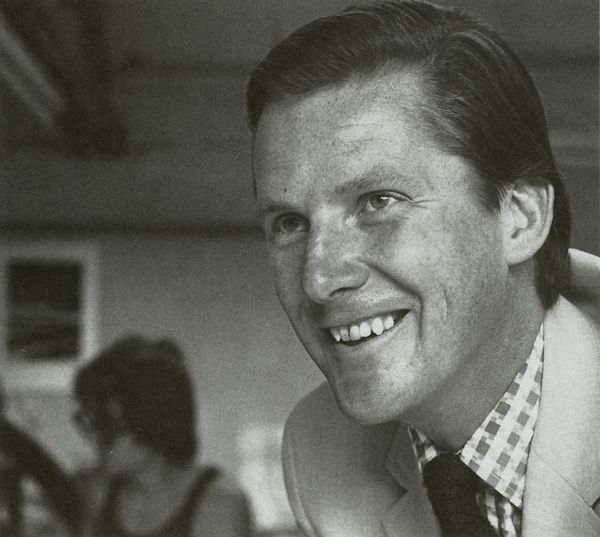 Joe Studholme in the etching studio at Kelso Place, 1972
Editions Alecto's first major publication was a portfolio of etchings by the (then) little-known art student David Hockney: A Rake's Progress, 1963, of which we are proud to include a rare and unusual example in our upcoming Editions auction. The piece is rare because it is one of only two sets of prints pulled from the cancelled plates, and unusual because of the circumstances of its rescue from a devastating fire in 1978 that destroyed the Editions Alecto studio and much of its archive.
Phillips' own Rebecca Tooby-Desmond sat down with Joe Studholme, founding member of Editions Alecto, to discover the unique story behind this important work.
Rebecca Tooby-Desmond: Joe, perhaps you could start by telling me how you became involved with Editions Alecto in the first place?
Joe Studholme: Well what really happened was that a great friend of mine called Paul Cornwall-Jones (he and I were called up for National Service on the same exact day, 2 September 1954, which formed a great bond) and Michael Deakin started Editions Alecto in Cambridge to commission artists to make lithographs and etchings of schools and colleges.
It was a terrible trick: We wrote to all the old boys and said, "we've commissioned John Piper to make a pair of lithographs of the front of the old college — you'll remember it's 400 years old this year — and if you're very quick and pay eight guineas at once, you may be lucky enough to get one of only seventy-five impressions." And to our amazement, a lot of people did!
Paul was studying architecture, so he stayed up longer than the rest of us — and actually was the moving spirit of it all, and when he came down finally to the real world of London, we found we'd invented a business. But we'd also become extremely interested in the whole idea of providing a channel of communication for visual artists to spread their original work around the world by publishing original prints. Not reproductions of watercolours and paintings, but working in a studio, on an etching plate or on a lithographic stone or screenprint — and that was why we formed a company. And because we had a lot of contacts among artists, we also had a certain amount of stock we hadn't sold. So we hired a pretty girl, who subsequently married Paul, and started Editions Alecto as a serious publishing house.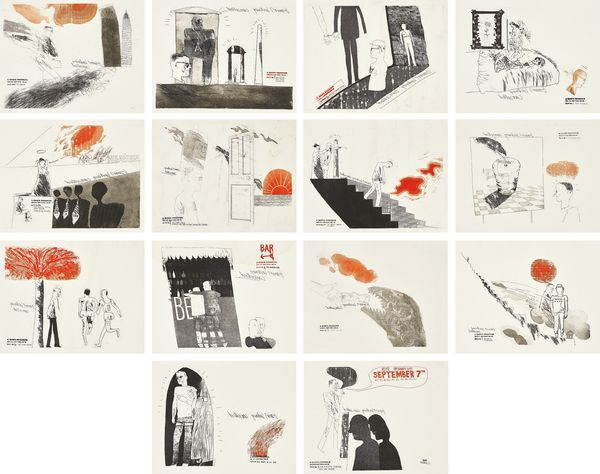 David Hockney A Rake's Progress: 14 Plates, 1963
RTD: And your first major publication was A Rake's Progress.
JS: Yes, it came about because one of my original partners, Mark Glazebrook, who was then at art school, knew David Hockney and so we commissioned him to make the piece. It was considered very strange. He was still a student at the Royal College.
RTD: And at the Royal College, Hockney had already experimented with etching but had not embarked on creating a portfolio or anything similar to this scale?
JS: He'd made some etchings before, yes. Famously he always said he worked in the print-making department because all the material was provided for free! And of course he had this amazing skill.
RTD: Rake's Progress was inspired by Hockney's first trip to New York. By the time Mark Glazebrook approached him, Hockney had already proofed plates for the portfolio, is that correct?
JS: Yes, he proofed most of the plates whilst he was at the Royal College, but two of them, Disintegration and Cast Aside, were proofed in New York at the Pratt Graphic Workshop. And of course it was in New York that Hockney famously watched commercial television and saw a Clairol advertisement saying 'it's more fun to be blonde', which encouraged him to buy a bottle and dye his hair blonde.
RTD: Ah, so that's why one of the plates is named 'door opening for blonde'?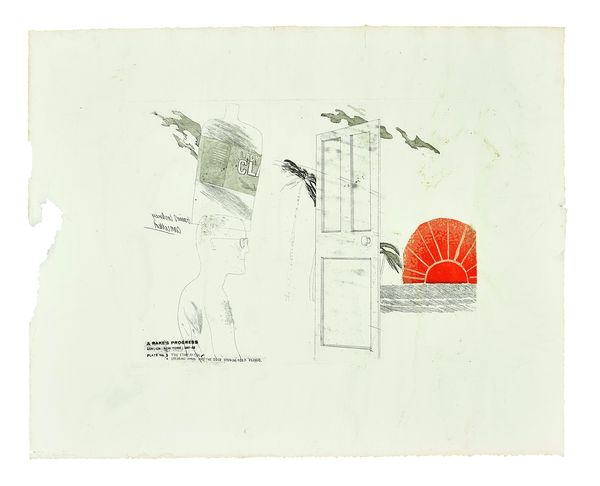 David Hockney The Start of the Spending Spree and the Door Opening for a Blonde (pl. 3), 1963
JS: Exactly. And then the edition was actually printed by a marvellous man called C. H. Welch, who was a very old established printer in London of work mainly from historical 18th and 19th century plates. He was, I'm afraid, very out of sympathy with David's work, but anyway...
We published the prints in an edition of fifty sets, which was considered very eccentric indeed to produce a portfolio of sixteen etchings by such a young and unknown artist and have the presumption to ask the huge sum of 250 guineas for each portfolio.
RTD: Guineas and not pounds?
JS: Yes, at that time we quoted prices in guineas because we thought it sounded grander! Because the auction houses always quoted in guineas and race horses were always sold in guineas. So 250 guineas it was.
RTD: So what gave you the confidence to take a punt on this set, to charge so much for it and for Editions Alecto to pay a large sum for the rights to publish the edition, £5,000 I believe it was?
JS: [Laughing] I tell you what, it was just great enthusiasm! David was an extraordinary personality. It was the time that he was outraging opinion at the Royal College because he refused to do any Art Historical essays and as a result was threatened with being expelled, although of course in the end he wasn't and in fact won the gold medal, famously going to collect it in a gold lamé jacket!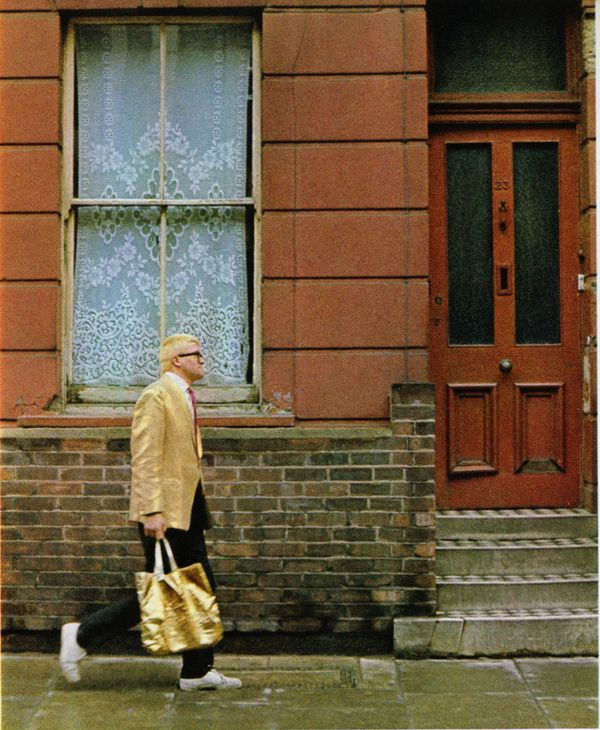 David Hockney in gold lamé jacket, with shopping bag to match, on his way back from a shopping expedition in Paddington © Lord Snowden, 1962
RTD: Do you think it helped that the works were based on the Hogarth paintings and engravings and therefore had a visual precedence in Art History?
JS: Well, I think so yes. It's an early example of Hockney's wit actually, as well as historical interest.
RTD: He didn't want to write the essays on Art History but he produced them visually instead. And clearly your punt worked!
Hogarth & Hockney
'A Rake's Progress' is a series of eight paintings by William Hogarth, produced between 1732-'33 and published as etchings in 1934. A moral satire, the paintings depict the decline and fall of the spendthrift Tom Rakewell who wastes his inheritance on alcohol, prostitutes and gambling, ending his days incarcerated in Bedlam Hospital.
Hockney began his own version of Hogarth's tale after his first trip to America in 1961. Inspired by the New York lifestyle and social scene, Hockney re-interprets Hogarth's story of youth, influence and corruption. The story, loosely based on the titles of Hogarth's paintings, appears like pages from a graphic novel, with Hockney using a combination of text and imagery to explore themes of lost individuality, commercialism, sex and patriotism. He places himself at the centre of the narrative, a storyteller observing New York, yet was keen for the works not to be seen as solely autobiographical: "It is not really me. It's just that I use myself as a model because I'm always around."
JS: Well we struggled at the start to find subscribers but of course it's long long long since been sold out. And really, the sad thing is that we never kept any copies except this one set of cancellation proofs.
From the very first moment we started, we always had a policy when publishing copperplate engravings that when the edition was completed, the plates were cancelled. In the Rake's Progress case, this was done by David just writing on the face of the copper 'David Hockney Cancelled' with an electric drill. And then we pulled two cancellation sets so that it was absolutely clear that no more could be published and the fifty sets therefore retain their uniqueness.
Plate cancellation, detail from The Gospel Singing (Good People) [Madison Sq Garden] (pl. 2a)
RTD: But these Hockney plates are quite special because often with cancelled plates they might be completely scored through or somehow defacing the original imagery, but it is lovely to have only the additional flourish of David's handwriting cancelling the plates.
JS: Well it is, I mean it honestly is about as near as you can get to having a signed print. I think they're extremely special and very very rare, particularly given that the other set is with the Victoria and Albert Museum.
RTD: So the V&A have the complete set of sixteen cancelled plates, but Phillips will be offering fourteen. Why is that?
JS: Well the tragedy was that we had a disastrous fire on the night of the 5-6 December 1978. I had the whole set of cancellation proofs framed and hanging in my office, and when the fire was still raging, we had a wonderful team of people from the London Salvage Corps who took everything out of the building including the Rake's Progress framed prints. Unfortunately in the chaos, two of them were stamped on and destroyed beyond repair.
RTD: So they were actually taking them out of the building whilst the fire was still going?
JS: Yes. I would imagine you can still smell the smoke on them!
RTD: Wow. It's incredible that you even have fourteen and actually, largely intact!
JS: It's very lucky we did. What is even more lucky is that in all fourteen the actual printed areas are largely unscathed.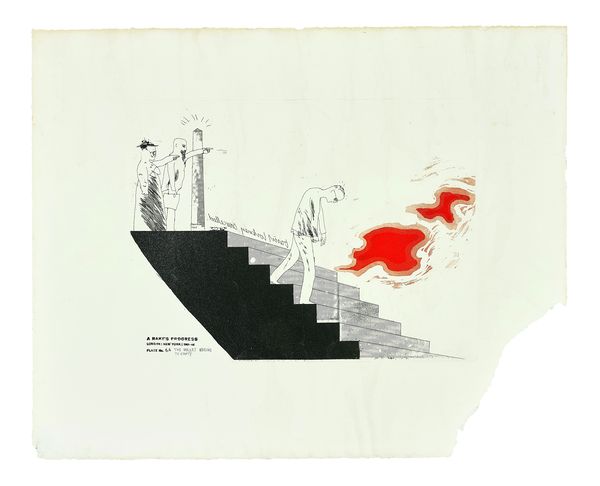 David Hockney The Wallet Begins to Empty (pl. 6a), 1963
RTD: Yes, it's mostly the margins that have some rather characterful tears and discolouration — evidence of the fire they survived. Perhaps, in an ideal world, the damage to each sheet would worsen as the narrative of the Rake's Progress continued?
JS: Yes, that would be appropriate.
RTD: But that must have been quite devastating to lose so much material.
JS: Well of course, but thankfully no one died. It happened in our etching studio. When you make a plate you blacken the back of the copper by lighting a bit of cloth and running the smoke across the back. And also for etching — it's far too complicated actually! — you use lots of cloths to wipe the plate. We used to have these cloths (scrim as they're called), draped around the studio on string, like Christmas cards hung up. And what happened was that a spark must have gotten into one of the bits of cloth, and overnight it burst into flame. Of course the studio was filled with paper and ink and caught fire very quickly.
Sugarlift Aquatint
The etchings in A Rake's Progress are coloured in black and red using a technique called sugarlift aquatint: a process invented by master printer Roger Lacourière, which he taught to Pablo Picasso in 1930.
Sugarlift aquatint involved Hockney using a sugar solution to paint, almost like watercolour, directly onto zinc plates. A hard-ground (waxy substance) was then applied over the whole plate, which was then submerged in boiling water, allowing the sugar solution to dissolve, or lift away and leave areas of the plate exposed. An aquatint (powdered resin) was then applied, which stuck to the areas of the plate left bare by the sugar solution. When submerged in acid, the aquatint areas were bitten away, but only around the particles of resin, creating a soft, grainy texture. The ink settled in these areas and created soft, painterly inked areas on the paper.
This technique can be seen particularly in the red tree-top of plate 3a: 'The 7 Stone Weakling'.
The studio at 27 Kelso Place was in a residential street, joined to the house next door. The little boy who lived next door in the top bedroom, top floor, saw flames leaping from our building and woke his parents who then raised the fire brigade.
At the time I was living in Berkshire and the fire brigade rang me up in the middle of the night, two o'clock in the morning and said, "Do you own a property at 27 Kelso Place?" Yes I did. "Oh well it's on fire, you'd better come and look!" So I drove down the M4 at top speed — it was a very foggy night I remember — and I rushed along hoping somebody would stop me and say, "Okay chief, where's the fire?" and I could say I was actually going there!
The fire brigade and the London Salvage Corps were marvellous and managed to save quite a lot, but we still lost a lot of archived ephemera: trial proofs and experimental works, and of course a large amount of stock.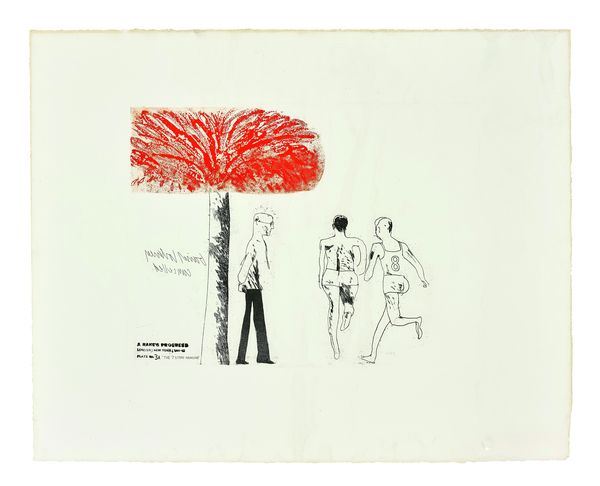 David Hockney The 7 Stone Weakling (pl. 3a), 1963
RTD: But fortunately, Rake's Progress survived because it was framed in your office?
JS: That's right.
RTD: Why these prints, out of all the works Editions Alecto published?
JS: Well, they were a seminal publication for Editions Alecto — our first big project. By the time of the fire in 1978, David was a wunderkind of Contemporary Art and I was proud that Editions Alecto had published the Rake's Progress and felt very proud to have them in my office.
David Hockney's A Rake's Progress: 14 plates will be offered in our 19 January Editions Day Sale in London.