David Hockney Steps with Shadow F (Paper Pool 2), 1978
David Hockney's Paper Pools, a sustained series of works made from coloured and pressed paper pulp, were made between August and October 1978 during six weeks of feverish activity at Tyler Graphics Ltd, the studios near Mount Kisco, NY, run by the master printer Kenneth Tyler; the artist had previously worked with him on lithographs at his Gemini workshop in Los Angeles. During this brief period he produced 29 separate images, some in multiple versions, beginning with single-sheet images such as those presented here before eventually expanding to the 12 conjoined sheets of Le Plongeur (Paper Pool 18, in the collection of Cartwright Hall, Bradford) and A Large Diver (Paper Pool 27), each of which measures 183 x 434 cm overall.
The entire group of pictures, in a medium recently devised by Tyler and used by Hockney only this one time in his life during an extraordinary burst of creative energy, came about spontaneously, almost by chance. Stopping off in New York City en route from London to Los Angeles, where he was about to resettle after years of absence, Hockney was persuaded to make a detour to visit his old friend and was soon seduced into trying his hand at a medium with which three American abstract painters admired by Hockney, Ellsworth Kelly, Kenneth Noland and Frank Stella, had already experimented. As on other occasions when he has stopped momentarily working in isolation in his painter's studio and engaged in a collaborative effort, as he has when visiting print workshops or designing for the opera, the conviviality of the working situation and the creative input and encouragement offered by others also proved decisive factors in drawing out the best from him.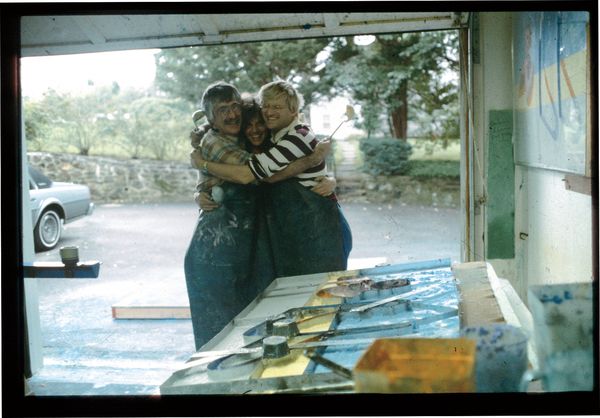 Kenneth Tyler, Lindsay Green and David Hockney hugging in front of 'Gregory in the pool I' paper pulp work from Hockney's 'Paper pools' series, Tyler Graphics Ltd., Bedford Village, New York, 1978. Photographer: Gregory Evans. National Gallery of Australia, Canberra. Gift of Kenneth Tyler, 2002.
Having suffered from several years of creative block in the mid-1970s, when his dedication to a more naturalistic style appeared, to him, to be leading to a dead end, Hockney had begun to find a way forward to a more expansive vision through his stage designs for two opera productions at Glyndebourne in West Sussex – Stravinsky's The Rake's Progress in 1974-5 and Mozart's The Magic Flute in 1977-8 – that encouraged him to engage in a greater simplification and to work on a much larger scale that completely immersed the spectator. Those intense interludes in the theatre proved decisive in preparing him to paint with a new vigour.
I love new mediums and this was something I had never seen or used before. I think mediums can turn you on, they can excite you: they always let you do something in a different way, even if you take the same subject…I like that.
Hockney was immediately delighted by the possibilities offered by the unconventional paper pulp medium – not quite printmaking in a conventional sense, but also distinct from the tradition of oil painting – to return to a freer and much more spontaneous way of making images. (On the artist's official website, the Paper Pools are reproduced not in the graphic section but as paintings.) Working with vats of wet pulped rags immersed in different dyes, which were then ladled liberally or applied with a variety of other tools into galvanised sheet metal moulds (corresponding to the artist's full-scale outline drawings) onto still-wet surfaces of newly fabricated paper, he was encouraged to compose bold, simplified designs that released him from the constraints of a detailed fidelity to appearances.
The moulds were removed and final adjustments made by hand before the resulting sheets, heavy with liquid pulp, were squeezed and flattened in hydraulic presses. The patterns or marks applied over the top of the base image, particularly in the swimming-pool pictures, subtly transform the different versions made with the same moulds into unique variations, each with its particular qualities of light, hue, surface and implied movement. The necessity for extreme simplification of form and economy of expression led to the most spirited group of pictures he had made in years. As with Matisse's late paper cut-outs, which he admired, the discovery of a new method of working resulted in a remarkable renewal of Hockney's art.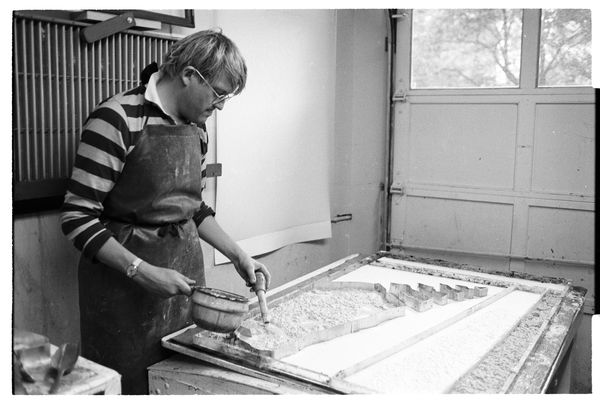 David Hockney applies colour pulp with a turkey baster into cookie-cutter mould for 'Steps with Shadow' from his 'Paper Pools' series, Tyler Workshop Ltd. paper mill, Bedford Village, New York, 1978. Photographer: Lindsay Green. National Gallery of Australia, Canberra. Gift of Kenneth Tyler, 2002.
Always excited by the exploration of an unfamiliar medium and by his understanding of how best to exploit its characteristics, Hockney immediately responded also to the lure of the intense colours, which did not just sit on the surface but were physically impregnated into it. His enthusiasm is straightforwardly conveyed in his text for the Paper Pools book published by Thames & Hudson in 1980: "I love new mediums and this was something I had never seen or used before. I think mediums can turn you on, they can excite you: they always let you do something in a different way, even if you take the same subject, if you draw it in a different way, or if you are forced to simplify it, to make it bold because it is too finicky. I like that."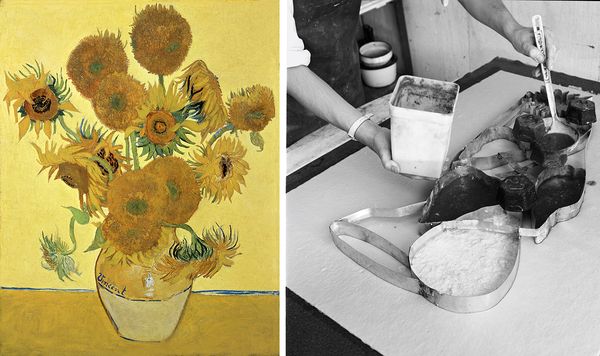 Left: Vincent van Gogh Sunflowers, 1888 (oil on canvas) / National Gallery, London, UK / Bridgeman Images. Right: David Hockney spoons colour pulp into a cookie-cutter mould for 'Sunflower 1', from the 'Paper Pools' series, Tyler Workshop Ltd. paper mill, Bedford Village, New York, 1978. Photographer: Larry Stanton. National Gallery of Australia, Canberra. Gift of Kenneth Tyler, 2002.
Van Gogh was much on Hockney's mind at the time. A reproduction of a celebrated version of that artist's Sunflowers (painted in 1888) appears prominently in a painting of 1977, Looking at Pictures on a Screen, as one of four favourite images from the collection of the National Gallery in London being scrutinised by the American curator Henry Geldzahler. While at Mount Kisco Hockney made drawings of Tyler and others at work using sepia ink and the sort of reed pens used by Vincent nearly a century earlier, a technique he had begun to explore in early 1978 as part of the same urge to a greater looseness and energy of line and form. For his first paper pulp experiments he decided on the very motif so closely associated with that artist – a single sunflower in a vase – but to remake it decisively in his own voice. He was stunned to find that with just a few shapes he could convey the look of the plant, leaving out stems and other details so that the entire image could be achieved through suggestion alone.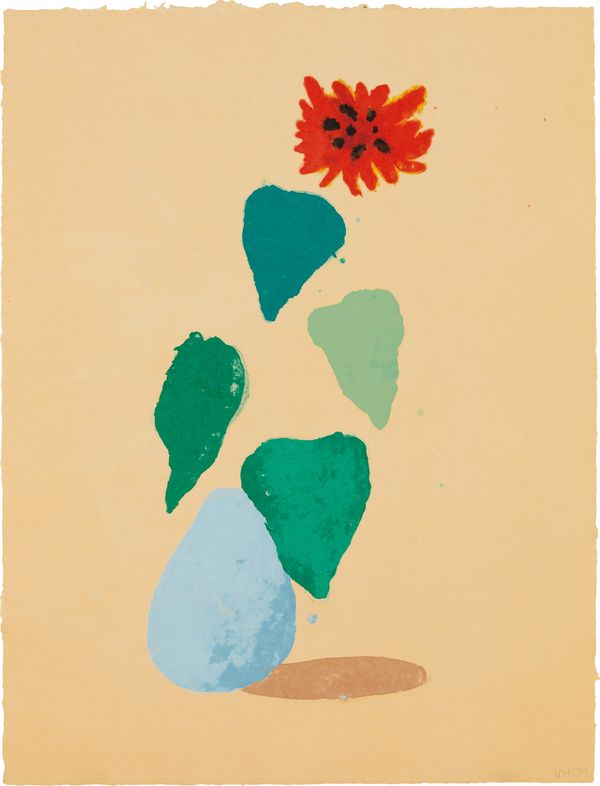 David Hockney Sunflower H (Paper Pool I), 1978
Just over a decade earlier Hockney had produced a small number of acrylic paintings featuring Los Angeles swimming pools, such as Peter Getting out of Nick's Pool 1966 (National Museums on Merseyside) and A Bigger Splash, 1967 (Tate) which together not only crystallised his hedonistic vision of southern California but became synonymous with his name. He had made a conscious decision not to continue using that motif out of fear of repeating himself, making a rare return to it in 1972 for his painting Portrait of an Artist (Pool with Two Figures). Yet the daily sight of Tyler's pool proved irresistible, and it soon became the subject of Steps with Shadow, based in part on the visual evidence he had accumulated in photographs he had taken with a Polaroid SX-70 camera of the circular steps descending from the corner of Tyler's pool. These highly condensed studies, which suggest the passage of light through and across different depths of water, led in turn to larger and more elaborate multi-sheet compositions representing the swimming pool from different vantage points and at different times of day.
Released from the mimetic constraints of naturalism, Hockney was particularly free to indulge his tendencies to abstraction, secure in the knowledge that the strength of the containing image left him many options of improvising within it: in these pictures one can find traces of post-painterly abstraction, of the 'staining' techniques of Morris Louis and Helen Frankenthaler, even of the belle peinture of the French tachiste painters of the 1950s and of the late Abstract Expressionsim of Sam Francis. The human figure, so central to his art, appears in some of these in single sheets that represent his then lover, Gregory Evans – perched on the edge of the pool, his flesh kneaded by hand out of pink pulp – and in multi-sheet compositions in the guise of an underwater swimmer.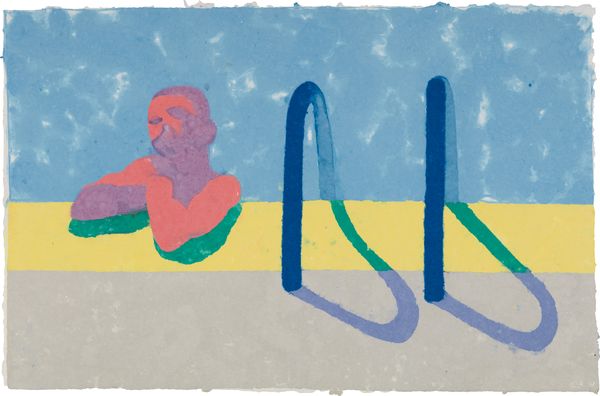 David Hockney Gregory in the Pool E (Paper Pool 4), 1978
During his long and unremittingly productive career Hockney has periodically alighted on a new medium that has so engaged and re-energised him that he has compulsively produced a completely new and separate body of work in a confined period of time. This was later to prove the case with his Polaroid photocollages (see lot 26) and 35mm 'joiners' of 1982-6, with the 'home-made prints' produced on office-quality photocopiers of the mid-1980s, with the pencil portraits made with the aid of a camera lucida in 1999, with the prolonged series of large portraits from life in watercolour in 2002-3 and more recently with the images drawn either on a computer with a tablet pen and Wacom graphic tablet or (much frequently) with his thumb or a stylus on the screen of iPhones and iPads (many of these subsequently translated into editioned prints on paper, see lots 27 and 28). The Paper Pools, which mark an important watershed in Hockney's career, constitute the first such case, though his earlier forays into printmaking, particularly in etching and lithography, had also proved decisive in changing the course of his art, if in less obviously dramatic ways.
The Paper Pools were not created as conventional editions of identical impressions. That would have been an impossibility, given that each one had to be improvised with the coloured pulp within the broad outlines of the moulds. Every single picture is thus a unique variant, one moreover that exploits to the full the delicious materiality of the medium. One of the great joys of this prolonged experiment, which was to have a permanent impact on Hockney's later exploitation of bold forms and intense colour, was the natural marriage with a subject that had preoccupied him in his first swimming pool paintings 14 years earlier: the refraction of light through gently moving water. The opportunity to depict water through a medium that was itself literally fluid led him to find new and often visually witty solutions to problems of depiction that had preoccupied him for so long, and through this joyous experience to reinvent his art as a life-affirming spectacle infused in a succulent, almost technicolour, brilliance.
The Paper Pools, though produced in such a short period and in a medium to which he never returned, constitute a thrilling episode in Hockney's work. Each of these pictures is a testament to his quick-witted response to the stimulation of the visible world, conveyed through the sensory materiality of the physical incarnation of pure colour so deftly manipulated by his hands.
Marco Livingstone is an art historian, writer and independent curator based in London.