- By Doug Escribano, Senior International Specialist
In 1845, founder Ferdinand Adolph Lange established his own workshop in Glashütte Saxony, and A. Lange & Söhne flourished for close to 100 years. However its factories were sadly destroyed during final days of World War II, and the brand would soon be confiscated by the Soviets. Following the demise of the Soviet Union and the fall of the Berlin Wall in 1989, Ferdinand's great grandson, Walter Lange, reestablished the brand once again in Glashütte in 1990. Four years later, the first collection, comprised of four watches was launched in 1994 and the brand immediately rose again to the forefront of haute horology.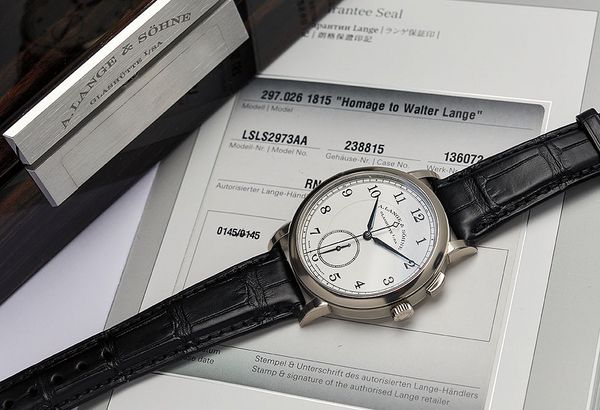 The passing of Walter Lange in early 2017 was not only a huge loss for the industry and the company, but even more so for the men and women who knew him personally, working with him throughout the years. Colleagues and staff decided to pay homage to this great man by creating a timepiece that he had been thinking about for quite some time, a watch that was originally conceived by his greatgrandfather and granted one of Germany's first patents in 1877: a timepiece with independently stoppable jumping center seconds and separate seconds sub dial.
In less than one year, the watchmakers and engineers from Glashütte achieved the feat of creating a brand new movement with jumping seconds, the "1815 Homage to Walter Lange" was born. The newly developed movement had a special caliber designation: L1924, referring to Walter's birth year, while the first three digits of the reference number, 297.XXX memorialized his birth date of 29 July, 1924.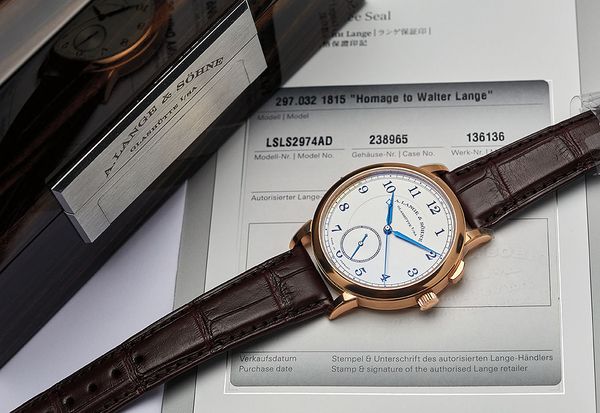 Presented at the Salon International de Haute Horlogerie (SIHH) in January 2018, the new model was made in a limited edition of 145 pieces in white gold, 90 pieces in pink gold, 27 pieces in yellow gold and a unique piece in stainless steel with black grand feu enamel dial. The stainless steel unique piece was sold during Phillips' The Geneva Watch Auction 7 sale in May 2018 for a world-record price of CHF 852,500 – with proceeds benefitting the Swiss charity, Children Action.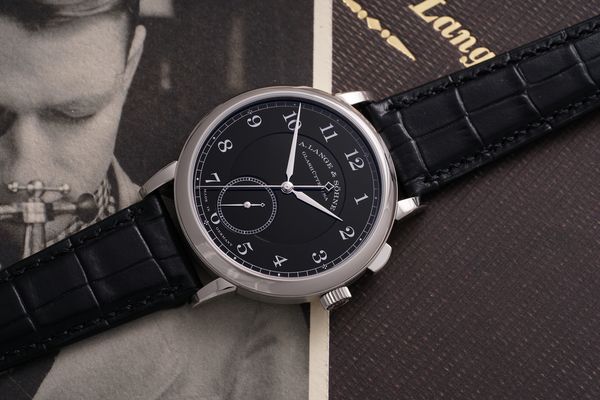 Lot 233 of the GWA8 - Unique stainless steel 1815 Homage to Walter Lange sold by PHILLIPS in 2018
Similar to the caliber designation, and reference number, each of the limited editions mark an important date related to Walter Lange; 145 years separate the founding of the company and its resurrection, 1990 was the year the resurrection took place, and the release of the watches occurred 27 years after the 1990 rebranding. The wristwatches are alluring and seductive both from their classic design perspective, and wonderfully complex mechanism.