- By Paul Boutros, Head of Watches, Americas
A renowned American surgeon, this extraordinary collection reflects two of his greatest passions outside of work – watch collecting and surfing.For the general public, it might seem like there is no association between the two. Getting to know him, one soon understands how surfing and collecting evoked the same emotions, with so many common traits shared between them.
As nobody is born an expert, a journey spanning decades developed his skills. At the beginning, he knew being humble was essential. At the age of 10, he was exposed to surfing and began teaching himself and from other surfers, learning through trial and error. At age 14 he purchased his first surfboard – coinciding with his initial interest in watches. On his own, he was captivated by the practical elegance of a watch worn on the wrist. He worked and saved, buying his first watch as a teenager - a gold Omega Constellation on crocodile strap.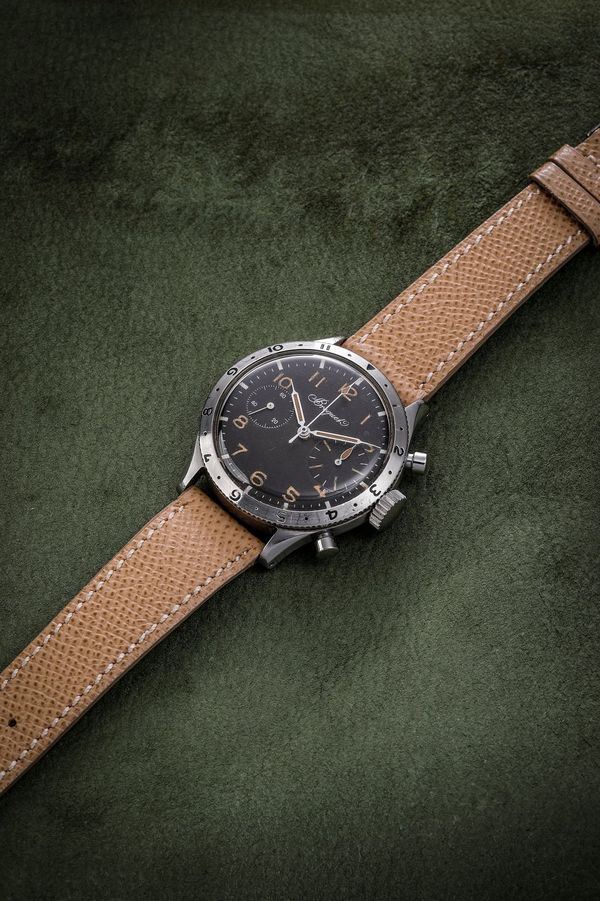 Lot 25 of the 2021 New York Watch Auction
While at college, he switched to a sporty Omega watch. After graduating, he visited Europe, with is first stop being the Porsche factory in Stuttgart, Germany – a true "petrol head" as well. Observing a young German man his age taking delivery of a Porsche 911, he promised himself to do the same some day. That day came in June 1982 when he took European delivery of a Porsche 911SC. This theme of fulfilling goals was what led him to assemble his watch collection.
Following that delivery, his next stop was Bahnhofstrasse in Zurich, visiting the preeminent watch dealer, Beyer. Here, he purchased his first grail watch - a Rolex Datejust with black dial and steel and gold jubilee bracelet. Later, with his surgical practice now established, he continued his collecting journey in earnest. He would attend a vintage motorsport race in 1986 where the winning driver of a Porsche 908/3 captured his attention. He noticed a beautiful, Tiffany signed tonneau-shaped watch on the driver's wrist as he stood on the winner's podium. This discovery would motivate his first high-end watch purchase – a Patek Philippe ref. 3970 perpetual calendar chronograph.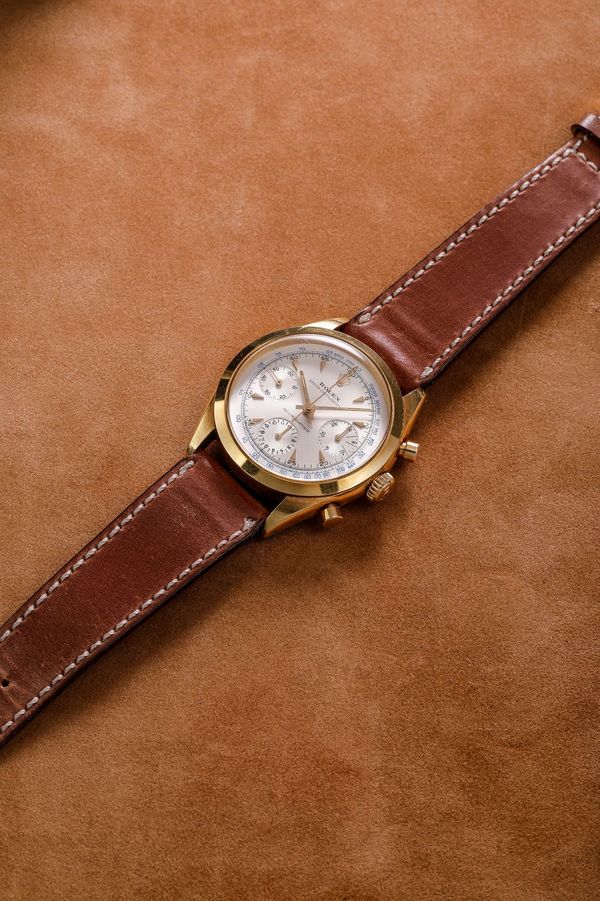 Lot 22 of the 2021 New York Watch Auction
Visiting watch shops, practicing for hours at the shore, studying further at home with his surfboard, and with watches in hand, and learning from his mistakes - falling off his board or buying the wrong watch – he persevered to correct them. His curious mind took him beyond his comfort zone - he was captivated by the thrill of the unknown. Surfing in new locales, discovering vintage watches, his skills developed rapidly. Missing a great wave would haunt him. Similar feelings of regret would haunt him after hesitating on the purchase of a great watch.
Surfing with his friends and meeting fellow collectors, he found even greater joy sharing his passion with others. They understood "the madness" of waking up at 5:00 AM for the best surf conditions, or jumping on a plane in pursuit of the next watch. An active member of both the surfing and watch communities, social interactions motivated him further.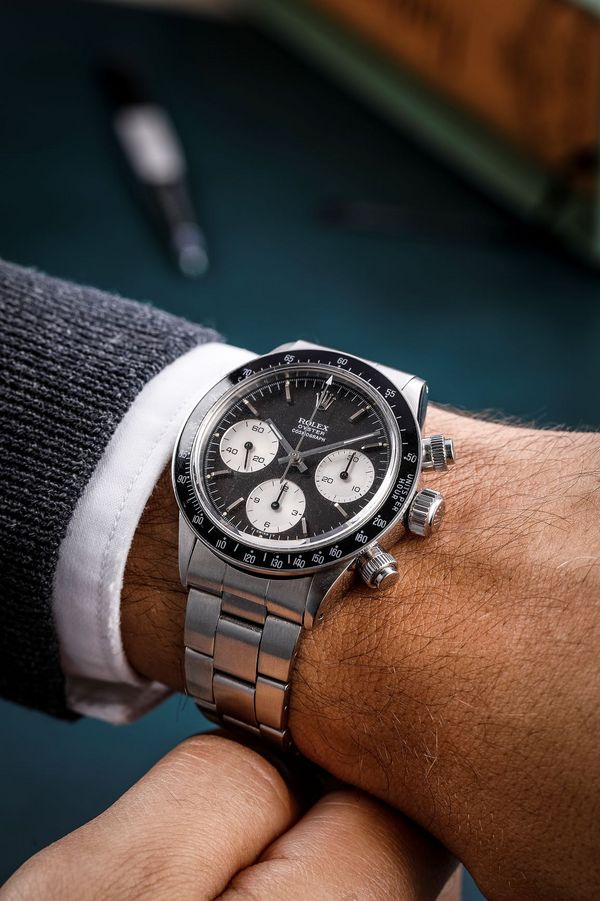 Lot 21 of the 2021 New York Watch Auction
His collection is the result of countless visits to international auctions, conversations with specialists, and his patience and perseverance. He appreciated the stories behind each watch – most especially those coming from original owners. For these "best quality" watches, armed with his knowledge and courage, he would not hesitate to "go the distance" to acquire a piece he loved. Like the thrill of riding a great wave, the elation of obtaining a great watch fueled his passion for decades.
He was mentored early on by an accomplished Swiss watchmaker who taught him to appreciate vintage watches and to recognize their originality and quality. His understanding of watchmaking, and the ferocious strength of ocean waters, gave him a particular appreciation for water resistant watches from the postwar years – the early era of waterproof watches.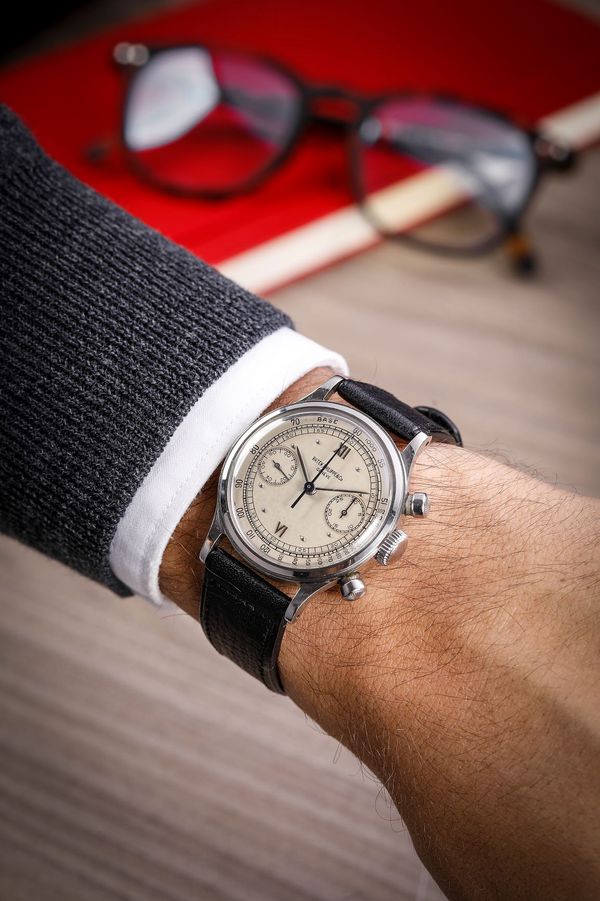 Lot 34 of the 2021 New York Watch Auction
Accordingly, the collection of watches offered here were manufactured as early as the 1940s, which were also the formative years of surfing in popular American culture. Just as surfboards continue to evolve until the present day, so have wristwatch cases – whether it's their sizes, materials, pusher and crown innovations, etc.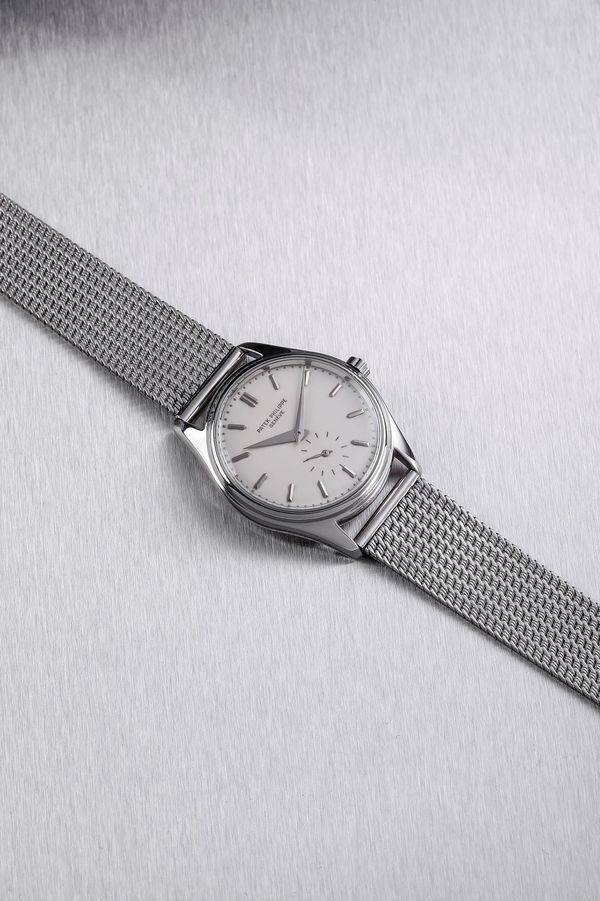 Lot 26 of the 2021 New York Wacth Auction
The 18 watches of the "Ride the Wave" collection comprise a diverse range of brands, materials, and styles – and all are of exceptional quality.
His taste, refined over decades, is impeccable, with an eye for quality and an appreciation for the smallest details such as the consistency of patina on a dial, the originality of the strap or bracelet and even buckles, or the presence of factory original beveled edges on a case.
Even after over half a century, some even come with their original hang tags and boxes. Each is supremely collectible including coveted sports watches such as a Paul Newman Daytona, a tropicaldial, early reference 6263 with Mk 1 millerighe pushers, to an incredible, water-resistant platinum Patek Philippe ref. 2526 with enamel dial for dressier occasions.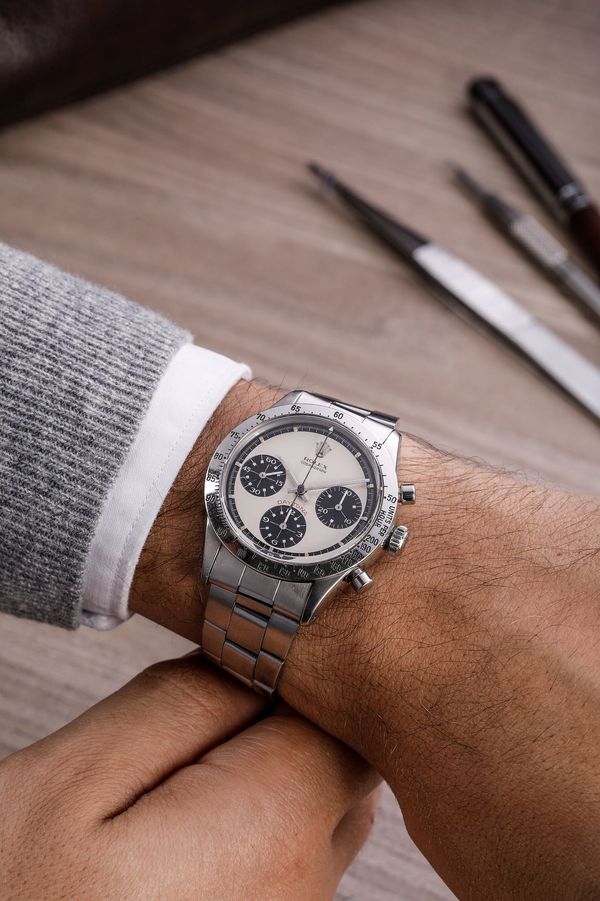 Lot 33 of the 2021 New York Watch Auction
We trust you will enjoy discovering these wonderful watches as much as we did handling and cataloguing them for this sale. With many having been kept in his collection for decades, they each present a rare opportunity for the most discerning collector.