Versione Italiana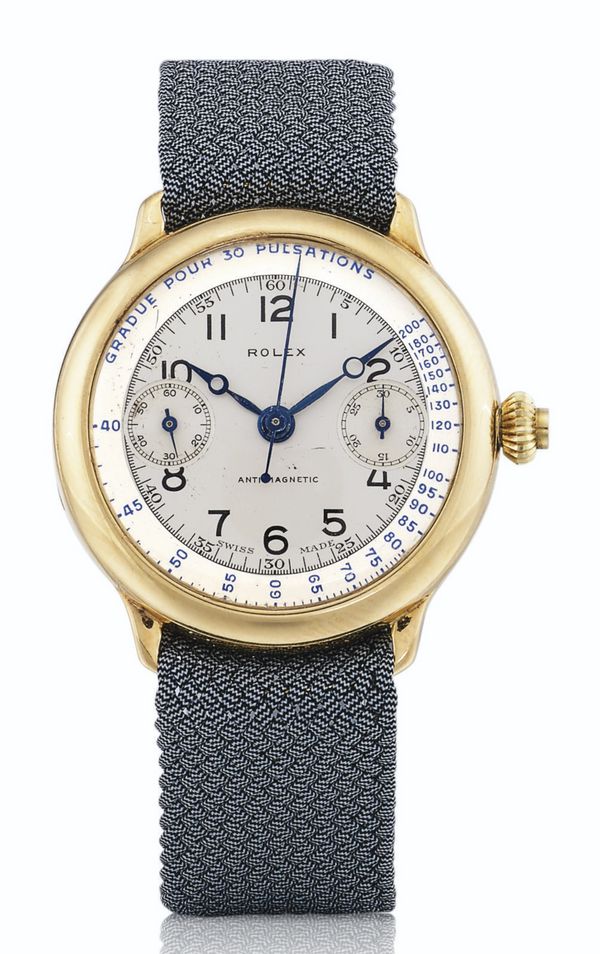 The "pulsometer" scale represents a function above all dedicated to professional operators. But since the explosive rise of watch collecting, beginning in the 1980s, its presence on the dial of a chronograph renders it strongly desirable. This is partially due to its objective beauty, with the large, arching script "gradué pour 15 (or 30) pulsations" or the more sober and restrained "base 15 pulsations." Above all, its desirability is due to the extremely low number of any "medical" chronographs made by the great watchmakers from the 1930s onwards.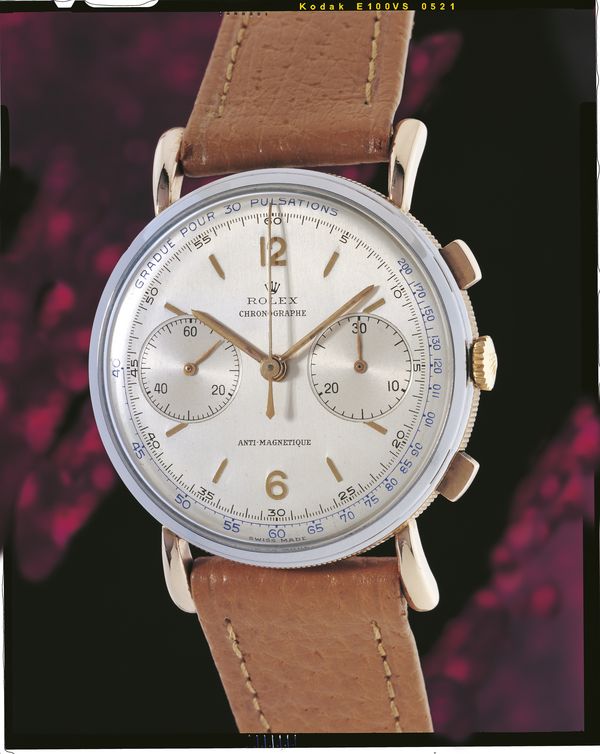 Remaining in the realm of Rolex, I can estimate having seen less than fifty chronographs with a pulsometer scale, between those published in literature, in my own personal photographic archive, sold at auction, and those that can be found on the internet when doing comprehensive research. The references of these "medical" chronographs start with the very early references 2023 and 2057 made in the latter part of the 1920s to some of the "Bariletto" reference 3525 made in steel during the 1940s.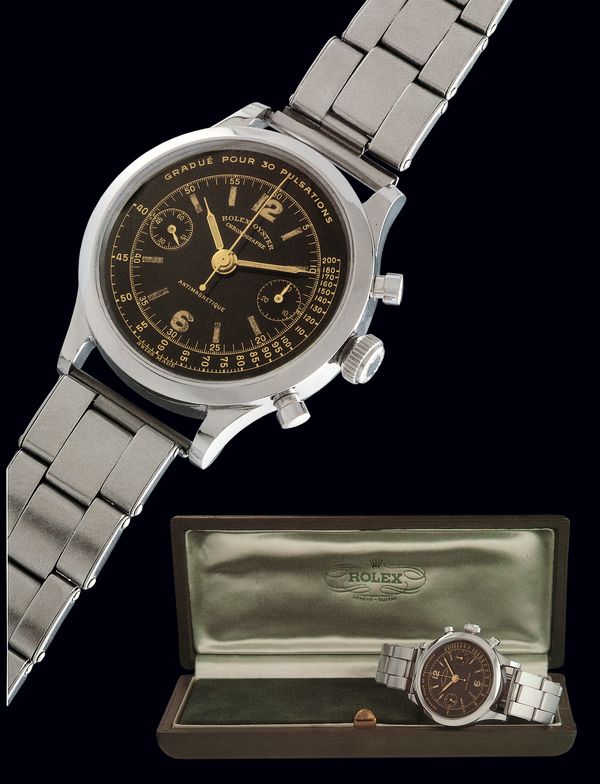 Rolex Chronograph "Bariletto Ref. 3525
Also in the same era, the references 4048, 4062, 4099, and 4537, again in stainless steel or stainless steel and gold, and the reference 4500 in gold. In the 1950s, the pulsometer scale can be seen on some examples of the 6034 and 6234 in both stainless steel and gold. This was followed by a handful of reference 6238s in steel with a pulsometer scale now moved inside of the indexes. And finally, around ten examples of the reference 6239 Daytona in steel, with two different dial variants, of which that with "Daytona" written in red is the rarest version (with the exception of a unique piece in gold).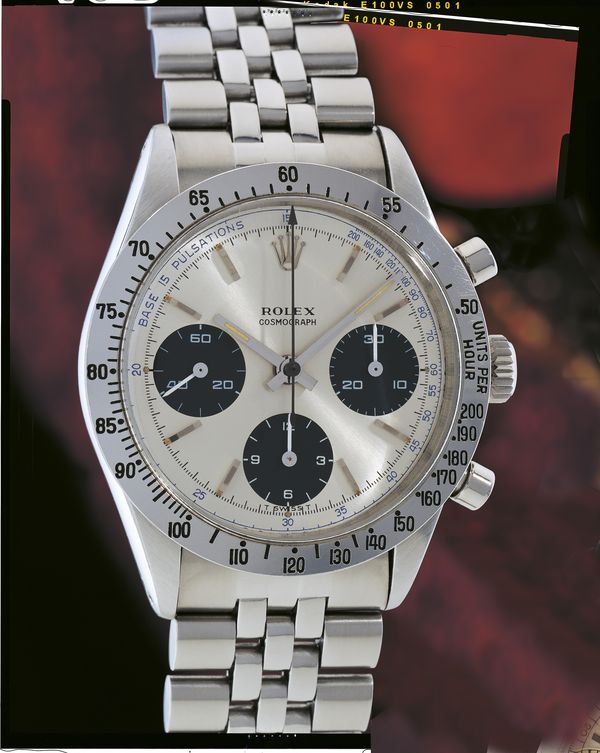 The presence of two variations suggests that Rolex made in two different series these medical dials for the Daytona. Their production was very complex, and whom these watches of such limited and non-standard production were made for and why remains a mystery (notwithstanding the various legends circulating on the forums). In any case, with the end of the pump pusher Daytona, Rolex closed the book on forty years of utilizing the pulsometer scale on their chronographs – they would never again use it on any other chronograph.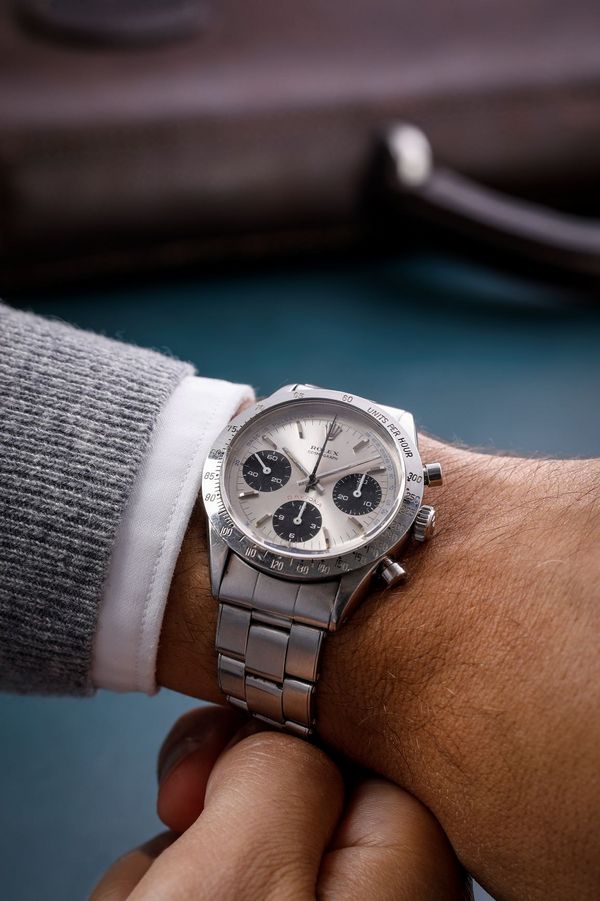 The medical Daytona offered by Phillips in the 2021 New York Watch sale occurring the 11th and 12th of December – never-before-seen on the market – represents an occasion of great interest to all of those with a passion for extraordinary objects. The dial bears the most rare dial variant, with the indexes repositioned closer to the center of the dial to allow room for the pulsometer scale, the minute track winding between these narrower indexes, the small and graceful "T-SWISS-T" inscription, and above all, the Daytona logo in red which constitutes a 'variant within a variant', as it would be used in broader production later by Rolex on the dials of their references 6263 and 6265. The watch amply deserves the honor it was granted, gracing the front cover of the catalogue. This last note reminds me of a similar episode that happened about twenty years ago. At the time, I was following my passion for art and design, and I had already developed an almost "monothematic" interest in the chronograph wristwatches produced by Rolex. My day job consisted of making art books.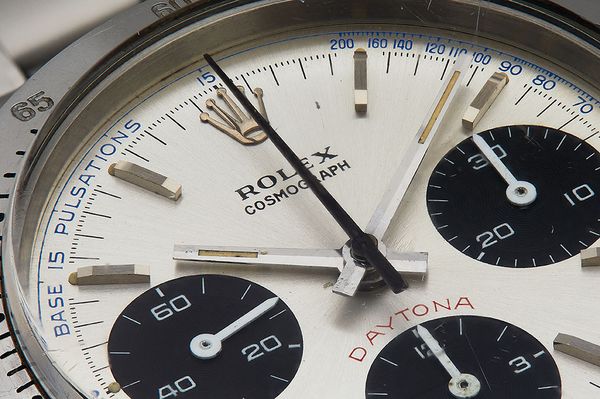 The idea of photographing and describing the most beautiful chronograph watches produced by Rolex was born and soon became a reality, resulting in my first book dedicated to watches I Cronografi Rolex, La Leggenda. I asked dealers and collectors I knew to allow me to photograph their most beautiful objects, always following the tenet of finding those examples that time had left untouched. Though it was our first book on watches, my staff and I worked with a contagious enthusiasm, and perhaps it was for this reason that word spread in various collecting circles, allowing me to meet many new friends and to see and photograph many extraordinary objects. I learned that Rolex had produced, in a fifty-year span, over 80 chronograph references, some in extremely limited examples, with a wide variety of dial types but always with an unmistakable and unique style. Even the cases themselves were of many forms and sizes. Reconstructing the chronology of this production of these small yet mighty objects, one can see the overall evolution in design, with the gradual passing of the Art Deco-era frivolity at the end of the 1920s, to the essentialism of the 1960s, until the post-modern era of the 1980s.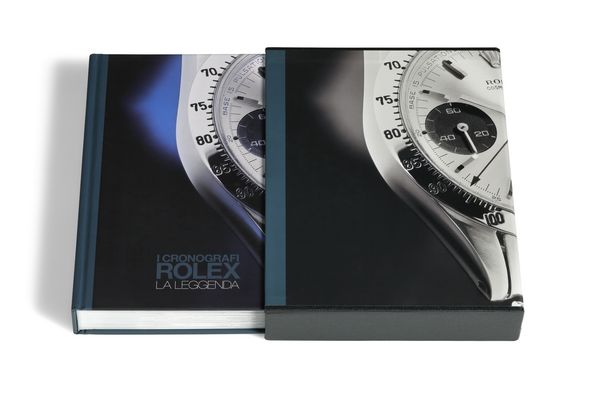 Link to I CRONOGRAFI ROLEX - La Leggenda
Returning to our book, after almost two years of taking photographs, and with many watch candidates representing the entire span of production, we had to choose those which would be shown on the cover. After many considerations, the choice came down to a Daytona with a medical dial. This decision was not in any way influenced by its market value, for its commercial ascent had only just begun at the time. Though at that time, I was more enamored of chronographs with "moneta" or "coin" style cases, I remember I chose the Daytona because I saw an additional quality typical of its design, or in its character something modern that renders its design timeless. And that scale, slender, printed in raised blue ink, as discreet as an intruder at a party he wasn't invited to, at a certain point it calls your attention, indicating that this is not what you initially thought it was. Look closer, and it is like finding a pearl in an oyster. It is the pulsometer Daytona.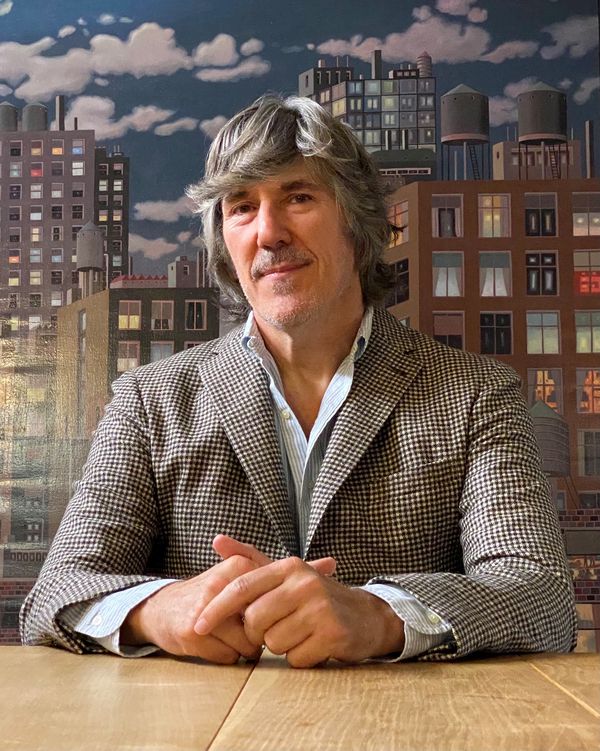 If two Rolex aficionados were to have a rendezvous on 5th Avenue in New York, or in the centre of Causeway Bay in Hong Kong or Bond Street in London and were to be doubtful about a Daytona they intend to sell or buy, there could be only one possible scenario. Surely, in a blink of an eye and safely sheltered away in his haven in Rome – often referred to as "the tunnel" by his friends – Pucci Papaleo's smartphone would start to ring.
Wherever one of these collection timepieces were to be topics of conversation the name Papaleo would step out. Unquestionably, he represents the utmost pinnacle of knowledge when it comes to identity, evolution and evaluation criteria. The story of Pucci – it is indeed a Roman tradition to give nicknames – started long ago. It started with his innate passion for beauty, graphics, stories told through photographic images and love for paper artworks. Years of research, experience, discovering, opening and picking out timepieces. As a result, all this contributed in transforming an enthusiast into an undisputed worldwide vintage watch guru. Auction houses consult with him when seeking the most beautiful pieces to put up for auction, the most discerning watch aficionados turn to him when they must increase the level of their collections, historians and journalists relate to him when searching for newsworthy details on ultra-rare examples.

After this brief introductory bio, here is the timeline of a creative journey that unceasingly goes on at the highest levels.
1991
"ItaliaStyle", a monthly magazine dedicated to the great wonders of Italy
1996
"Orologi & Market," a monthly magazine offered in three languages (Italian, English, French) dedicated to the buy and sell of vintage timepieces. It is the first worldwide experience in this particular field, a forerunner of the modern online e-commerce websites
1999
"RomaStyle", a prestigious book that aesthetically narrates and enhances the beauties of Rome. The success is immediate

2001
Second edition of "RomaStyle"

2003
After two years of work, the "I Cronografi Rolex – La Leggenda" is released. The history of the Rolex chronographs told throughout stunning photos

2005
The first edition of "Sold" is issued. A book dedicated to the watch auction world, that includes the pieces auctioned during the year. The project will be replicated with "Sold" 2006 and "Sold" 2007
2007
This year marks the beginning of the making of "Ultimate Rolex Daytona". This massive coffee table tome is dedicated to the renowned chronograph

2012
After five years of work, the "Ultimate Rolex Daytona" volume is complete. The tome meets an immediate success all over the world. Still today, the URD is considered the absolute reference point as for this particular timepiece model. After the publication of the book, the estimates of the Daytona watches moved off at high speed

2013
Christie's Daytona Lesson One auction takes place in Geneva under the leadership of Aurel Bacs, in collaboration with Pucci Papaleo as curator.

2015
After two years of work, the book "Day-Date, the Presidential Rolex" is finally published. Over 160 examples portraying the story of the Day-Date model, which is celebrated by the Glamorous Day-Date thematic Geneva watch auction held by Phillips on May 9 working jointly with Pucci Papaleo and his team
2016
"MACRO Vacheron Constantin" embodies an important and innovative page in horology publications. The manufacturing process of MACRO has never involved a serial.producing phase: each single copy has been singularly printed, set up and finally hand bound. The constructive philosophy of this opera was basically based on making a unique, entirely hand made one off book striving to reach the ultimate quality and typographic high-end technology
Phillips produced the catalogues of the Start Stop Reset and 38 Rolex Milestone auctions in collaboration with Pucci Papaleo and his team
2017
Phillips in association with Bacs & Russo hosts an international first-of-its-kind Art Exhibition curated by Pucci Papaleo and dedicated to the one of the most renowned chronograph models: the Rolex Cosmograph Daytona. Aside from a selection of 30 timepieces, the exhibition will prominently display Fabio Santinelli's watch portraits, which are all taken from the editorial project that began the year before and that illustrates the history of the iconic self-winding chronograph, the upcoming book "Daytona Perpetual"