Jean Fautrier, I'm Falling in Love, 1957. 20th Century & Contemporary Art.
The 15th of October has some notoriety in the world of music. It's the date when, in 1960, The Beatles first recorded as the Fab Four lineup with Ringo Starr on drums. Exactly five years later, Jimi Hendrix signed his first record deal. With Phillips' 15 October 20th Century & Contemporary Art auction on the horizon, we've assembled a group of artists for an impromptu jam session. The band's all here, we're tuned up and ready to go. Let's see if we can make something beautiful happen.
---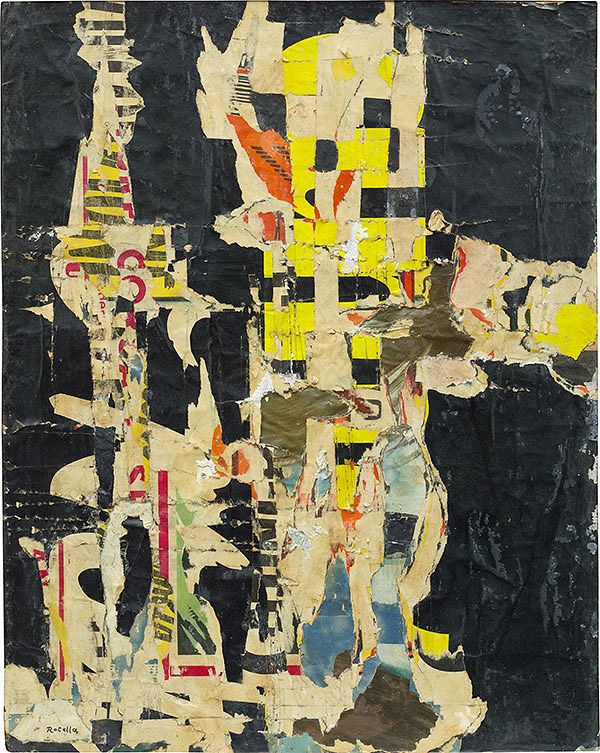 Mimmo Rotella: Double Bass
A master of décollage, the practice of tearing away, ripping apart, and deconstructing pieces from existing pictures, Mimmo Rotella presents an experimental approach to layering and abstract figuration with Il Jazz, a standout example of the post-war Italian artist's signature style. In the chaotic interplay between color and form, we sense a polyrhythm of primary hues and even make out the shape of a double bass to the left of the compostion. The black backdrop feels very much in line with the wide, ephemeral space of the pocket. We experience a visual guide to jazz itself.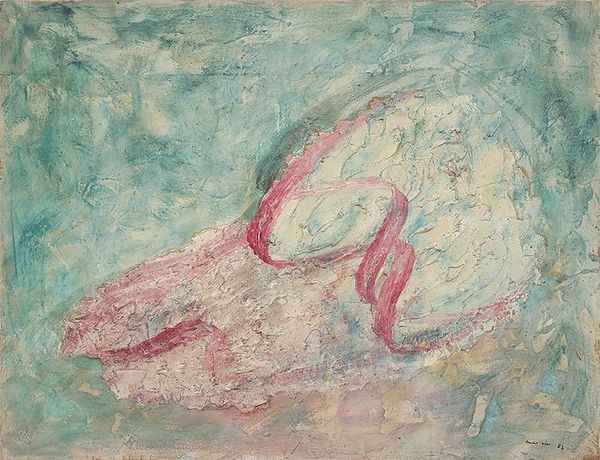 Jean Fautrier: Saxophone
We can imagine Jean Fautrier's I'm Falling in Love in a purely sensual manner, as the work has a clear physicality suggesting the female form — but the musicality of the piece cannot be understated (its name belongs to a series of works titled after famous jazz tracks of the era). Imagine a scene Fautrier himself may have witnessed countless times: a dark jazz club, a spotlit saxophone player a few feet above the crowded room. Without words, without declaration, he gestures to the band in a fluid, whirling movement, parting the smoky air into a circular current, leaving it to linger there as a momentary vortex while the music continues.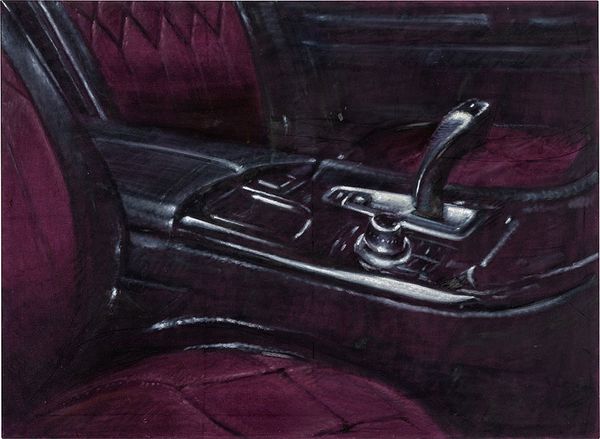 Issy Wood: Looping Device
There's really only two places one can find quilted seats these days. Funeral homes, for starters. The other is the private room at a strip club. Sex and death in these contexts, though seemingly disparate, embody the kind of object-oriented discomfort that serve as references for Issy Wood's darkly humorous painting, and indeed find a perfect synthesis for a third location, the interior of a car. The work itself is quite suggestive — the position of the two seats with one a bit further back, the other angled slightly forward towards the focus of the gear shifter. The peripheral shading implies night. The scene embodies a masculine fantasy, at its heart a truly comical desire: domination and danger rolled into one. The most human of acts in a potential coffin. A machine shell, pistons and bumpers, gears and hardware churning and firing around the flesh. The radio is on. This human manipulation of a contraption finds its parallel in the looping device.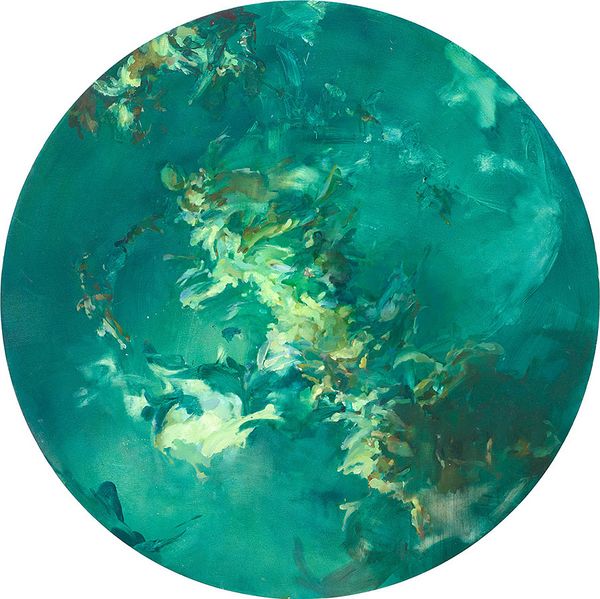 Flora Yukhnovich: Cello
To appreciate Tondo, we must first appreciate Bach. The stirring brushstrokes and depth of color in Flora Yukhnovich's painting signal a examination of Rococo in a contemporary setting of kitsch and pastiche, and in a musical context, we are immediately drawn to the atmospheric style that blends a weightless feeling with deeply saturated tonality. This combination of delicacy and heft, of dryess and submersion can only be given a voice by the cello. Consider two of most well-known cello pieces ever composed, Suite No.1 in G Major, and Air on the G String — both written by Bach, whose musical intervention was so ubiquitous that the period from his death in 1750 to the rise of the classical period of Mozart and Beethoven twenty-five years later, was a reaction to what many considered his kitchy, old-fashioned style. This reaction was called Rococo. Consider then, the common praises for Air on the G String: how light it feels, how lustrous and sublime, and for Suite No.1 in G Major: how deep, full, and expansive a sensation it brings. Interpreting the melting space between the two sounds, in a very self-aware way, we have Tondo.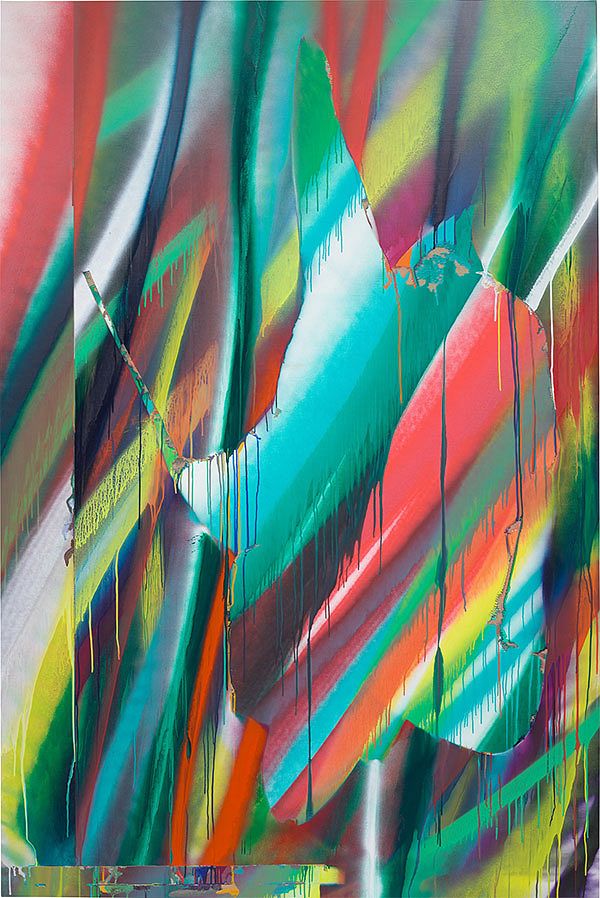 Katharina Grosse: Synthesizer
Katharina Grosse's Ohne Titel is a just as much a sonic exercise as it is a visual piece. The long, jagged lines and interrupted shapes offer the viewer a choice of following a single note until its end point or taking it all in as a series of acrimonious chords, coming and going as they please and evolving through a progression. Even still, the notes blend into each other and streak across the piece like feedback from an amplifier, or better yet, modulations from a synthetizer. Like painting, synthesizing is both the act and the result. It can take on diverse elements through sequences and alter notes to the point of pure abstraction. The instrument can be as standout or as indistinguishable as it wants to be, and its ability to shapeshift sounds allows the synth to find a home in every conceivable genre. Inversely, it's no surprise that so many synth-based bands make use of bright, abstract art. Pick a quadrant of the work and find hidden an album cover: top left could be Neon Indian's Psychic Chasms, top left, Deep Cuts by The Knife; likewise bottom left might be Glasser's Ring, and bottom right Alt-J's Awesome Wave.
Discover More from 20th Century & Contemporary Art >
---
Gallery Tour
Join Kate Bryan, Head of Evening Sale, on a personal tour of our London galleries ahead of our 20th Century and Contemporary Art auctions. From the dizzy heights of Sigmar Polke and Marlene Dumas to the rising stars of today, the auction preview includes a diverse mix stunning artworks.
---
Recommended Reading