Detail of Eileen Gray Unique "Brick" screen in red lacquered wood, designed 1922-1923, executed 1973
Unique in its configuration and color, this piece — the only red "Brick" screen — was acquired directly from Eileen Gray circa 1973 by French interior designer Andrée Putman, heir to Gray's concise arrangements and considered eye. In fact, it was the legendary Putman's devotion to Gray's seminal works of the 1920s that drove a resurgent interest in the elder designer's triumphs of that earlier period.
Pioneering New York collector Steven Greenberg, who, together with Putman, Andy Warhol and Robert Walker, championed a 1970s reappraisal of Art Deco, later acquired the screen for his New York apartment, where it kept company with masterworks by the great lacquer artist Jean Dunand. Despite the fact Gray had eschewed Art Deco's burly ornamentation and volumetric curves, Greenberg's devotion to that style, and specifically to Dunand, would have inclined him to Gray — a master of true lacquer who had introduced Dunand to their shared teacher, Seizo Sugawara, in 1912.
In an undated letter to her niece Prunella Clough, Gray claimed to have produced only ten "Brick" screens, as noted by Dr. Jennifer Goff, Curator of the Eileen Gray collection at the National Museum of Ireland. This small group comprised an early black painted example, another pale wood example and two white painted examples, after which she produced her various lacquered "Brick" screens, the majority of them black. Four of Gray's small series of "Brick" screens are in the permanent collections of the National Museum of Ireland, Dublin; The Museum of Modern Art, New York; the Virginia Museum of Fine Arts, Richmond; and the Victoria and Albert Museum, London. This special red screen from our Evening Sale dates to Gray's final burst of creativity in the early 1970s.
As Gray had opened her career with screens, so she closed it. It seems fitting that she would punctuate this return with her only "Brick" screen in red.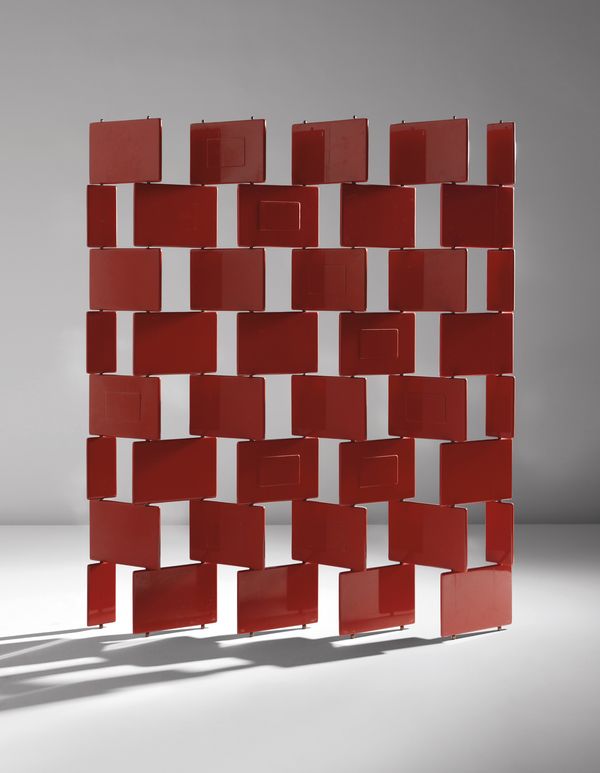 In fact, the 1970s marked Eileen Gray's return to full color.
"Empress of Fashion," former editor-in-chief of Vogue Diana Vreeland, spun bons mots and artifice across a half century in the public eye. "I adore artifice," she said. "I always have." Among her driving passions were vivid appearances and color: "All my life I've pursued the perfect red…I want Rococo with a spot of Gothic in it and a bit of Buddhist temple—," so much so that she lived from 1955 in a New York apartment decorated entirely in that color. "Red is the great clarifier—bright, cleansing, revealing. It makes all colors beautiful."
Vreeland, doyenne of taste and talk, was as voluble in her international circles as Eileen Gray was laconic in her Paris circumference. By the 1960s, as biographer Peter Adam noted, Gray kept to her rue Bonaparte apartment, "[taking] her meals alone." But ascetic rituals hadn't always governed her. No stranger to artifice or renown, Gray had pursued a fervid output of decorative objects during the earlier interwar years — screens, rugs, lighting, furniture — which attracted notices from Art et Décoration to Vogue; the latter illustrated one of her first lacquer works, Le Destin (1913), an allegoric screen with blue figures on a shocking red ground. Harper's Bazaar swooned: "When Miss Gray exhibited her first work in this difficult medium...overnight, as it were, lacquer rooms became the rage." Distinguished clients — couturier Jacques Doucet, milliner Juliette Lévy, the Maharaja of Indore — followed.
Gray was devoted to Asian lacquer, which she first encountered in 1900 as an art student at London's Slade while wandering the halls of what is now the Victoria and Albert Museum. From 1908 she worked in the medium with mentor Sugawara, originally a maker of Buddhist lacquer shrines. Whereas her modernist peers advocated a rejection of timeworn methods, Gray embraced those traditions, lacquer paramount among them: it grounded her high-flying experiments in form. Lacquer bound all of Gray's significant works of the period: Doucet's "Lotus Table," Lévy's "Pirogue" daybed, the Maharaja's "Transat" armchair and, from the early 1920s, her series of black "Brick" screens.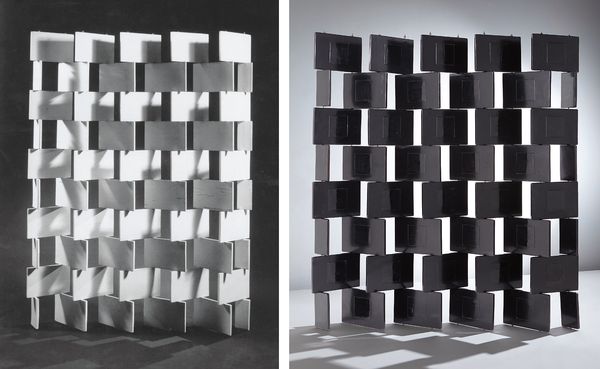 Left: Gray's folding "Brick" screen from her Rue Bonaparte apartment, Paris, 1922-1925; Right: The same model from 1925 in black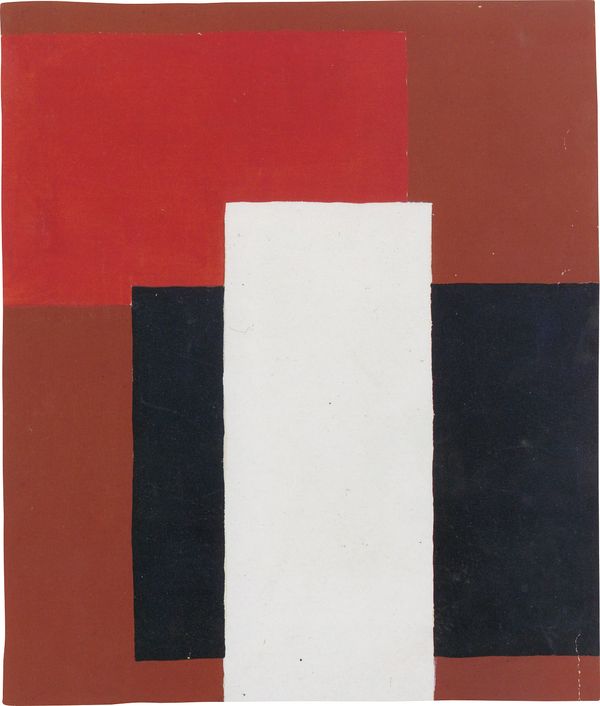 Eileen Gray rug design, circa 1922 © National Museum of Ireland
Nearly fifty years later on November 8, 1972 a ripple shivered out across the decorative arts market when Drouot, the Paris auction house, offered works from Doucet's estate, including Le Destin.
A highlight of the day, Gray's jolt of red fetched the equivalent of $36,000, an enormous sum at the time. Mentions in Le Figaro, Le Monde and the Herald Tribune led to feverish interest in Gray and prompted her to produce a small handful of lacquer screens, including ours to be offered in December's Design Evening Sale, for select collectors such as Frances and Sydney Lewis and Lavinia and Charles Handley-Read.
As Gray had opened her career with screens, so she closed it. It seems fitting that she would punctuate this return to form with her only red "Brick" screen, a radiant acknowledgment of Le Destin, an early and late catalyst in her career, as well as a visual reminder to us of Gray's vigor as the long-reigning empress of design.