Unlike the period rooms at The Metropolitan Museum of Art, which all represent a time and a place, the aerie atop an industrial loft building in Chelsea that New York architect Lee Mindel designed for himself in the mid-1990s, is international and timeless—though in a Modernist way.
As architect, Mindel clarified space by laying out the geometric bones of his apartment—an interplay of circles and squares—but as a connoisseur of twentieth-century design and decorative arts, he curated his interior, furnishing the spare architectural armature with exceptional specimens selected from Modernist history. The lofty spaces, with views open on four sides to Manhattan's water towers and architectural icons, set the stage for design icons inside, allowing pieces elegant and eloquent in their structural simplicity to hold their ground and converse: they speak to one another in a spirited dialogue about point, line, plane and comfort.
Lee Mindel is a genius, and his relationship with the objects he collects creates a visual symphony — it's magical.
—Alberto Aquilino, 1950 Gallery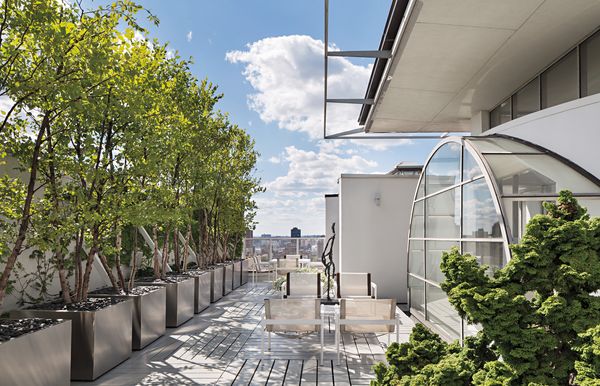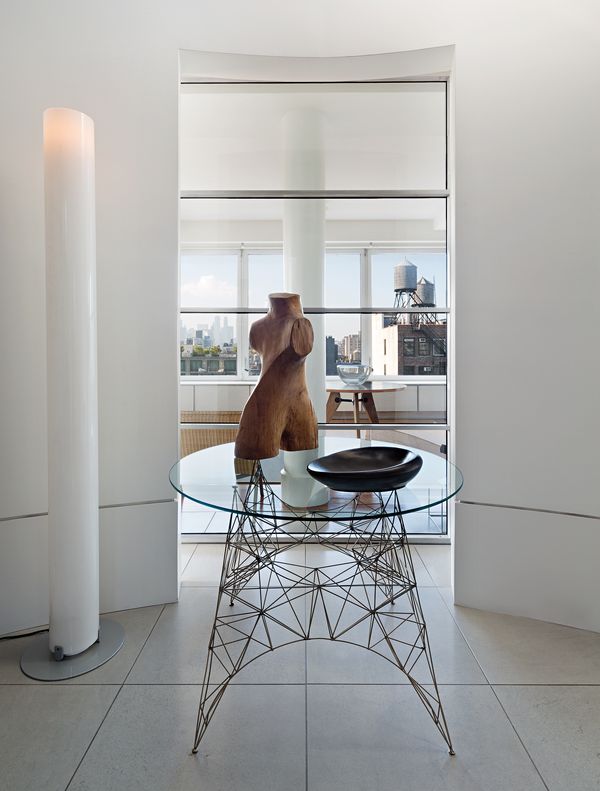 Each is a piece of architecture, the idea of a building edited into a condensed space of its own. Mindel brings furniture off the wall into the room, privileging them with generous amounts of space that reveal line and shape in three dimensions.
Sometimes architecture is something you can sit on, the distillation in a chair, sofa, desk or lamp that embodies larger principles telescoped into an object. Mindel is a practicing encyclopedia of twentieth-century Modernist furniture designed by architects, and in the studied equanimity of his high-ceilinged architectural shell, he assembled a collection that shows how international Modernist design became—despite all its individual and regional variations—a culture of its own with an integrity consistent across decades and continents.
Lee has been vital to the rediscovery of French mid-century designers including Jean Prouvé and Serge Mouille. He was one of the first to introduce their masterpieces into American collections.
—Philippe Jousse, Jousse Entreprise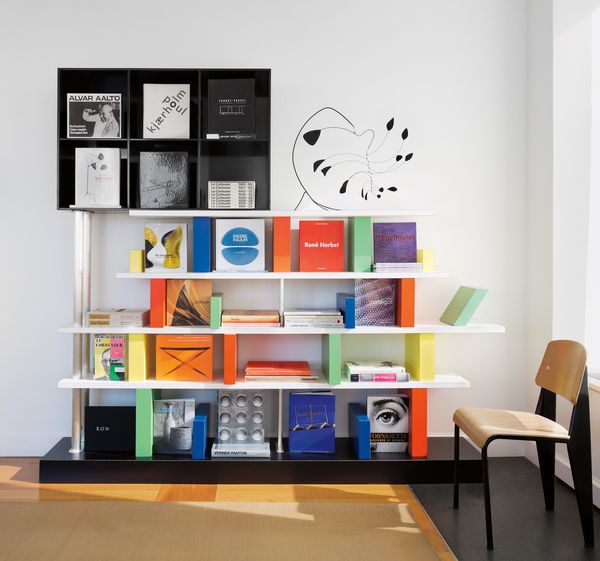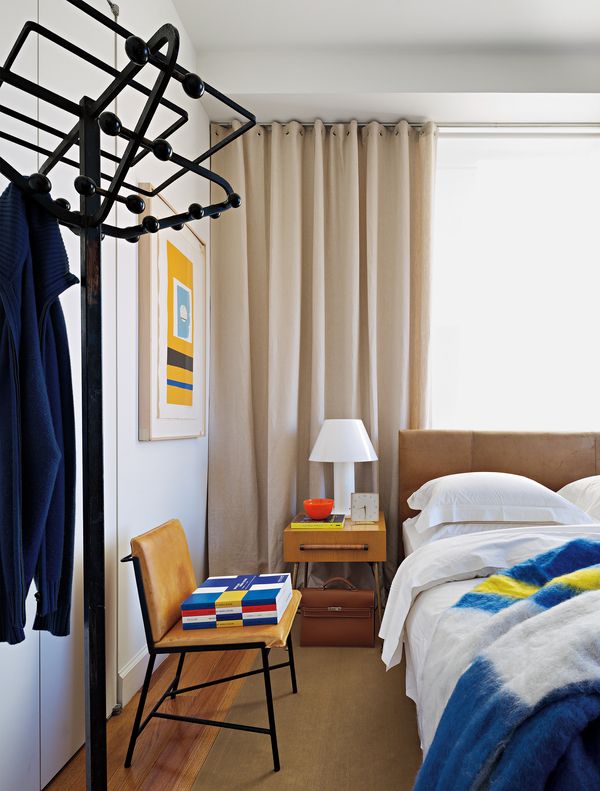 Mindel's ecumenical eye tends to principle rather than period or place, to furniture built with natural materials and exposed structure, the arms and legs clearly expressing the geometries of support. His traveling imagination led him beyond the obvious icons of mainstream design, beyond the well-known Bauhaus and mid-century classics, to equally beautiful and practical specimens on farther shores— Finland, Denmark, Italy, Brazil. He has spent decades off the beaten track, discovering depth on the Modernist bench.
The whole ensemble that he collected in his four-bedroom loft represents a Modernist utopia, a short course in the history of decorative arts, and a small city of icons that echo the urban icons outside on the skyline. That a crafted oak loveseat by Antoni Gaudí can stand in comity with a pair of early cardboard chairs by Frank Gehry means that, although designed almost a century apart, they form part of a common transnational culture. The pieces belong to an extended family with common DNA. The pieces all speak to each other across time in the language of the new.
Lee Mindel personifies charm, energy, positivity and impeccable taste. His projects are a mirror reflection of his personality.
—Simon de Pury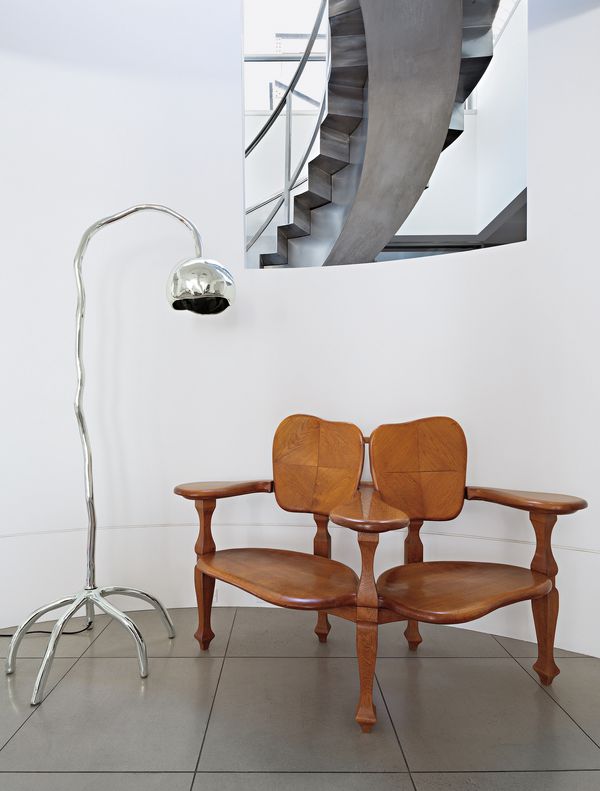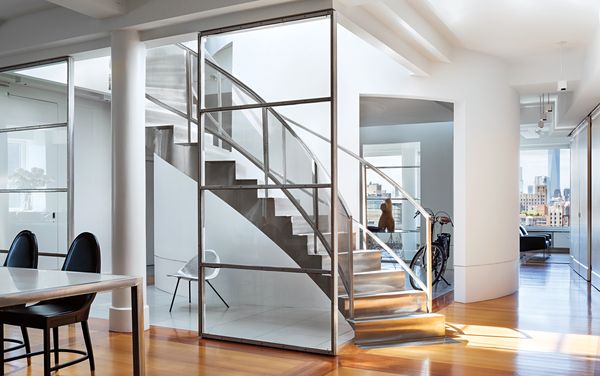 The brilliant original designs, virtually antiques now but perennially fresh, may belong to the original authors, but the wit and insight with which they were spotted, collected and juxtaposed belongs entirely to Mr. Mindel.