This year marks the first that Phillips is an official sponsor of HSNY, a non-profit organization. All sale proceeds, including Phillips' buyers' premium, will benefit HSNY.
What once took place during HSNY's annual Gala — a tradition that dates back to the Society's start in 1866 — this year's Charity Auction will take place online via Phillips' Gallery One, a next generation auction experience that allows collectors to bid virtually from anywhere in the world.
Bidders worldwide can expect to see horological marvels from top Swiss and Japanese brands. With a 'No Reserve' policy across all timepieces, HSNY invites auction-goers to bid enthusiastically. All proceeds will benefit HSNY in its ongoing mission to advance the art and science of horology, which includes offering financial aid to watchmaking institutions and
full-time watchmaking students in the United States.
Through Timepieces for HSNY: 2021 Charity Auction, HSNY will offer watch enthusiasts, collectors and aficionados alike the opportunity to bid on seven incredible timepieces, including a unique wristwatch created for HSNY, a coveted limited edition release and a first known model of its kind to be offered at auction.
American Actor, watch enthusiast and Trustee Of The Horological Society Of New York, Aldis Hodge presents highlights of the upcoming Timepieces for HSNY Charity Auction, together with Paul Boutros, Head of Watches in the Americas and Tania Edwards, luxury watch consultant.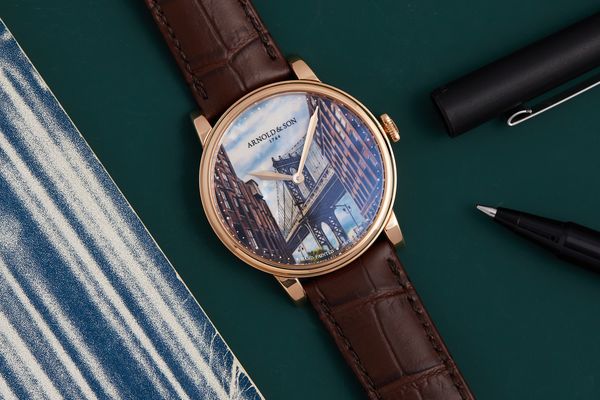 Highlights include HM HSNY (Lot 7), a one-of-one timepiece created specifically for HSNY by Arnold & Son. The HM HSNY depicts a vanishing-point projection of emblematic New York buildings, with the Manhattan Bridge sprawling across the East River in the background. The dial is a miniature painting just a few square centimeters in size. During the day, the bridge is displayed against a mother-of-pearl sky. At night, certain windows in the red-brick buildings, the street lights and Manhattan Bridge are illuminated by the addition of Super-LumiNova to the hand-painted scene, lighting up the nocturnal display. The HM HSNY is assembled on a hand-stitched brick-colored alligator leather strap, echoing the dial's miniature painting.