Cecily Brown, The End, 2006
Estimate: HK$4,000,000-6,000,000 (US$513,000-769,000)
Lot 26, 20th Century & Contemporary Art Evening Sale, June 8
Cecily Brown
One of the most important artists of her generation, British-born Cecily Brown is an art world phenomenon, famous for her dynamic and vividly gestural works that shift between the figurative and abstract. The End is a spectacular work from the artist's oeuvre in which forms and figures emerge and evolve in a state of flux.
The piece reveals the conclusion of a raucous dinner party, with plates and glasses strewn in disarray. The heeled foot of a woman emerging from the billowing table cloth suggests the presence of figures underneath. Grand in scale and teeming with ravishing imagery, The End was included in the artist's major solo retrospective at the Museum of Fine Art in Boston in late 2006 just after its creation, a testament to the significance of the work.
Yayoi Kusama
One of the most celebrated artists in contemporary art, Yayoi Kusama continues to dazzle the global art scene. In Nets Obsession, Kusama delicately places an array of white, weave-like curls onto a surface of midnight blue, creating a capricious, animate image as white mixes with the background to create fluctuating tonality. The painting appears to resemble a coral reef, viewed from the perspective of a diver swimming above.
The pumpkin is perhaps Kusama's most iconic motif. She has deployed it as both an allegory and instinctive form of self-portraiture for over seven decades across paintings, drawings, sculptures and installations.
Pumpkin, painted in 1990, coincided with a very public resurgence for the artist. In 1989, she held her first New York retrospective at the Center for International Contemporary Arts and became the first Japanese artist to grace the cover of Art in America.
Paralleling this revival was a reevaluation of her work in Japan. Kusama went on to exhibit at the 1993 Venice Biennale, making her the first Japanese artist in the event's history to be granted a solo exhibition.
Emily Mae Smith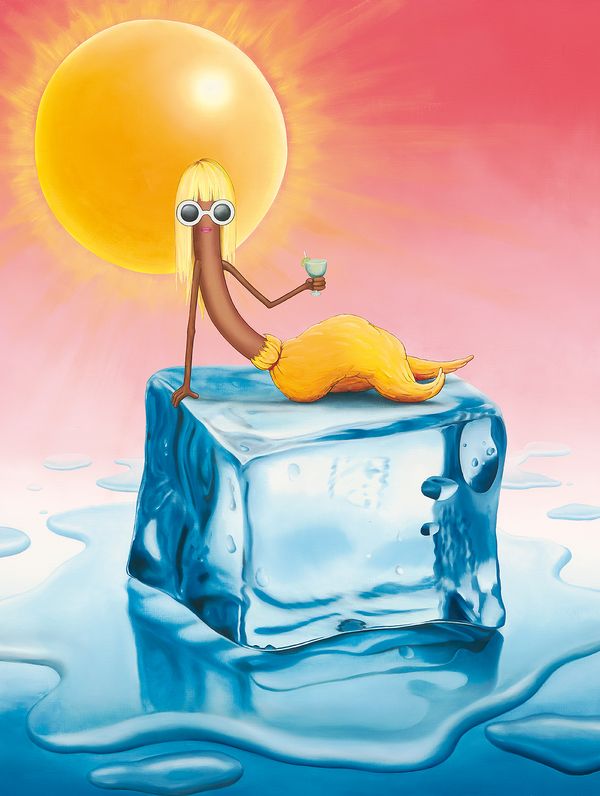 Wry, whimsical and tangled in symbolism characterize the meticulous paintings of Emily Mae Smith. She has earned significant international praise over the past two decades as her popularity continues to grow. Looking to pop culture, surrealism and revisionist historiography, Smith devours and reformulates a wide variety of references to create her unique, intricate fantasy worlds.
With inspiration taken from the dancing broomsticks in Disney's Fantasia, Broom Life aims to liberate "from the film's menial labor and reproduction role." At the center of the composition, an effeminate, anthropomorphic broomstick sits on top of a large block of ice, lounging with a cocktail drink in hand and evoking the joy and relaxation of a holiday in the sun.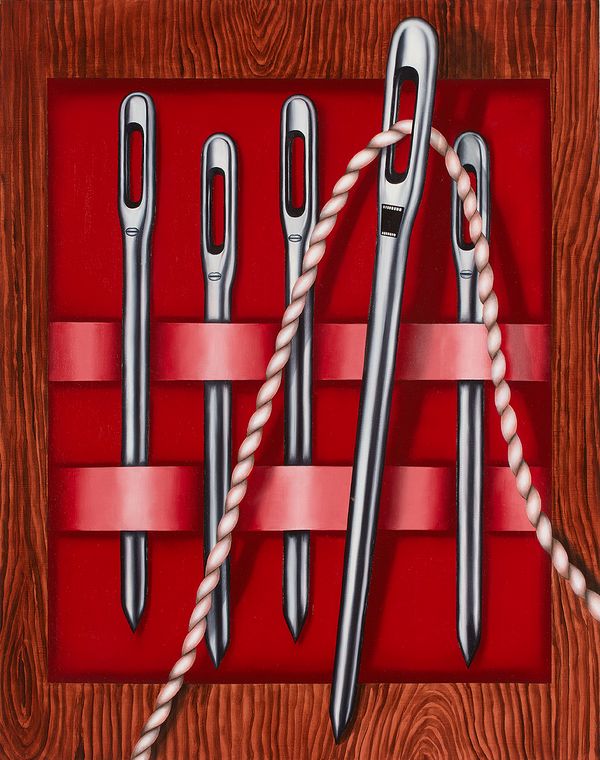 Smith's paintings act as a reflexive response to the social, cultural and emotional connotations associated with the iconography of the figurative paintings she refers to, but also to the portrayal of women in popular culture today. Her humorous and thought-provoking body of work continues to attract popular and critical attention around the world.
Tschabalala Self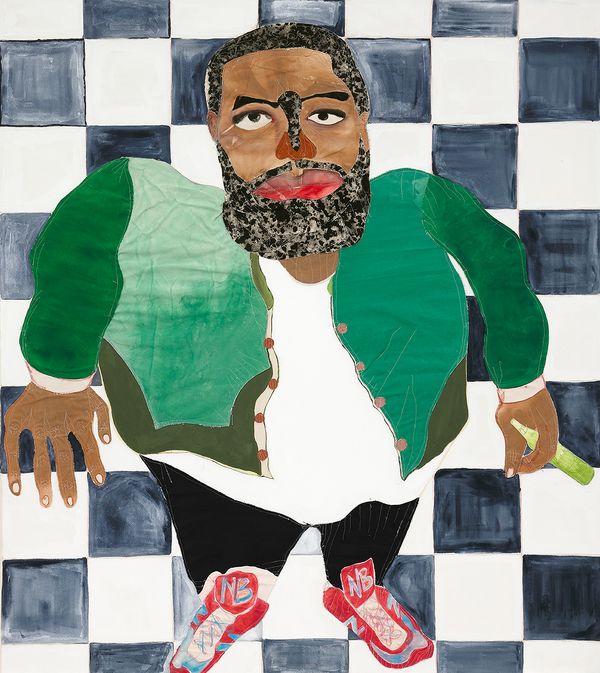 Working across a range of mediums including drawing, painting, sewing and printmaking, American artist Tschabalala Self is celebrated for her expressive, tactile artworks that explore the confluence of gender and race through a variety of forms and narratives.
Showcasing Self's trademark method of art execution, KLK is composed of acrylic, fabric and painted canvas that has been sewn onto the work with a variety of colored thread. The material is sourced from all aspects of her day-to-day life, from the debris of her family home to repurposed fabric and recycled works.
With his stylized beard, fashionable green jacket, and red and blue New Balance sneakers, the KLK man exudes an air of coolness. The work's title comes from a short form used in texting for the Spanish phrase "que lo que," meaning "what's up."
Jadé Fadojutimi
With expressive canvases that are charged with energy and emotion, London-born painter Jadé Fadojutimi has captured the attention of the art world. Concealment: An essential generated by the lack of shade is the first work by the artist to be offered at auction in Asia, and a prime example of the artist's strong graphic impulse and painterly touch.
The piece showcases Fadojutimi's masterful approach to mark-making that defies all expectations of her medium. She began by building up color through brushing, pushing and smearing, before then also scraping it away, Fadojutimi creates a multilayered, immersive surface that engages the viewer in a deep dialogue of introspection, delving into the themes of identity and a quest for self-knowledge that are at the heart of her hypnotic practice.
Maria Farrar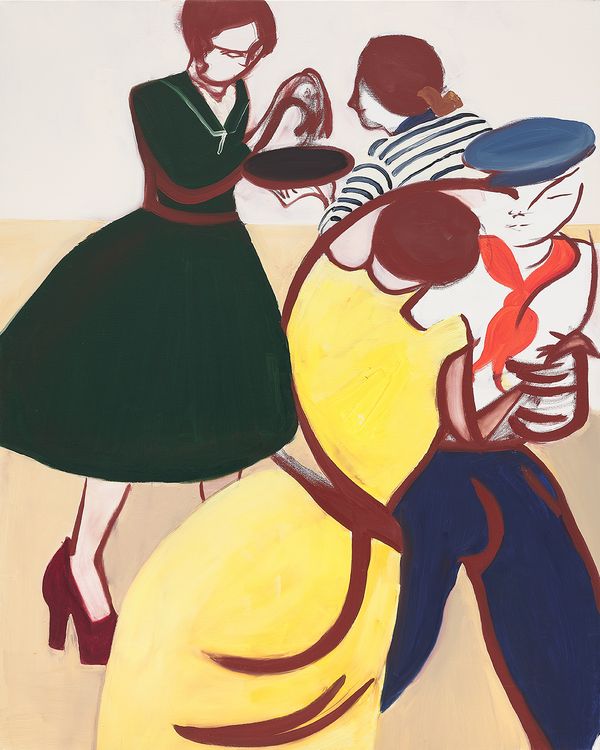 Born in the Philippines and raised in Japan, Maria Farrar weaves together classical themes of Eastern and Western visual language in supple, organic forms. Her light-hearted, dynamic scenes derive from everyday life and fragments of memories, spanning the grand lakes of the Philippines to the shop windows lining the streets of London.
Connecting the pictorial language of manga and calligraphy with Western art history and oil pigments, Farrar's acute sense of color and dynamic compositions capture moments that are concrete and yet simultaneously elusive, fragments of a floating and expanding world.