- By Ross Povey
For many years now, the Daytona has dwelled within its own microcosm in collector circles. More than simply a sub‐set of Rolex collecting, the brand's iconic chronograph has soared in both popularity and value, far beyond what even the most bullish speculators might have predicted. Whilst arguably in the shadow of its manually wound older brother for many years, the Daytona Perpetual has certainly now come of age. The results that both Zenith‐era and in-house calibre 4130 Daytonas have been achieving has been nothing short of staggering, especially when in a rare or unusual configuration.

The vintage Daytona spent most of its life as a somewhat, albeit beautiful and varied, utilitarian sports watch, with either a steel or yellow gold case with panda or reverse‐panda dial. The exotic Paul Newman dials and gem‐set references 6269 and 6270 were an occasional glimpse of something unusual, but Rolex really began 'dressing up' its sports chrono when the watch received what was perhaps the most comprehensive make overs a watch has ever received.
One must not forget that by the time the first automatic Daytona was introduced in 1988, it had become something of a lame duck in the Rolex family. By 'beefing up' the case from 36mm to 40mm, reshaping the case, adding a sapphire glass and introducing an automatic movement, Rolex created one of the most sought‐after watches on the planet and the now legendary 'waiting list' was born!

Perpetual Change

The automatic Daytona expanded the line with steel and gold and white gold watches, with the precious metal references also being offered on leather straps. Rolex also radically overhauled the dial options and began setting both the dials and bezels with diamonds and other precious stones. Making stone dials is a very delicate process and wastage levels are very high, as the incredibly thin piece of stone that is required is brittle, fragile and cracks very easily. The manufacturing process basically involves cutting a disc of the stone and then grinding it down to the super thin slice that is then applied to the brass dial base. Sounds easy right? It isn't and takes serious skill and perseverance by artisan craftsmen. Natural products are always unique and that is one of the alluring aspects of stone dials, in that each one is unique and therefore special for the owner.

The Daytona Perpetual has been commercially available with five different hard stone dials – sodalite, grossular garnet, chrysoprase, turquoise and meteorite as well has a number of hues of mother of pearl. In the upcoming Hong Kong Watch Auction XII, Phillips is offering a number of stone dial Daytonas, two of which feature sodalite dials. Sodalite is a blue mineral that is used in jewellery as an ornamental gemstone. First discovered in the early 1800s in Greenland it became popular as an ornamental stone following a large discovery in Ontario Canada. Its name is a result of the very high sodium levels in the stone, which is very hard but also quite fragile. Often confused with lapis lazuli (especially in terms of watch dials), it is different due to white streaks through it. The shades can vary too, from light powder blue to rich royal blue.

Sodalite Sales
Lot 827 is a reference 116509 in white gold on bracelet. The white gold Daytona on full bracelet was launched in 2004, four years after Rolex unveiled their groundbreaking in‐house chronograph movement, the Calibre 4130. The arrowhead font on the bezel was first seen on the yellow gold reference 16518 on leather strap and was the preserve of precious metal watches until it appeared on the steel 116500 in 2016. This watch features a sodalite dial with applied Arabic numerals, that can be read as minutes or as seconds when the chronograph is in use. A sodalite dial Daytona is a rare sight to behold and was available in two versions, with diamond‐set hour markers and also with the Arabic markers. The latter configuration is rarer, even more so when in the 116509. With the box and papers this is a very desirable watch.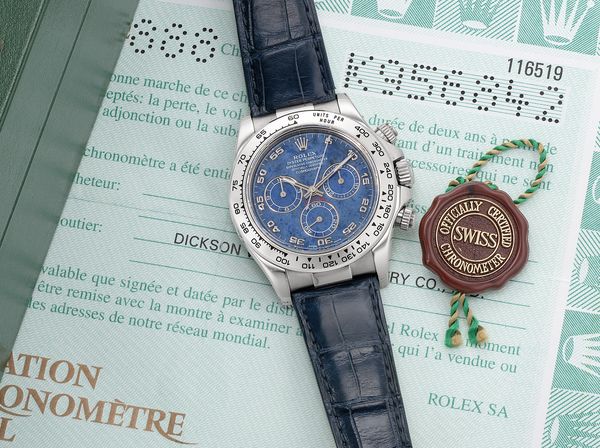 The Daytona on leather strap was first introduced in 1992 in yellow gold and then the first white gold watch came in 1997 as reference 16519. Always popular it continued through into the in-house Daytona as reference 116519. Lot 892 is another sodalite dial with applied Arabic numerals. Some buyers could be put off by the luminous hands, but it could easily have been a request at point of sale or at service at some point in its life.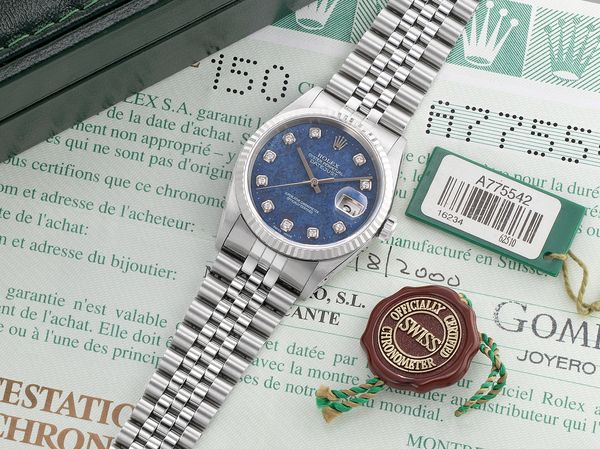 Going off topic for a moment, I have to also mention Lot 893, a reference 16234. A stunning steel Datejust with white gold fluted bezel and sodalite dial set with diamond hour markers. These watches are beautiful to me and of all the watches I've let go over the years, it is one of these that I possibly regret selling the most. Again, proving that no two sodalites are alike, the hardstone in this example has more red highlights than the two Daytonas – what a watch!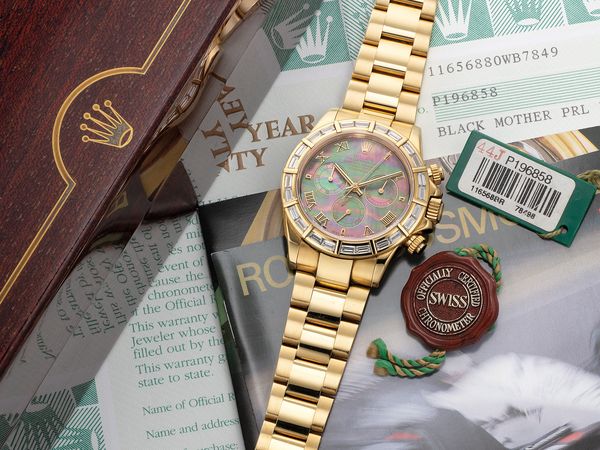 Moving on to gem‐setting, Lot 897 is a reference 116568 with baguette‐cut diamond bezel and a black mother of pearl dial, or Tahition as collectors sometimes call it. The '6' in the reference number refers to the gem‐set bezel on this yellow gold bracelet watch. The mother of pearl dials are manufactured in the same way as hardstone dials and require real skill to produce. This watch is a very early example dating to 2000, so would have been one of the first in‐house gem‐set Daytonas to be made. These watches with special reference numbers have become very popular with collectors and with this dial, which on the wrist is stunning, this watch will fly!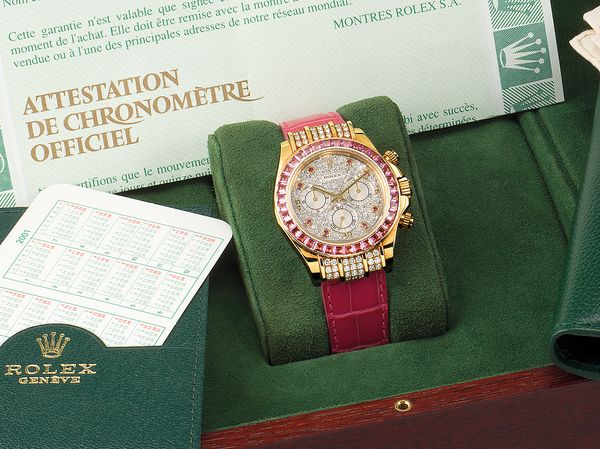 The final lot in this selection, Lot 1095, is maybe the most interesting Daytona in the sale and certainly the rarest. I've written about the watch on Revolution here already. The watch is a reference 116598, which was a reference most famously first used for the Leopard Daytona in 2004, reference 116598 SACO – the SACO standing for Sapphires Cognac, and then for the yellow gold Rainbow Daytona 116598 RBOW. This until‐now unknown example is a 116598 SARO (Sapphires Rose) with stunning and unusual pale pink sapphire bezel, fully pave dial with ruby hours and the brilliant‐cut diamond set fixed endlinks or hoods. As with the 116568 (Lot 897), this watch is a P serial dating to 2000 and comes with box and papers and the original hang tag with reference number!