Silvia Furmanovich, 18k Gold, Diamonds and Bamboo Ring. Photograph courtesy of Natural Diamond Council. Woman to Woman: Flawless X Vivarium.
Written by Vivienne Becker

Woman to Woman, appropriately for the theme, is something of a pioneering initiative, a collaboration between Phillips Flawless and Vivarium. In this, our first collaborative private sales exhibition, we throw the spotlight onto jewels by female designers of the 20th and 21st century, showing how women have influenced and shaped our modern world of jewels. The aim is to amplify the female voice in jewelry, to chart how women made their way in a traditionally male-dominated industry, to demonstrate how women understand the intimate relationship between a woman and her jewels. And to do this by showcasing jewels of intense individuality and originality, all conceived and created by women for women, as powerful expressions of personal style.
The story threaded through our curated selection begins in the 1920s, at a time of emancipation for women, many of whom had taken on men's work during World War I, and drove, smoked, drank cocktails, played sports, and embarked on careers. A time when the social order had shifted dramatically, and jewels, once symbols of status, wealth, authority, or masculine ownership, became vibrant vehicles of free-spirited, artistic self-expression, for both maker and wearer. Most significantly, in tune with social and cultural changes, the leading women designers of the day shifted the emphasis away from entrenched traditions and intrinsic value onto design, artistry and convention-busting originality.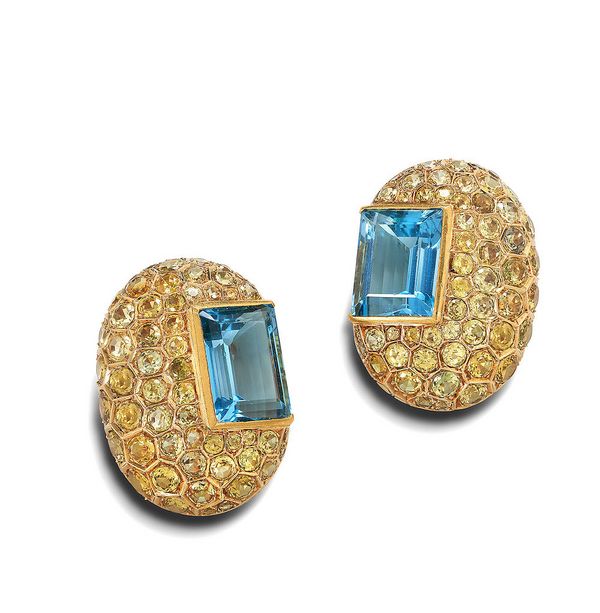 Boivin, Aquamarine, Chrysoberyl, Peridot and Citrines Earclips, circa 1945. Woman to Woman: Flawless X Vivarium.
While not a jewelry designer as such, the legendary Jeanne Toussaint was already making waves at Cartier, where she was appointed by Louis Cartier as Creative Director of Jewelry in 1933. From this time until the 70s, she exerted enormous influence, establishing some of the most enduring and iconic elements of Cartier's visual language, most notably perhaps transforming the Panther from an abstract pattern into a three-dimensional figure, bringing it to life and into the lives of many of the great style leaders of the day, including the Duchess of Windsor. Similarly, Renée Puissant, the daughter of founders Alfred Van Cleef and Estelle Arpels, had taken over design direction at Van Cleef & Arpels. Both injected fantasy, color, narrative—a lively menagerie at Cartier, a couture connection at Van Cleef—along with all-important emotion and a fearlessness in breaking with tradition. This audacity, the willingness to experiment, to replace outdated status symbol-values with artistry and originality, is, I believe, the fil rouge connecting the jewels, of such variety and vivacity, in our Woman to Woman selection. Women, both makers and wearers, are adventurous when it comes to jewels, choosing less for investment, more for excitement, to reflect their tastes and lifestyles. We made another connection too: looking at the 20th century, Woman to Woman focuses on decades that saw radical changes in women's roles, and in ideals and perceptions of their identity.
In the 1920s, the house of Boivin was run, both commercially and creatively, by women. Jeanne Boivin, sister of couturier Paul Poiret, had taken over the business on the death of her husband, René in 1917, making her the first woman to lead a prestigious jewelry house. She employed the 19 year-old Suzanne Vuillerme, better known by her married name, Suzanne Belperron. It's not quite clear if she started as a salesgirl or a modelmaker-designer, but one thing is certain, before long, she had turned her hand to design, visualizing and shaping Jeanne Boivin's ideas, adding her own touch of determined, cultivated, independent femininity, developing the style that became her signature and that has turned her into one of the most influential designers of the 20th century.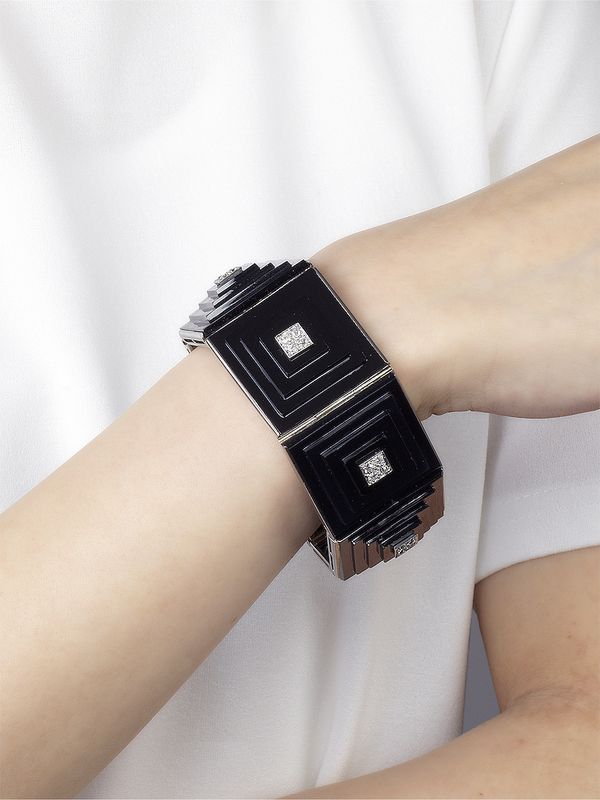 Boivin by Belperron, "Chocolat" Bracelet in Black Onyx, set with Diamonds in Gold, 1929. Woman to Woman: Flawless X Vivarium.
Amongst our capsule selection of jewels from the House of Boivin, we show an early, spectacular, and historically significant bracelet from 1929 accompanied by an original design drawing from the Boivin archives. The powerfully graphic onyx and diamond composition, designed by Suzanne Belperron, features her signature stepped Escalier design. Belperron's fearlessly trailblazing style, agelessly modern, and way ahead of its time, is showcased here in a series of wearable jewels that carry with them the scent and spirit of their creator and the women who wore them. Suzanne Belperron and Jeanne Boivin heralded the emerging cult of—and quest for—individuality in jewelry design, leading the way for future female designer-jewelers.
Angela Cummings, who became a Tiffany named designer in 1974, represents the feminist and hedonistic 70s. The turbulent decade of social and cultural revolution nurtured a new breed of independent working woman, who bought her own jewels, designed by women, in an entirely new spirit, led without doubt by Elsa Peretti. A fashion model, muse to the quintessential 70s American designer Halston, Peretti instinctively understood what the modern woman wanted in her jewelry. She blended this modernity with her own ultra-sophisticated, cultivated taste, with her love of Asia, and its crafts traditions, her deep affinity with nature and with her own sensibility, her understanding of the most fundamental roles and meanings of the jewel in all cultures.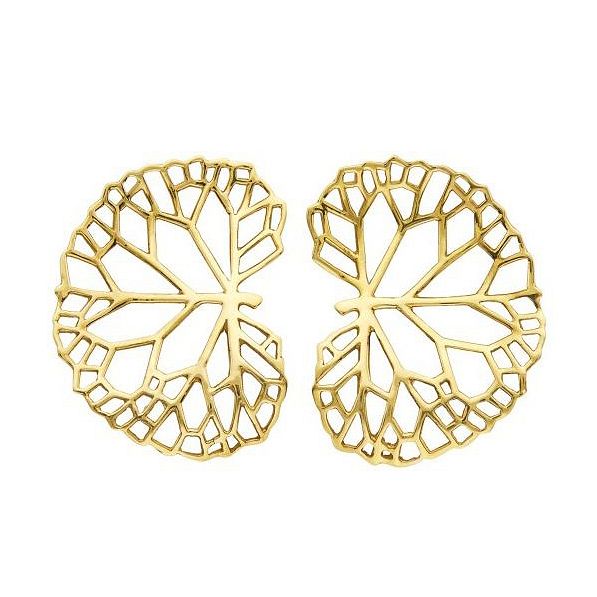 Cummings too was inspired by nature, and by arts and crafts of Japan, although she took a very different stylistic route from that of Peretti, interpreting themes in her own way, notably in her use of inlay work and damascening. However, looking back it's possible to see how they shared a mission to move attention away from intrinsic value and onto artistry and craftsmanship, emotion, and meaning.
The post-feminist years of the 1980s, of power-dressing and statement jewels, are captured in the bold, gold and color-rich creations of Paloma Picasso, the daughter of Pablo Picasso and Françoise Gilot. She was brought on board at Tiffany by John Loring, Tiffany's ineffable design director, who had met Picasso when she was just 16, in Peggy Guggenheim's house in Venice. He kept a close eye on her development as a designer and having first invited her to create a table setting for a Tiffany exhibition, he took her on as a named designer in 1980. Her innate sense of color was stimulated by Tiffany's vast resources of colored gems; she has spoken about her thrill at seeing a boardroom table laden with colored stones, of all varieties, at one of her first meetings at Tiffany.
The glamour of 1980s jewelry style, which is finding favor again today, after just the right time distance to assess and appreciate it, equally oozes from jewels by Marina B, particularly from her spectacular drop earrings and multi-row collars. A member of the Bulgari family who rebelled against the constraints of a dynastic patriarchy, she left the company in 1976 to follow her own path and forge her own style. Her Italian heritage ensured her love of exuberant color, especially the cabochon gems, which were so fashionable at the time. She also introduced new materials and techniques, notably black gold, dramatically contrasted with rich butter yellow gold. Her work, along with that of our other 20th century trailblazers, remains as relevant and potent today.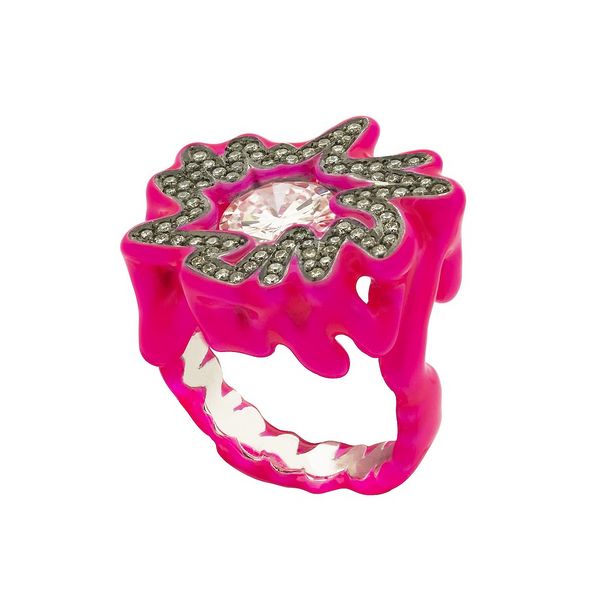 For the 21st century, Woman to Woman focuses on today's leading contemporary designer-jewelers from around the globe, each different in vision and voice, but all questioning, challenging, searching for new expressions, keeping the millennia-old art of the jewel alive and dynamic. Here we find themes within our over-arching theme: the fusion of East and West, by Michelle Ong of Carnet, Hong Kong who blended various influences into sophisticated jewels of exquisite refinement, underpinned by her own interpretations of femininity, past and present. London-based private jeweler, Ming, who spent her early years in Hong Kong, draws on personal memories and reverence for Asian culture in her quietly imaginative jewels, with their meticulously hand-crafted secrets and details. More recently, Feng J, the young jewelry star from mainland China, is adding a fresh, youthful vibe to High Jewelry, as she plays with techniques and materials to create painterly jewels of floating lightness and fluidity, inspired by French Impressionism, designed in her Shanghai studio, and crafted in Paris.
The next theme shows the strong connection here to modern and contemporary art, which ties in perfectly with Phillips' expertise in the realm of 20th century art, and with our joint mission to present the best of today's jewelry as important, collectible 21st century works of art or design. The explosive neon pink and diamond ring by Solange Azagury-Partridge demonstrates her irreverent, iconoclastic approach and the influence of Pop Art, while Lauren Adriana points looks toward a new mood of non-figurative, non-referential abstract modernism in pure compositions of form, color, light, and texture. Cora Sheibani, who grew up immersed in the art world, rubbing shoulders with Basquiat and Warhol, daringly introduces unexpected themes and inspirations, from clouds to cacti, bringing a subtle pop art reference to her jewels, that take their place in the contemporary design universe.
The ubiquitous and age-old theme of nature, and its connection to femininity, is given a thrillingly modern, vivacious makeover by inventive Brazilian designer-jeweler, Silvia Furmanovich. Into her exploration of humble natural materials, like wood and bamboo, and craft skills, such as marquetry, she manages to interweave rich and varied cultural references, from Japan, India, and Amazonia in her native Brazil.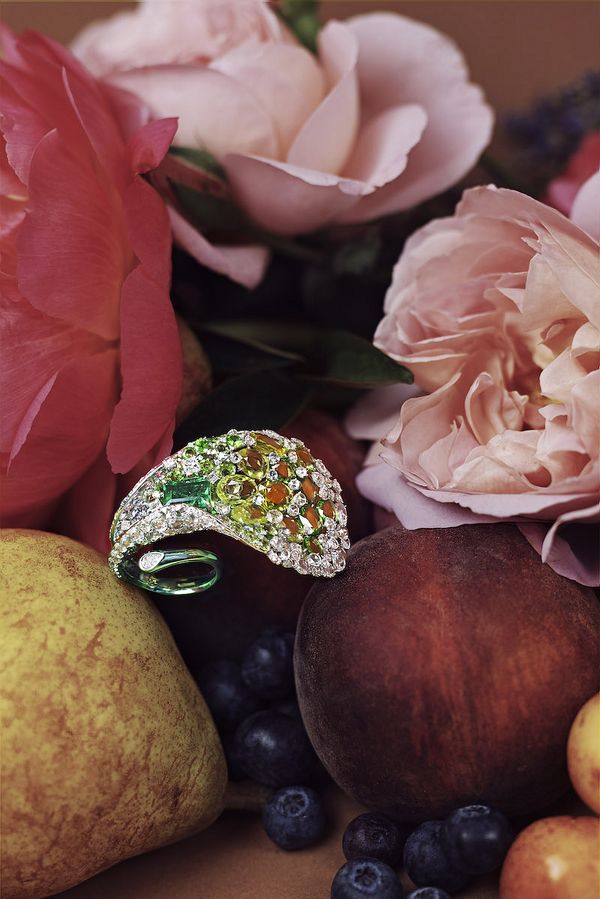 Feng J, "Calla Lily Ring" in 18k hand-painted gold, set with a 2.97ct Zambian emerald, double rose-cut yellow sapphires and Tsavorites and rose-cut diamonds. Woman to Woman: Flawless X Vivarium.
For Margaret, Geneva-based private jeweler, the way forward is through the past, through their ultra-feminine re-imaginings of antique jewelry, reworking classic motifs, such as Edwardian stars, pre-Raphaelite wings and lucky ladybirds and clover leaves, giving them a rock n' roll edge, appealing to independent women, sure of their own style, who love to mix and match, layer, and stack, while cherishing the sentiment that is the heart and soul of the jewel. And, in very different style, another Geneva-based jeweler, Nadia Morgenthaler subtly imbues her spectacular long drop earrings with an alluring sense of history. She blends eclectic influences: Belle Epoque refinement with architectural ironwork, Maharajas' magnificence with a touch of Arabian Nights' opulence. Her wondrously crafted and inventive structures may be entirely new and thrilling, yet they resonate with indefinable echoes of past splendor, richly emotive, romantic, and poetic.
Finally, rock n' roll and androgyny have always been driving forces for London-based goldsmith Hannah Martin, an advocate of gender fluidity since she launched her first collection in 2005. Her heavy-metal, brazenly bold gold jewels for men, borrowed by women, consist of monumental bangles and knuckleduster rings, and her latest, punk-inspired collection, called Act of Rebellion, incorporates carved malachite. A theme so perfectly capturing our moment in time, adding yet another layer of richness and rebellion, reverence, and revolution to the ongoing story of Woman to Woman, the female voice and vision shaping our ever-changing, ever-fascinating world of jewels.
Woman to Woman is dedicated to the memory, and the genius, of Elsa Peretti (1940-2021) who turned the tide of jewelry design in the 1970s, creating jewels that women could buy for themselves, and wear for their own pleasure and self-expression. She distilled emotion, energy, archetypal symbols, the natural world, and her own humanity into pure and perfect forms, minimal yet sensual, modern yet ageless; jewels that reach across generations and cultures to become enduring amulets, emblems of contemporary femininity, small, deeply meaningful treasures to keep close at all times.


Contact a Specialist:
Paul Redmayne
Head of Private Sales, Jewellery
paulredmayne@phillips.com
+852 9737 0041

Recommended Reading

Influencers Before Influencers >

Specialist Picks: Jewels & More >