- By Clara Kessi
I think I probably owe my love for sailing to my dad's midlife crisis…He is a fervent sailor and worked in the sail-making industry all his life. When I was just three years old and my dad forty, he resisted acquiring a sporty, fast convertible car to make him feel rejuvenated, but his Peter Pan syndrome took him on a sabbatical year around the world by sea and ocean.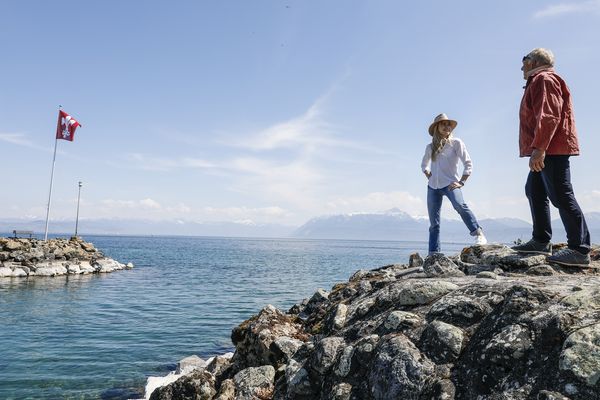 Clara Kessi and her father arriving at the port where Ypso is docked.
My mother, with two young children to take care of (I was 3 years old and my sister only 9 months at the time) and most probably very, very much in love, accepted with some convincing, to follow him on this mad adventure. And so off we went in 1996, crossing the Atlantic Ocean onto South America on a boat named La Belle Aventure, and indeed, what a beautiful adventure it was.
25 years later, I still hold this thirst and ever-burning passion for sailing whether it is for a two-week long summer cruise around the Greek islands, or for a short regatta on Lake Geneva on a rainy Saturday morning.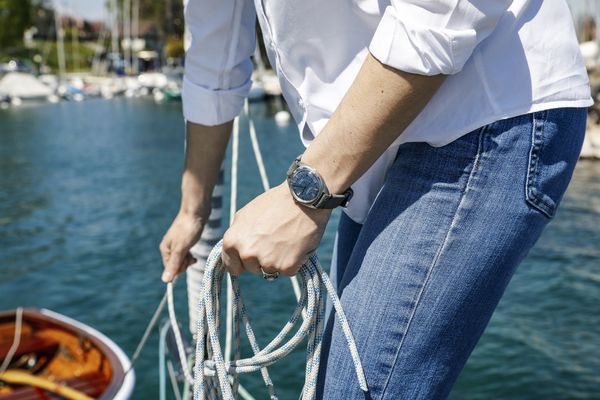 For our new editorial series Out for a Spin, and with the beautiful Spring days coming along, I decided to reunite the two universes so dear to my heart: sailing and watches. With an IWC Yacht Club on my wrist, I am ready to take the helm and sail off for a day out on the lake.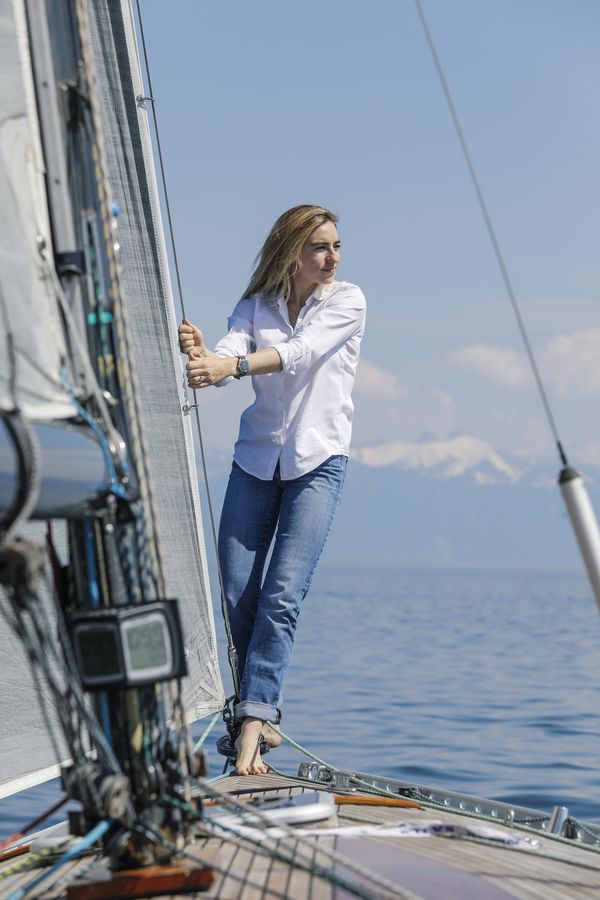 Not far from our auction room at the Hotel La Reserve, a beautiful boat, named Ypso, is resting under her winter covers, longing for warmer days. Like a rare vintage watch patiently waiting, stored away in a safety box, this little jewel of Swiss craftsmanship needs meticulous attention and delicate care. Resplendent, as if she was just coming out of her native shipyard of Versoix in 1975, Ypso leaves the port as if time hadn't aged her one bit, elegant and proud, in wind and tide.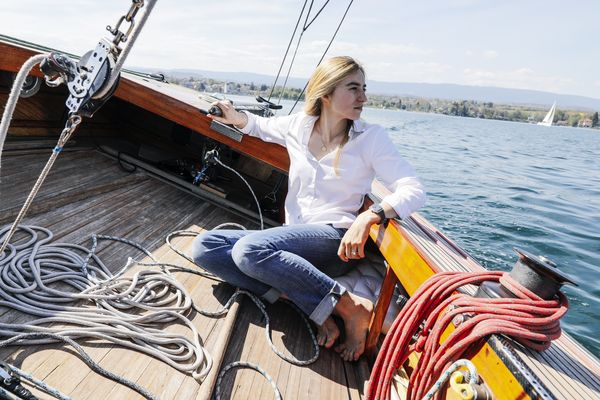 With the shoreline fading to a blur in the background, I look ahead and contemplate the beautiful lake-scape in front of me. The wind is blowing in our sails and messing with my hair. Although, we are moving at a hefty 6 knots (10.8 km/h) and my watch is ticking accurately, everything around us seems as if stopped in time. I start thinking that this boat and the IWC reference 1811 have more in common than we think. The most obvious one would be: one is a yacht and the other one takes its name from it.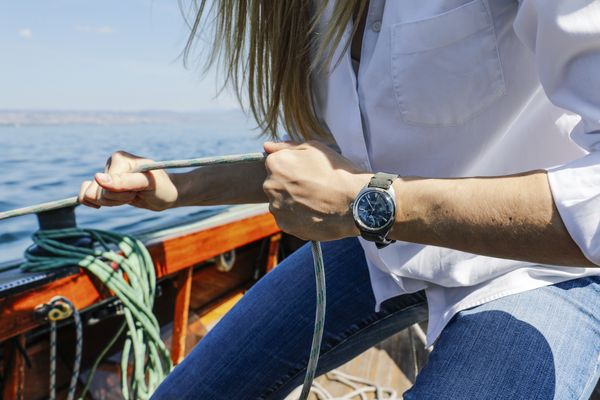 Light years ahead of its time, and with more than one shared trait with the Audemars Piguet Royal Oak and the Patek Philippe Nautilus, IWC released the Yacht Club model in 1967, with the desire to produce watches for a new generation engaged in recreational activities. Starting life as reference 811 and later relabelled reference 1811, the IWC Yacht Club embodies the sportiness and elegance of sailing. Indeed, both Ypso and the present watch were made for people with panache; an exclusive club of sportspeople who were looking for high quality and performance, equally at sea or on land.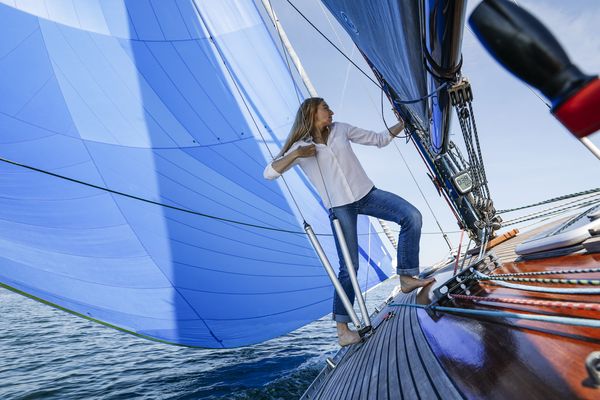 Timekeeping is important in sailing. A regatta starts with a bang. The race committee honks a large horn to inform all sailboats that only 5 minutes are left before crossing the starting line. Helm and crew on board look at their watch and start manoeuvring in front of an invisible line, tacking and gibing left and right like a well-orchestrated Bolshoi ballet. Packed close together in the final countdown, they shout to their teammates the final minute, the final second. Bang! The gunshot is fired and off they sail to the upwind buoy.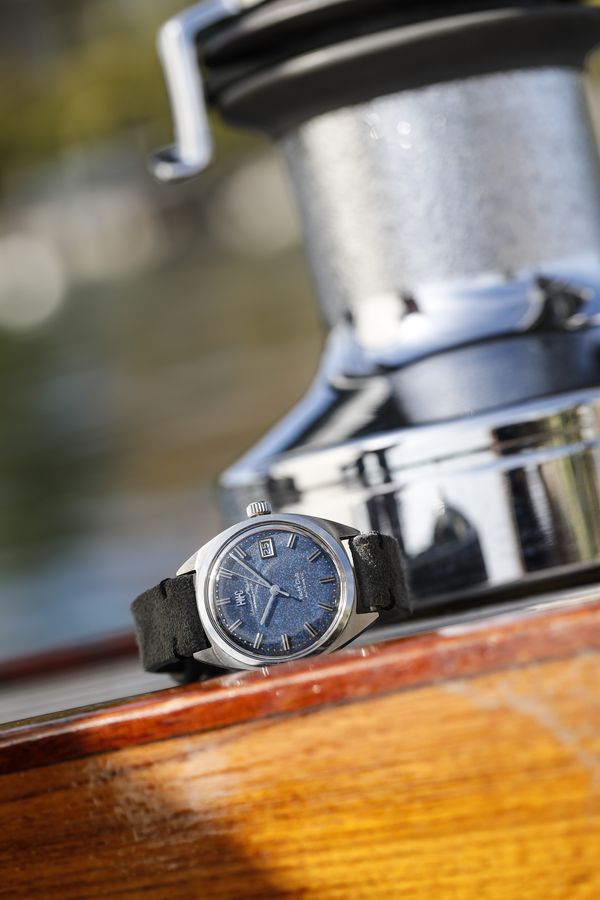 While admiring this wristwatch with the lake in the background, I am captivated by its adorning blue dial, reminiscent of the colour of the water. The dark blue pigments are spread unevenly as if the watch had just been splashed by the waves. Fortunately, the winding crown is embossed with a fish, an emblematic motif by IWC and a reassuring reminder to its wearer that the case is waterproof.
Broad flared lugs holds the strap tight, becoming as one with my arm while I push the helm to get closer to the wind. Everyone on board adjusts their position, pulling on ropes to flatten the sails or shifting their weight around, forcing Ypso to lean down as if bowing to Mother Nature. Indeed, each crew has a specific task to do on board in order to make the boat go forward. Similarly, a self-winding watch too, needs a source of energy to keep its hands moving. In this instance, the Yacht Club houses the famous calibre 8542 based on the developments of Albert Pellaton.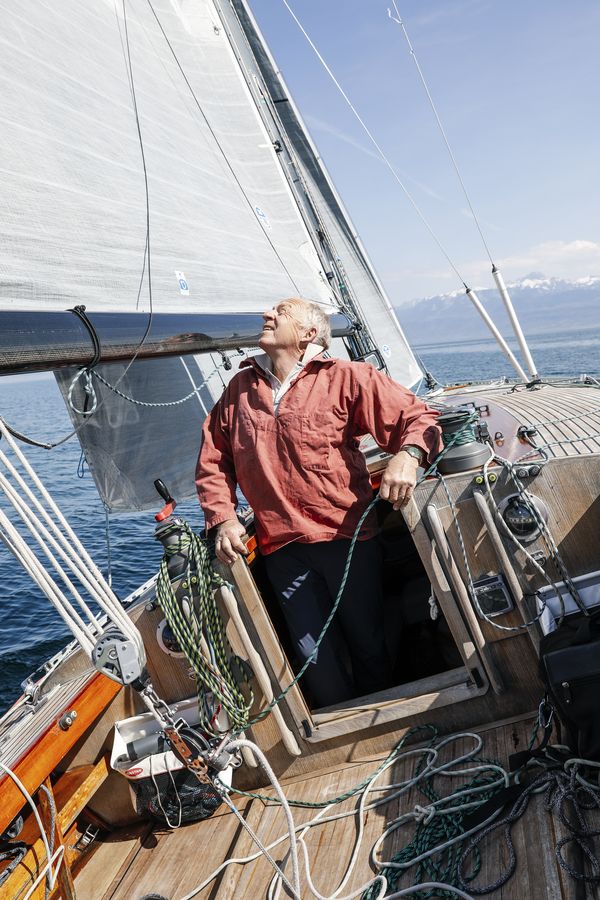 Appointed Technical Director to the Schaffhausen-based company in 1944, Pellaton patented an automatic winding system that converted bidirectional movements into a unidirectional winding motion. This revolutionized winding system, calibre 85, was a unique piece of technology and remains part of the IWC's watchmaking legacy today. When removing the case back of the IWC Yacht Club, one will not only be able to admire the optical perfection of its intricate in-house movement but also be reminded of the fervent dedication of its engineers.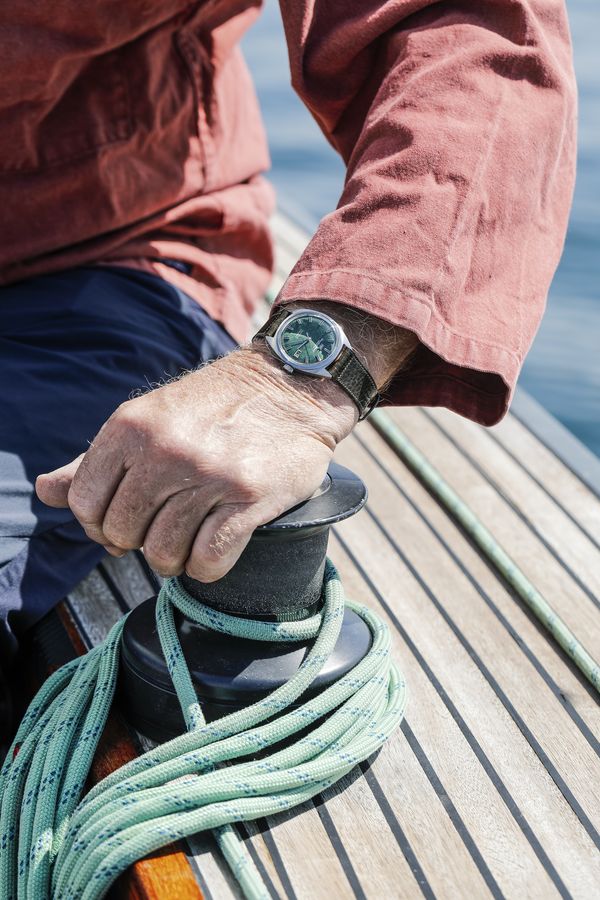 Very much like in the watchmaking industry, sailing has a long history of craftsmanship, tradition and above all, camaraderie. If you happen to be in Geneva by mid-June, you may witness Ypso amongst another 500 boats, docked at the Société Nautique de Genève for the most important inland lake regatta in the world: Le Bol d'Or Mirabaud.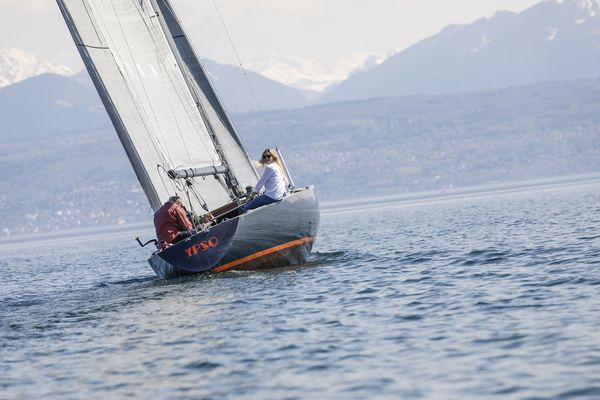 As if pushed by the wind, skippers, tacticians, crews and pirates take over the city by storm for a weekend. This annual event could be compared to one of our dear Phillips' Geneva Watch Auction, where dealers, collectors and watch enthusiasts meet at La Reserve for a weekend of horological wonders. In both instances, people gather around a table for a talk, sometimes a drink, about the past, the future, beautiful designs, the little details and the people who made certain watches/boats so renowned and loved today.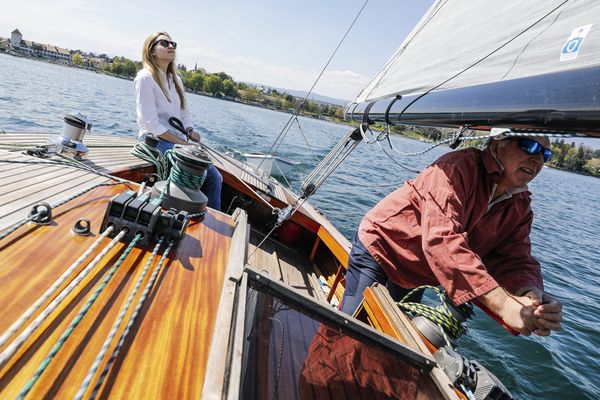 Their common denominator: an unprecedented passion for beautiful objects, savoir-faire and preservation; each fighting for the winning bid, the finish line.