By Douglas Escribano
The history of horology has demonstrated a continuous evolution towards better accuracy and timekeeping capability, to fascinating complication development such as well-toned minute repeaters, perpetual calendars, precision chronographs, or even accurate recreations of the stars above. While each advancement profoundly impacted watchmaking in their own way, there was a fundamental sea change beginning in the 20th century when gentlemen's watches moved from the pocket to the wrist. During the late 19th century, feminine jeweled bracelet watches and chatelaines were de rigueur for fashionable women, while pocket watches were the choice for men of substance - officers, doctors, rail station masters, etc. At the dawn of the 20th century, perhaps no one would have predicted the future success of the wristwatch.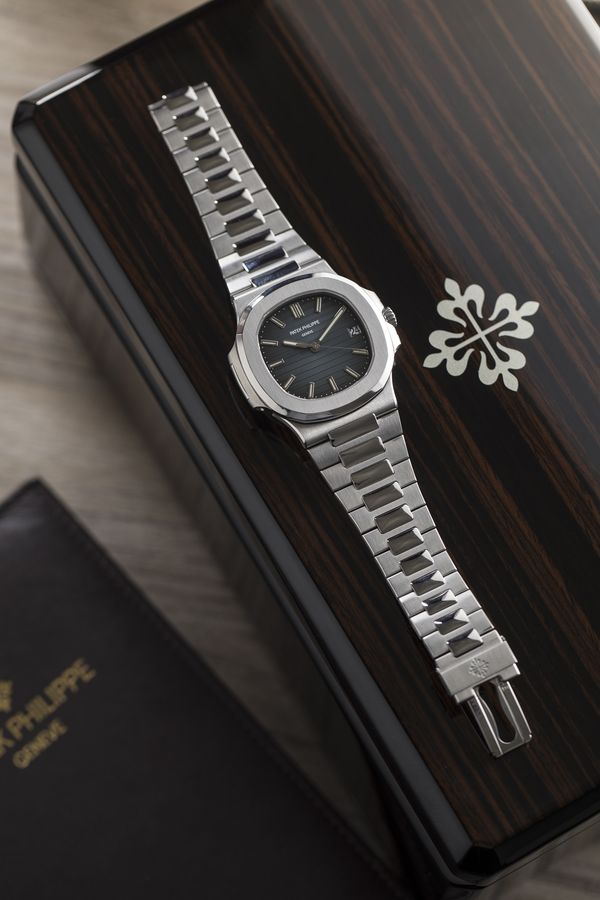 Throughout the evolution of the wristwatch, bracelets and straps have taken on significant importance, often seen as important as the watch itself. These bracelets followed a trend away from the dressier aesthetic of exotic-skin straps such as crocodile, to a sportier, more durable solution. Whether made from gold, platinum, or stainless steel they are resilient, comfortable, and can be worn in both casual and formal settings. Some collectors see the bracelet as a mere utilitarian accompaniment to the timepiece, while others view them as works of art. At times brands manufacture wristwatches with an integral bracelet, which cannot be removed and is preserved forever. The bracelet as an artistic work is further demonstrated by collectors' desire for bracelets by makers such as Gay Frères, Ponti Gennari, and J. B. Champion, which provide as much joy as the timepiece itself, as well as added value.
There has been a long tradition of fine bracelet manufacture and this season in The Geneva Watch Auction: XIII sale, Phillips in Association with Bacs and Russo is pleased to offer a variety of exceptional watches with superb bracelets.
Lot 60 - Patek Philippe Beta 21 Reference 3597/2 in white gold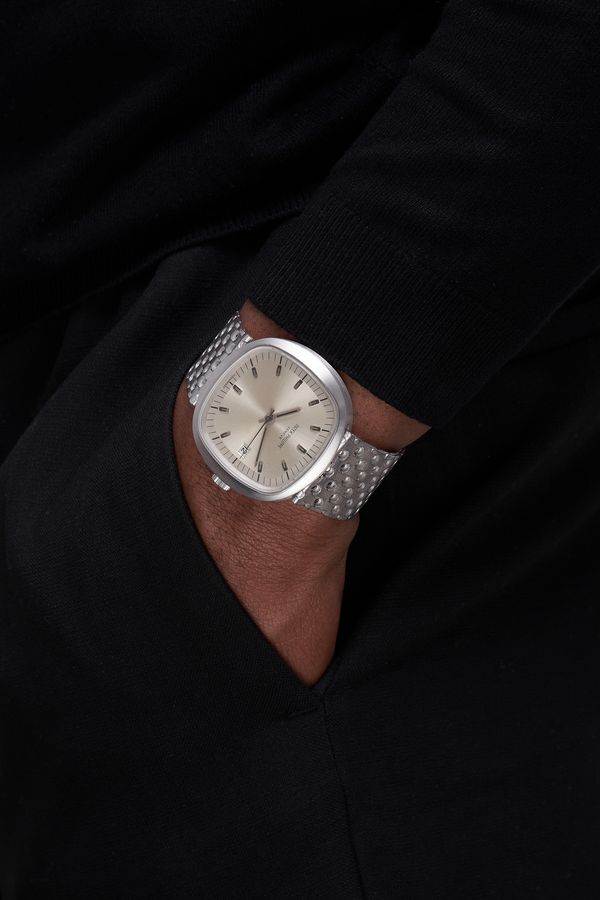 Lot 60 is a rare Patek Philippe electromechanical "Beta 21" oversized wristwatch with integrated 18K white gold bracelet. The so-called "TV-screen" case design is emboldened by a uniquely styled "drilled" bracelet. Manufactured in 1974, this lot is an iconic example of the Beta 21 and was often sold with an integral bracelet, along with examples with a leather strap.
Lot 64 - Patek Philippe Nautilus Reference 5711P in Platinum
Estimate CHF 200'000 - 400'000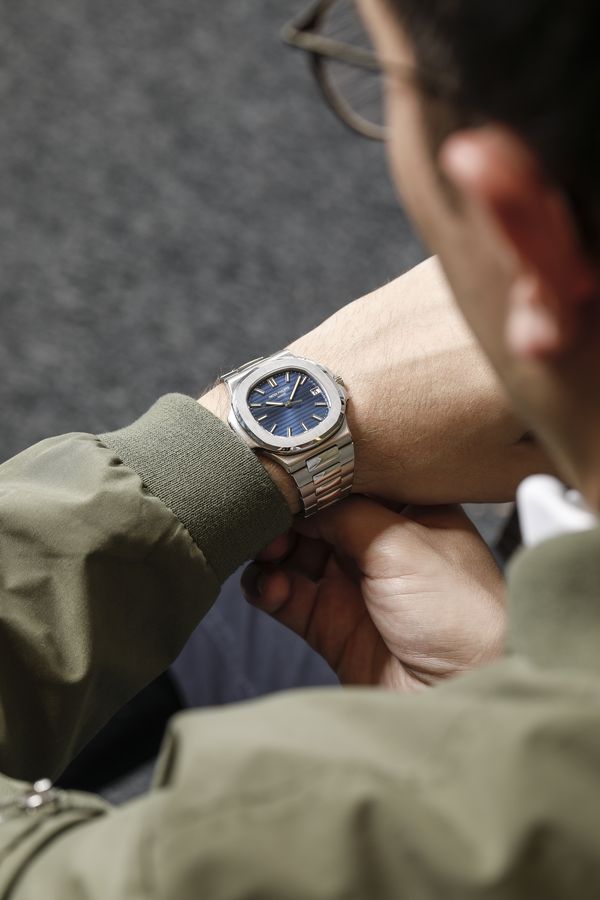 Patek Philippe's Nautilus model is one of the most sought-after wristwatches available today, and lot 64 is a platinum example of which approximately only six have appeared at public auction. The luxuriously heavy platinum case and bracelet have a brilliant sheen and give gravitas to this icon – when worn on the wrist, the heft is a discreet yet unmistakable reminder to only the owner of its great rarity.
Lot 96 - Patek Philippe Reference 2526 in yellow gold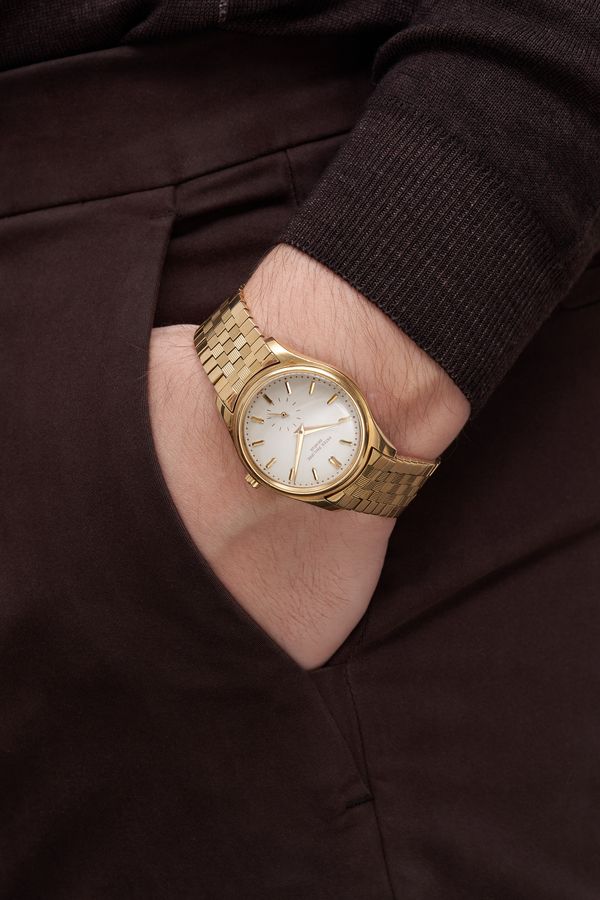 Gay Frères is arguably the best-known bracelet manufacturer of the 20th century, supplying exquisitely crafted bracelets to many Swiss brands. A highlight can be found in lot 96, a Patek Philippe reference 2526 that includes an additional mesh link bracelet, signed "GF", purchased by the original owner. Unlike integrated bracelets, the current lot accommodates both a metal bracelet or strap and is a wonderful example of how changing a strap can create an entirely different look and appeal of a timepiece.
Lot 129 - Patek Philippe "Padellone" Reference 3448/17 in white gold
Estimate CHF 200'000 - 400'000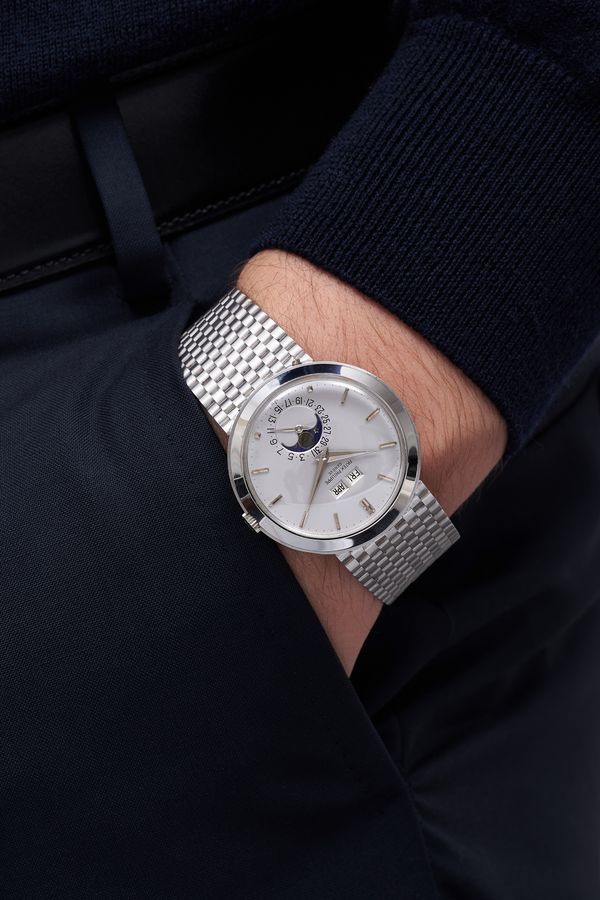 Lot 129 is an exceptionally well-preserved Patek Philippe reference 3448 from 1977, featuring a very rare integrated white gold bracelet. A style known as "beads-of-rice", the links are comprised of nine rows of individual, brushed-finished beads making it extremely supple and comfortable on the wrist. Similar to watch reference numbers, bracelet types were designated with numbers as well, and this very rare perpetual calendar watch sports a wonderful dash "17" bracelet, which according to research is the only known example in white gold.
Lot 233 - Patek Philippe Referenc 432/4 in yellow gold, diamonds, onyx and malachite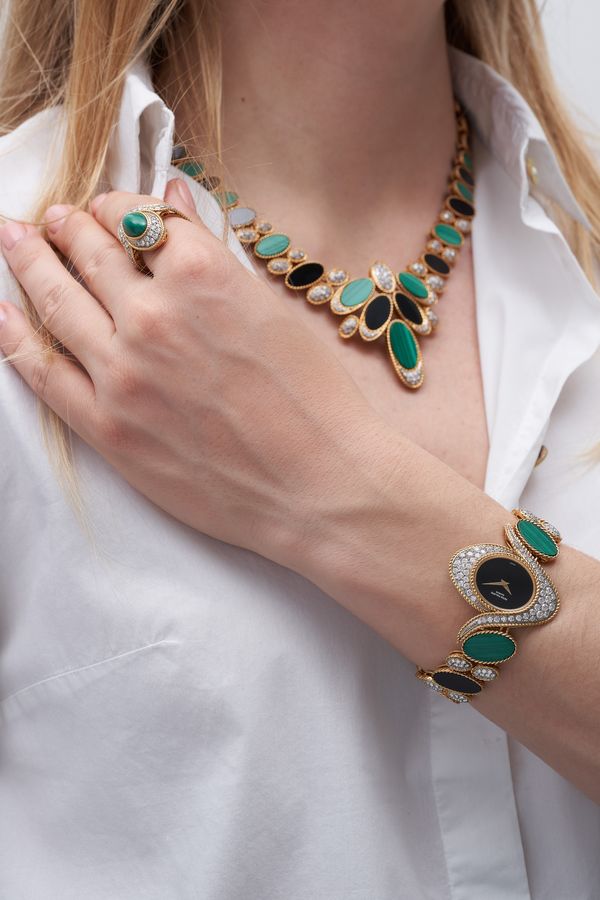 Patek Philippe demonstrated their fine workmanship with women's watches as well, and lot 233 is an elegant gold, diamond, onyx, and malachite matching ensemble with bracelet wristwatch, earrings, necklace, and ring. The integral bracelet is a work of art in itself and perfectly captures the joie de vivre of the 1970s.
Lot 236 - Patek Philippe Nautilus Reference 5719/1G in white gold and diamonds
Estimate CHF 130'000 - 220'000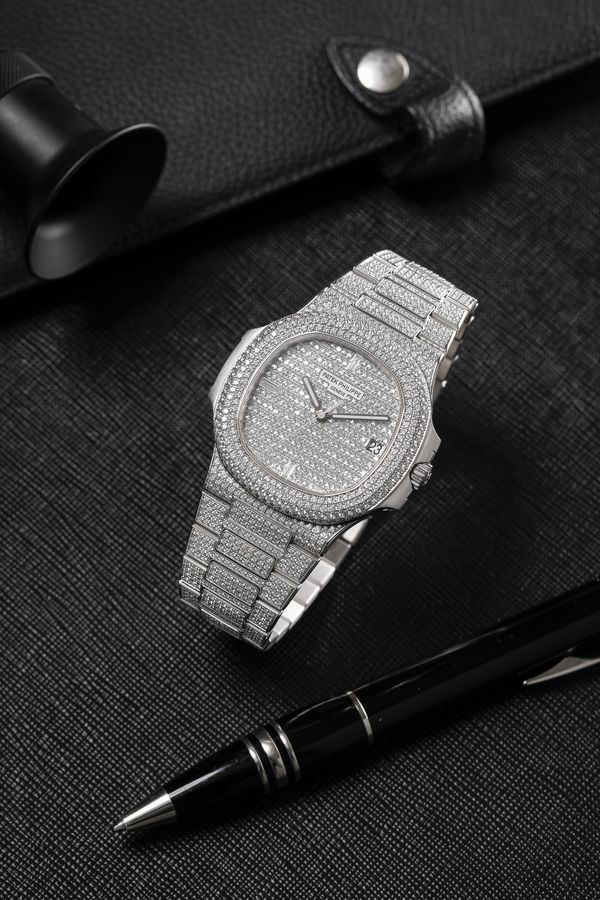 Finally, lot 236 is an exceptional Patek Philippe white gold and diamond-set Nautilus reference 5719. The iconic sporty Nautilus has been transformed into a stunning work of art with approximately 9.6 carats of pavé diamonds covering the entire top surfaces of the case and bracelet. While gem-set watches are not to everyone's tastes, the look and sheer exuberance of the timepiece cannot be overlooked, and has to be appreciated for fine craftsmanship.