By Edoardo Bolla
Throughout my childhood the two things that stood out about my father were his passion for watches and tennis – neither has waned since. Whenever the whole family travelled, he would bring with him rackets for himself, my sister and me. Mine was a small, yellow racket. By some "mysterious coincidence", no matter where we went there would be a tennis court either on the premises or not too far from them. Thanks to him I discovered the sport, and through it, the lifestyle and life lessons that come with it.
The bond created thanks to this sport with my father, and later with my coaches was second to none. As a family, I remember we owned an old Mercedes-Benz E200 Wagon from the '90s and in my head I can still smell the vintage leather aroma that filled the car during our trips. In addition to being the car that brought our family around Europe for the holidays, its predominant utility was to bring my father and I around Italy for tennis-related activities including various training camps and tournaments.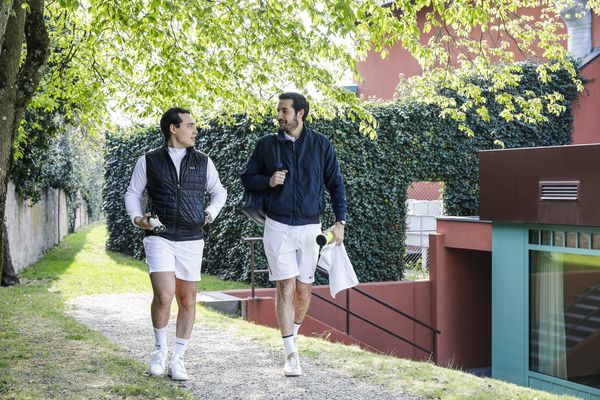 The German Wagon not only brought us to the courts, but I can clearly remember the numerous times where my father and I would find ourselves in the smallest towns around the regions of Tuscany and Rome, desperately looking for a plate of pasta before or after a match. The watch I am wearing today, just like that old station-wagon lends itself perfectly to most situations one can find himself into.
Looking back at it, those frugal and beautiful moments taught me to appreciate the simpler things in life which I have carried into my engagement with watches.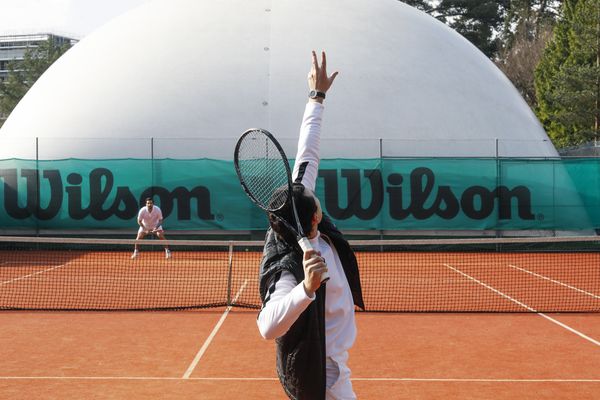 When I was asked to pick a watch from the upcoming Geneva Auction: XIII and pair it with something from my personal life, my appreciation for more frugal, simple things kicked in. This being the reason why today I am wearing a stainless steel Patek Philippe Ref. 5065. Other than the fact that this particular watch was manufactured the same year I was born, its simple, small design and history quite simply strikes a note with me.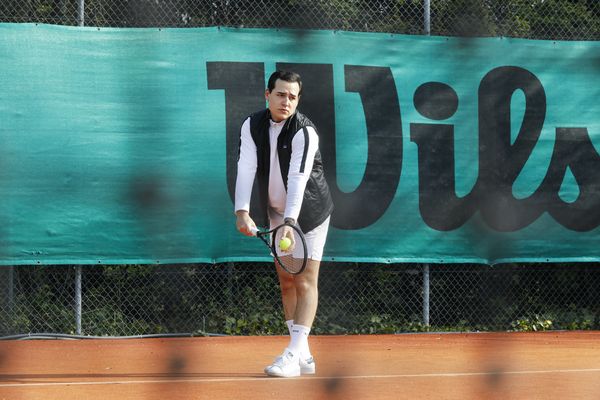 The Aquanaut collection was initially launched in 1997, at the height of the dot-com boom. In those years many companies launched watches that appealed to younger generations. Patek Philippe's desire to attract this "younger group" manifested itself through the launch of a stainless-steel collection fitted on a rubber strap that was heavily inspired by the design of the Nautilus. What I believe the Maison didn't realise when they came out with this model, was that whilst most collectors viewed it as the smaller, less desirable, little brother of the Nautilus, some including myself found its silhouette not only elegant and timeless, but at 37mm, one of the most graceful and stylish cases in the collection.
How can I relate this to tennis one might ask? Well, have you taken a closer look at the dial configuration and shape of the case? Probably one of the coolest aspects of the 5065A is the unique raised guilloche dial design also sometimes refered as "grenade"- The porthole looking case of the watch equally resembles, with its elongated lugs, the one of the head of a tennis racket. Sure, I'm certain this is not what Patek Philippe had in mind when coming up with this watch, but they say that the devil is in the details, and that's exactly how I'd like to view this timepiece.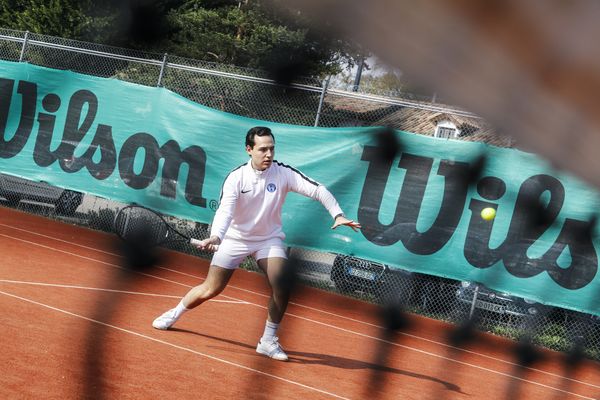 For the majority of my time playing tennis competitively at a national level, my life was compressed in a duffle bag, small as it was, I always barely managed to fit the various items I needed. Whilst I viewed it as stressful and unpleasant, later on, the experience taught me how to narrow down the things I carry to a bare minimum as extra "weight" would simply slow me down.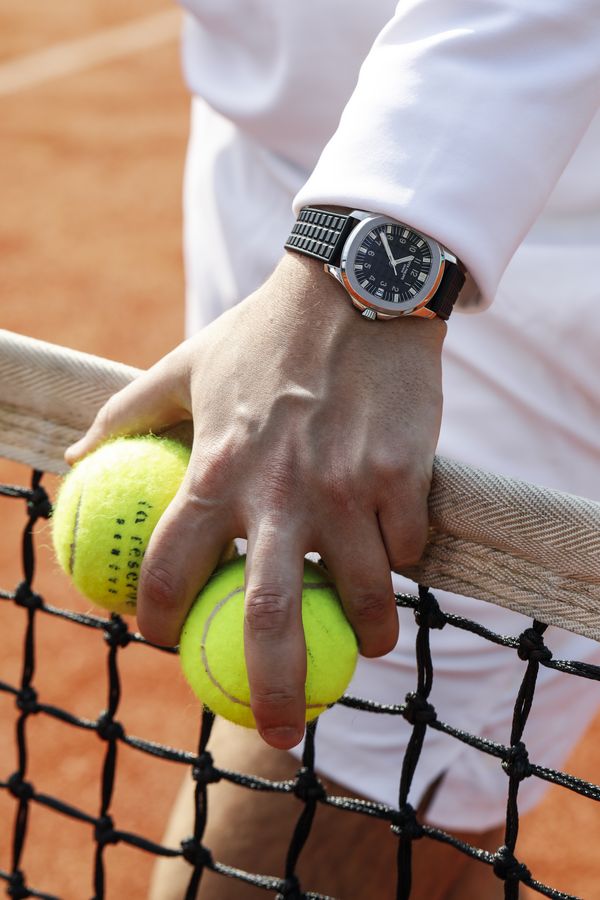 The Ref. 5065A, packs in its case a simple and easily legible dial, luminous hour markers and a date. Modest yet powerful, the watch completely expresses my desire for something light, elegantly proportionate with all the necessary functions for a "daily wearer". Rotate the watch and you'll see that Patek Philippe opted for a sapphire case-back.
Whilst I was part of the junior Italian circuit, I remember breaking the strings of my rackets weekly, resulting in countless visits to my local tennis shop - at the time was "Bartoni" a historical shop for tennis supplies. For tennis players, the person stringing your racket is the watch equivalent of the personal representative at your local AD, whom you share your wishes, your thoughts and requests.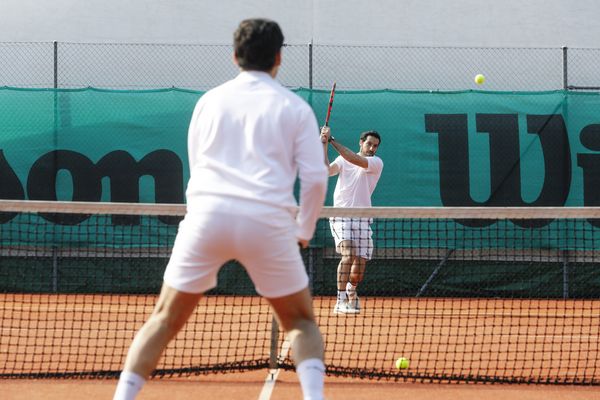 Omero was that gentleman for me, and for many years he strung my rackets to perfection, with time we then became friends to the point where he taught me how to string my own rackets and directed me to buy a stringer. The connection made a long time ago with a man that understood my needs on the court I have found again through the figure of a watchmaker. Revisions, bracelet changes, sharing opinions over the timepiece - in its own unique way has brought me back memories I had experienced many years before.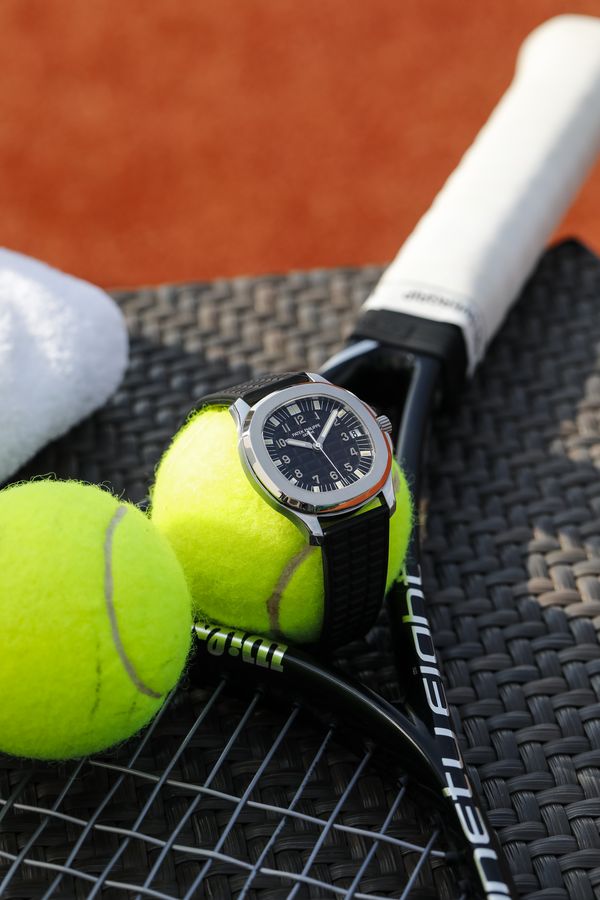 Off the tennis courts, watches are the objects that transmit the most feelings and emotion to me. They are continuously in contact with one's skin and present in a person's most important decisions and moments. This connection with the timepiece is something that can only be achieved by "living" with the watch.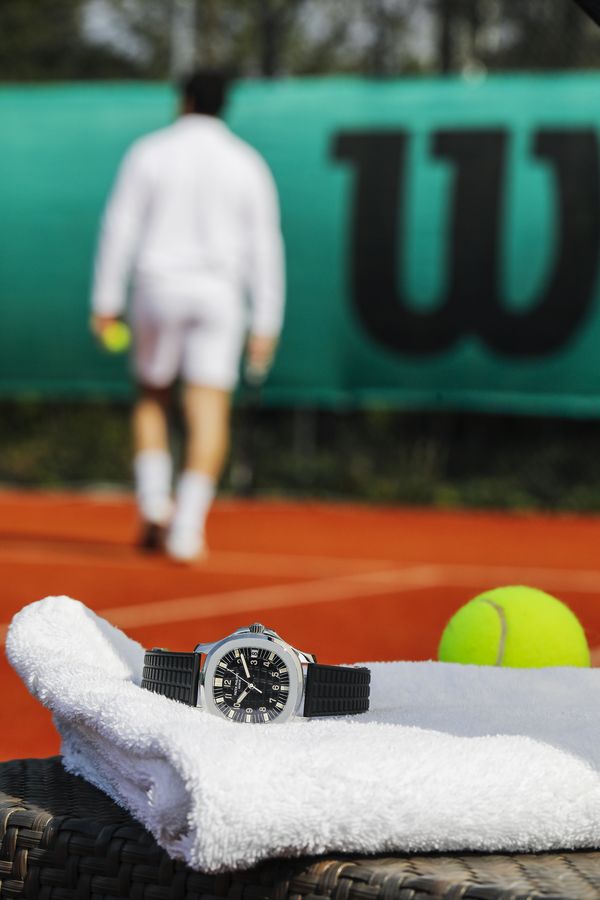 The Aquanaut reference 5065 speaks to me for its simple design, legible dial and elegant case. The watch naturally radiates its character despite being smaller than most contemporary watches. Its growling personality is what I love the most about this watch as looking back to how tennis has enriched my life throughout the years, this model embodies exactly that, my voice, my style and my character.
Let's not forget however that on the other side of any tennis court there is always a challenger – and for today's game my colleague Arthur Touchot brought a pretty serious one.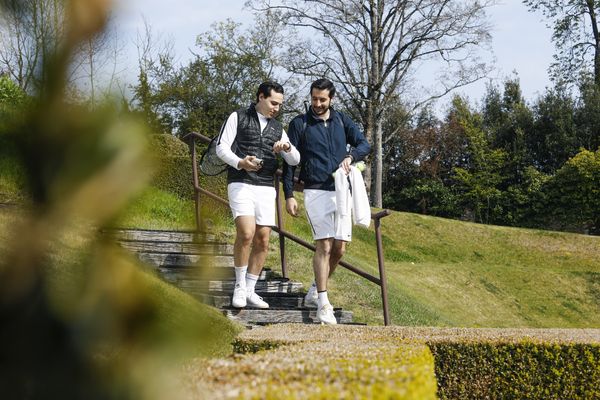 The Titanium F.P. Journe Linesport Automatique Reserve.
What Edoardo has very humbly been describing as a childhood hobby is in fact an extremely high level of tennis once considered amongst the best in Italy. It's something I would have appreciated knowing before playing him in front of a photographer, but it was fun to test my own - once competitive level - against better.
Believe it or not this is not the first time I test a mechanical watch on a tennis court, and both times the models were made in ceramic. The difference, and it's quite a big one, is that while the previous was made by an industrial watchmaker and was a watch I assumed would not suffer during a fast serve or a long rally, I'll admit feeling a little more apprehension with the Linesport Automatique Reserve on the wrist.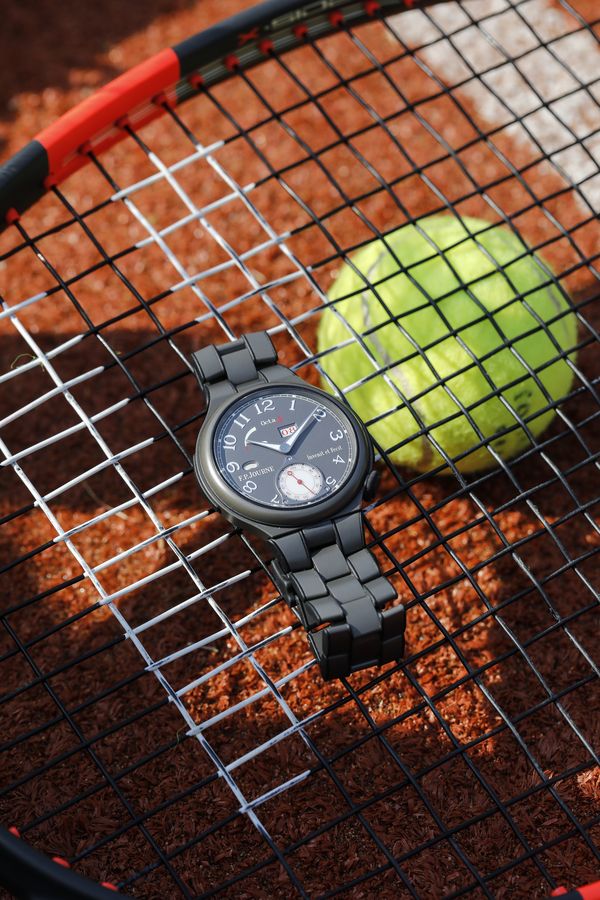 It's not every day you play sports with a watch made by the great F.P. Journe, an independent watchmaker renowned for his complex mechanical movements. But of course, this is a watch from his "sports" collection, and one thing I've learned is that when F.P. Journe does something, he makes sure to do it better than others.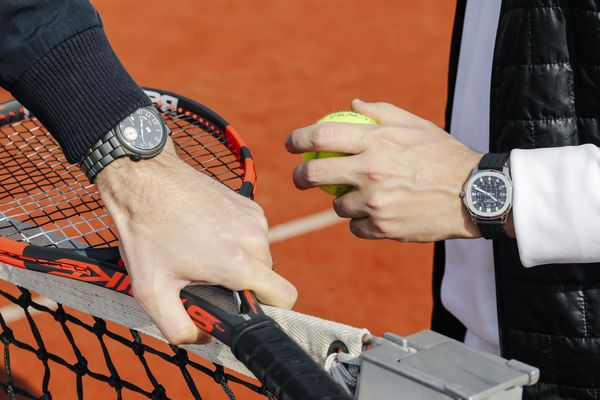 Of course, the Linesport Automatique Reserve performed admirably well. Carved from lightweight titanium, it sits on the wrist so comfortably that you soon forget you are wearing something precious and focus on the task at hand - which that day, was getting Edoardo to at least break a sweat.

PHILLIPS would like to thank the Hotel La Reserve for lending their beautilful tennis courts to our Specialists Edoardo Bolla and Arthur Touchot. We look forward to coming back for the Geneva Watch Auction: XIII, which is hosted on the hotel's beautiful grounds.