Jordan Casteel, Quinn (detail), 2015. Estimate £150,000 - 200,000. 20th Century & Contemporary Art London Evening Sale.
Joy Labinjo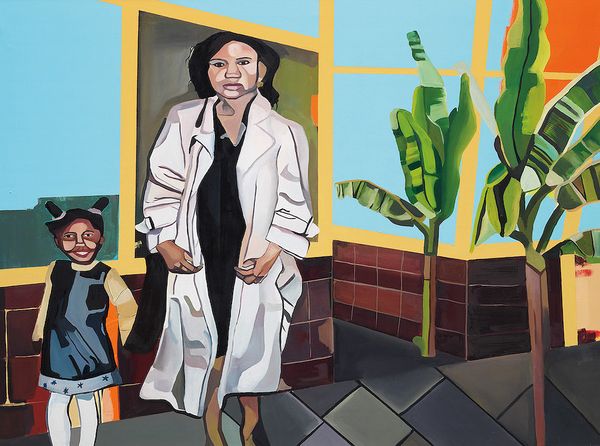 Featured in exhibitions at the Royal Academy, BALTIC Centre, and The Breeder in Athens, Joy Labinjo's oeuvre refracts a life lived through multiple identities. Her paintings expand on her heritage—growing up Black, British, and Nigerian—and reference the distinct domesticity and material memories she associates with the 1990s and early 2000s.
Labinjo's style emerged from discovering an old family album when she was studying in Newcastle, and she said that she strived towards "just painting Black people doing everyday things," people talking, living, in the moments in-between. Untitled, for example, shows the artist as a young girl, walking beside her aunt, experiencing an ordinary, family moment. It is the kind of work that highlights Labinjo's belief in the power of storytelling, "It would be amazing," she has said, "for little Black kids to go to a gallery and think: I can do this."
---
Jordan Casteel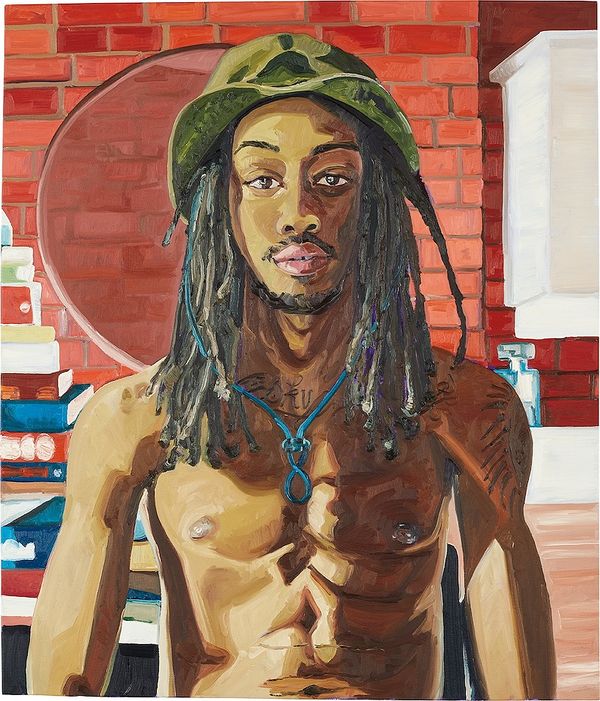 In Quinn, an unblinking man looks at the viewer with a restful gaze. The man is known through the painting's title as Quinn, yet nothing other than the few elements that surround him — the brick wall, the books — further elucidate his identity. This is typical of Jordan Casteel's paintings, whose subjects are often portrayed in environments where they are most comfortable — introduced to the viewer in the energy of a moment, which itself was captured in a single click.
By painting subjects from her everyday life, Casteel re-contextualizes a realm of canonical portraiture which so often favored white subjects throughout history. In doing so, she inscribes herself in a specific lineage of artists like Kerry James Marshall and Henry Taylor, who have similarly introduced a glimpse of their own everyday lives and reality in the age-old medium of painting, establishing themselves as contrasting voices to a painterly legacy of almost-exclusively white representation. "I'm interested in pushing the dialogue of Blackness. Within my own family, the scope of what Blackness looks like is really vast…you literally have a whole scope and range of literal color," Casteel said. "I just allow myself to play, as it relates to each painting individually."
---
Lina Iris Viktor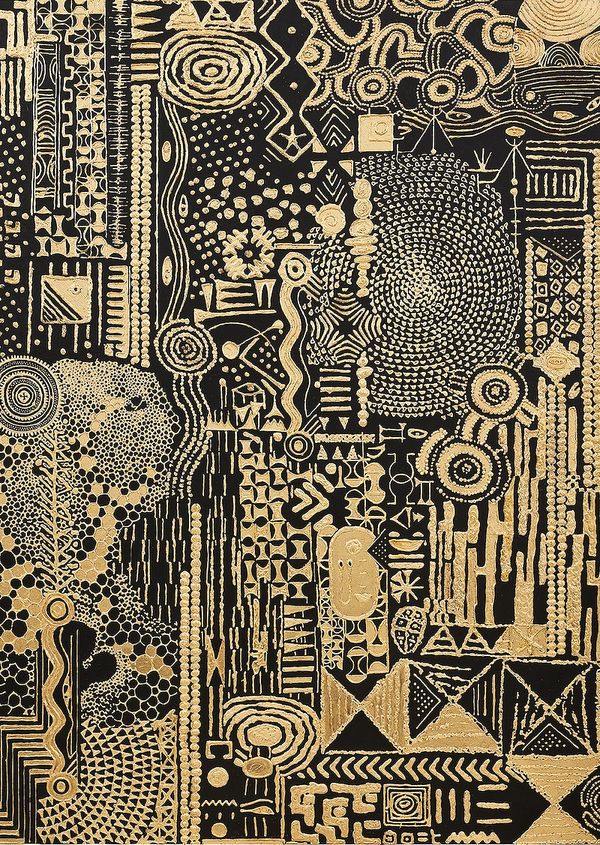 Lina Iris Viktor's dreamy, maze-like signature style is laborious to produce, but triumphant to behold. Composed with 24k gold, her works feel like intricate universes, celestial experiences that unite her expansive visual lexicon. Although Constellations III marks her auction debut, the artist has been making headlines for years, and her work is in several important institutional collections, such as the Smithsonian's National Museum of African Art.
Viktor's works address the global, cultural importance of gold, particularly within the context of the African diaspora. But she also highlights the significance of the blackness that encircles it. Confronting and unpacking the cultural associations—including the ominousness—associated with blackness, she asks, "What does it mean for Black people to be aligned with this idea? And can you make it beautiful and arresting?"
---
Toyin Ojih Odutola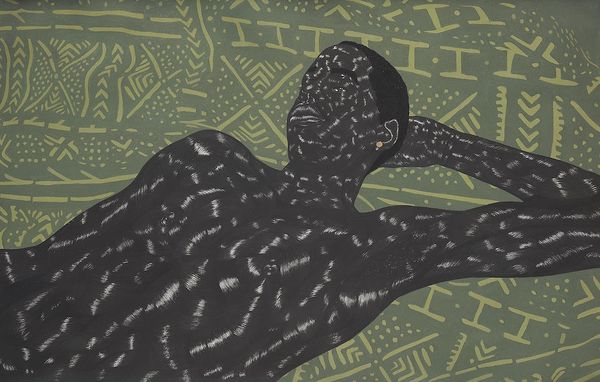 Toyin Ojih Odutola's LTS IV takes its name from Zora Neale Hurston's influential 1937 novel, Their Eyes Were Watching God. The novel explores a woman's search for love, meaning, and self, torn between her own desires and the pull of her communities; at the end, its protagonist, Janie, reflects, "Love is lak de sea. It's uh movin' thing, but still and all, it takes its shape from de shore it meets, and it's different with every shore."
LTS IV depicts the artist's brother asleep, silhouetted against what may be a traditional Nigerian tapestry. Ojih Odutola has described her work as focusing on the malleability of identity, something she and her family relate to, having adjusted to the places where they lived. "It's something I have carried with me into adulthood—this application of compromising oneself to fit my surroundings—and my brothers as well."
---
Tunji Adeniyi-Jones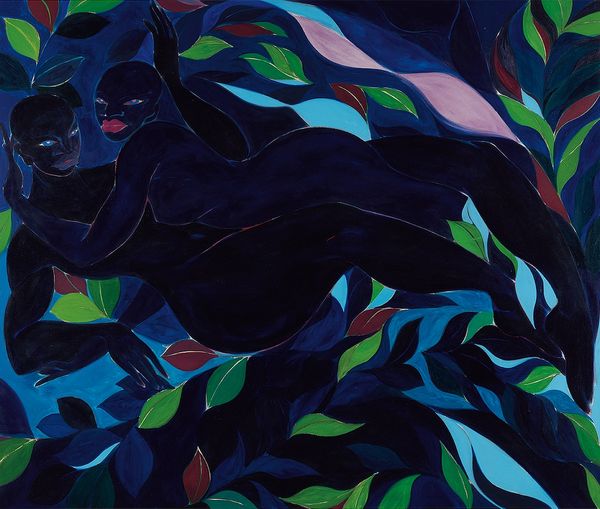 After studying fine art at Oxford and Yale, Adeniyi-Jones has forged a name with his figurative paintings that draw on his Yoruba heritage. Adeniyi-Jones approaches his figures with great physicality, energizing bodies like dancers, in all their fluidity and power (which has, perhaps unsurprisingly, generated a fair share of Matisse comparisons). Love Ritual attests to the artist's command of color and form, navigating intense and emotional hues.
For Adeniyi-Jones, these figures are a correction, as much as an aesthetic force, "I'm interested in how cross-cultural aesthetics and cultural hybridity relate to the history of painting," he explains. Although the relationship is often discredited, he reminds us that "European modernist movements like Cubism and Expressionism simply would not exist without the influence of West African sculpture."
Discover More from 20th Century & Contemporary Art >

Recommended Reading
Théâtres de Mémoire: Jean Dubuffet's Last Decades >
The Prompt: Tía Pelos by Juli Delgado Lopera >