Ai Weiwei, Iron Tree, 2013.
Art imitates life; life imitates art. Sometimes, they do not imitate each other so much as echo each other, intertwining in the scraggly bark of a wild tree or melding in the shadows of a sculpture garden. In Ground/Breaking, a Phillips online scupture exhibition, modern and contemporary artists reflect on nature, both in the sense of the organic and in relation to the human condition. As a sampling of the larger story, we present four artists who are considering some facet of nature, from Ugo Rondinone's observation of its redemptive powers, to Sarah Lucas' searing critiques.

Ugo Rondinone
Ugo Rondinone, winter moon, 2011.
Rondinone first began experimenting with the tree motif after the loss of his partner in 1989. As he found himself taking solitary walks through nature, he meditated on not only the fleetingness of life, but the redemptive power represented by the landscape around him. His spectral trees, which evoke the wayward branches of German Romanticism, consider what may be not just learned from, but preserved in, their sublime gestures. Or, as Rondinone has said, "By casting an olive tree, the passing of time can be profoundly experienced – frozen in its ephemeral state. Time becomes a living abstraction."
---
Sarah Lucas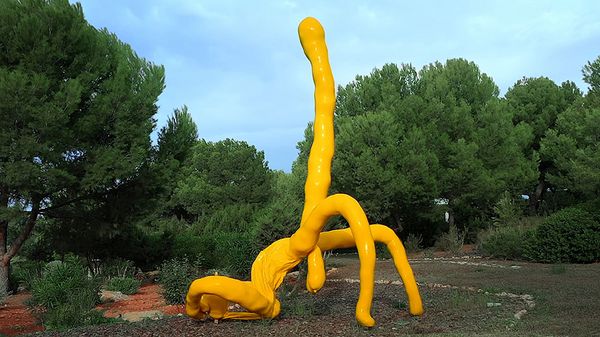 Sarah Lucas, Gold Cup Maradona, 2015.
While Sarah Lucas' work does not deal with the nature in the "outdoors" sense, she very much observes and prods at what may be human nature—versus how humans are conditioned to behave. In Gold Cup Maradona, whose name alludes to the Argentinian footballer, Lucas presents a reclining figure with comically large genitalia. Satirically undermining the power that phallic symbols can evoke, Gold Cup Maradona interrogates both a general and art historical problem. She considers, for example, the exalted reclining figure, seen throughout classical antiquity and in British modernist circles—and the different, gendered approaches to it.
---
Ai Weiwei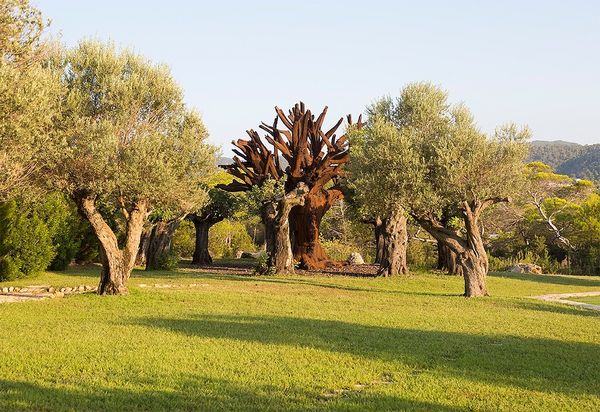 Ai Weiwei, Iron Tree, 2013.
Ai Weiwei embarked on his Tree series in 2009. Grounded in the tradition of displaying tree elements, particularly in Jingdezhen, the Tree series involved a thoughtful accrual and assembly of branches, roots, and trunks. Ai searched for fragments at markets in Jingdezhen and brought them together in his studio through a range of bolts, screws, and more traditional carpentry techniques. In Tree, there are a multiplicity of ideas at play: the lifecyle represented by trees, a Taoist appreciation for harmony, and the Duchampian readymade. Because of its fabrication, Iron Tree naturally oxidizes—in a poignant visualization of time's passage, as well as Ai's desire for "people to be confused, to be shocked or realize something later."
---
Camille Henrot
"There's obviously a lot of my own experience in my work," Camille Henrot has said, "but I only choose what I feel is a common material. It's about how the ego relates to the totality." Her concern is, in many ways, with what comes naturally to us and what wills us to be. Her massaged sculptures (série "Sculptures Massées") are infused with her conceptual, theoretical, and anthropological interests, as well as a kind of clever introspection about human nature. Each piece was manipulated by a professional massage therapist, according to symptoms offered from Henrot. The result provokes questions about anthropomorphism and evokes the shamanistic tradition of someone who could relieve, if not cure discomfort.

Recommended Reading
The Prompt: Tía Pelos by Juli Delgado Lopera >