Tracey Emin, Our Angels (detail), 2007. Estimate £200,000 — 300,000. 20th Century & Contemporary Art London.
Written by Katy Hessel
Raw, brutal, confessional, and confrontational. Although they are not typically considered as a group, it could be said that the work of British artist Tracey Emin is intrinsically bound up with the heroic, undefeatable painting of Baroque artist Artemisia Gentileschi and the agonizingly expressive prints of early-twentieth-century German artist, Käthe Kollwitz. Working in different centuries, countries, mediums—and worlds—the emotional power exposed in their work transcends time and place. Speaking truthfully to universal experiences, each artist strikes you when confronted with their paintings, prints to neons, as is the case with Emin's 2007 work, Our Angels. Self-evidently autobiographical, their oeuvres evidence how they pored their life into their art. ­­­­
Artemisia Gentileschi was raised in her father's studio in Rome at the turn of the seventeenth century, where she witnessed the rough underbelly of Roman culture, as well as passing figures like Caravaggio. After her mother died, she was tasked with raising three brothers. Despite her difficult circumstances, by age seventeen, she had defied convention for women in the 1600s and was painting large-scale masterpieces. (It should also be added that recently, Gentileschi was the subject of a major exhibition at London's National Gallery, making her the first historic female artist to do so in the museum's history.)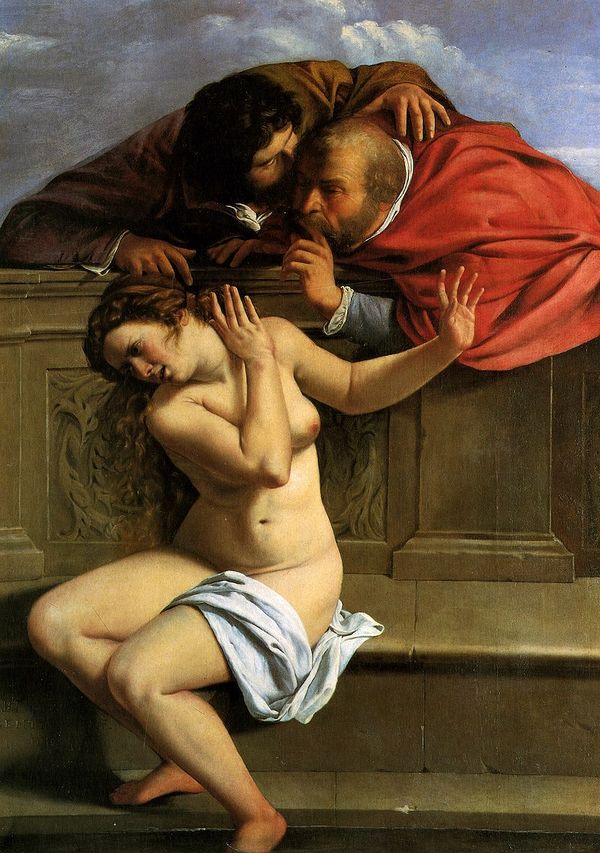 Artemisia Gentileschi, Susanna and the Elders, 1610. Schloss Weißenstein, Pommersfelden, Germany. Private collection of the Schönborn Family.
Gentileschi's first known work is Susanna and the Elders, a technically dazzling but harrowing painting. Capturing the moment when two lecherous men try to seduce the young virtuous Susanna, Gentileschi uses a Biblical story to dramatize a woman's perspective. One could suggest Gentileschi's Susanna (evidently naked as she turns her body and face from the intruders), alludes to the reality of life as a seventeen-year-old woman in Rome. Never documenting women as victims, but rather striking heroines in charge of their image (at times even violently attacking cruel men), Gentileschi portrayed women who retained their power and vulnerability. Like Emin, Gentileschi focused on an outer strength and an inner spirit, which authentically, and compellingly, resides deep inside her charged fleshy figures.
Working at the cusp of the twentieth century and actively producing during the throes of World War I, Käthe Kollwitz is a precursor to Emin on different grounds from Gentileschi. Working in prints, it is the immediacy of Kollwitz's often grief-stricken, haunting, and psychologically intense compositions that feel at one with Emin (who works across a multitude of mediums, including prints, paintings, film, drawing, sculpture, embroidery, installation, and neons). Pained by death and filled with anguish, Kollwitz's socially engaged images reveal the horrors and rawness of reality from a deeply sensitive lens.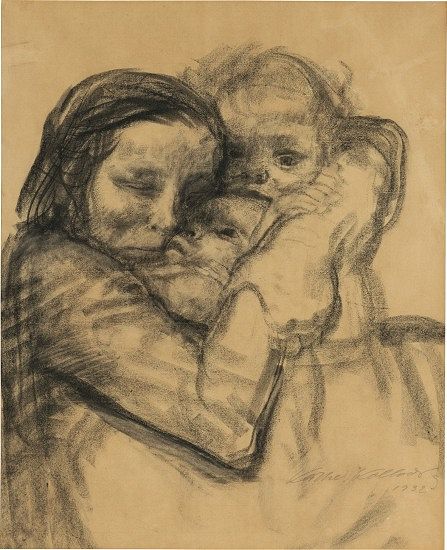 Never afraid to honestly address life's brutal realities, in 1907 Kollwitz created Raped (Vergewaltigt). An incredibly harrowing, emotional print that captures a disheveled, lying body swept up amidst the lush and overgrowing flora and fauna. Exposed, vulnerable, in pain (or perhaps even numb), the intensity of this work (although made one hundred years apart from Emin), seem as though it could be made today. The elasticity of the line, raw emotion, and frantic energy found in the textures recall the fragile, fragmented (and at times messy) bodies in Emin's recent acrylic on canvases, shown alongside works by Edvard Munch at the Royal Academy of Arts.
The same could be said for the mother-child relationship in Woman with Dead Child, 1903, as the parent clenches on to the almost angelic, sculptural, yet deceased, child. (During the War, Kollwitz lost her eldest son to battle.) Although dealing with subjects of pain, similarly to Emin, it seems Kollwitz's works are ultimately about love: the love her protagonists have for each other, and the love that she has for them.

Tracey Emin, Our Angels, 2007. Estimate £200,000 — 300,000. 20th Century & Contemporary Art London.
Tracey Emin grew up in Margate, a seaside town where she was seduced by the glamor of the town's neon lights. It was the post-War 1960s, a time of renewal, excitement, and liberation compared to the brutality of seventeenth century Rome or circa 1900 Germany with the imminence of World War I. Experiencing an "unhappy childhood in a happy place," she would later go on to channel these emotional, traumatic experiences, into her raw, personal, and political work.
Leaving school at 13 (and returning for two months when she was 15 without any qualifications), Emin enrolled at Maidstone College of Art in the early 1980s, a "hotbed of political activism" where she turned to questioning how making art could relate to real life. Empowered by the experiences of people who would come to visit (the local miners, the women of Greenham Common), Emin dealt not only with the core of her emotional state, but the truth of what was happening to women. Continuing to explore personal subjects in an almost diaristic form, Emin spoke the language of the everyday person in a poetic, yet powerfully simple and immediate way. In turn, she became, and remains, one of the most successful, and wide-reaching, artists of her generation.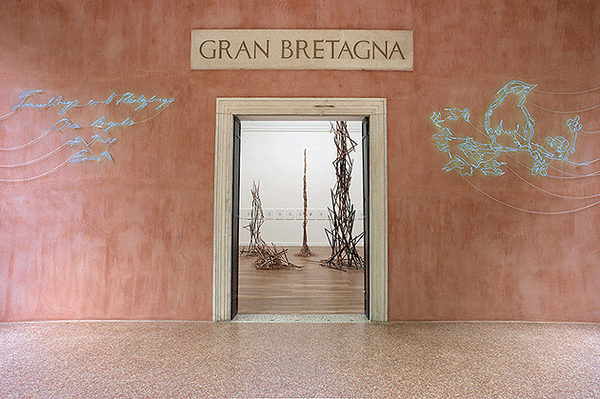 Tracey Emin's Our Angels installed at the entrance of the Venice Biennale's British Pavilion, on the occasion of the artist's solo presentation, Borrowed Light, 2007. Image: © Tracey Emin. All rights reserved, DACS/Artimage 2021.
Our Angels adorned the exterior of the British Pavilion as part of Emin's solo exhibition at the Venice Biennale in 2007 (as the second female artist in history). An exhibition filled with intimate, expressive, raw paintings, sculptures, watercolors and drawings that reveal the very essence of Emin's persona. Guarding the trove of delicate objects, before we step inside, we are met with a pair of luminous blue, free-floating neons. At once imbuing fragility and vulnerability, with the thin blue lines that make up an image of a small bird resting in its nest (or perhaps about to be set free), and Emin's iconic Romantic handwriting inscribing "Foundlings and Fledglings our Angels of this Earth." Like the examples by Gentileschi and Kollwitz, the work is steeped in strength and vigor.
Through paint, prints, drawings, and neons, the honest stories these women told through their art remain timeless. At once capturing the moments of vulnerability and strength, love and suffering, captivity and freedom, the truthful approaches to making translate to ground-breaking works of art.
Katy Hessel is London-based art historian, curator and broadcaster. She runs @thegreatwomenartists, and hosts The Great Women Artists Podcast.
Contact a Specialist
Rosanna Widén
Senior Specialist, Head of Evening Sale
[email protected]
+44 20 7318 4060
Discover More from 20th Century & Contemporary Art Evening Sale >

Recommended Reading
Banksy, Duchamp, Warhol, and the Readymade >