Robert Gober Untitled, 2011 (detail)
Like any artwork by Robert Gober, Untitled from our upcoming Evening & Day Editions sale is more than it seems. At first glance, it is an ordinary, old sheet of paper — printed with a potato, no less — containing the lyrics from Rodgers and Hammerstein's show tune "Climb Ev'ry Mountain" from The Sound of Music. It pretends to be a commonplace artifact of ubiquitous culture, both routine and meaningless. But beneath its surface, the work simmers with intangible profundity.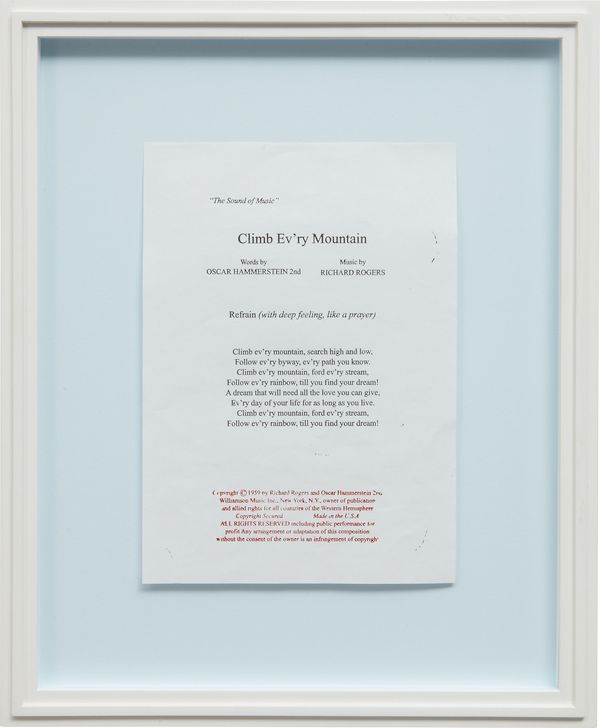 The recipe of its creation reveals the façade. Indeed it is made from a potato, but one that was freeze-dried and saturated in chemicals to allow for printing text with such precision. The "old" paper is actually new, archival Borden and Riley Bond hung from a rooftop clothesline in August to replicate the effects of age. Gober worked on the edition for a full year; modest in scale and size, the print is 8x12 inches and an edition of 15 plus proofs.
The subject of this work echoes the suspension of contradictions indicated by the medium, including the commanding text: "Refrain (with deep feeling, like a prayer)". The lyrics in black are inspirational and prescriptive, hallow and clichéd, counterbalanced by the legal copyright information in brilliant red. Both paragraphs are a promise, of optimism and security — themes explored throughout Gober's artistic career.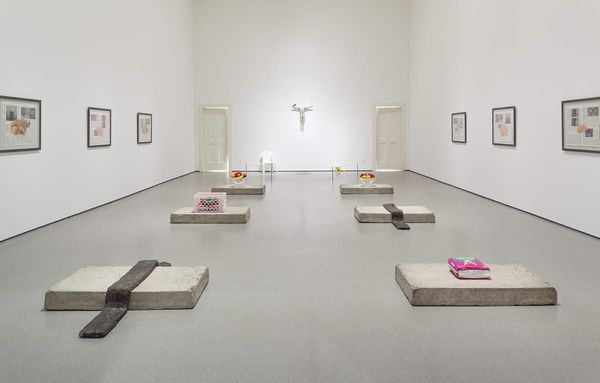 Installation view from MoMA's "Robert Gober: The Heart Is Not a Metaphor" © 2016 The Museum of Modern Art
The art critic Jerry Saltz remarked on this print, displayed in the 2014 retrospective of Gober's work at the Museum of Modern Art in New York: "One of the last pieces in the show offers such sweet sustenance and hope. A simple potato print of the words of Rodgers & Hammerstein's 1959 'Climb Ev'ry Mountain', I found myself humming this song as I absorbed all the sorrow and lost souls evoked here.
"It's pure schmaltz, maybe. But that's a part of what we're made of — gushing inexplicable feelings. And even when these feelings come from show tunes they can add up to sublimities."