We would like to extend our immense thanks to expert Jose Pereztroika — known as @perezcope — for his assistance in researching these important Panerai watches.

It is not often that previously unknown and historically important timepieces appear at auction, so when such vintage watches all come from the same collection, it makes the discovery all the more special and speaks to the patience and knowledge that certain collectors possess. Below are four incredibly well-preserved watches and two precision instruments which took a distinguished Japanese collector over 40 years to complete, and will be offered for sale during the Hong Kong Watch Auction: XI.

After Officine Panerai was established in 1860 by Giovanni Panerai in Florence, Italy, the brand became the supplier to the Regia Marina — the Royal Italian Navy. Panerai's watches made during the early twentieth century era were comprised of cases designed and manufactured by Rolex SA, with Cortébert, a Swiss manufacturer, supplying the majority of their movements. The most recognizable designs from the firm are the Radiomir and Luminor models. To date, vintage models from the first half of the 1900s, such as the reference 3646 and 6152 models, remain the most desirable among collectors.
Lot 996 – GPF 2/56 Radiomir 8 Giorni Brevettato, "Egiziano"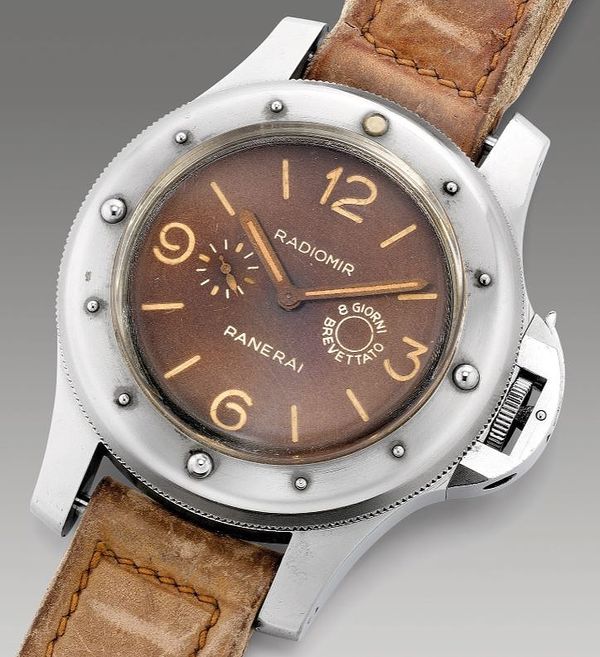 The GPF 2/56 was the frst serially produced Panerai watch completely developed and manufactured in-house by G. Panerai & Figlio in Florence. All dive watches distributed by Panerai prior to the GPF 2/56 were Rolex Oyster watches which Panerai equipped with their own dials. GPF refers to Guido Panerai & Figlio (Guido Panerai & Son) while 2/56 was a code for second product development in 1956.

The history of the GPF 2/56 is tightly linked to the proclamation of the State of Israel in May 1948. The Arab League led by Egypt vehemently opposed a Jewish state in Palestine. Egypt knew that in order to significantly weaken Israel, the Arabs needed to cut off Israel's supply lines through the Mediterranean Sea. Thus was born the idea for an Egyptian frogman unit based on the famous Italian Decima Flottiglia MAS from World War II.

The Egyptian frogman unit named "Al ferka al sierra" (the secret team) was led by Commander Fawzi Abdel Rahman Fahmy. In 1955, Fawzi was invited to train with the Italians at the Varignano Fortress in La Spezia, Italy. During the six months long course, Fawzi came in contact with G. Panerai & Figlio instruments and watches which were exclusive to the Italian Navy. To be able to acquire Panerai products, the Egyptian High Command needed permission from the Italian Navy. After approval, the Egyptians learned that the watches were subject to an exclusivity agreement between Panerai and Rolex which forbid Panerai to supply Rolex-made watches to foreign countries. If they wanted a watch from Panerai it needed to be developed from scratch. This is how the idea for the GPF 2/56 was born. The GPF 2/56 was the first watch to feature the half-moon shaped crown protecting device that has now become a signature feature of modern Panerai watches, and was equipped with the Angelus 240 8-days caliber which was previously only used in table and travel clocks. Stolz Frères in Le Locle, the owner of the Angelus brand, made these movement specifically for Panerai. The Angelus 240 was one of the smallest 8-days movements but had never been used for wristwatches.

As of now, around 15 pieces with Egyptian matriculation numbers are known, and the present example is a stunning example retaining all its original parts.

Lot 997 – Luminor ref. 6152-1 with prototype rotating bezel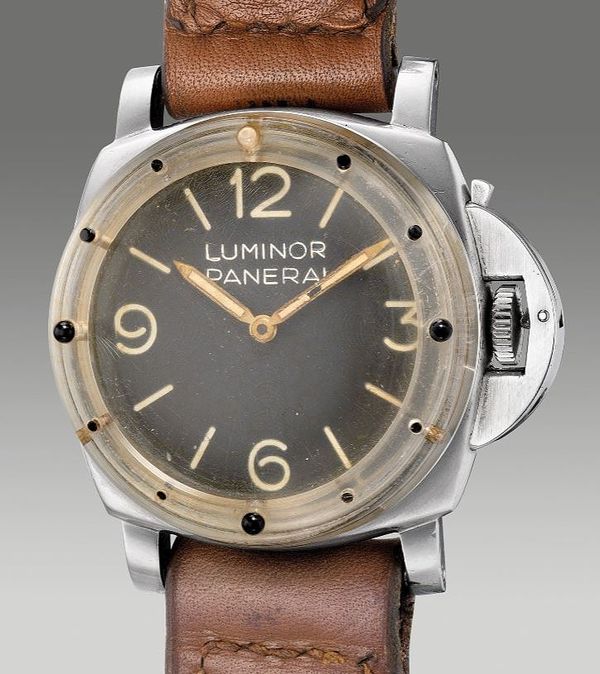 Case number 124614 is one of only four Ref. 6152/1 watches known to feature a prototype rotating bezel made of plastic.

Around 1964, the Italian Navy acquired a batch of Eterna Super KonTiki diving watches with automatic movements which could be used for diving with oxygen rebreathers and, thanks to the rotating bezel, also with compressed air. Oxygen rebreathers are closed-circuit breathing apparatuses which do not create bubbles. They are perfect to sneak into enemy waters but useless for working at depth. To do actual work underwater, the divers relied on compressed air such as the self-contained underwater breathing apparatus (SCUBA) invented in 1942-1943 by Émile Gagnan and Jacques Cousteau. This form of diving requires planning ahead of the dive. Maximum depths and submersion times need to be calculated.

Up until this point, the Rolex-made watches delivered to the Italian Navy were developed for diving with oxygen rebreathers at maximum depths of around 40f/12m and Panerai watches started to look outdated. Panerai was sitting on hundreds of unsold Ref. 6152/1 watches so they had to come up with an idea to keep the watches relevant. One of these ideas was the present plastic rotating bezel which made Ref. 6152/1 more versatile. With its five minutes calibration, the bezel helped divers on compressed air to keep track of the elapsed time and measure crucial decompression stops.

The plastic rotating bezel was a typical precision part made by G. Panerai & Figlio in the 1960s. Three tiny spring-loaded metal pins placed at an angle of 120 degrees to each other engaged with a groove milled to the side of the plexi crystal and locked the bezel into place. Twelve round recesses drilled along the groove were responsible for the five minutes calibration. Due to its construction, this type of bezel could not withstand heavy shocks and was lost easily. There are a number of Ref. 6152/1 watches with grooves and recesses on their crystals but only three of them are known to have retained the original bezel. This present example is the fourth one.

Lot 998 – Luminor, Marina Militare Matr. No. 31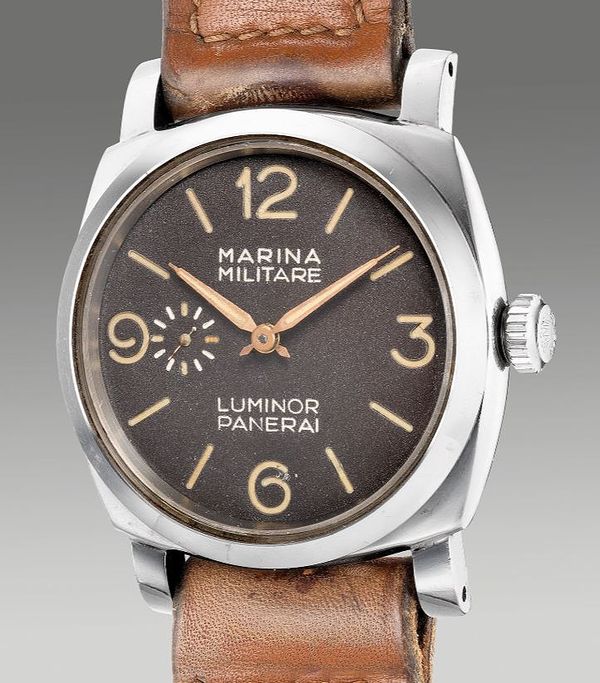 Matr. No. 31 is the first of 30 Ref. 6152/1 watches to ever feature Luminor dials and Angelus 240 8-days calibers. Until today only 8 pieces from this batch have surfaced. Watches of this type were produced in the mid 1960s to promote Panerai's new luminous compound named LUMINOR in addition to the "new" Angelus 240 8-days calibers meant to compete with modern automatic movements.

In 1964, following a number of lawsuits against Rolex in the US, the Swiss government banned the use of highly radioactive radium-226 in the Swiss watch industry. Tritium-based compounds became quickly the new standard. For Panerai, replacing hundreds of Radiomir instruments and watches in use with the Italian Navy was a great business opportunity. To promote their new tritium-based Luminor, Giuseppe Panerai came up with a brilliant idea and his company modified 30 Ref. 3646 leftover watches from WWII and awarded them to high ranking Navy officers and families of World War II heroes. The modifications were extensive. The wire lugs were removed and in their stead, new solid lugs were welded onto the case, and the old Cortébert-made Rolex 618 calibers were replaced with Angelus 240 8-days movements which Panerai had already used for the GPF 2/56.

The new dials featured all sorts of engravings. Early examples had Officine Panerai or Marina Militare Officine Panerai signatures. It is possible that at this point, Panerai had not yet decided how to call the new tritium-based compound. The trademark "LUMINOR'' was registered in 1949 but remained unused until the mid 1960s. After the first examples, Panerai settled on Marina Militare Luminor Panerai engravings over four lines (four-liner). After the initial 30 pieces based on Ref. 3646, Panerai made another run of 30 pieces but this time using Ref. 6152/1. As of today, only eight watches from this batch have surfaced.

The present example is the earliest known 6152/1 with Luminor dial ever made. This very watch is listed in a Marina Militare inventory list from 1988. Recorded are the Marina Militare dial with small seconds at 9 o'clock and the matriculation number "Matr. No. 31".

Lot 999 – Luminor ref. 6152-1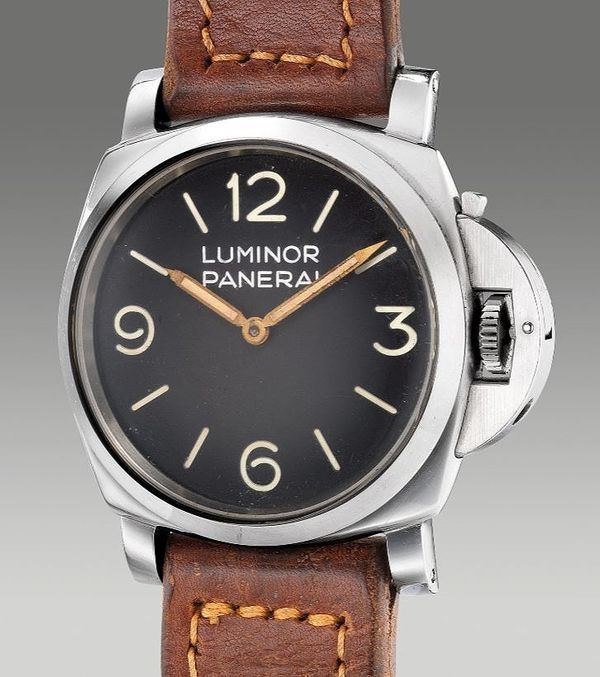 Official Navy documents show that 6152/1 watches delivered to the Italian Navy in March 1958 still featured the original Rolex Big Crowns and Radiomir dials. G. Panerai & Figlio archive photos from the late 1950s/early 1960s show Ref. 6152/1 with crown-protecting device featuring a Radiomir dial. It can be assumed Panerai started outfitting Ref. 6152/1 with their patented crown guard towards the end of the 1950s.

Until 1965, all watches delivered to the Navy were equipped with Radiomir dials. After tritium-based Luminor became available, the Navy decided to replace all highly radioactive Radiomir dials with Luminor.

The present watch is of special interest as it was published on the cover a Japanese watch magazine in 1992. This very watch was also presented on the inside of the magazine as part of an extensive 16 pages long article about Panerai and their history. This report was crucial for Panerai as it was this very article and the positive feedback from the Japanese watch collecting community that inspired Officine Panerai SpA to recreate the so-called Luminor in 1993.

Lot 1000 – A pair of diver's compass and depth gauge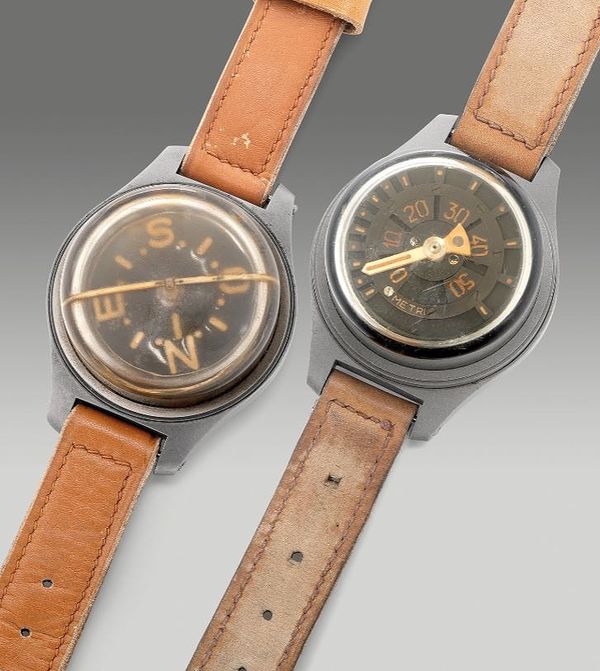 Wrist instruments made by Panerai were not only crucial for underwater orientation but also absolutely beautiful objets d'art praised by maritime special units from other NATO members. For the famous Decima Flottiglia MAS frogmen from WW2, Panerai developed for the first time in their history wrist compasses which were essential to lead the frogmen to their targets in murky port waters.

In the early 1950s, Panerai created a new generation of compasses. The depth gauges from this era adopted the very same design featuring a large antimagnetic stainless steel case with an impressive plexiglass dome atop. As with watch dials, the first compasses and depth gauges were illuminated by radium-based Radiomir. From 1965 onwards, Panerai replaced the highly radioactive Radiomir with tritium-based Luminor.
Both present examples have Radiomir dials and sandblasted cases. It can be assumed they were produced between 1957 and 1965. The depth gauge features an adjustable dial disc with a maximum depth display of 165f/50m. The first 20 meters are displayed in 2.5 m increments. From 20 meters to 50, the intervals change to 5 meters.