Gerhard Richter, Tulips (P17), 2017. Estimate $4,000 - 6,000. Gallery One.
Written by Blake Koh
Blake Byrne was an active collector for over three decades. He was based primarily in Los Angeles but lived partially in Paris during his collecting years, which allowed him to keep a foothold in Europe. Blake made significant donations from his collection to a range of museums, most significantly to MOCA, Los Angeles and to the Nasher Musem of Art at Duke University. This group of work shows some of the key strands of Blake's collecting from an active engagement with the artists and galleries of Los Angeles, to the range of European artists he followed from the 1960s to the present.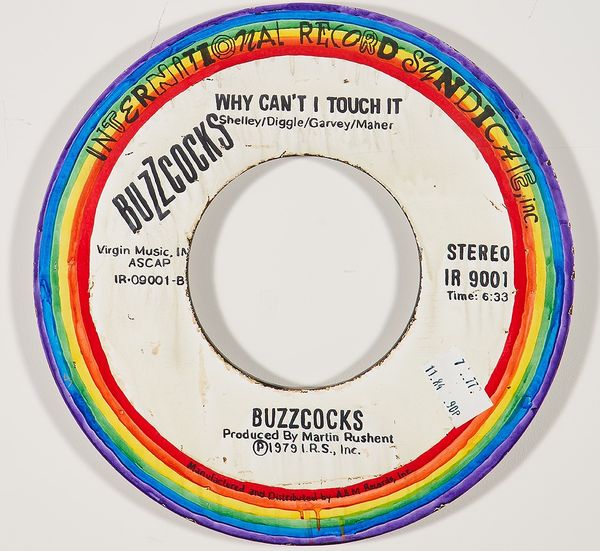 Dave Muller, Can't Touch a Rainbow, 2018. Estimate $3,000 - 5,000. Gallery One.
There are several early works on paper by Ed Moses, an artist who showed along with Ed Ruscha, Ken Price, and many others at the Ferus Gallery in Los Angeles. Another Ferus artist in the group is Bruce Conner, represented by one of his collage works on paper. And Blake's interest in LA continued through to artists he would meet at the local galleries, artists such as Jim Shaw, whose two drawings of distorted faces show the combination of skill and humor that are central to his work. Another more recent work by a Los Angeles based arist is Dave Muller's painting from 2018, a faithful rendition of the interior text section of an LP, illustrating Muller's signature love of the slightly beat up long playing record. And the lovely mask by another Angeleno, Matt Monahan, hung above the bar in Blake's home in Los Angeles.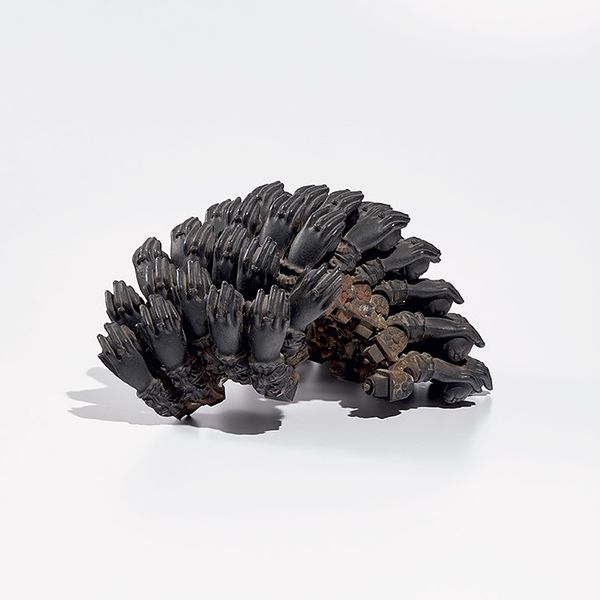 Arman, Les Mains de Jeanne-Marie, 1972. Estimate $7,000 - 10,000. Gallery One.
In Paris, Blake's collection looked back to some of the important post-War artists in France such as the painters Georges Mathieu and Bernard Aubertin, and the sculptor Arman. The two sculptures by Arman are both from the early 1970s and show his interest in the sculptural beauty of cast-off objects. Other European works in this selection include more contemporary work, such as one of Gerhard Richter's photographs of his paintings, a painting that was itself inspired by a photograph, and works on paper by Hernan Bas and Stephan Balkenhol. Blake collected a number of works by Juan Muñoz, including several large sculptures, and this group includes a stunning work on paper as well as a small sculpture and a few editioned pieces.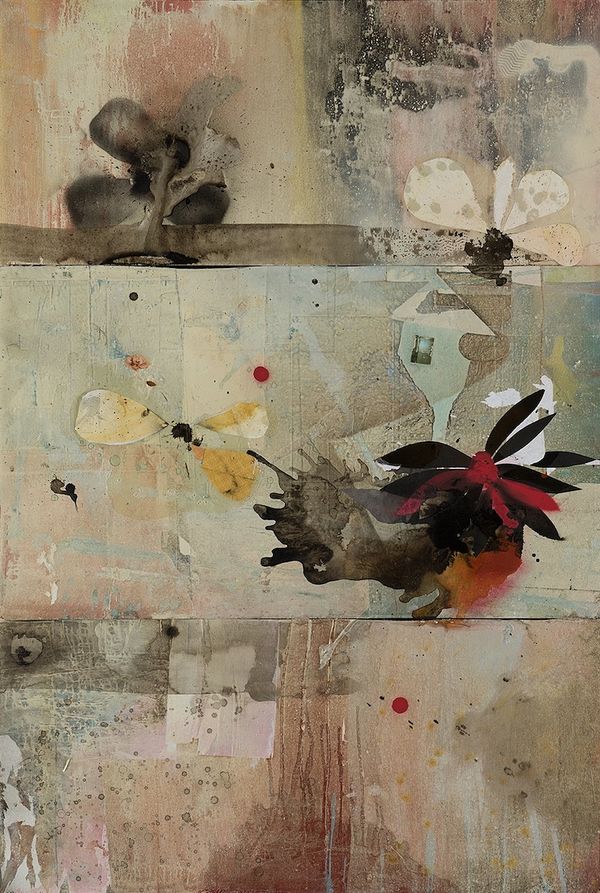 Brenna Youngblood, WEIGHT WAIT, 2007. Estimate $5,000 - 7,000. Gallery One.
Finally, two works show another strand of interest for Blake over the years: the work of African American artists. Blake's collection at one time included work by Mark Bradford, Barkley Hendricks, Noah Davis, Kehinde Wiley, and many others. In this selection, we have a painting by another Los Angeles based artist, Brenna Youngblood, as well as an etching by Julie Mehretu, an artist whose retrospective recently visited the Los Angeles County Museum of Art.
The range of work in the sale shows Blake's searching eye, always on the lookout for new or less established artists and unafraid to take chances. Many of the works in this sale are small and were proudly displayed dotting the walls and shelves of Blake's homes in Paris and LA as well as his office. I feel sure that Blake would be delighted to learn that they were now finding new homes.
Discover More from Gallery One >

Recommended Reading
A Good Show For Strange Times: Curated by Vito Schnabel >
In Conversation: Dindga McCannon and Lowery Sims >