Jasper Johns, Untitled, 1977. Estimate $1,000 - 2,000. Editions & Works on Paper.
In their new book Open Studio, Sharon Coplan Hurowitz and Amanda Benchley offer a behind-the-scenes look at the studios of contemporary artists like Wangechi Mutu and KAWS. We decided to flip the script—ever so slightly—by asking Sharon Coplan Hurowitz to walk us through her favorites from the upcoming Editions & Works on Paper auction. Below, the independent curator, art adviser, and publisher's selections and ruminations, from David Hockney's psyche to Cindy Sherman's illusional mastery.

David Hockney
The artist's studio is a constant subject for David Hockney, both as a view into his working space and into his psyche. His Los Angeles studio is full of patterning and color, which literally extends out onto the hand-painted frame, blurring the distinction between decor and art. OPEN STUDIO invites you into 17 artist's studios, each with its own personality and purpose.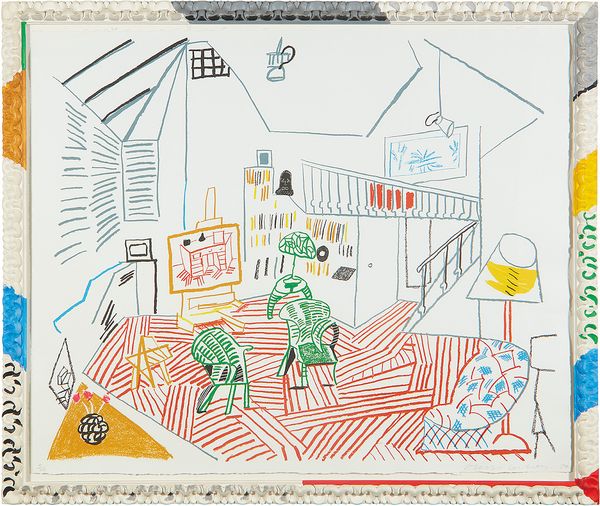 David Hockney, Pembroke Studio Interior, from Moving Focus Series, 1984. Estimate $10,000 - 15,000. Editions & Works on Paper.

Chuck Close
This print ranks as one of my all‐time favorites. Keith/ Mezzotint is Chuck Close's first attempt at print making and he jumped in headfirst (no pun intended), using a difficult medium (mezzotint) and a large‐scale format. Yet despite these barriers, Close—together with the great printmaker Kathan Brown—manages to create an indelible image. Even if you know nothing about printmaking, the effort, the experimentation, the craftsmanship, and the failure are all apparent all on the surface of the artwork. Like Robert Rauschenberg's masterpiece, Accident, Keith/Mezzotint celebrates the imperfections and the limitations of the medium.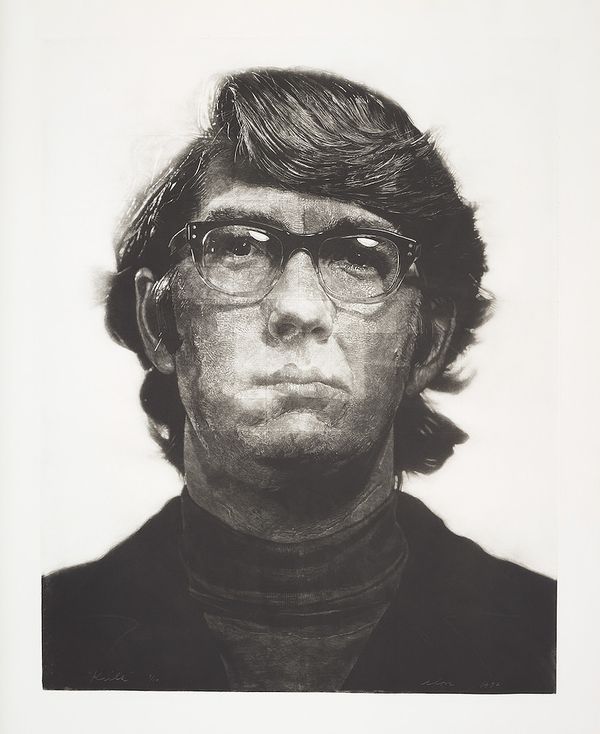 Chuck Close, Keith/ Mezzotint, 1972. Estimate $100,000 - 150,000. Editions & Works on Paper.

Wangechi Mutu
Recognized for her large‐scale sculpture works (most recently for the stellar, outdoor commission at the Metropolitan Museum of Art), Wangechi Mutu also works deftly on intimate scale with her printed editions. In the portfolio Histology of the Different Classes of Uterine Tumors, Mutu creates a world that is both brutal and beautiful, addressing preconceived ideas surrounding identity, race, culture, history, sci‐fi, and the female form. Mutu morphs images that she culls from magazines together with her own drawing and painting to create collages that are printed with three‐dimensional elements of mixed media. I love how she blurs the boundaries of printmaking. She takes the same open approach for her OPEN STUDIO art project, which incorporates soil, homemade pulp paper, glue, and inks for tabletop sculpture.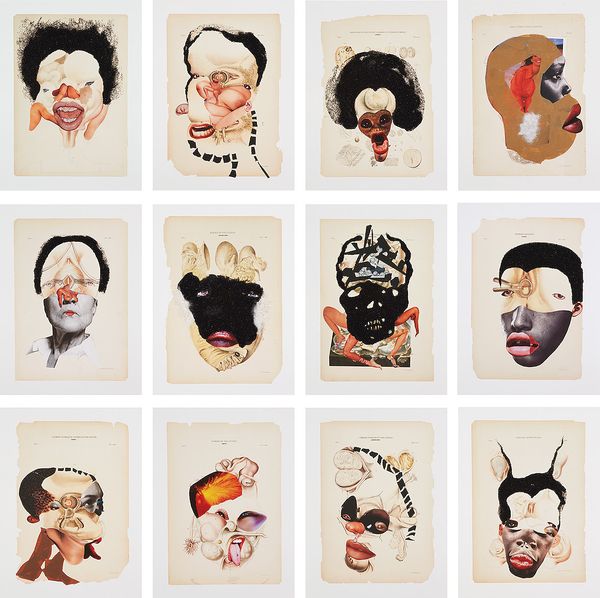 Wangechi Mutu, Histology of the Different Classes of Uterine Tumors, 2006. Estimate $12,000 - 18,000. Editions & Works on Paper.

Claes Oldenburg
Oldenburg personally shaped these two multi‐media prints from a series of unique variants created at Gemini G.E.L. The black‐coated wire coat hangers attached to the surface of the print create a three‐dimensional silhouette of each lightbulb. As always evoking a sense of whimsy in his work, Oldenburg leaves the top hook of the coat hanger untethered, revealing the material's original purpose. Great idea!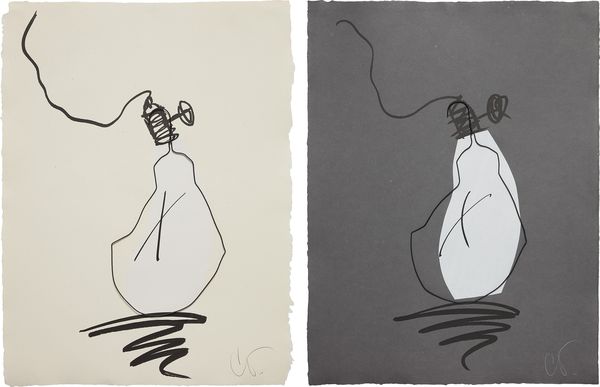 Claes Oldenburg, Hard Times Bulb - Day; and Hard Times Bulb - Night, 1995. Estimate $8,000 - 12,000. Editions & Works on Paper.

Andy Warhol
Within Andy Warhol's lexicon, I am drawn to the Death and Disasters imagery and find it fascinating that Marilyn Monroe's untimely death in 1962 preempted the artist's underlying preoccupation with the subject. Marilyn was Warhol's first foray in to publishing a print portfolio at the Factory in a serial fashion, with the image of the actress repeated on ten prints in varying vibrant color schemes, with the exception of one silk-screened in shades of black and gray. For me, this Marilyn stands out for being the most personal, haunting and poignant image in the portfolio.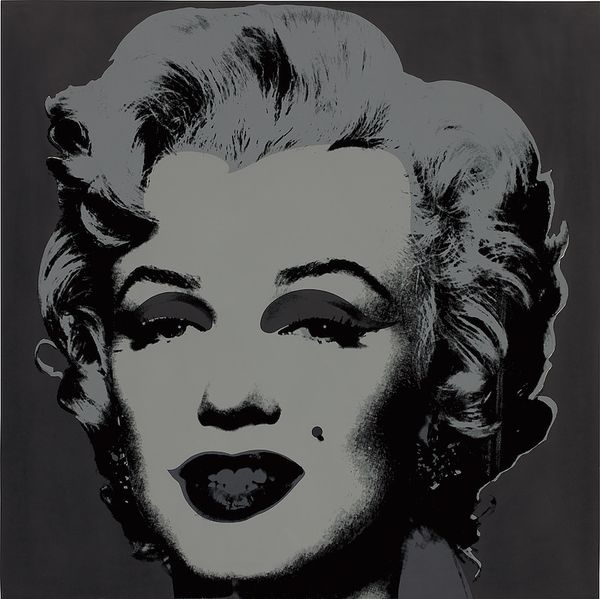 Andy Warhol, Marilyn, 1967. Estimate $250,000 - 350,000. Editions & Works on Paper.

Martin Kippenberger
For this wall installation, Martin Kippenberger took Imi Knoebel's artwork and repurposed it as his own. Kippenberger added plastic and latex tape to Knobel's wooden stretcher surfaces, altering them with both a sense of humor (creating a tic‐tac‐toe board) and reverence for art history (referencing Robert's Rauschenberg act of erasing a William de Kooning). The act of collaboration and play is an essential part of this work, and the backbone of OPEN STUDIO.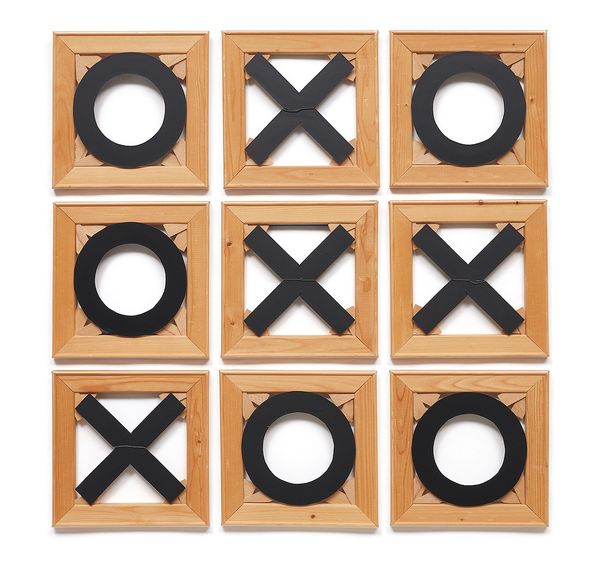 Martin Kippenberger, Tic-Tac-Toe, Tae-Kwon-Doe, 1990. Estimate $8,000 - 12,000. Editions & Works on Paper.

KAWS
KAWS amplifies the color palette and the size of this portfolio to a scale that feels like a billboard installation. The imagery bounces between the dayglo colors, the curvilinear, balloon‐like shapes, and the ten prints making up a grid. It is exuberant, full of energy, and feels closest to music, perhaps a contemporary take on Piet Mondrian's Broadway Boogie-Woogie? KAWS's contribution to OPEN STUDIO is small in scale, but also big in punch.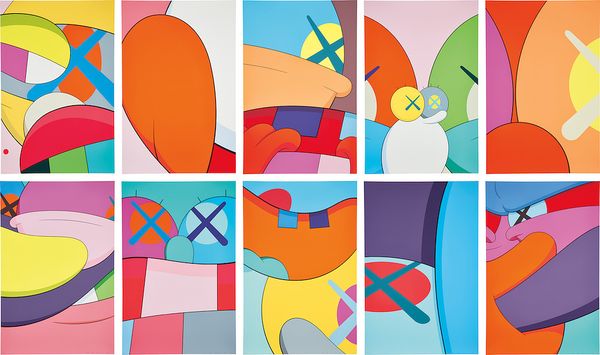 Jasper Johns
Jasper Johns created this print as the cover for the Brooke Alexander exhibition catalogue, Screenprints, making his art available to a broader audience. This project paved the way for many artists to explore the democratic spirit of printmaking. It also inspired me to include the artist-designed inserts in OPEN STUDIO and informed my earlier project, a Jasper Johns print that I published as an insert for Art in America in May 2014.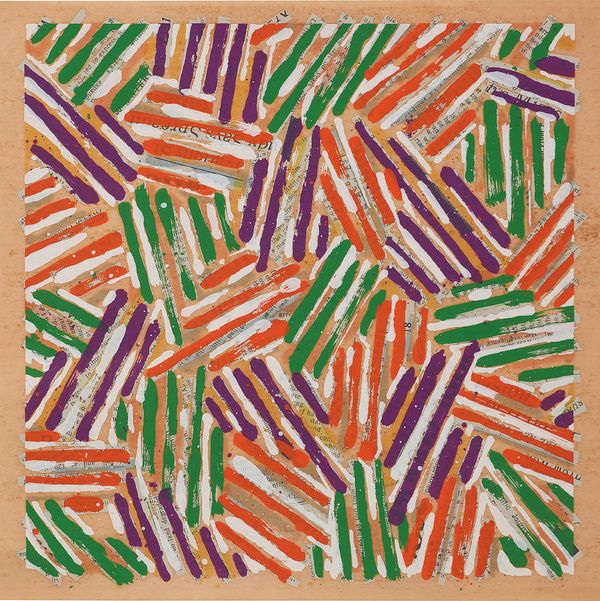 Jasper Johns, Untitled, 1977. Estimate $1,000 - 2,000. Editions & Works on Paper.

John Baldessari
Full disclosure: I am the author of John Baldessari's print catalogue raisonné, so I naturally zero in on his work. The title for this artist's book tells you everything you need to know, and the 12 images lead you through the artist's deadpan, playful, and absurd attempts towards finding order against the Los Angeles skyline. Like Ed Ruscha, John Baldessari made artist's books throughout his prolific career, a discipline that informed his entire oeuvre.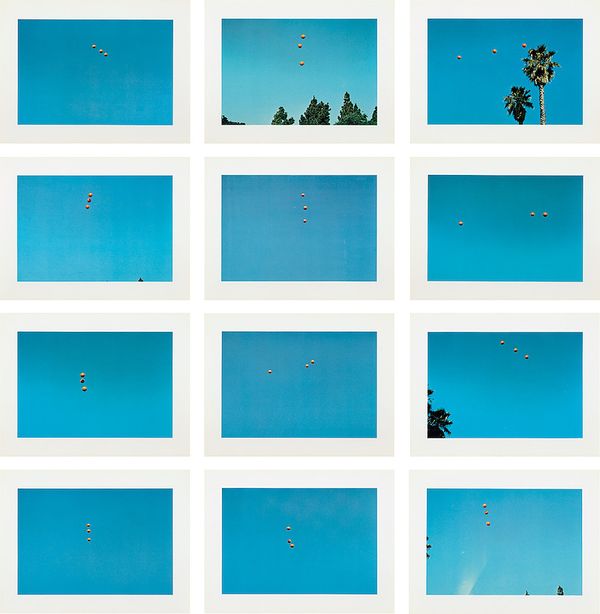 John Baldessari, Throwing Three Balls in the Air to Get a Straight Line (Best of Thirty-Six Attempts), 1973. Estimate $2,500 - 3,500. Editions & Works on Paper.

Cindy Sherman
The thought of putting this multiple on a tabletop surface in an unexpected location is an irresistible invitation. I fantasize about placing this multiple alongside my family photos, ideally on top of a grand piano or a side table in a bedroom. Cindy Sherman is the master of illusion. Untitled is a diptych of two small photographs contained in a folding pewter frame, a deceptively brilliant format (also, from a modest production of 25). Who becomes the impostor, Cindy Sherman or you?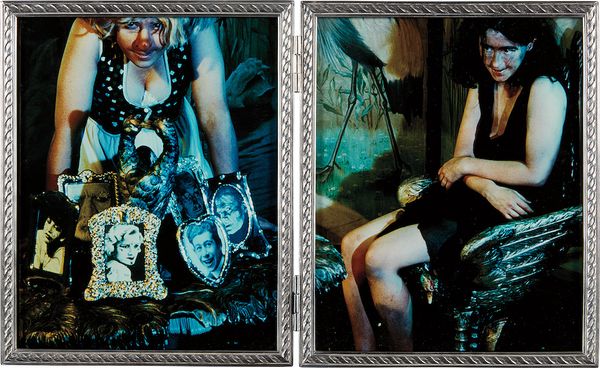 Cindy Sherman, Untitled, 1985/1999. Estimate $2,000 - 3,000. Editions & Works on Paper.
Discover More from Editions & Works on Paper >

Recommended Reading
Open Studio: A Guide to DIY Art Projects >