Hernan Bas, Two Fruits, 2015. Estimate £60,000 - 80,000. 20th Century and Contemporary Art Evening Sale, London.

Since the turn of the 2000s, Hernan Bas has developed a unique visual language that documents the intersection between literary and painterly possibilities. "I love the written word," the artist once said, "but I am at a constant battle trying to make images that can stand alone and compete or, better, surpass the written word." While Two Fruits is unmistakably referential of the history of painting—devising the medium's three most prevalent genres in its top, central, and bottom planes—the composition also bears hints of poetry, specifically in its illustration of an otherworldly place.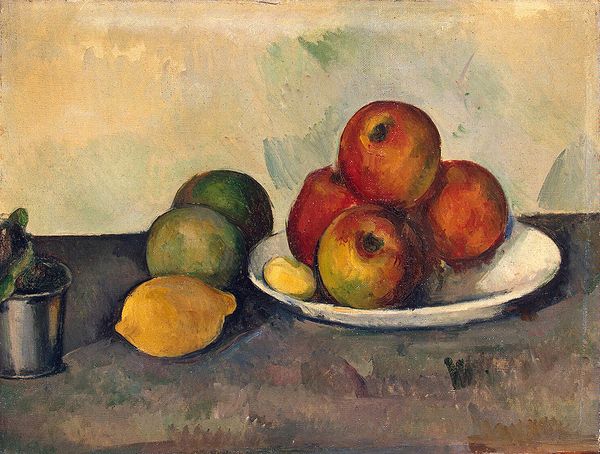 Paul Cézanne, Still life with Apples, ca. 1890, oil on canvas, State Hermitage Museum, St. Petersburg. Image: Bridgeman Images.
Combining the genres of landscape, portraiture and still life, Two Fruits summons the history of painting itself, positing as a formal exercise into the various possibilities of the medium. Further attesting to its association with literature, Two Fruits forms part of a collection of paintings that was presented at Galerie Perrotin, Paris, in 2015, and found inspiration in Joris-Karl Huysmans's 1884 symbolist À rebours (Against Nature), in which Jean des Esseintes, a reclusive aesthete, shivers in awe while listening to Gustave Flaubert's prose.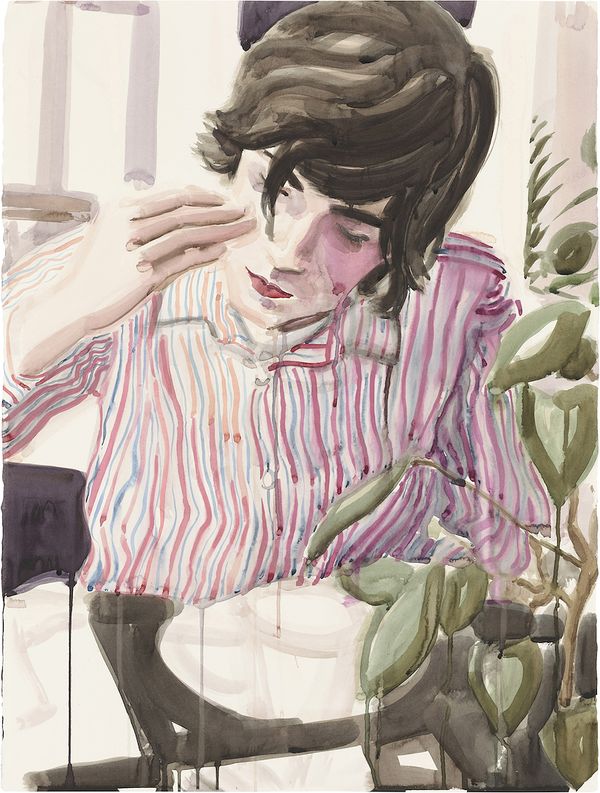 Elizabeth Peyton, Lunch (Nick), 2003, watercolour on paper, Museum of Modern Art, New York. The Judith Rothschild Foundation Contemporary Drawings Collection Gift. © Elizabeth Peyton. Image: 2020, The Museum of Modern Art, New York/Scala, Florence.
Set in what appears to be a paradisiac blend of Romantic, Gothic, and exotic landscapes, Two Fruits portrays two young men leaning back, their heads sensually tilting to the side. These two characters, depicted as young, delicate, and androgynous, convey a similar sentiment to Elizabeth Peyton's repertoire of vulnerable-looking superstars. Below them, an assemblage of fruit and bowls dominates the composition in an undoubtedly staged manner, suggesting a reference to still life, and more specifically Paul Cézanne's seminal contributions to the genre. Finally, the two houses crowning the backdrop of the composition and glowing under lush foliage recall Peter Doig's leafy cabin scenes, similarly conflating a British type of greenery with a distant land. Devising a landscape in the upper tier of the composition, a dual portraiture at its centre, and a nature morte in its lower quadrant, Two Fruits testifies to Bas's multifarious painterly inspirations – located in the realms of art and literature, but also in the foundational blocks of painting itself.
Discover More from 20th Century and Contemporary Art Evening Sale, London >

Recommended Reading
Circles and Waves: Wojciech Fangor's Spatial Concepts >