Dana Schutz, Trump Descending an Escalator (detail), 2017. Estimate £380,000 - 580,000. 20th Century and Contemporary Art Evening Sale, London.

Conceived in large dimensions and a kaleidoscopic array of color, Trump Descending an Escalator demonstrates Dana Schutz's ability to convey the subtle socio-political messaging of contemporary life. On the one hand, the figure at the composition's center is endowed with instantly recognizable traits; on the other, the background against which he is set recedes into lush abstraction, emanating flurries of blue, purple and green. Painted in 2016, the same year Donald Trump assumed office as President of the United States, the composition references the decisive instant that presaged the politician's meteoric rise to power. Though at the time this moment seemed to carry only moderate importance, the event subsequently became anchored in history, pinpointing the exact moment when Trump—then an actor, reality TV presenter, and realtor—stepped into the world of politics.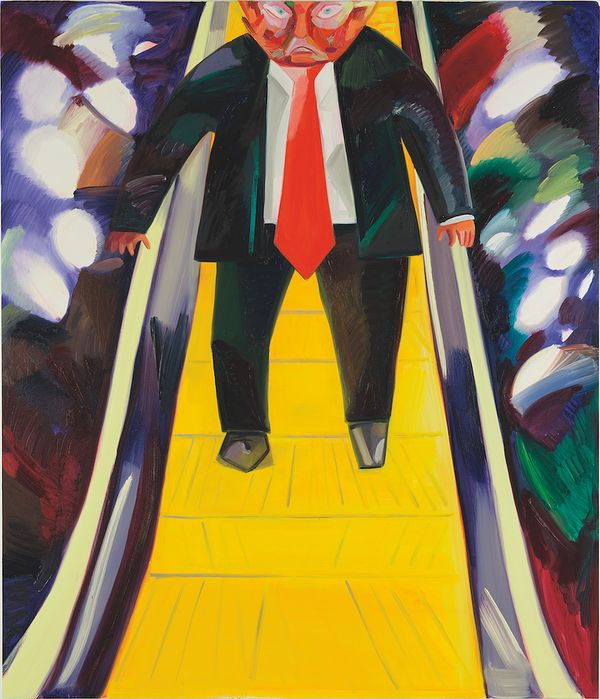 Aligned with Schutz's tendency to address historical and, at times, provocative subject matter, Trump Descending an Escalator forms part of an extensive art-historical tradition of political portraiture that includes Andy Warhol, Robert Rauschenberg and Kehinde Wiley's memorable representations of Chairman Mao, John F. Kennedy and Barack Obama.
In Trump Descending an Escalator, Schutz channels a facetious spirit that she had already employed in previous works, exploring a subject matter's immediate iconic status, ambivalence, and imperiousness. This new, daring body of work emerged as a response to 9/11, Schutz explained, when the artist began viewing her earlier subject matter as trivial, and felt a need to deepen the intention of her figurative content. By employing bold, declarative colors, Schutz propels Trump Descending an Escalator within a quasi-fantastical realm that eludes spatio-temporal specificity. In doing so, she reconciles real world contradictions with creative, literary, and painterly concerns, crystallizing a real-life moment and its most memorable components.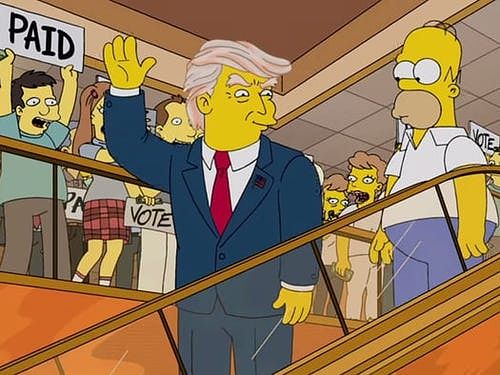 Still from The Simpsons, 2000. Courtesy of FOX.

Schutz furthermore capitalizes on the multiple lives of an image, and creates a narrative that exists both within the confines of the frame and beyond. In the present work, she takes inspiration from the truth and twists it slightly, imbuing the scene with enhanced chromatic dynamism, exacting geometry and physical grandeur. In its blend of iconographic familiarity and artistic agency, Trump Descending an Escalator most compellingly echoes Warhol's proliferating portraits of Mao and Rauschenberg's multi-layered rendition of Kennedy—the three compositions united in their common production of a striking image with idiosyncratic artistic techniques.

Trump Descending an Escalator's titular reference to Marcel Duchamp's seminal Nude Descending a Staircase (No. 2), 1912, further cements Trump Descending an Escalator within a comparative realm. On the one hand, the two compositions boast a similar use jagged lines to emulate a sense of activity and movement; on the other, they channel a conceptual flair that allows them to transcend the subject matters they represent. While Duchamp's Nude Descending a Staircase (No. 2) had spurred furor when it was first exhibited in New York in 1913, partly because no one had previously thought of a nude doing something as prosaic as coming down the stairs, Schutz's composition similarly received significant, exuberant coverage when it was displayed at Petzel Gallery's memorable We Need to Talk show, in 2017, alongside other works meditating on America's transformed political climate.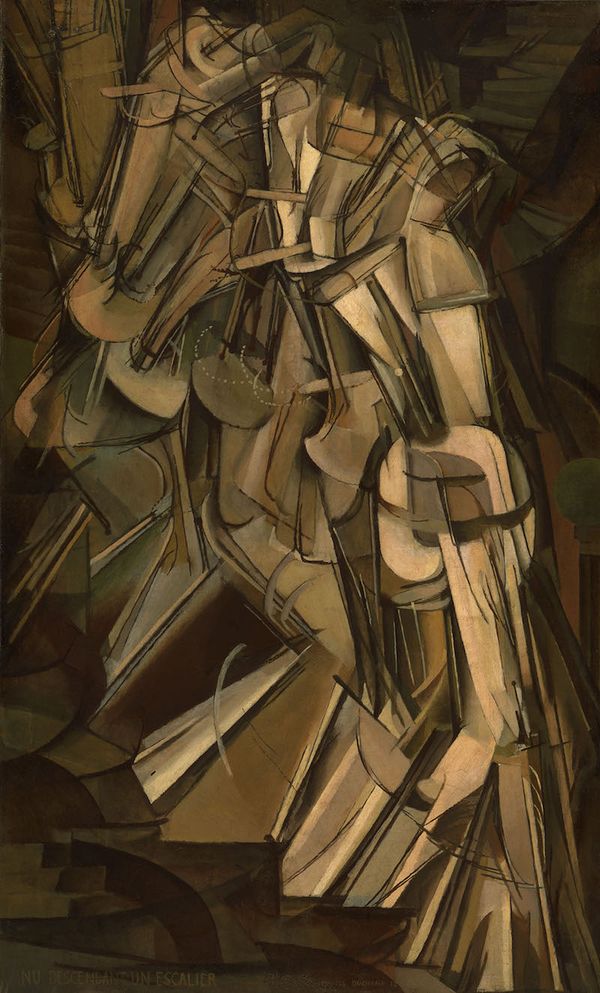 Marcel Duchamp, Nude Descending a Staircase (No.2), 1912, oil on canvas, Philadelphia Museum of Art, Pennsylvania. © Association Marcel Duchamp / ADAGP, Paris and DACS, London 2020. Image: The Louise and Walter Arensberg Collection, 1950 / Bridgeman Images.
The analogy between these two works' subject matter and their varying visual results furthermore attests to Schutz's humorous and contrarian spirit, frequently inclined to place her depicted subjects in vulnerable positions. "One of the great qualities of Dana's work is the caustic wit," wrote John Zeppetelli, Director and former chief curator of the Musée d'art contemporain, Montréal. "It's this perfect sort of collision between hilarity and the grotesque, psychopathology and disfiguration, comedy and dread, all these kinds of things coming together. It's really vital language." Testament to her cornerstone status within the canon of contemporary art, Schutz is currently having her first-ever solo exhibition in London at Thomas Dane Gallery, which will run from 16 September to 19 December 2020.

Discover More from 20th Century and Contemporary Art Evening Sale, London >