- By Nicolas Commergnat
Water resistance:

Unless you're absolutely certain your watch was made for it, never take a vintage wristwatch into the shower or for a swim. Professional watches are designed to withstand ATM precision, and in most cases, you'll be made aware of that plenty as resistance tolerances are often written on the dial. Still, a replacement or lubrication of a watch's seals and gaskets are necessary every 10-15 years. All other so-called "water resistant" watches only protect from minor splashes and external dust. They're desk divers, at best.
Servicing :

When purchasing an old watch, it is imperative to have it examined by a professional watchmaker to review the condition of the watch. A watch that is worn regularly should be serviced regularly, which is to say every 5-7 years to avoid any deterioration of the gears which could cause further damage to the movement.

This consists of a complete disassembly of the watch by a professional watchmaker, to clean the movement with products specially designed for this purpose. Then the movement will be reassembled, oiled and adjusted. Make sure to ask the watchmaker to replace old and / damaged gaskets for the caseback, the crown and the bezel.
Finally, keep the glass protecting the watch's dial in good condition because water, dust and other external element will quickly find a way to get in and damage the dial and the hands. You wouldn't drive on the road with a crack in your windshield, and you shouldn't wear a watch with a damaged crystal.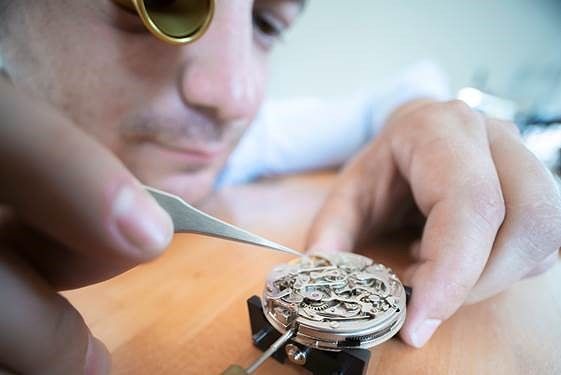 Maintenance :
So you want to wear your watch, but you don't want it like to look worn? Well, I'm afraid I've got bad news. However, there are plenty of ways of making sure it never looks "worn out".
First, it's important to make sure the watch is worn securely. The leather strap and the bars that hold it should be in good condition, otherwise there's a risk of breakage and the watch falling to the ground...which would be catastrophic.
If the watch is worn with a bracelet, it is advisable to properly adjust the tightness of the bracelet to prevent any unnecessary wear on the metal strap. During the day, avoid exposing the watch to bad weather, splashing liquids, and avoid wearing it to do the gardening. Seriously.
At the end of the day when you remove the watch, wipe it down with a soft cloth to avoid oxidation and corrosion.

Storage :

It is advisable to store your watch in a dry place, protected from light and away from any electrical device in order to avoid magnetization of the watch. For an automatic watch, if it is not stored in an automatic winder, it is necessary to do a manual winding to ensure a good power reserve – do it after setting the time though.
For a manually wound watch, it is preferable to wind it in the morning to ensure good inertia to the balance. But also, because there is no better way to start the day.
Anecdote:
During my watchmaker career, I have gathered several anecdotes from the many collectors I have encountered. Here is just one of many cautionary tales.
One of my customers changed the glass on his vintage watch - if I rememeber correctly it was from the 1940s. He wanted to put a curved mineral glass as we could find on these types of watches, which is a fair choice due to the time it has been produced.
Unfortunately, he had two bad surprises some time later when he dropped his watch on the glass side of the bathroom tiles. Firstly, the pieces of glass shattered on the dial and had strongly damaged his collectible timepiece.
Secondly, I noticed that the silver grey dial had turned yellow. Why? The reason is vintage mineral glass does not protect the dial from UV rays like Plexiglas or treated sapphire.
As a consequence, I regularly warn my clients that I do not recommend using mineral glass. Mineral glass is recommended for shaped watches (such as square, tonneau,..) or pocket watches.