Keith Haring, Meatloaf Drawing for Meals on Wheels, 1987. Price upon request. Keith Haring: Falling Up Selling Exhibition.
Phillips in collaboration with K11 presents a rare selling showcase at the new K11 Art & Culture Centre of Victoria Dockside. This exclusive selling exhibition spotlights the pivotal pieces that made immense implications in the world of contemporary art and blurred the lines between pop culture and fine art.
Thirty years after the untimely death of one of the most celebrated artists of the 20th century, Keith Haring: Falling Up honors the monumental leap this visionary made in contemporary art. The one-of-a-kind showcase of more than 35 pieces, including paintings, drawings, painted aluminum sculptures, and a group of memorabilia, will be available for viewing and purchase at K11 MUSEA. Here, we explore five key pieces of great significance in Haring's career and in art history.
Discover More from Keith Haring: Falling Up Selling Exhibition. >

Meatloaf Drawing for Meals on Wheels
Keith Haring was a philanthropist and established the Keith Haring Foundation in 1989, designed to perpetuate Haring's legacy through preservation and circulation of his works and providing grants to children and those affected by HIV/AIDS. Outside of his own foundation, he donated works to raise proceeds to different charities.
In this piece, above, Meatloaf Drawing for Meals on Wheels, it appropriately focuses on the prominent plate of food at the center of the composition. Founded in 1981, the charity raises private funds to provide pre-prepared meals and social support to elderly residents of New York.
The work was executed in August of 1987, a time when Haring was prolifically producing works from his studio. The piece encompasses the full spectrum of Haring's striking visual characteristics and vibrant palette.

Untitled, 1985
In true Keith Haring fashion, Untitled, 1985 strongly communicates a social message the artist holds dear to his heart. It was also completed in the same year as Michael Stewart, (USA FOR AFRICA) – an iconic piece commemorating fellow graffiti artist and friend, Michael Stewart who was murdered by Manhattan police officers. Comparable figures and gestures in Untitled, 1985 questions whether or not the subject is Stewart's character in disguise.
Emphasizing the bright yellow band against a dolphin blue background wrapped around the figure's waist, Haring compellingly alludes to a twisted billy club – the very weapon that Stewart was beaten with. In reimagining this tragic event on canvas, Haring touched upon a topic that remains prevalent in the present day in the US and around the world.
Included in the exuberant retrospective of Haring's brief career at the Whitney Museum of American Art, Untitled, 1985 is an important piece of work dating from a prolific year for the artist. The exhibition showed some of Haring's most complex and seminal paintings dating from 1985 and after.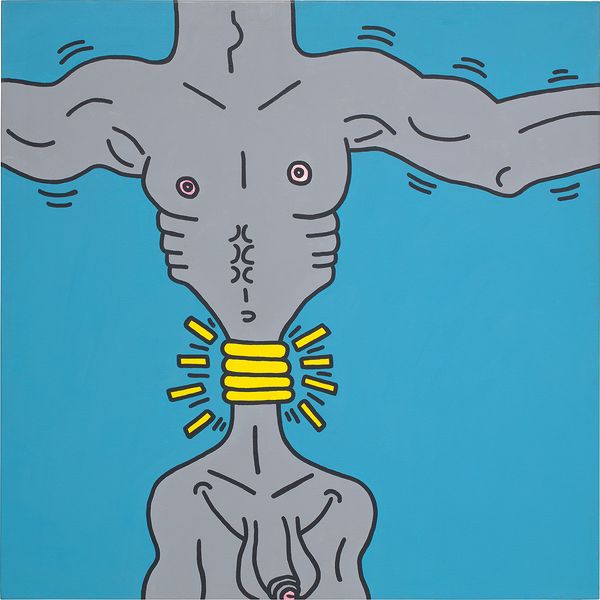 The Acrobats
Haring's friend, art dealer and gallerist Tony Shafrazi encouraged him to translate his cartoons into large outdoor sculptures for his first sculpture exhibition at the Leo Castelli Gallery in New York in 1985. The sculptures were designed with the intention of being climbed on and Haring painted them in the bright colors he often used to imitate oversized toys.
Two years following his exhibition, Haring created The Acrobats, 1987, a six-part edition. Seen as the offspring of the large pieces from Castelli, in this piece, Haring presents three of his iconic stick figures stacked in a playful kinetic balance, challenging traditional notions of static sculpture and nods towards his intense passion for music, dance and nightlife of that particular era.
For Haring, dance played a large part in his life and was an important component of the 1980s New York scene. The Acrobats, 1987 became a playful totem encapsulating the vibrant dance culture. Above all, the sculpture was a means for Haring to touch people's lives as he felt most people could relate to movement and rhythm. Many of his public works were strategically placed in locations where passerby and children could not only view and appreciate, but also interact with.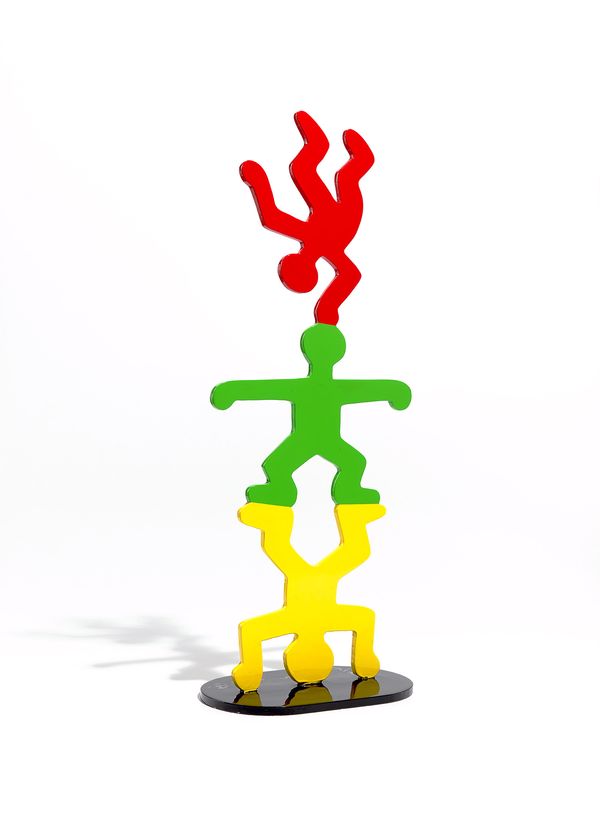 Schott Leather Jacket
While living in New York, Keith Haring paid a visit to Chicago in 1989 to work on a series of murals for Museum of Contemporary Art under the project name "Keith Haring at the Pinnacle." Eight students from every public school in the area were chosen to participate, working on a series of wood panels that had been constructed to form a long wall down the middle of a park in downtown Chicago. Visitors would have the opportunity to see the artist working on site.
Owner of the legendary nightclub Shelter happened to come across Haring's work in progress and was intrigued with the pop art style. Haring signed the reverse of his leather jacket and they kept in touch from that point on, later even designed flyers and posters for events at the nightclub.
This Schott motorcycle jacket is embellished with several buttons and a fuzzy patch which was purchased at his own store, Pop Shop in New York. The Pop Shop, which Haring opened in 1985 was a place where not only serious collectors could shop his artwork, but also where his art was accessible to everyone.
Here's the philosophy behind the Pop Shop: I wanted to continue this same sort of communication as with the subway drawings. I wanted to attract the same wide range of people, and I wanted it to be a place where, yes, not only collectors could com, but also kids from the Bronx. The main point was that we didn't want to produce things that would cheapen the art. In other words, this was still an art statement.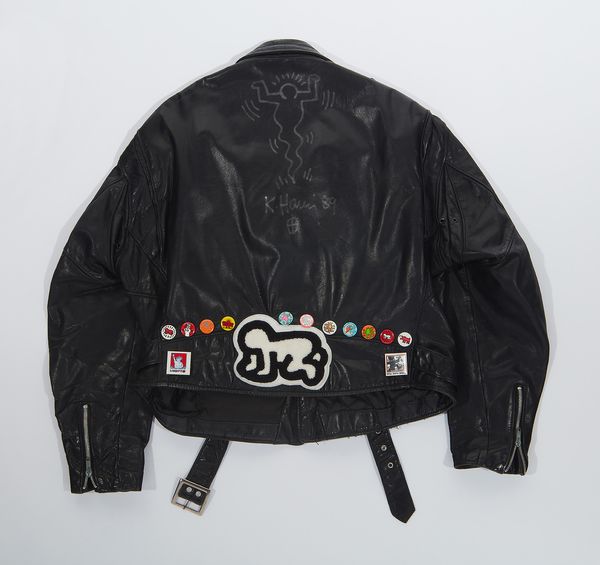 Untitled, 1989
Over the years, Keith Haring has partnered with a range of artists and gallerists. Among them was the young graffiti artist LA II (aka Angel Ortiz). The two artists came together for a collaboration in 1982 when they were first exhibited at Tony Shafrazi Gallery in Soho.
This was a pivotal moment for Haring as the gallery representation and realization of the art market demand shifted his approach, leading him to create large-scale paintings on vinyl tarpaulins as well as offbeat, punky painted objects. He sometimes even painted on discarded doors, several pieces of furniture as well as fiberglass and terracotta vases.
Haring's archetypal symbols of modern life that were typically found on the streets of New York began to appear alongside depictions of ancient antiquity, such as pyramids, Coptic urns, as well as Christian crosses and snakes – reflecting on his loosely religious upbringing, as seen in Untitled, 1989.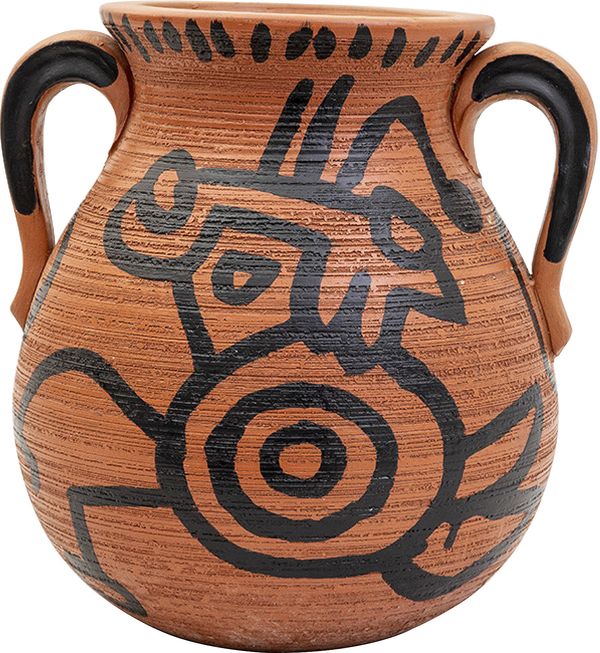 Fellow pop artist Roy Lichtenstein remarked specifically on Haring's body of work by stating: "Keith has a very interesting sense of humor. For example, those cases – those pseudo-Greek things – with magic marker on them. They're quite convincing and charming and funny. And much of the stuff is quite sexy, yet it's hardly pornographic. It's quite happy sex!"
From now until 18 October, select highlights from 24/7 Online Auction are exhibited at Keith Haring: Falling Up at K11 MUSEA. Preview the pieces via our digital VR tour here.

Discover More from Keith Haring: Falling Up Selling Exhibition. >