Photography by Studio J'Adore Ce Que Vous Faites. Courtesy of NOMAD.
Palais Bulles, the destination that inspired this year's NOMAD and Phillips private sales collaboration, is a building that is easily and often misunderstood. Lavishly extending its extravagant bubbles over 1,200 square meters with views onto the Mediterranean Sea, it features ten original suites, an open-air amphitheater of 500 seats and a garden space comprising over 8,500 square meters, including a swimming pool and various smaller, flowing ponds. Undoubtedly, this is an estate of flourishing grandeur—but it is also a radical piece of architecture that proposes new ways of living without compromise.
Owned by the 98-year-old design legend Pierre Cardin since 1992, it was originally built by the Hungarian architect Antti Lovag for his friend and patron, the French industrialist Pierre Bernard, and completed in 1989. Lovag coined the term habitology to describe his style, which is defined by strictly organic forms that reconcile nature with the built environment instead of distancing the two. Always starting from conceptualizing the interior of a new project, he claims the exteriors followed as a direct result of this commitment to human living spaces.
Photography by Studio J'Adore Ce Que Vous Faites. Courtesy of NOMAD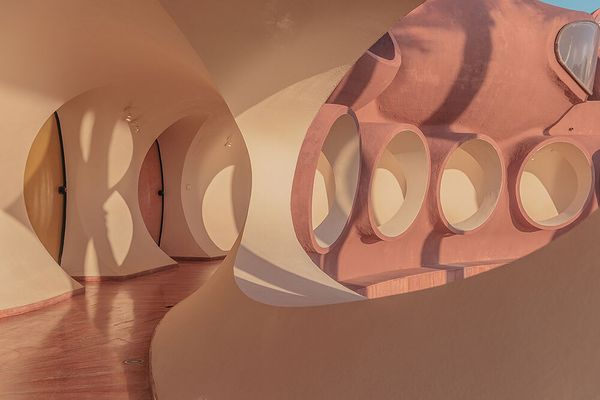 Photography by Studio J'Adore Ce Que Vous Faites. Courtesy of NOMAD
Fleshy ochre tones and round shapes mimic the organic quality of nature and the feminine within domestic interiors, bringing the human dimension back and prioritizing the physical and mental experience as an architectural style. Herewith lies the key for understanding Lovag's architecture, looking beyond its apparent grandeur and into the core of the radical experience it offers.
Antti Lovag was born in Hungary in 1920 to Finnish-Russian parents and arrived in France in 1947 where he gained his first experience with Jean Prouvé. In the 1960s, Lovag started working with Jacques Couëlle, applying his ideals of an organic architecture into a constant position.
Palais Bulles is a visionary project that remains today as a strong and utopian architecture exploring the way we evolve in domestic space. - Nicolas Bellavance-Lecompte
"Whether for economic reasons or lack of technical solutions, human beings have confined themselves to cubes full of dead ends and angles that impede our movement and break our harmony" the luminary explained in one of his rare interviews with Alex Marashian. His is an architecture that is antagonistic in its desire to liberate the eye and body from the dictate of modernism's straightness. Bare of pretense, Palais Bulles enchants with an appreciation for the natural world that is contagious, unique, and in stark contrast. Not without reason has it been popular as location for the sparkling after parties of the Cannes Film Festival and extravagant productions by Cardin, Dior and Jacquemus. For the current owner, the place is a source of joy and shared enjoyment. "I've known nothing but happiness [here], including magical evenings and unforgettable parties. I've hosted many celebrities here," he told the French newspaper, Le Figaro. Palais Bulles, it seems, is a place where the unexpected is always a possibility.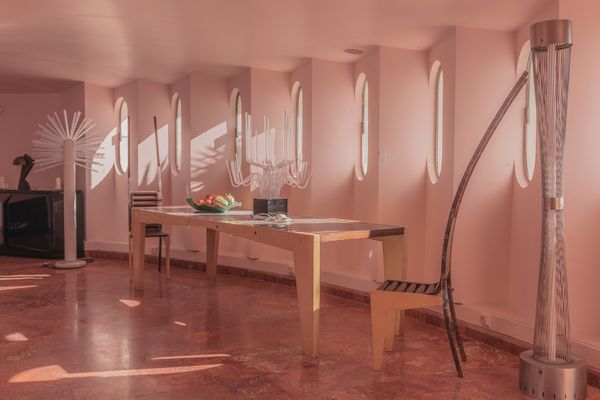 Photography by Studio J'Adore Ce Que Vous Faites. Courtesy of NOMAD.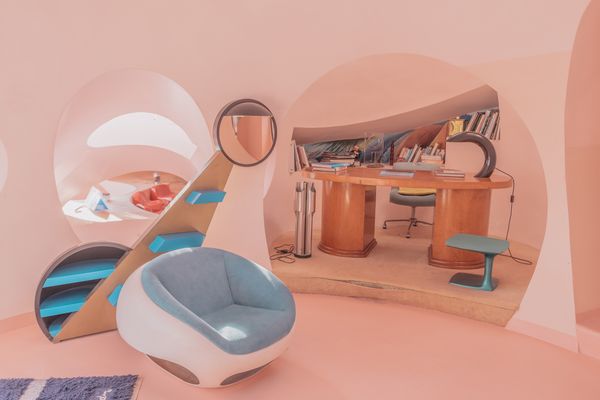 Photography by Studio J'Adore Ce Que Vous Faites. Courtesy of NOMAD.
Partly, its surreal quality can be attributed to the technical pedantry that it takes to work in spheres rather than lines. Everything must be thought anew: materials, machinery, methods and mindset. In this adventure that takes longer than a lifetime, there is no space for compromise, and Lovag famously followed three principles above all, manifesting his own freedom as much as that of his creations: "I don't know what it's going to be like, I don't know when it's going to be finished, and I don't know how much it's going to cost."
As one of only few built works by the architect, Palais Bulles stands as an example of the radical practices of care, freedom and playfulness. It is a dedication to the continuous, exciting journey which begins each day anew. And this, as every nomad knows, is more enriching than any single point of arrival could ever be.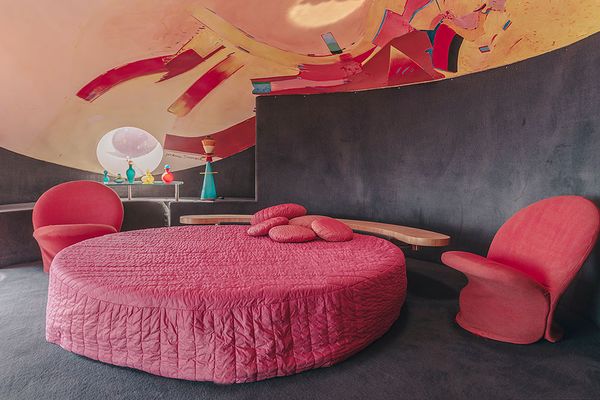 Photography by Studio J'Adore Ce Que Vous Faites. Courtesy of NOMAD