- By Aurel Bacs

Shortly after its release in 1986, my friend and I, both teenagers at the time, went to the movies to see "The Color of Money", starring Paul Newman. Yes, that man again. Paul Newman, always!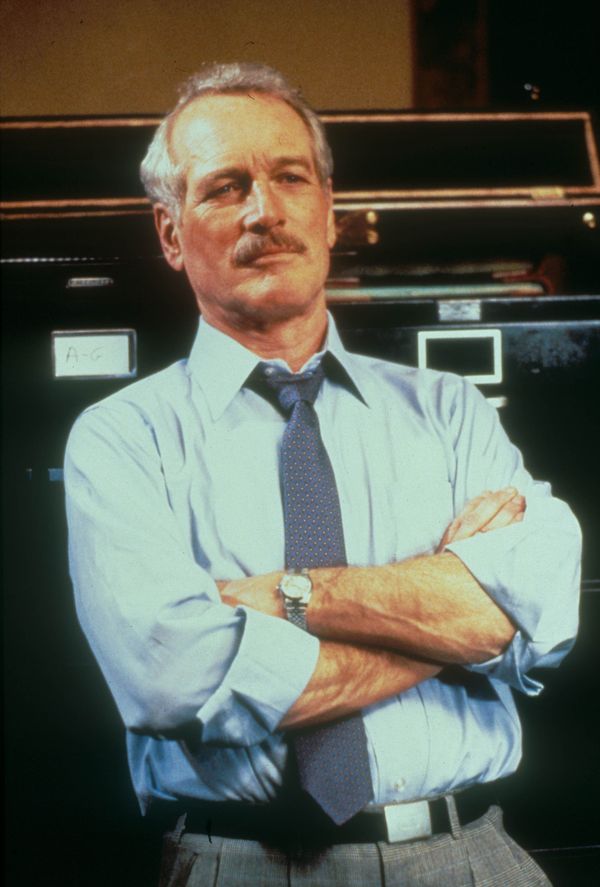 Paul Newman, as Eddie Felson, wearing a stainless steel Datejust model in "The Color of Money"
I vividly remember the scene during which a steel Datejust can clearly be seen on the wrist of Paul Newman, what looked like a Ref. 16200, an example with a sapphire crystal, with smooth bezel, a white dial, and a metallic bracelet. I refer this combination the "Eddie Felson" after Newman's character, and to me there is something magical about the combination of a smooth bezel and the textured effect of a multi-row Jubilee bracelet.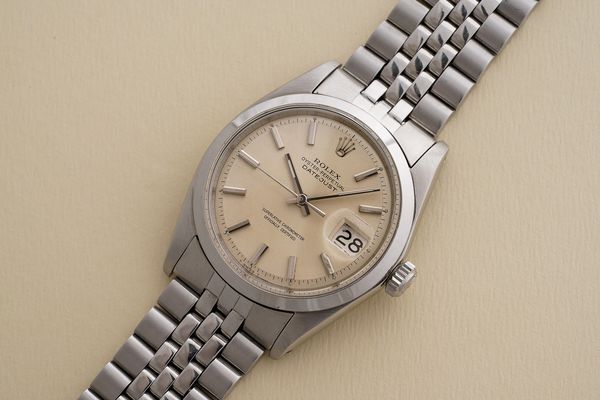 Years later, I could not resist getting one presenting a similar combination, though not exactly the same reference as mine would be from the 1970s and would feature a plastic glass. But I had to buy it, and thought it was a little costly back then, probably around CHF2,500 CHF, I've enjoyed wearing this watch at multiple occasions, formal or casual.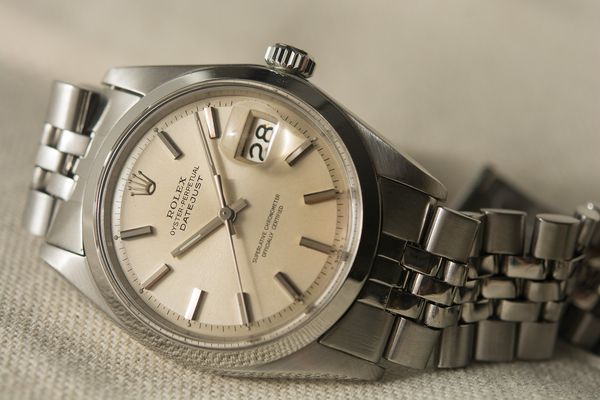 Let me start by saying that 36mm is an incredibly comfortable size. The rather light weight that a steel Datejust represents on the wrist, combined with an incredibly soft Jubilee bracelet that comfortably fits – like a well-worn pair of shoes - around my wrist and a dial of near perfect legibility is a rare, and close to perfect proposition.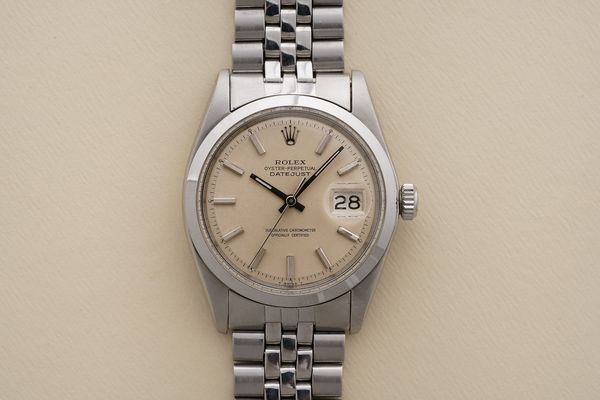 Adding a self-winding chronometer movement and a magnifying date, a centre seconds hand and pairing it with a timeless Oyster case and an all steel bracelet is pretty much as perfect as a dark navy suit blazer. Never underdressed, never overdressed. Exactly all the watch that you need, but not a gram more.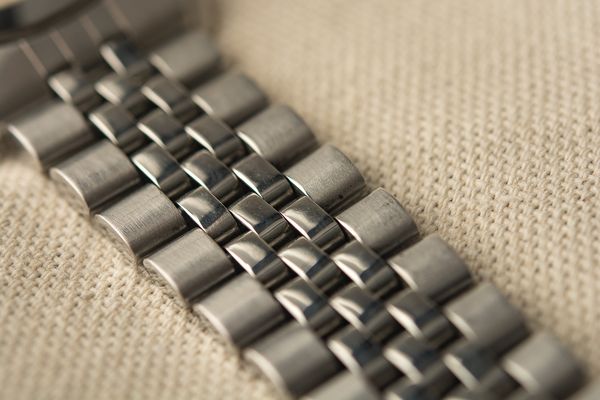 Fast forward to 2017 and the launch of the Rolex Datejust 41mm Reference 126300 (released in parallel with the Ref. 126334, with a fluted bezel). This time in a 41mm case made in 904L stainless steel superalloy, with a sapphire crystal, a high-tech chronometer movement (the manufacture made calibre 3235) with a new high-precision-machined balance wheel and a patent-protected Chronergy escapement, and after many years of absence, once again a Jubilee bracelet.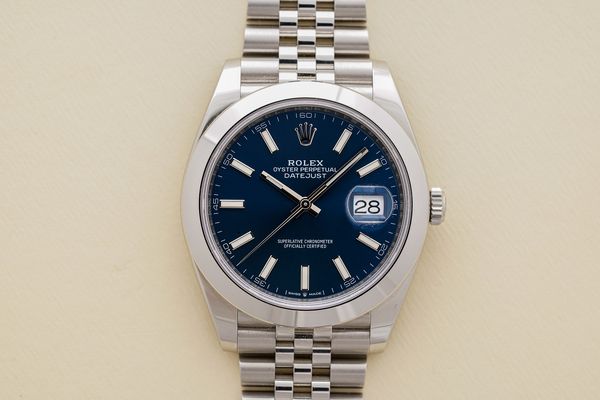 For quite some time after the launch, I decided I would need to see it in person, touch it and try it on to get a feel for it. For some reason, whenever I had time (on a Sunday afternoon for example) the shop was closed and quite often when I walked into the shop they said that regrettably they didn't have any in stock.
Seasons went by and only last winter in the Swiss mountains I managed to walk into a Rolex authorized dealer and ask for it. The most kind and professional staff welcomed me – thank you to Villiger, Gstaad – and let me know they had one in stock with a different dial version. That particular example didn't seduce me, but after a lengthy but most informative presentation of alternative dial designs, I decided that it was the appropriate moment for me to make myself a belated Christmas present.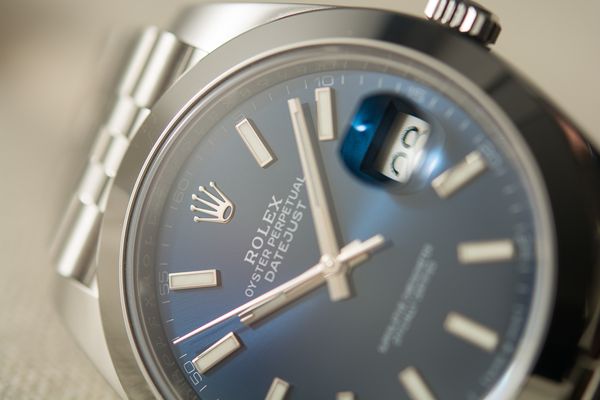 So I placed the order for the blue soleil dial version and started counting the days until some 8 weeks later I received word that my watch was ready. It just so happened that my family and I had planned to go back to the mountains a week later, and I was eventually able to get hands on my 2020 version of the Eddie Felson.
So what is this watch and why am I so impressed by it? First, kudos to Rolex for making a watch that provides one hundred percent (if it were possible, I would rather say 120%) at every level including in its looks, quality, performance, and practicality, perhaps most importantly at a price that makes it an unbeatable value proposition.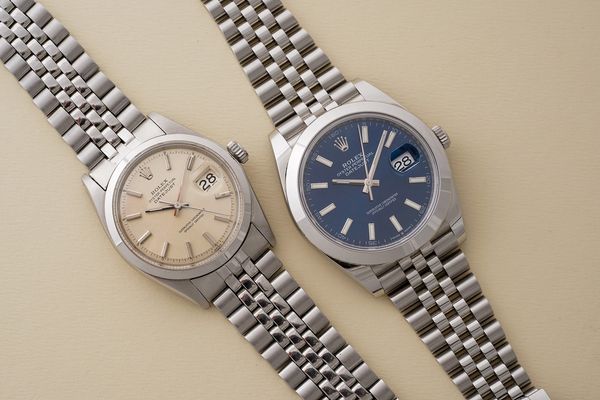 Much of the reasons why I love my vintage reference 1600 have been preserved in this modern version but everything has been updated – mostly notable the size by 5mm – to contemporary standards of quality. The Jubilee bracelet doesn't wobble anymore, the folding clasp now has an extendable "easlink" made to fit any wrist and in any situation perfectly, and the opening and closing of the deployant buckle included a highly sophisticated springbar-loaded end-piece.
The Jubilee bracelet sits incredibly neatly in between the lugs where even micro dust particles struggle to get to (the same unfortunately cannot be said for my vintage 1600).
The dial has an unbelievably mesmerizing blue soleil shine that reminds me of vintage Mercedes S-Class of the 1970s, and it is perfectly protected by a scratch-proof sapphire crystal. Inside the ring, between the dial and the crystal, the Rolex name is repeated, while the watch's individual case number is subtly revealed at 6 o'clock – something I only realized recently not all owners of modern watches are aware of.
Everyone knows that I am not a fan of large and bulky watches but despite my small wrist and the extra 5mm that this reference boasts versus my vintage Datejust, my new watch feels just right on my wrist. Given my advancing age and my eyesight not necessarily getting better, I appreciate the larger size and stunningly clear dial layout with strong luminescent hour markers and indices thanks to the brand's proprietary Chromalight compound.

The services this watch delivers on my wrist are quite comparable to other high-end, 40mm Swiss luxury watches: made from stainless steel, waterproof, with centre seconds, a sapphire crystal, a steel bracelet, a timeless design, and extraordinary comfort on the wrist.
And that includes competition from two of my all-time favourites in that category: The Royal Oak and the Nautilus. The Datejust comes with an observatory Chronometer movement and does everything that the other two prima donna (yes, it may sound harsh but it is well deserved because no one sings an aria better) do for close to a ¼ of their retail price, if one is fortunate enough to obtain one after years of waiting.
Certainly the Datejust cannot beat the flair and utter class that its famous siblings from Plan-les-Ouates and Le Brassus have but, boy oh boy, this watch delivers for every dollar.
I must say this watch has been with me throughout the confinement, during which I struggled to have access to many other watches in the vault. And not a single day was I bored, or regretted that it was one of a small handful of pieces with me during these challenging times.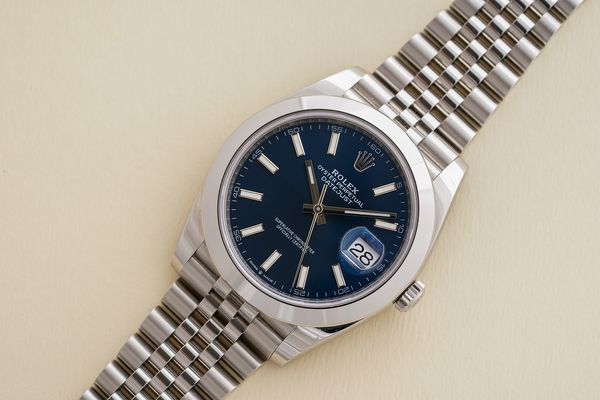 And knowing that Eddie Felson chose the same bezel & bracelet combo makes it all the more romantic for me personally.
Since I bought this watch, many friends, colleagues and fellow watch geeks have commented my choice. The purists were shocked to see another modern watch on my wrist. And those who know that I have a weak spot for independents (imagine their surprise when I revealed my enjoyment of my Quartz powered F.P. Journe Elegante) were disappointed that I went with what one could call in a blazé way: the mainstream.
Let me make it clear. I am never categorical when it comes to watches: vintage or modern, steel or gold, round or oval, two hands or many, many, hands. A good watch is a good watch, as simple as that. And my horological appetite and search for complete wrist happiness is insatiable. How boring would life be if there was only steak or pizza or sushi. The beauty (both with watches and with food) lies in the discovery, the pleasure, and the diversity of watches, and alternating watches as often as possible has kept my passion for watches very much alive.

Clearly this watch is not a 6-course gourmet menu at a Michelin-rated restaurant but it is a simple and classic recipe prepared to perfection. And after all, isn't that what we love about our grandmother's food ?