Joaquín Torres-García, Composició​n abstracta tubular (Abstract Tubular Composition)​, 1937. The Museum of Fine Arts, Houston. © Alejandra, Aurelio, and Claudio Torres.
We consider ourselves to be the North American leader in studies of Latin American modern art. —Gary Tinterow
PHILLIPS: What are some of the key components that reflect the "Houston" in the Houston Museum of Fine Arts?
GARY TINTEROW: Each museum in America has its own DNA, reflecting its parentage: the founders, their friends, and subsequent community members as the orbit of influence grows over time. Because almost all US museums are predicated on philanthropy rather than tax dollars, they reflect the interests of donors much more closely than museums elsewhere in the world. In Houston that means collectors such as Ima Hogg and Sarah Campbell Blaffer, who collected American and European works of art, alongside early modernism, approximately a century ago; the Strauses, New York department store heirs who moved to Houston in the 1930s with their extraordinary collection of Renaissance paintings and bronzes; Audrey Jones Beck, who collected superb French Impressionist and Post‐Impressionist paintings after World War II; Caroline Weiss Law, who made an impressive collection of post‐war American paintings of the New York School; and Alfred Glassell, Jr., who created the world's most extensive collection of gold jewelry and regalia from Pre‐Columbian Central and South America, Africa, and Indonesia. As a result of the Caroline Weiss Law Endowment, the Museum has been able to broaden its remit to Asia and especially Latin America. We consider ourselves to be the North American leader in studies of Latin American modern art, based on the cornerstone acquisition of the Adolfo Leirner Collection.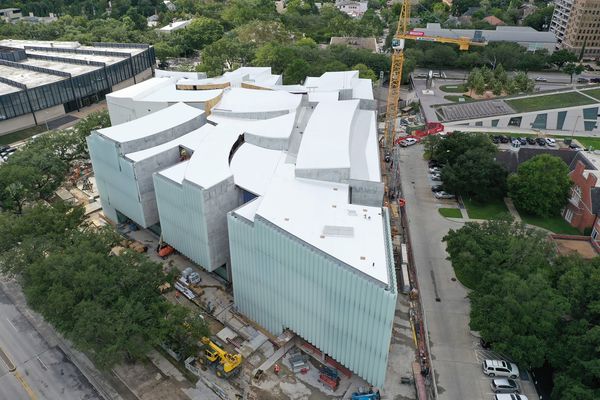 The Nancy and Rich Kinder Building designed by Steven Holl Architects.
P: The MFAH is in the midst of a major campus expansion, tell us a bit about that unveiling and what it means for the community?
GT: Thanks to nearly one thousand donors, led by Nancy and Rich Kinder and Fayez and Susan Sarofim, $475 million has been pledged to transform our 14‐acre main campus with four new buildings and two underground garages. Our campus will soon comprise 100 years of remarkable architecture, from our first Beaux‐Arts style building that opened in 1924, to the path‐breaking Brown Pavilion by Mies van der Rohe that opened in 1958 — his first and only museum in the US — to the handsome and commodious Beck Building designed by Rafael Moneo in 2000, to the most recent and iconic buildings by Steven Hall Architects — the Kinder Building and the Glassell School of Art — as well as the Blaffer Foundation Center for Conservation, designed by Lake/Flato Architects. With several new plazas, a new outdoor amphitheater, a new auditorium, and new gardens by Deborah Nevins Associates throughout, we will be able to offer the community unparalleled facilities for recreation, education and inspiration.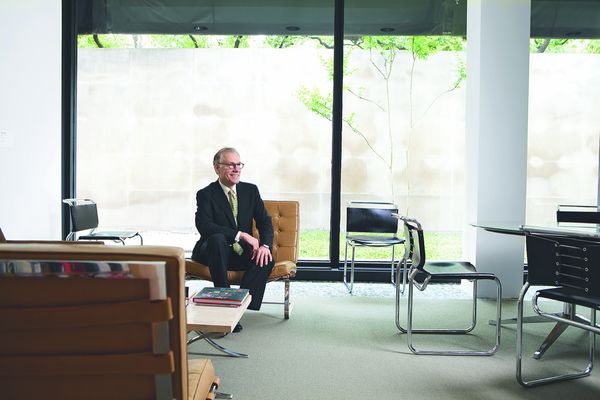 Gary Tinterow, director of the Museum of Fine Arts, Houston.
P: What are some of the works in the MFAH's vast collection that you are looking forward to exhibiting in these new galleries?
GT: We have been buying modern and contemporary art extensively for nearly fifteen years, and much of what we have acquired will be displayed for the first time in the Nancy and Rich Kinder Building. There are too many favorites to mention them all, but I look forward to a room full of Tinguelys and Tungas, installations by James Turrell and Yayoi Kusama, dedicated galleries to the history of photography, prints and drawings, crafts, decorative arts and design, as well as seeing the full extent of our renowned Latin American collection. We are also quite proud of our commissions by Cristina Iglesias, Ai WeiWei, Olafur Eliasson, El Anatsui, Byong Hoon Choi, and Carlos Cruz-Diez. And our extensive photography collection ranks alongside those at the Metropolitan Museum and the Getty.
To the great shame of our nation, the urgent issues expressed in these extraordinary works of art made 50 years ago remain unresolved today. —Gary Tinterow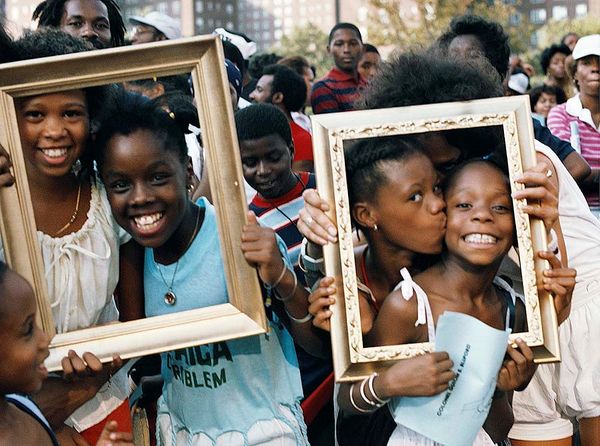 Lorraine O'Grady, Art Is … (Girlfriends Times Two), 1983/2009, c-print in 40 parts, edition of 8 + 1 AP, courtesy of Alexander Gray Associates, New York. © Lorraine O'Grady / Artists Rights Society (ARS), NY.
P: The Museum of Fine Arts Houston has been a cornerstone of the Houston art scene. Tell us a bit of how the museum plays an integral role in current events as a platform for expression, pause and reflection?
GT: This summer we pushed ourselves to reopen as soon as we felt we could do so safely, because we believe in our responsibility to the community to provide opportunities for wonder and awe, reflection and inspiration. And nothing was more gratifying than to see our members return with great anticipation and emotion on our first days, as well as to see our staff renewed in their sense of purpose. Given the national conversation in the aftermath of the brutal killing of George Floyd, we were pleased to be able to present Soul of a Nation: Art in the Age of Black Power to our visitors. To the great shame of our nation, the urgent issues expressed in these extraordinary works of art made 50 years ago remain unresolved today.