- By Marcello de Marco

Reference 2499 (as well as its progenitor ref. 1518) is without a doubt regarded as one of the most attractive and important Patek Philippe models of all times. As well-known by Patek Philippe enthusiasts, at the beginning of ref. 2499's production run (in the 1950s), a sister, chronograph-less model was also available in the catalogue employing the same case design: reference 2497 (and its waterproof counterpart ref. 2438/1). While less well-known than its more complicated sistren, ref. 2497 is a no less formidable timepiece under any aspect: technical, intellectual and aesthetic.

As we were lucky enough to have both models in our recent Geneva Watch Auction: XI sale, we thought it would be a fun exercise to look at their similarities (and differences) in order to understand the relationship between the two models, their relevance in the company history, and their importance as collector's pieces today.

Aesthetically, the connection between the two models is more than apparent. The case designs are virtually identical (of course, ref. 2497 does not feature chronograph pushers) and even the makers are the same: early examples of both models are made by Vichet, to be later substituted by Wenger. Interestingly, while the Ref. 2499 was made only in yellow and pink gold (at least during its official run), reference 2497 was officially made in all the four "classic" metals: yellow, pink and white gold as well as platinum, albeit white metals examples are very rare. The aesthetic effectiveness of this design can be glimpsed when considering that some of its defining elements - one example above all: the sculpted lugs - reverberate to today throughout the entire Patek Philippe collection. Variations of this iconic detail can in fact be found on, among others, current-production ref. 5212 - an "entry level" (relative to the full line of Patek philippe complicated watches) calendar model - as well as ref. 5078 (and siblings) - high-end application chiming pieces.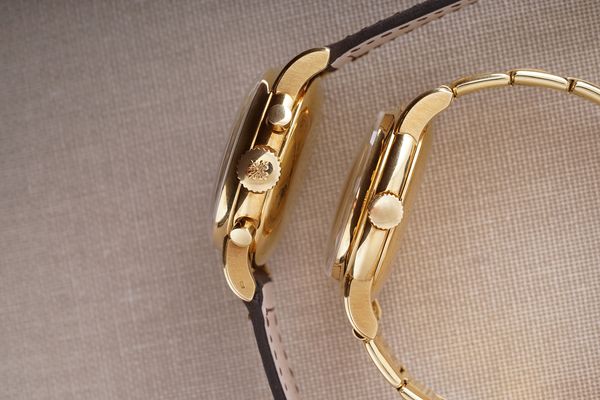 The main aesthetic differences between the models are found on the dial. The 2497's lack of subsidiary counters at 9 and 3 o'clock enormously "opens up" the dial design, granting it a lightness which anticipates later design trends. Other elements however - most notably the outer baton fifth-of-a-second combined with Arabic five-minutes divisions - unmistakably classify this dial as a 1940s design. The center blued steel hand present in both models is an aesthetic "trait d'union", even though the hands have different functions in the two watches: chronographic seconds in ref. 2499, center seconds in ref. 2497.
While the airier dial of 2497 can be considered as somewhat avant-garde, the 2499 dial design (especially in early series, such as in this second series model) is one of the most archetypal 1940s Patek Philippe dial styles one can find. Inheriting virtually all the aesthetic traits of ref. 1518 dial, the dial of ref. 2499 features an abundance of graphic elements: outer tachymeter scale, inner railway division, additional counters. All the elements are however arranged with such ineffable elegance and grace that the overall design never feels encumbered, rather strikes a perfect balance between information availability, legibility and aesthetics. It is worth noting that, as it happens for the case maker/design, also the dial layout of the models presents a parallel evolution, with early pieces sporting Arabic numeral and later ones baton numerals.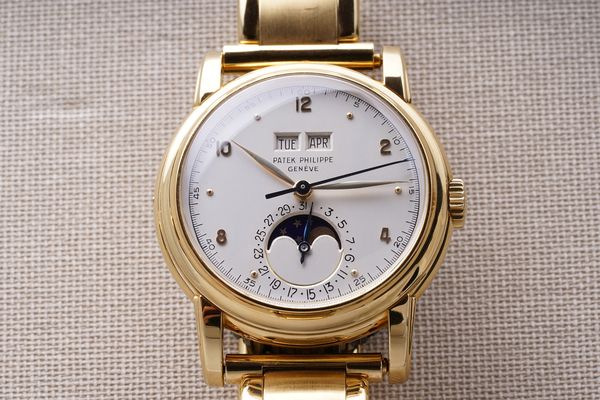 Both dial designs brilliantly passed the test of time: the dial architecture of ref. 2499 - to be precise, the design was actually introduced with ref. 1518 - is present in all the later evolutions of the model (3970, 5970 and currently 5270). The dial of ref. 2497 is instead today echoed in ref. 5320.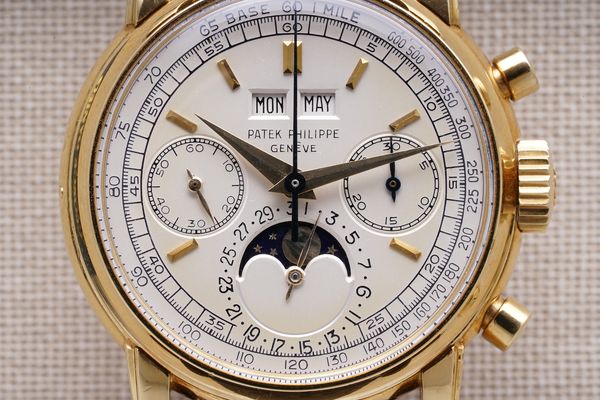 While sharing many aesthetic similarities, the situation changes when looking at the technical aspects of the two models. At cursory glance, given the shared (good) looks one might assume that reference 2499 features the same movement as ref. 2497 with the addition of a chronograph module. The two watches feature instead completely different calibers. Cal. 13-130Q, the same one used for reference 1518, powers ref. 2499. Reference 2497 is instead powered by a modified caliber 27SC (SC = secondes au centre - center seconds) - making this the first center seconds perpetual calendar serially made by the brand. Only 180 such movements were made, all bearing consecutive numbers starting with 888'000. The first movement of the series actually was employed for a different prototype model, all the remaining 179 were used for reference 2497 (and waterproof version 2438/1).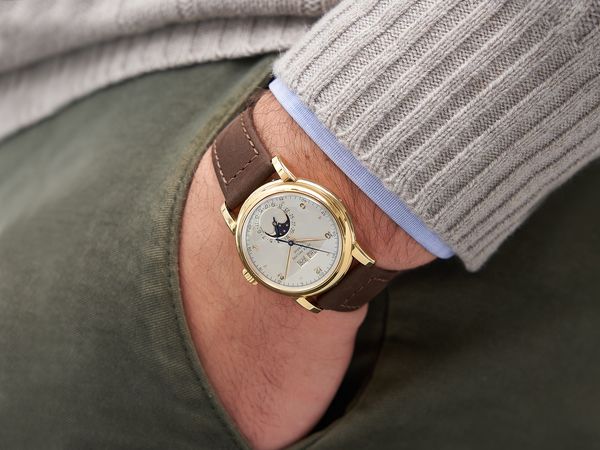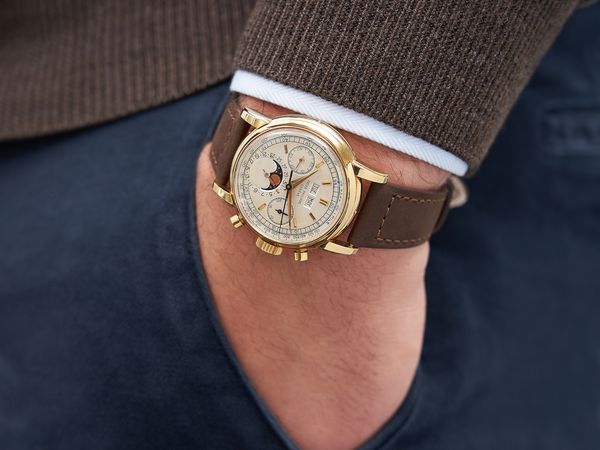 The "importance" of a timepiece is a fickle thing, often linked to the ebbs and flows of fashion. However, this statement hardly applies to the present models. Reference 2499 has by now achieved - and with reason - a practically mythical status in the community: its aesthetics, importance and rarity (with a total of 349 pieces made - plus 2 additional ones in platinum) make it as collectible as it is difficult to obtain. Reference 2497 is even more scarce, features an intriguing and highly pleasing "transitional" graphic style, and holds the sceptre of the first center second perpetual calendar Patek Philippe serially produced model. It is not an hyperbolic statement to say that no matter how far we try and peer into the future, the present models will always be regarded as absolute watchmaking masterpieces, all times and all brands considered.