Ruchi Kotahwala, founder and designer of Ruchi New York.
Ruchi Kotahwala, designer of Ruchi New York, founded her company with a mission for social justice, combining her passion for design with her commitment to support women and children across the globe. A portion of the proceeds from all Ruchi New York sales benefit charities for children's education, medical research, and the empowerment of women—a fact that has drawn notable women to her vibrant, playful designs, including Sarah Jessica Parker, Jennifer Hudson and Oprah. Here, Associate Specialist and Graduate Gemologist Anne Mock talks with Ruchi about her journey through the jewelry industry and advice for aspiring designers.
The best advice I was given was 'honesty and authenticity matter' — and I live by it! —Ruchi Kotahwala
Anne Mock: What inspired you to get into the jewelry business and when did you realize you wanted to start your own company?
Ruchi Kotahwala: I grew up in India where jewelry was an inherent part of the culture. As a young girl I loved nothing more than trying on my mom and grandmother's jewelry. I was obsessed with everything creative. I knew early on that I wanted to express my creativity through jewelry designing. I ran a small jewelry business on the side, creating unique pieces for friends and family while in college. In 1998, soon after I graduated from college, I went to GIA Carlsbad to study gemstones and jewelry designing. Two decades later I established my brand Ruchi New York in New York City.
AM: Who have been your biggest mentors and what is the best advice they have ever given you?
RK: I have a lot of great women in my life who have been immensely encouraging and supportive of me and my vision, but I could not have done it without my husband, Vishal's, guidance. The best advice I was given was " honesty and authenticity matter" ‐ and I live by it!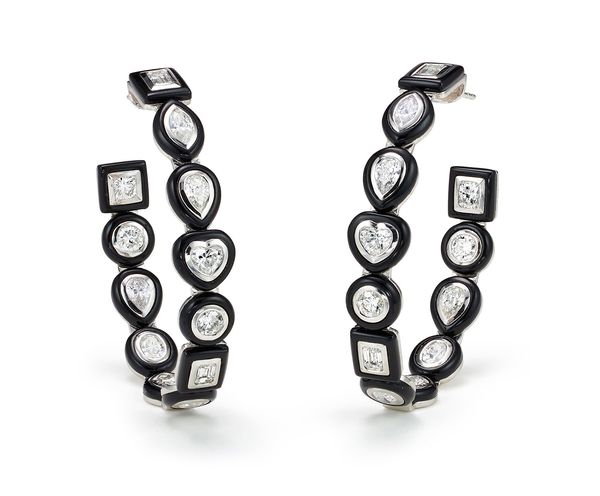 A Pair of Diamond, Agate and Gold Earrings.
AM: Tell me about your design process and what inspires each collection?
RK: I get inspired by everything beautiful including nature, natural phenomena, art and architecture. I spend a lot of time traveling and sketching concepts at home. Most of my collections are inspired by my physical and spiritual journeys.
AM: What are some of your favorite stones to work with? Do you have any techniques that set your jewelry apart?
RK: My work focuses on using varied shapes of stones and a variety of colors. I relate my passion for color to my early roots in India. Playing with color in elegant ways is at the heart of my passion.
AM: Three key words that define you brand…
RK: Innovative, versatile, empowering.
AM: Who is your dream client?
RK: My dream customer is any person who is passionate about wearing and collecting fine pieces of jewelry. Someone who is curious and appreciates the art and beauty of jewels.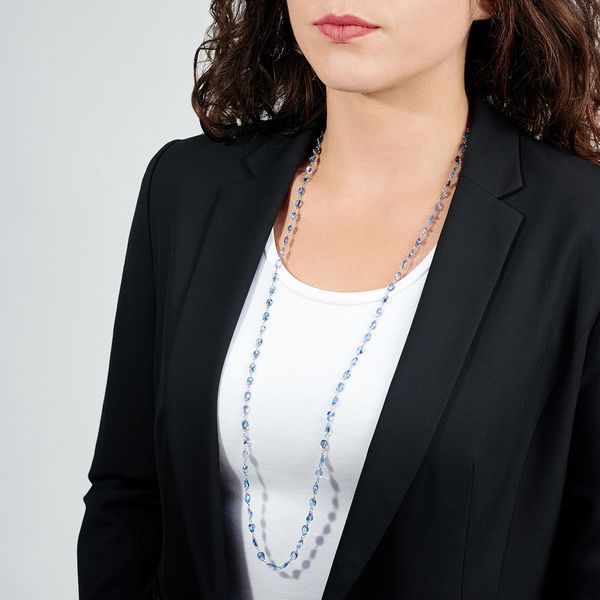 A Sapphire and Gold Necklace.
AM: Who are your favorite jewelers?
RK: I love JAR. His work is nothing less than an exceptional piece of art. I love the variety of colors, stones and techniques he uses. His creativity and craftsmanship is a true testament of dedication to his craft and artistry.
AM: Is jewelry more than just an adornment for a modern woman?
RK: To the modern woman, jewelry is not just an adornment. In fact, it is a symbol of beauty, accomplishment and emotional connection to a dearly loved person or a cherished event. It also holds its value as an heirloom whereby, through the piece, you are sharing your family history with generations to come.
My advice to all the girls and women out there: The most important thing is to have a vision, backed by a plan. —Ruchi Kotahwala
AM: What is your personal style and why kind of jewelry do you wear?
RK: I like to wear creative bold pieces that can be worn in versatile ways. Pieces that can be dressed up or dressed down and when worn reflect my personality – it's my personal reality.
AM: What advice would you give to young girls who look up to you and want to enter a career in jewelry design?
RK: My advice to all the girls and women out there: The most important thing is to have a vision, backed by a plan. Being patient, authentic and optimistic helps ride through the challenges and attract the best opportunities. Believe in yourself and you can achieve anything.
Learn more about Ruchi New York >