The argentier exhibited in the 1927 Salon des Artistes Décorateurs. Artwork © 2020 Artists Rights Society (ARS), New York / ADAGP, Paris.
The name Perriand is synonymous with postwar design but prior to the Second World War Charlotte Perriand had already made her mark, devising "equipment for living" while working in Le Corbusier's studio from 1927 to 1937. Certain examples from those early years remain so well suited to modern life that the designs continue to be produced. Even before joining forces with Le Corbusier, Perriand had in fact already established herself in the furniture design scene of 1920s Paris, then in her early 20s and fast gaining praise in the art journals of the era alongside more established designers like Pierre Chareau and Émile-Jacques Ruhlmann. Her argentier (silver display cabinet) is a key piece from a particularly pivotal year in Perriand's long and illustrious career, marking her shift from Art Deco towards modernism, and reflecting ideas about materials and space that she would continue to explore in the decades to come.
In 1920 Perriand enrolled in the four-year program at the École de l'Union Centrale des Arts Décoratifs, which she later quipped served as "a training in the decorative arts in the fullest sense, including the pejorative."1 At the same time she pursued classes with Maurice Dufrêne and Paul Follot in their ateliers connected to the Galeries Lafayette and Bon Marché, respectively, receiving practical training and the opportunity to enter her designs into competitions for potential inclusion in department store displays.2 One such design, a dynamic motif of stylized melons or gourds, featured as curtains in Maurice Dufrêne's entry in the 1926 Salon des Artistes Décorateurs and as wallpaper in Perriand's own submission, which she modestly titled "Corner of a Living Room." This entry featured a secrétaire clad in exotic veneers and a somewhat unresolved occasional table, which prompted a critic to note, "Glass creates an illusion of fragility and it calls for a metal framework rather than a wooden one."3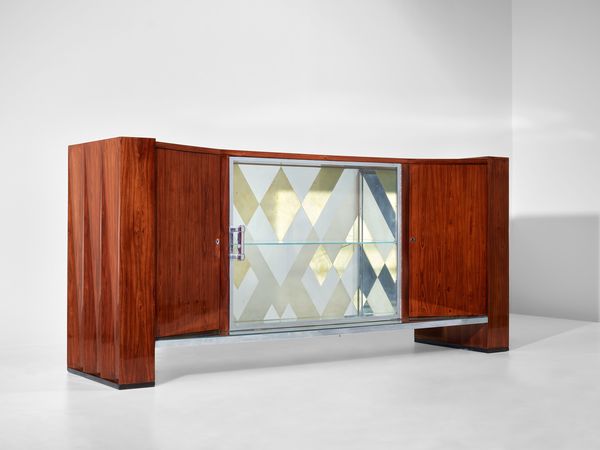 Charlotte Perrand, Important argentier, 1927.
Perriand seems to have taken this critique into account for her presentation at the Salon the following year (May-June 1927). Her argentier elegantly incorporated a metal frame to encase the central glass door. Ernest Tisserand praised this element of the design in his write-up of the Salon: "If there was a contest for 'most beautiful piece of furniture,' would it be Montagnac for the beautiful lines of his sideboard or Charlotte Perriand for her argentier in violet wood fitted with metallic armor?"4 Gabriel Henriot also called out this particular characteristic, describing "…the majestic argentier in violet wood, with metallic armor, by the very young Miss Charlotte Perriand, who must be reckoned with."5
Seventy years later Perriand recounted her success at the 1927 Salon in her memoir Une Vie de Création: "1926. First exhibition without an echo. Nevertheless, I sold "Corner of a Living Room" and kept going in 1927 at the Salon des décorateurs with a vaisselier garnished with orfèvreries by Puiforcat.6 "This time," she wrote, "I got several glowing reviews," still remembering Henriot's words, "one to be reckoned with." She continued, "I made contact with the avant-garde of the Salon. Provocative, my presence was beginning to make noise."7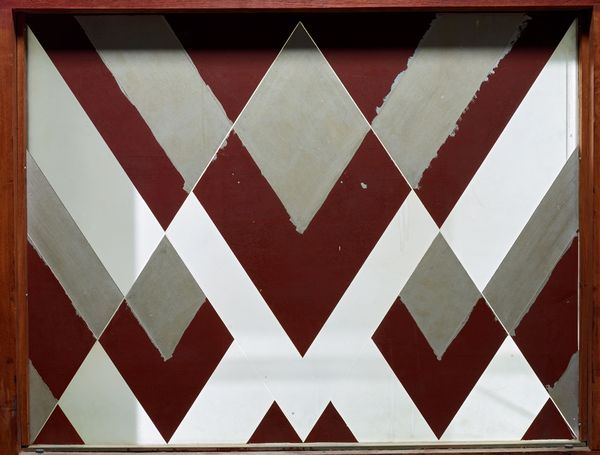 Charlotte Perrand, Important argentier, detail of the reverse, 1927.
Perriand's argentier still belonged to the Art Deco movement, in terms of her use of precious materials including bois de violette (kingwood) veneers and also in ideological terms, in the sense that this was a luxury object made for an elite clientele—the cabinet was, after all, intended to display silver. Yet through her inventive use of more common materials—marrying wood with metal and creating a dynamic central motif through the play of different treatments of glass—she was already moving in the direction of modernism.8
Charlotte Perrand, Important argentier, 1927.
It's also clear from Perriand's recollections of the Salon that she was keen to provoke and win attention, which she achieved through the excellence of her work but also through inventive presentation. She extended the cabinet's central motif of radiating light to the wall behind, as if to shine a spotlight on her submission. In doing so she also blurred the line between furniture and architecture, with the cabinet becoming an extension of the wall or vice versa, which was further underlined by the fact that the back was made of glass, lending a sense of lightness to the whole piece. A ledge of mirrored glass below the glass door extended the motif outward, as did the faceted surfaces of the cabinet.
By the fall of the same year, Perriand had waded even further away from her decorative arts training with "Bar in the Attic." For this interior she left the luxury materials and patterns of Art Deco behind, producing all the furniture in gleaming nickel-plated metal and displaying it in a cozy space under a mansard roof. Playing her youth as a strength, she evoked the chic bohemianism of the Jazz Age.9 How could Ruhlmann compete with that? The critics practically fell over themselves with praise; René Chavance wrote, "One cannot imagine anything fresher or more youthful."10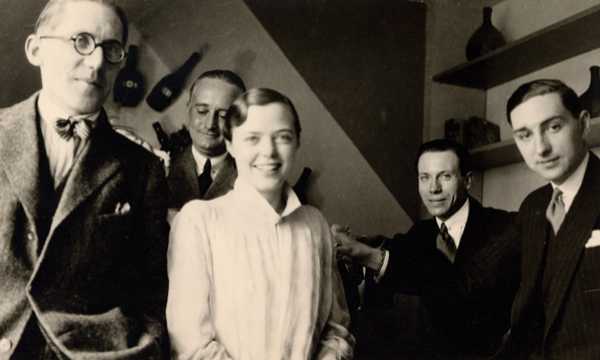 Charlotte Perriand with Le Corbusier, Percy Scholefield, Georges Djo-Bourgeois, and Jean Fouquet in front of her "Bar in the Attic" at the 1927 Salon d'Automne. Image courtesy of: gta Archives / ETH Zurich, Alfred Roth. Artwork © 2020 Artists Rights Society (ARS), New York / ADAGP, Paris.
Looking back on this series of successful events, it seems clear that Perriand was beginning to hit her stride, aligning her own sense of self and ideas about modernism with her design work—and she was only twenty-three years old at the time. Yet Mary McLeod has pointed out that it was in fact a time of intense personal strife for her, feeling that she was at an impasse and even contemplating leaving design to study agriculture.11 Perriand credited Le Corbusier's Vers une architecture and L'Art décoratif d'aujourd'hui with opening "the wall before my eyes," and while he had initially rebuffed her entreaties for employment, by the end of 1927 she was working in his atelier.
Yet Le Corbusier would also not hold her attention permanently and by 1937 she understood that it was time to move on yet again in search of new trails to blaze. Charlotte Perriand's audacity to question prevailing notions of design and create new solutions better suited to the times is evident in her argentier and would continue to propel her throughout her career.
1 Charlotte Ellis and Martin Meade, interview with Charlotte Perriand, Architectural Record, November 1984.
2 Ibid.
3 Quoted in Esther da Costa Meyer, "Simulated Domesticities: Perriand before Le Corbusier," Charlotte Perriand: An Art of Living, New York, 2003, p. 25.
4 Ernest Tisserand, "Le XVIIe Salon des Artistes Décorateurs," L'Art et Les Artistes, July 1927, p. 354.
5 Gabriel Henriot, "Le Dix-Septième Salon des Artistes Décorateurs," Mobilier et Décoration, June 1927, pp. 176, 178.
6 One of the Puiforcat pieces that Perriand exhibited is now held in the collection of the Musée des Arts Décoratifs Paris, inventory number ORSAY OAO 1289.
7 Charlotte Ellis and Martin Meade, interview with Charlotte Perriand, Architectural Record, November 1984.
8 See Esther da Costa Meyer, 2003, for an analysis and contextualization of Perriand's early designs with regards to class structure and changing ideologies of consumption and gender in early-twentieth-century France.
9 Ibid, p. 30.
10 Quoted in Mary McLeod, "New Designs for Living: Domestic Equipment of Charlotte Perriand, Le Corbusier, and Pierre Jeanneret, 1928-29," Charlotte Perriand: An Art of Living, New York, 2003, p. 36.
11 Ibid.

Discover More from our international team of specialists and cataloguers