Portrait of Wendell Castle, 1969. Photograph by Doug Stewart. Image courtesy of Fendrick Gallery records, 1952-2001. Archives of American Art, Smithsonian Institution.
by Lily Kane
Many people who interacted with Wendell Castle (b. Emporia, Kansas, 1932-2018) at some point in the last two decades of his life received an illustrated postcard he used as stationery, business card, and manifesto. Titled, "My 10 adopted rules of thumb," it includes folksy aphorisms like, "The dog that stays on the porch will find no bones," as well as one particularly keen description of his work, "If it's offbeat or surprising it's probably useful."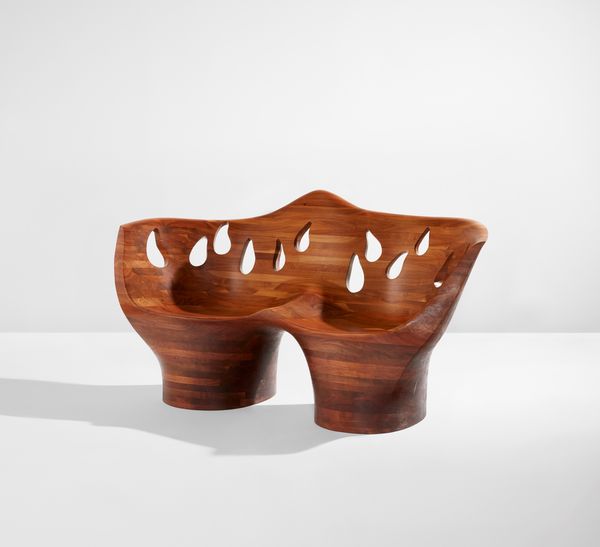 Wendell Castle, two-seater sofa, 2006. Estimate: $60,000 - 80,000.
Design at Phillips New York, 29 July.
A scholar looking back at his oeuvre might elevate offbeat to innovative, surprising to groundbreaking, but it's all right there—Castle's work is revered in part because of this exceptional balancing act of offbeat, surprising, and useful. To own a Wendell Castle piece is to own a unique sculpture you can actually use, despite what he might have claimed was guiding his conscience.
Castle emerged into the field in the late 1950s, at a time when people who wrote about such things were struggling with definitions of craft, art, and design as the possibilities offered by mass industrialization changed the landscape. This is not to say we have tired of this conversation. Online, the headline for Wendell Castle's obituary in The New York Times read, "Wendell Castle, 85, Dies; Blurred the Line Between Furniture and Art." In 1964, Rose Slivka,
longtime editor of the influential Craft Horizons magazine, unpacked her interpretation of craft—of the handmade object—as a through-line, in a special issue devoted to "The American Craftsman." In her essay, she identified three categories: "the artist-craftsmen, production craftsmen, production designers." An appreciation for quality underlies each. Using this text as a guide, many of the pieces we agree today to be icons of 20th-century design fall into one or
more of Slivka's prescient definitions.
I gave up making sculpture in 1962 to devote myself full time to making furniture. I made this
decision with a clear conscience. I felt furniture of a certain type is the same as sculpture, just as
important in every way.
— Wendell Castle, September 2013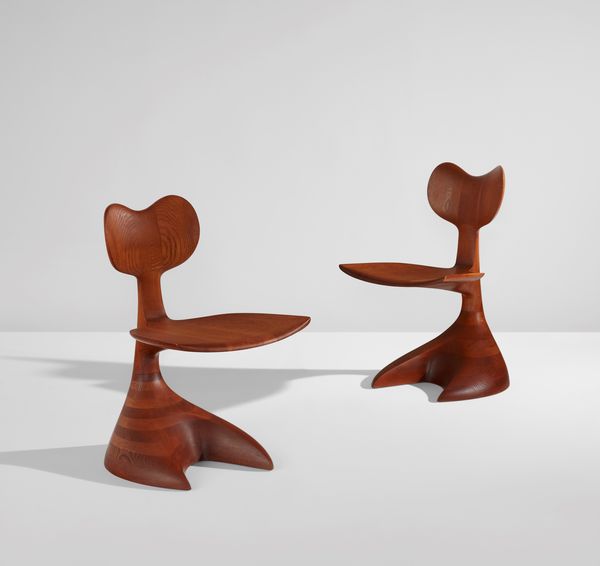 Wendell Castle, pair of chairs, 1967. Estimate: $80,000 - 120,000.
Design at Phillips New York, 29 July.
While Castle's output touches each category at some point throughout his career, it is Slivka's opening statement about the "artist-craftsmen" that captures his place among "those who make one-of-a-kind objects of superb expressive quality." While Slivka goes on to argue that this often meant function fell by the wayside, it is largely not so with Castle. He was certainly unconcerned with the idea that a chair had to have four legs, or that a table couldn't hang from the ceiling. Importantly, though, his best pieces actually work—they are sturdy, comfortable, the right height and pitch. These are likely among the details he had in mind when he says he chose furniture over sculpture, though the works can be viewed as diplomatic ambassadors of both, crafted to perfection.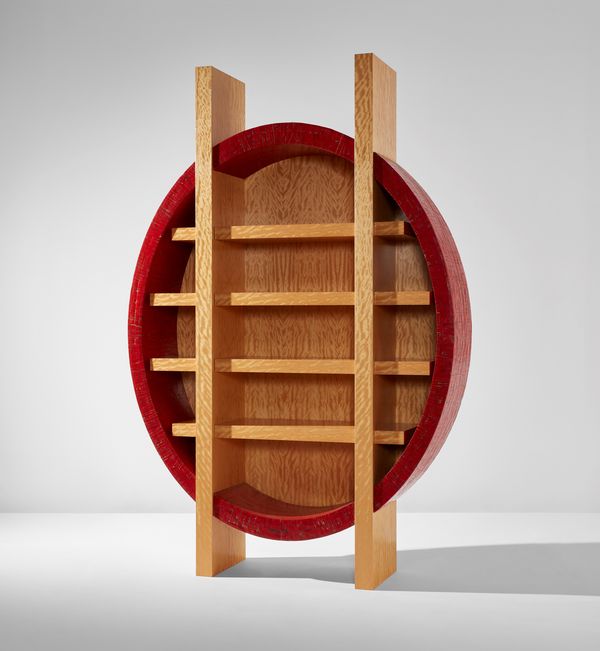 Wendell Castle, bookcase, 2006. Estimate: $12,000 - 18,000.
Design at Phillips New York, 29 July.
Slivka describes the "craftsman's involvement in total process—in the mastery of technology and the actual making of the object from beginning to end," noting that, "the American loves his tools too much to leave that part of the fun to someone else." Castle was, indeed, deeply devoted to this expertise. In fact, as they say, he wrote the book on it— The Wendell Castle Book of Wood Lamination (Van Nostrand Reinhold, 1980). His studio in Scottsdale, New York—just outside of Rochester—was a monument to tools and processes with room after room ready to receive Castle's next project, be it in stack-laminated wood, 3D modeling, restoration of vintage cars, or his foray into fiberglass sculpting.
Castle also drew obsessively and left behind thousands of casually beautiful, sure-handed sketches. His deft translation of these forms into three dimensions in his furniture is his extraordinary legacy. His fluency in form and technique is apparent in each piece he made. There is a sense of impending animation and personality in his stack-laminated wood pieces. And yet, they avoid feeling cartoonish thanks to his craftsmanship, the rich hues of the wood, and the stately volume of space they occupy.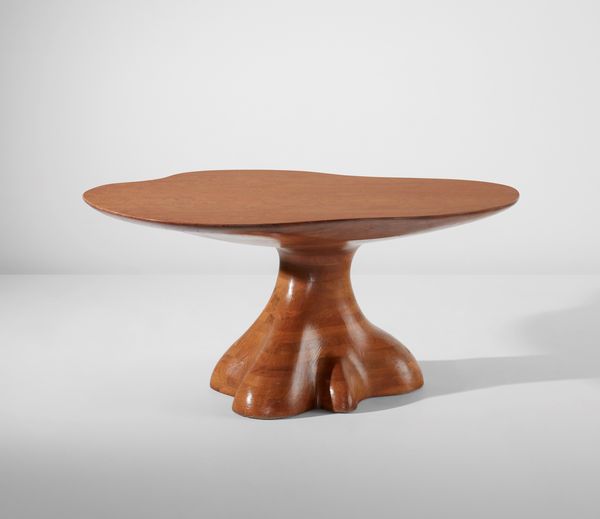 Wendell Castle, dining table, 1974. Estimate: $80,000 - 120,000.
Design at Phillips New York, 29 July.
When Slivka wrote about the American craftsman, she was also reacting to a consumer trend we are still experiencing today in, to use her words, "a society that already has more objects than it knows what to do with." There remains a movement—one picking up momentum, even—to consider quality over quantity, to eschew the easy, so-called "fast fashion" pieces in favor of something thoughtful that represents a person's expertise or imbues our homes with a narrative.
Castle's works exemplify this, and many throughout his career were commissioned by people seeking, to extend the fashion metaphor, a "couture" connection between object and maker. As a counterpoint to objects Slivka describes as being of "unremembered anonymity," artist-craftsmen like Castle offer evocative pieces that "define our way of life." With technology steadily replacing many of the ways we used to do things and muting the role of the maker, these pieces take on ever greater meaning.

Discover More from our international team of specialists and cataloguers