Ai Weiwei Four works: i) Fairytale 1001 Chair; ii) Fairytale 1001 Chair; iii) Fairytale 1001 Chair; vi) Fairytale 1001 Chair, 2007. Estimate: £20,000-30,000.
New Now, London.
The present grouping of furniture, designed by leading contemporary and post-war artists, champions the spirit of craftsmanship by those who have used the parameters of "function" to realize their artistic concepts. In this sense, within each piece of furniture in this selection, artistic form and design have been woven into a single entity in a unifying purpose. Indeed, it is interesting to think of the artist's approach to creating furniture in response to the infamous Mies van der Rohe dictum "Less is more". Or to Robert Venturi's rebuttal "less is a bore". Our New Now auction explores the artist's reply: both in the variety of forms a specific type of furniture can take but also in the artistry realized in these modes of usable sculpture.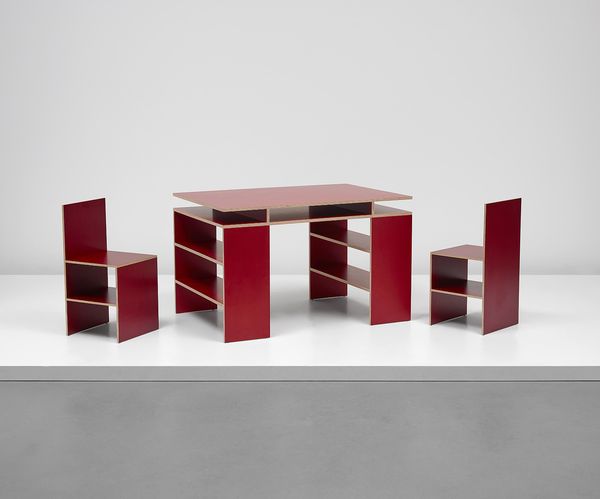 Donald Judd Desk Set #33/97 (Desk and two Chairs), designed 1992. Estimate: £10,000-15,000.
The auction includes two works by Donald Judd, lots 160 and 166, which both encapsulate the tenets of Minimalism explored by the artist throughout his seminal body of work. With his "specific objects" made of steel, wood, aluminum and Plexiglas, Donald Judd notably revolutionized the definition of space in the sculptural realm in the 1960s, powerfully invigorating the movement of Minimalism that defined the art scene of the time. Conceived with the principles of progression and seriality, Judd's objects embraced notions of simplicity and democracy while espousing the fluctuating environments in which they existed. Through precise positioning, rectilinearity and ordered structural logic, they fused with their surrounding architecture, becoming one with their habitat. In the 1970s and 1980s, Judd created a setting — in a compound on a former military base in Marfa, Texas — which afforded the opportunity for permanent installations of both his own work and that of other artists, in architecture as well as natural surroundings. Through Marfa, Judd was able to realize his ideal context for the exhibition of contemporary art. Transporting the vigor and meticulousness of his artistic approach to the field of design, Donald Judd's furniture carries the force of his vision, exemplified in lot 160 and 166.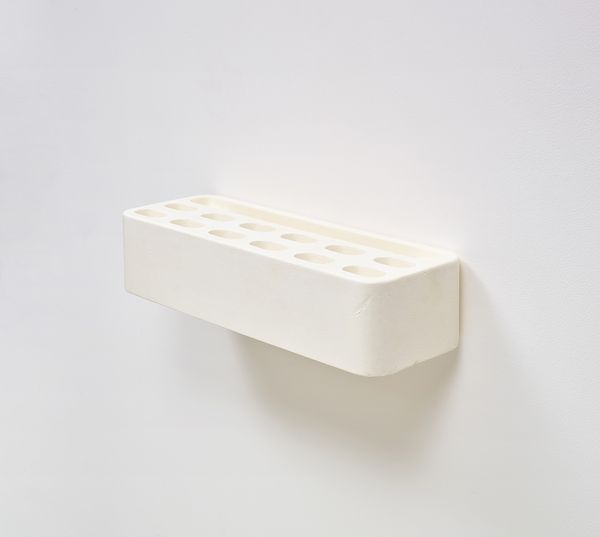 Rachel Whiteread Poly Shelf, 2009. Estimate: £1,000-2,000.
Through each piece of furniture in the grouping, it is evident to see the unique and different ways each artist has applied their own approach to creating usable objects. While Rachel Whiteread's Poly Shelf (lot 164) is derived from a packing polystyrene element for an Apple computer, and Damien Hirst's Beautiful Come Down chair (lot 159) offers a materialization of his painterly visions, Joseph Beuys' minimalist Table III Chest and Table I Monk (lots 163 and 167) eschew the conceptualism that the artist was known to deploy in his art. While some artists view the realm of design as a space to pursue the usual appearance and spirit embodied by their creative verve, others envisage it as an entirely new realm of possibilities – one where they can experiment with new ideas.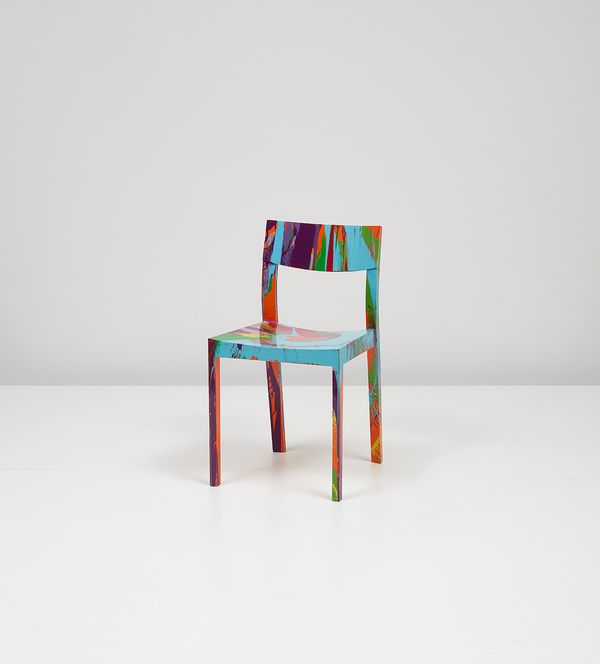 Damien Hirst Beautiful Come Down, 2014. Estimate: £7,000-9,000.
The present design pieces each embody an individual artwork, but are also transfigured into affordable, democratic items, allowing the honest intentions of seminal artists to exist within the reach of all. Venturing from two dimensions to three, the artists have realized their artistic sensibilities within a new realm – one that stands, sits and lives with their possessor. Throughout this grouping each work bends and adapts to the need of the owner, integrating into their life to be afforded a refreshed purpose. It is through this flexibility that new life within the object is born and the relationship between owner and artwork is far more tangible and tactile in comparison to painting or sculpture. Lots 158-167 in our New Now sale celebrate the individuality of the artist in sculptural yet functional form.