Lot 624: An Exceptional and Very Rare Emerald and Diamond Ring.
Estimate: HK$7,500,000-9,500,000.
While it was said that Emperor Nero would watch gladiators through his emerald spectacles, Roman scholar Pliny described emeralds as 'nothing greens greener' and believed that they were the only gemstone that soothes one's eyes without fatiguing them. The earliest origin for emeralds was known as Cleopatra's Mines, named after the Egyptian queen who was a patron of the green stone. The exact location of the mine was lost for close to two thousand years and rediscovered in 1818. In India, emeralds are associated with healing and spiritual powers with Moghuls wearing them as talismans and inscribing them with sacred text.
Emerald is a member of the beryl family and owes its color to traces of chromium and vanadium. However, what contributes to its visual appeal is also the cause for induced stress in the gemstone's atomic structure, resulting in fractures that commonly affect the clarity. An emerald with an intense color and high clarity is therefore extremely rare. It is a chance occasion when the perfect balance was achieved by Mother Nature in the formation process.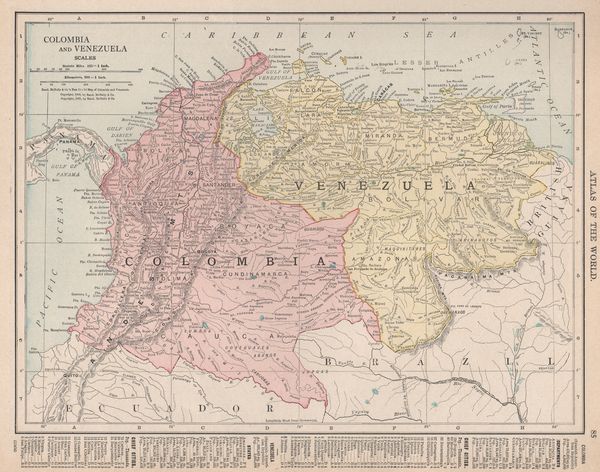 The tropical country of Colombia in South America has long been the preeminent source of gem-quality emeralds. To this day, Colombia still reigns as the preferred pedigree among discerning collectors and knowledgeable connoisseurs.
Long before Spanish colonization, Colombian emeralds were revered and worshipped by Aztecs, Incas and Muiscas for thousands of years. The green gemstones were mined by indigenous tribes and lavishly set in gold treasures and jewels. News about the superiority of their crystal, transparency and fire reached the Spanish court in the 15th century and before long, fleets of Spanish Conquistadors were on a quest to locate these mystical 'green stones', a mission that eventually lasted for decades. Upon the discovery of major mining areas in Colombia, emeralds were extensively excavated. Ships and ships of emeralds attached to their primary host rocks were transported back to the Spanish court. This was the point in history when European monarchs were first introduced to Colombian emeralds. From then onwards, these green specimens made their way to jewels and objects of the Renaissance, princely Wunderkammer, as well as treasuries of Moghul, Ottoman and Persian rulers. Opulent jewels set with Colombian emeralds are found in Imperial Napoleonic collections, as well as the Romanov and British Royal collection.
The reputation of Colombia is well-deserved. It is the only place in the world that offers the potential to recover emeralds of exceptional size and quality. The Cordillera Oriental offers a specific geological environment and provides the conditions necessary for the formation of such extraordinary gems. The finest examples are prized for their intensity and depth of color, a rich grass-green with a medium-dark tone, almost without a trace of grey. Highly transparent, they display an even color distribution and a vivid saturation.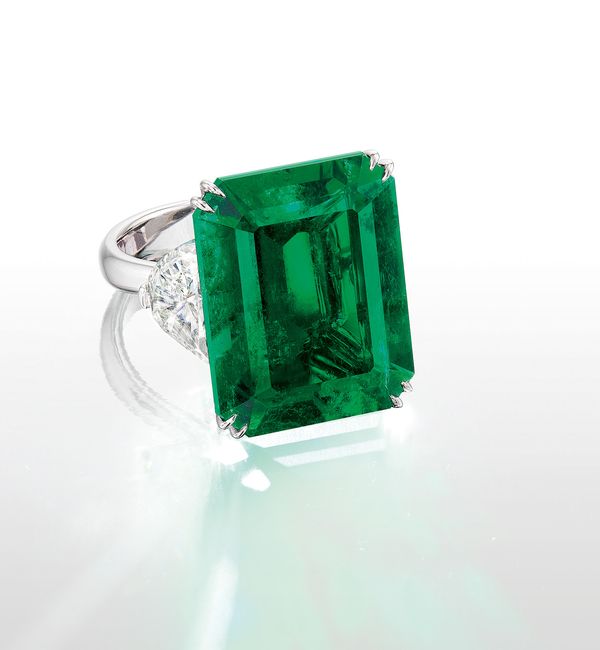 Lot 624: An Exceptional and Very Rare Emerald and Diamond Ring.
Estimate: HK$7,500,000-9,500,000.
This magnificent Colombian emerald on offer displays a rich and classic bluish-green color typical of its origin. Accompanied by excellent transparency, it is also free from any clarity treatment. It is worth mentioning that clarity treatment for emeralds is a procedure readily accepted by the trade, which often includes filling the fissures and fractures with oil. A 'no-oil' Colombian emerald over 5 carats is considered very unusual, this very gemstone of over 20 carats is absolutely remarkable and worthy of special merit. Its timeless elegance is further heightened by a well-proportioned and refined cutting, capturing a modern aura that is truly arresting.