- By Arthur Touchot

Originally scheduled in mid-May and postponed due to nationwide restrictions on public events that lasted more than 11 weeks during which borders with Switzerland's neighbouring countries remained closed, the Geneva Watch Auction XI was held at the Hotel La Reserve in Geneva with an exceptional set-up to ensure the safety of all clients present in the room.
Limited seating, custom-made viewing tables with plexiglass seperators placed between specialists and clients, hand-sanitizing stations placed throughout the auction room, and complimentary masks distributed at the entrance made this sale unlike any other - but so did the extraordinary results.
Despite the current climate, the Geneva Watch Auction: XI catalogue attracted great interest from collectors all over the world, with bidders from more than 70 countries taking part in the sale, with the pace being set right from the start, with modern Rolex sports watches selling for more than double their mid-estimates.
With travel restrictions still in place in most parts of the world, online bidding dominated the weekend's proceedings - as expected - but few could have foreseen that an unprecedented number of more than 2,000 online bidders, double that of May 2019.

The Geneva Watch Auction: XI achieved CHF 30 Million in total, breaking the record for the highest total achieved by such as sale and exceeding the previous record held by the Geneva Watch Auction: NINE by 20%.

Prior to the sale, Mr. Biver gave Phillips a preview of his private collection, including the four Patek Philippe models consigned to The Gevena Watch Auction: XI
Most notably, all 210 watches and clocks presented in the catalogue were sold, making this the first ever "White Glove" sale for a non-thematic various owner watch auction. The auction established a cascade of new world records, two now belonging to watches formely from the private collection of Mr Jean-Claude Biver.

The industry titan was selling the four watches that graced the auction catalogue's cover – a collection of exceptional vintage Patek Philippe watches – that together achieved a total of CHF 8,307,500.
The top lot of the sale, a pink-on-pink Patek Philippe Ref. 1518 (lot 38) one of the world's most sought-after watches, captivated the saleroom and online bidders alike, igniting an intense bidding war of four minutes, eventually selling for CHF 3,380,000.
One of only twelve examples known, this extremely rare Patek Philippe perpetual calendar chronograph wristwatch with moonphases made in 1948, almost tripled its low estimate and established a new world record for a Ref. 1518 in precious metal.
Mr. Baumer invited us in his boutique on Place Vendome to see the two F.P. Journe watches consigned to the auction.
The Patek Philippe Ref. 2499 (lot 155) also established a new world record for a second series Ref. 2499 in yellow gold, achieving CHF 2,600,000.The Patel Philippe Ref. 1579 in platinum - one of only three known in this case metal - achieved CHF 1,940,000. Finally, the Patek Philippe Ref. 96HU (lot 64) - the only known example in private hands - achieved CHF 387,500.

Also in the sale, but from another private collection, apreviously unknown and most probably unique pink gold open face world time Patek Philippe pocket watch Ref. 605 HU with an incredibly vibrant cloisonné enamel dial depicting a map of Europe, Asia, and Africa sold for CHF 1,160,000, setting a new world record for the reference.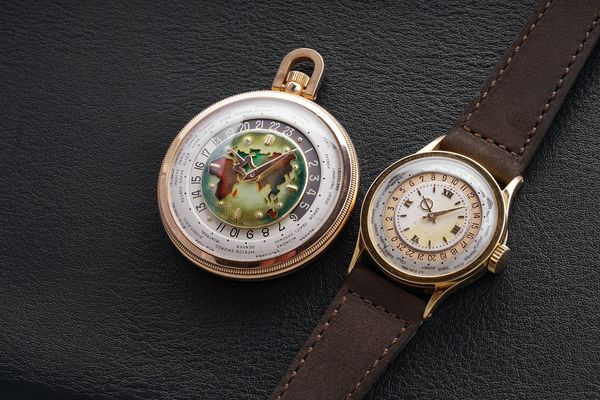 While most consignors choose to remain anonymous, another gentleman joined Jean-Claude Biver by revealing his identity and choosing to speak very publically about a pair of matching "Souscription" watches by F.P. Journe presented on the back cover of the auction's catalogue.
Lorenz Baümer, a famous Parisian Jeweller and friend of Francois-Paul Journe, was rewarded for taking such as public stance and his two exquisite F.P. Journe "Souscription" models originally made for a highly exclusive group of collector. The two watches together achieved CHF 2.4 million against a pre-sale estimate of CHF 230,000 to CHF 460,000, setting a new world record prices for F.J. Journe timepieces at auction (excluding charity auctions).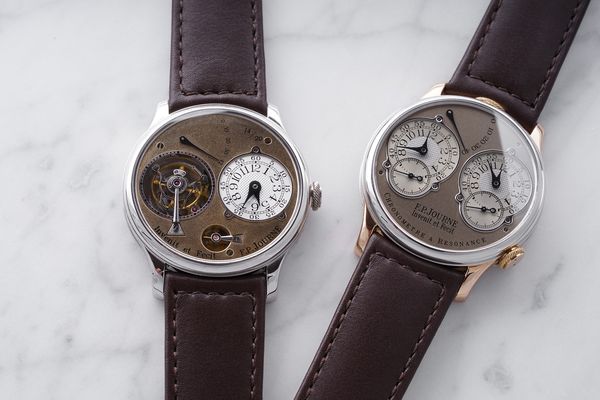 The Tourbillon Souverain (lot 101) sold for CHF1,400,000, almost ten times its pre low estimate, and the platinum and pink gold Resonance (lot 49) sold for CHF1,040,000. Baumer had purchased the watches for CHF 27,500 and 18,000.

An auction darling, Rolex remained very strong with rare vintage pieces offered in outstanding condition becoming the subject of very competitive bidding battles between collectors. The superbly well-preserved yellow gold Ref. 6241 Paul Newman John Player Special (lot 78) and the pink gold Ref. 6263 mosty notably achieved new world records for their references.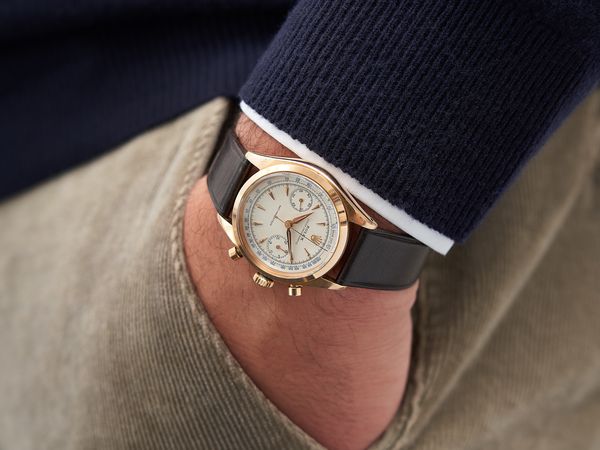 Aurel Bacs, Senior Consultant Bacs & Russo and Alex Ghotbi, Head of Watches, Continental Europe and Middle East, enthusiastically declared: "Setting up this sale was an emotional roller coaster ride! With the lockdown arriving in Europe in March 2020, the catalogue had to be finalised and the auction organised remotely from home, without knowing if and how the auction could be held. The incredible dedication of the Phillips worldwide team brought this auction to fruition in a first ever various owners white glove sale. We are humbled by the trust of our consignors who did not withdraw a single lot from the sale, demonstrating their confidence in us. We also express our gratitude to our clients whose trust in us is so high that they bought the watches sight unseen (as there was no traveling exhibition). We would also love to thank the Phillips international teams for their unwavering support and commitment. This sale demonstrated the markets insatiable appetite for quality timepieces. With over 2,000 online registrants we had close to ten times more bidders than lots on offer showing the increasing growth of the market both in size and depth.

With restrictions on global travel still in place in many countries around the world, our Watches specialists will onyl be able to make limited travel arrangements to meet with clients. To schedule an appoitnement and arranged a complimentary valuation of you collection, please contact WatchesGNV@phillips.com
For the full list of results, please consult The Geneva Watch Auction: XI catalogue here.