Jean-Michel Basquiat Victor 25448, 1987. Estimate: $8,000,000-12,000,000.
20th Century & Contemporary Art Evening Sale, New York.
I began writing the poems that would become To Repel Ghosts in 1991, just three years after Jean-Michel Basquiat had died far too young at 27. The poems weren't yet a sequence, much less the book-length poem it would become when published in 2001—a kind of jazz symphony or hip-hop epic for which Jean-Michel Basquiat would serve as a bass line. Basquiat, while certainly known, wasn't yet an icon, so picking him to center my cantos wasn't so obvious: when I told one Ivy League art historian I met at an artists' colony in 1993 that I was working on the project, he offered that Basquiat was not only a has-been but a never-was. He was simply all hype that shouldn't be believed. I wonder where that critic is now.
While this attitude is thankfully nonexistent these days, a simple rereading of some of the press Basquiat received at the time, the rather odd, off-putting reactions to his fierce work while he was alive, reveals they weren't uncommon then, and clearly racist—including many of those who praised him as exceptional, meant as a compliment but too seeing Basquiat in isolation. While Basquiat is, without doubt, a genius, his uniqueness comes from his being part of a Black community and continuity, whether with friends like Fred "Fab 5 Freddy" Brathwaite, the other Black artists whom he collaborated and competed with, or the music he listened to and made.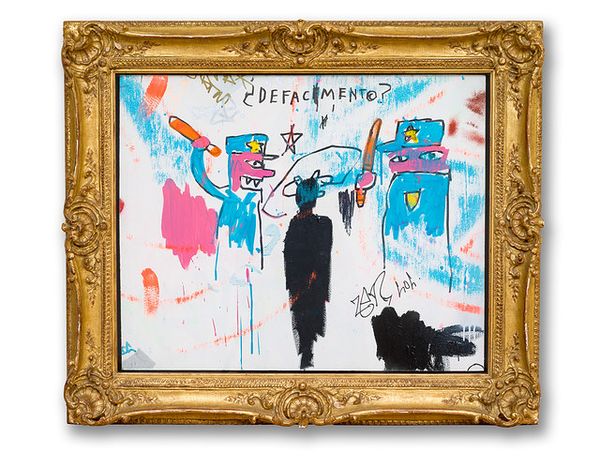 Jean-Michel Basquiat Defacement (The Death of Micheal Stewart), 1983. Photo: Allison Chipak © Solomon R. Guggenheim Foundation, 2018 © Estate of Jean-Michel Basquiat.
His is a loss we still feel, and that after the fact can seem to be predicted by his work. The phrases and engagement with existence found in a painting like Victor 25448 evoke loss, even despair—the cartoonish brown body, pictured beaten or defeated, might seem prophetic. But of what? In our fiery time, Victor 25448 doesn't seem to me merely a personal painting—instead, it pictures, as cartoons often do, a bent reality bigger than any autobiography. While others of his works offer more explicit comments on police brutality—take Defacement about the killing by police of his friend, the artist Michael Stewart—Victor 25448 also conjures violence, practically enacting it.
My eponymous poem figures the painting's brown body as almost mechanical, robotic—its failures and falling are the result of a technology rigged against Blackness, the crosshairs of racism that renders eyes as Xs, and turns even kid logos like "IDEAL" as ominous. It appears now that like Philip Guston, what Basquiat captures on canvas isn't a cartoon manipulating reality but one reflecting a reality that is already bent—one that seeks to bend and break Black and brown bodies to its grotesque, lethal will.
The painting is filled with play and puns, references and riffs, hobo signs and sayings left for us to discover—for instance, Victor is a record label—and my poem, published some 20 years ago, seeks much the same, riffing off "His Master's Voice." Rather than outline such samplings, I hope the selections featured here unmask some of the feelings of the paintings, their harmony and disharmonies—ones that also mark jazz, that African American invention that Basquiat loved, and that like the painter regularly makes beauty out of the ugly all around us.
—Kevin Young
June 2020
A portion of the proceeds from 'Victor 25448' will benefit the Art for Justice Fund >
Learn more about Kevin Young >