Tomás Sánchez Meditador, 1995. Estimate: $250,000-350,000.
20th Century & Contemporary Art Day Sale, Morning Session, New York.
Widely celebrated as one the most acclaimed contemporary Cuban artists working today, Tomás Sánchez emerged as an artist in Havana in the 1960s. While Sánchez was part of the of vanguard contemporary artists seeking to break away from staid conventions dominating Cuban art, he radically embraced the century-old tradition of landscape painting in the late 1970s — an anomaly within an art context both locally and beyond that was defined by experimental and abstract approaches to art-making. Though Sánchez embraced a hyper-realistic painting style, he did not strive for geographical exactitude, nor did he seek to idealize stereotypically "Cuban" scenes. Rather, he sought to visualize the higher states of consciousness he achieved through meditation and yoga, which that at the time were notably considered dissident activity by officials.
Meditador perfectly encapsulates Sánchez's distinct symbolic language to convey this interrelationship. Painting from memory, Sánchez presents us with a fantastical landscape that emerges from the rich intersection of inner reality and the concrete specificity of Cuba. As he explains, "The interior spaces that I experience in meditation are converted into the landscapes of my paintings…When I paint, I experience meditative states; through meditation I achieve a union with nature, and nature, in turn, leads me to meditation." (Tomás Sánchez, quoted in Tomás Sánchez Artist Statement, 2016, online).
For no one escapes the spell cast by Tomás Sánchez: the more we know his work the more we love it, and the more certain we are that if the world in fact deserves to be made again, it is because, as much as it can, it resembles his painting.
– Gabriel García Márquez
While Sánchez's frequent depictions of bodies of water recall the surge of new reservoirs and artificial lakes that were built during the initial phase of the Cuban Revolution, he above all infuses them with spiritual meaning. Water in his paintings represents certain states of awareness that can be achieved through meditation — with rivers, for example, symbolizing the power of spiritual regeneration and shores standing in as the state all individuals strive for.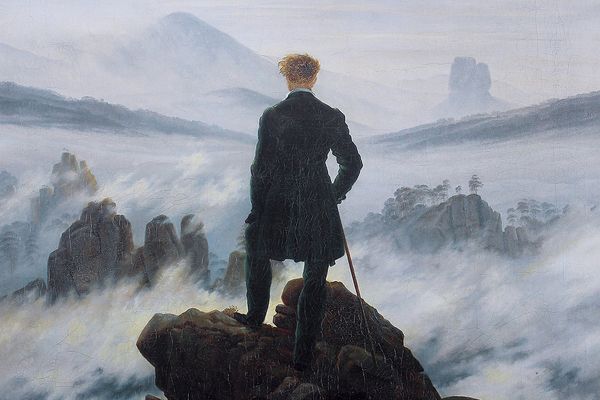 Caspar David Friedrich Wanderer Above the Sea of Fog, 1818 (detail). Hamburger Kunsthalle.
Sánchez powerfully re-interprets the compositional motif of the Rueckenfigur (figure seen from behind) within the context of his time and place; commonly employed by German Romantic painters such as Casper David Friedrich, the compositional device of portraying a person with their back to the viewer offers us a means to vicariously experience the depicted scene.
As Edward J. Sullivan has observed of Sánchez's paintings, "in a number of them a small male figure stands or sits with his back to the viewer, serving as a witness to the scene and evidencing the power of nature which, at any moment, could overtake the fragile human existence to exert its inherent majesty" (Edward J. Sullivan, Tomás Sánchez: Traversing Multiple Paths, online). Just like the lone meditating figure, the viewer in Meditator is drawn into a state of contemplation and introspection.
Learn more about works from Latin America >