Lot 631: Harry Winston. A Fine and Classic Diamond Ring, Circa 1953.
Estimate: HK$6,800,000-8,800,000.
Jewels & Jadeite, Hong Kong.
The 1950s: one of history's great diamond eras, the decade when diamonds became a girl's best friend, when they proclaimed the majesty of the newly‐crowned young British monarch, Queen Elizabeth II, and when Harry Winston, the New York jeweler to the stars, was crowned reigning King of Diamonds. And the decade when De Beers told the world that a Diamond is Forever.
Bathed in the glow of post‐war optimism, promising peace and prosperity, the 1950s held out the allure of New Riches, as Harpers' Bazaar U.S. suggested in a 1956 issue, featuring a Cartier bracelet on the front cover. Jewels, and especially the diamond, with its celebratory, light and dream‐filled life captured the zeitgeist, answering the longing for luxury, after years of hardship and deprivation, and at the same time offering security and longevity. Even more, the diamond, ravishingly rare and refined, with its air of regal splendor, was the perfect expression of the elegant, formal sophisticated femininity that pervaded the decade: the celebration of femininity after women's wartime masculine roles that was at the heart of the 1950s Golden Age of Couture, fuelling the genius of designers including Christian Dior, Balmain, Balenciaga and Jacques Fath.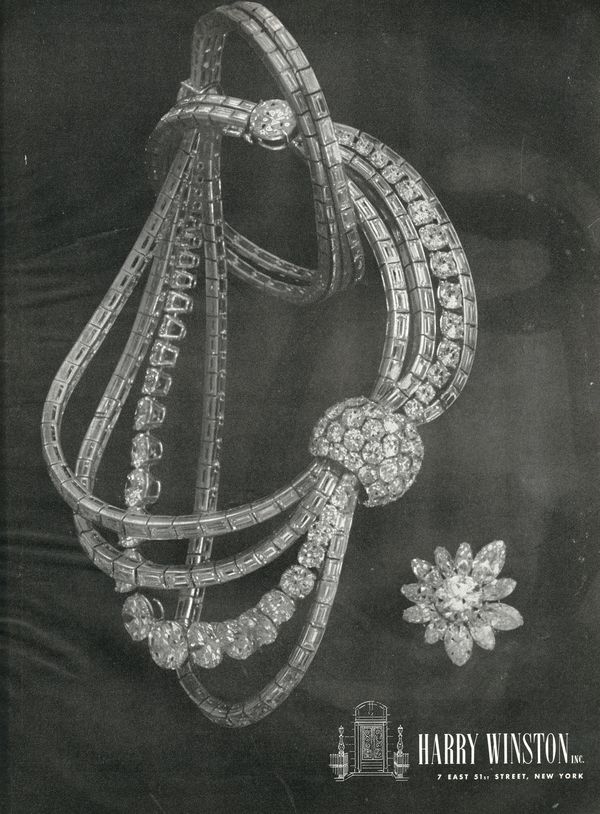 An advertisement featuring a diamond necklace and ring by Harry Winston, Harper's Bazaar, April 1952.
So that the stars were aligned, as all factors came together, seamlessly, to create the distinctive, dynamic, timelessly modern designs that epitomize 1950s diamond jewelry: all‐white, all‐diamond abstract, stylized compositions that played with shapes and cuts of stones to create fluid but strong silhouettes, a dazzling play of light and texture, and mesmerizing, mellifluous movement. Diamonds were twisted and looped into swirls and twirls, scrolls and volutes, into streams, cascades and tumbling torrents of light and luminosity. It is a style of soignée sophistication, of Hollywood glamour and grandeur, touched with a dash of audacity; a style poised harmoniously between stillness and exuberance. A style of contemporary yet enduring classicism that resonates today, carrying with it, as it does, the scent of the great mid‐century fashion leaders and powerbrokers: Babe Paley, Mona Bismarck, Pauline de Rothschild, Diana Vreeland – for whom jewelry was the ultimate expression of individual style.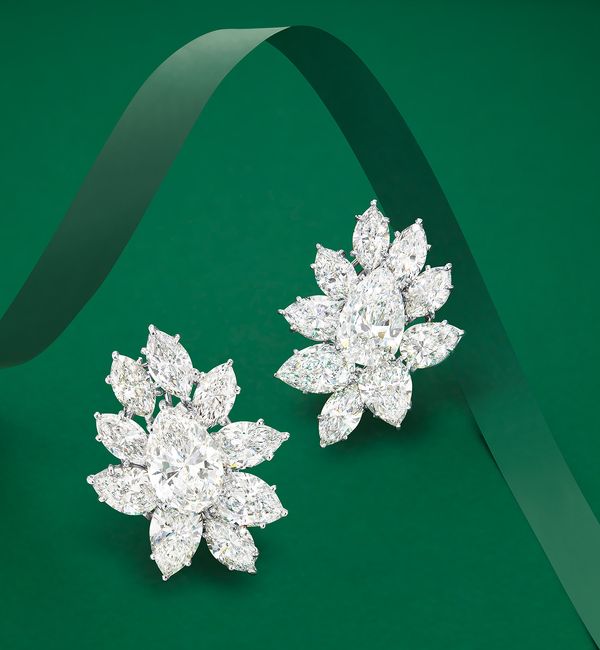 Lot 630: Harry Winston. A Classic Pair of Diamond Cluster Ear Clips. Estimate: HK$1,350,000-1,850,000.
There had been an all‐white jewelry vogue in the Silver Screen years of the late 20s and 30s, but this was very different. First, the 1950s vogue was all and only about diamonds, and second, most significantly, it shifted the focus entirely onto the stones, removing as much metalwork and setting as possible, allowing the stones to construct silhouette, scale, shape, form and movement, turning features of 1940s cocktail style into something altogether more refined, sophisticated, lighter, more fluid and above all more feminine. It was a style made possible by improved technical virtuosity of diamond‐cutting, and the mixing of different cuts, contrasting round stones with baguette cuts or with the pear‐shaped or marquise cuts that truly define 1950s jewelry.
As Paris recaptured its status as the center of art and luxury, visitors were drawn there, to both Haute Couture and Haute Joaillerie. The great heritage master jewelers of the Place Vendome, Cartier, Van Cleef & Arpels, Boucheron and Mellerio, all excelled in coaxing diamonds into the thrilling new look. Van Cleef & Arpels – founded by Charles Van Cleef, a diamond cutter ‐ was particularly skilled at adapting their signature ribbons, flowers, leaves and feathers to the new highly-energized stylization of form, turning bows into cartwheeling rosettes, tying flowers into bouquets of stylized blooms, with pear‐shaped diamond petals and curving baguette‐diamond stems, and conjuring spectacular necklaces from curls, furls and entwined diamond ribbons, especially for the Egyptian royal family.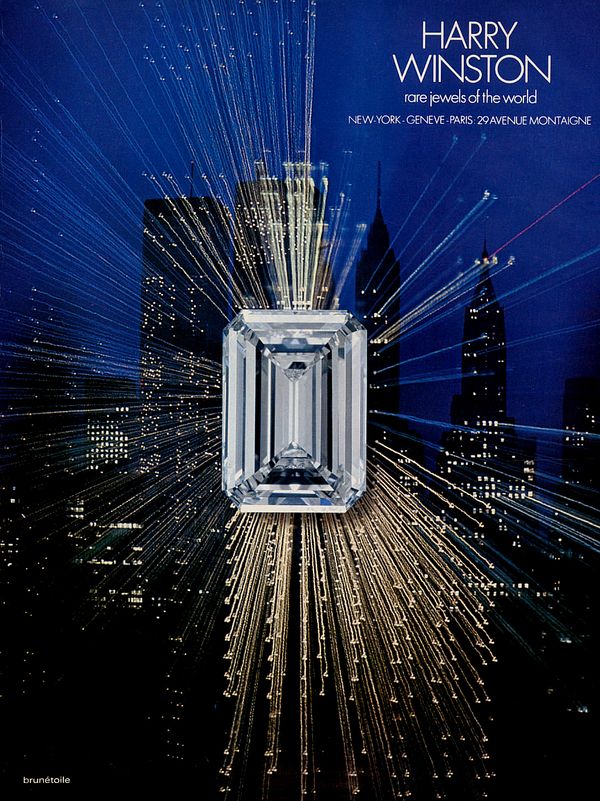 Harry Winston advertisement featuring a magnificent emerald-cut diamond in 1977.
During the War, both Cartier and Van Cleef & Arpels had strengthened their business in the United States, absorbing fresh and dynamic influences, and catering to the great 50s socialites and their glittering lifestyles. It was America that delivered one of the most pivotal influences and characters of the decade: Harry Winston (1896‐1978). An unstoppable force in the diamond industry, Winston combined entrepreneurial instincts with courage, panache and an exceptional affinity for gemstones; he was able to see into the heart of a diamond, to understand its full potential, to discover its innermost secrets. This was, in fact, how he built his first business ‐ buying antique and estate jewelry and re‐cutting the diamonds to improve their quality, often re‐setting them, making them modern. So successful was he that in 1932 he established his first retail business, in New York, Harry Winston, Inc. and from this time he began acquiring some of the world's most famous and historic diamonds, amongst them the Jonker, Star of the East (from heiress and jewel‐addict Evalyn Walsh McLean) and most celebrated of all, the magical, deep blue Golconda diamond, The Hope.
The Hope took center stage in Winston's Court of Jewels: a touring exhibition that traveled across America, Europe and Cuba, from 1949‐53, raising money for charity and at the same time, as Winston was determined to do, also raising the profile of the divine diamond, educating the public, sharing the joy of gems. By the 1950s Winston had also developed his signature style that revolved around his technique of 'clustering' the stones, with minimal metal mounts, allowing the settings to evaporate and allowing the diamonds to shine supreme. Winston is famous for saying that if he could, he would attach the diamonds directly to a woman's skin, and his revolutionary 'floating' diamonds came close to achieving that goal.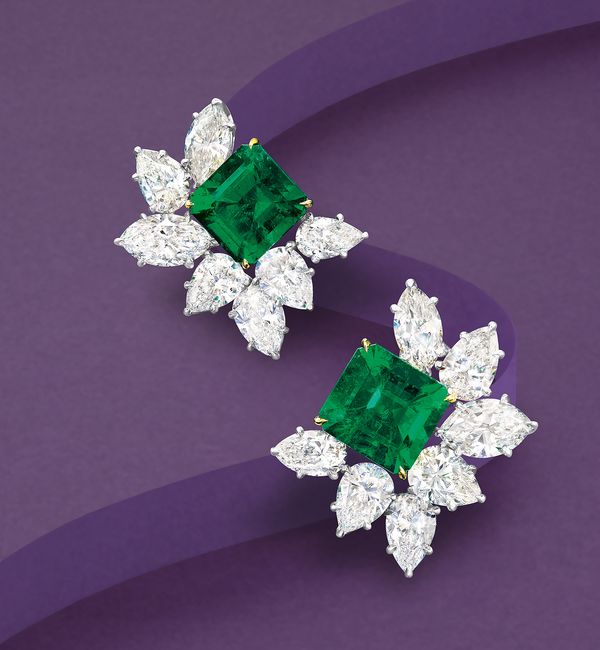 Lot 605: Harry Winston. A Very Fine Pair of Emerald and Diamond Ear Clips. Estimate: HK$2,800,000-3,500,000.
Just as the great post‐war couturiers, especially Dior, took an architectural approach to the design and construction of their creations, so Winston instigated a new form of gem‐architecture, taking the prevailing focus on the stone and away from settings to another level entirely. Legend has it that one Christmas night in the late 1940s, Winston returned home and was struck by the beauty of snow glistening on the holly wreath on his front door. He examined the connections of the leaves and the shape they made, and made up his mind to replicate the wreath's construction by arranging his beloved diamonds, of different cuts, at different angles and on different levels and moving the metal mounts completely to the back of the jewel, creating an uninterrupted rhythmic flow of light, a dynamic interplay of facets, planes and angles in order to focus attention solely on the beauty, life, fire and brilliance of the diamonds. This clustering, particularly of pear‐shaped and marquise‐cut diamonds – Winston's specialty – worked supremely well for fashionable brooches, typically a seemingly random but rhythmic foliate arrangement, or a highly stylized floral design, with pear‐shaped petals framing an important emerald cut diamond or colored stone ‐ and also for earrings– much loved by the Duchess of Windsor, one of Winston's many famous clients. Winston's earrings framed the face perfectly, highlighting the eyes, often climbing up and along the ear, adding movement and a touch of modernity. The same clustering technique also led to Winston's famous 'wreath' necklaces, often 'V' shaped, a deceptive style that endured for decades and remains today as an all‐time modern classic.
Necklaces were key to the formality and glamour of sumptuous evening gowns and were always paired with earrings, considered essential finishing touches to any outfit and immaculately coiffed hair. While for daytime, brooches were worn, on the lapels or shoulders of the new tight‐waisted, voluptuously shaped Bar jackets of Dior's New Look. For evening, brooches could also be worn in unexpected places, in clusters at the hip, or in the hair; Jackie Kennedy loved to wear Van Cleef &Arpels' Flamme and Wheatsheaf brooches in her perfectly groomed coiffures.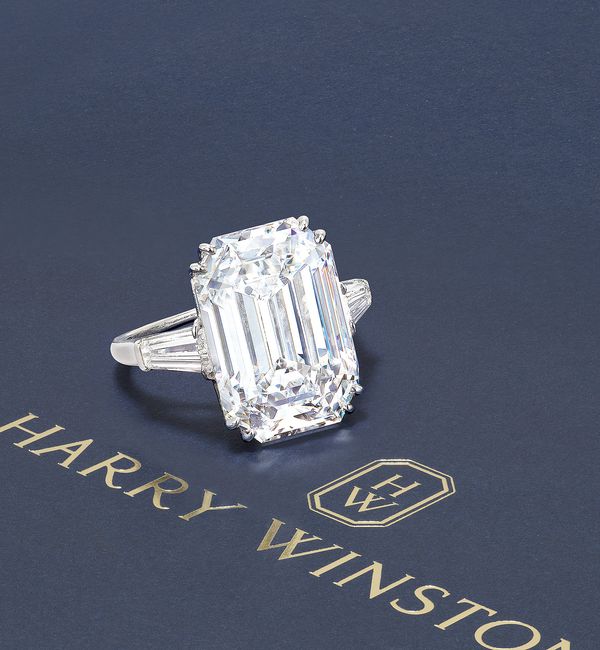 Lot 631: Harry Winston. A Fine and Classic Diamond Ring, Circa 1953. Estimate: HK$6,800,000-8,800,000.
The thread connecting Haute Joaillerie and Haute Couture was pulled tighter during the 1950s – each drawing ideas and inspirations from the other, as couturiers accessorized their creations with exceptional jewelry for Salon shows, emphasizing jewelry as an indispensable part of the total look – a new concept in this decade. Van Cleef & Arpels collaborated with Balenciaga, and the hugely talented designer Pierre Sterlé worked with Jacques Fath. Sterlé is known for his quintessential 1950s diamond jewels, characterized by the inspired use of baguette diamonds to generate a sense of movement, tracing luscious, fluid ribbon‐like lines, often entwined with streams of round diamonds, or cascades of diamond light tumbling out of loops or scrolls. That connecting thread between fashion and jewels was undoubtedly the focus on femininity that dominated 50s style and lifestyle, but it was the diamond itself, emblem of invincibility and enlightenment, that illuminated and defined 1950s jewelry, lighting the way forward into a new age of female empowerment and adornment.