Artist Bethan Laura Wood in her studio.
Surprisingly delightful reference points characterize Bethan Laura Wood's work, which is often striking in its use of bold colors and patterns. Wood typically collaborates with artisans or other creatives to execute her pieces, which range from small utilitarian objects to larger pieces of furniture, lighting and set designs. Her practice is united by investigations into the relationship between "high" and "low" materials as well as an interest in sustainability. Bethan Laura Wood's work has drawn critical acclaim from the world of high fashion as well as institutions like the Victoria & Albert Museum, London, where her work resides in the permanent collection.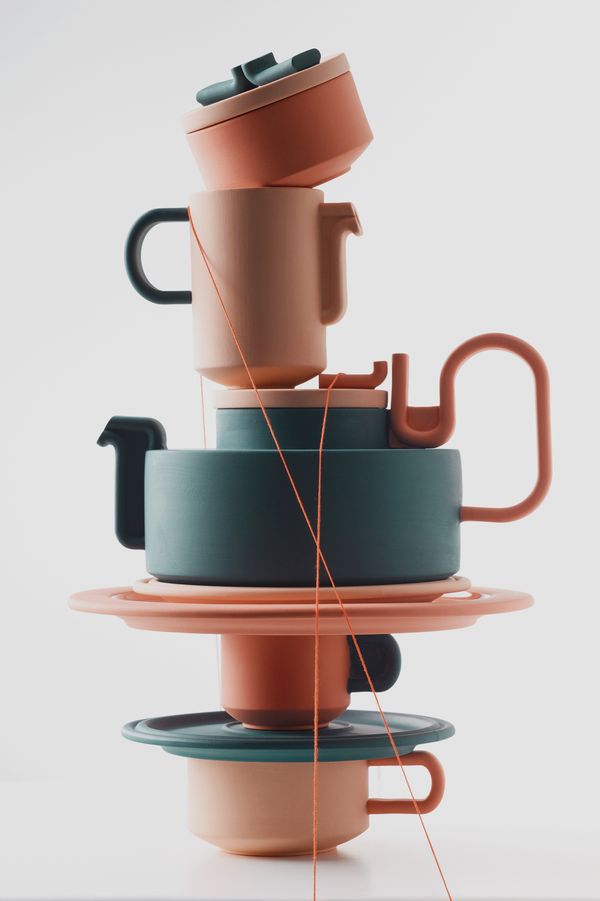 Tongue Tea Set, Plecan colorway. Photo credit: Rosenthal.
PHILLIPS: Is there a specific space or object within your home or studio that you draw inspiration from, or return to, when thinking about new ideas for your work?
BETHAN LAURA WOOD: I am a big collector of things so there are many objects that I have in my home that I draw inspiration from. At the moment during lockdown I have become very obsessed with my cactus I bought last year, it is very curly and I am really enjoying the movement it has in its form. I have been drawing it from many angles during this time.
P: When deciding which materials you use in your work, what are the most important factors you consider? Are there any materials you'd like to explore next that you haven't tried yet?
B: For me getting access to a material and to specialists that work with it is what really helps me to develop work. I love working in collaboration with artisans so when I get this opportunity I really enjoy developing a form language that is specific to them. For example, I have been working with Pietro Viero since I meet him on a residency in 2010 and it has been such a joy to work with Pyrex through his hands. A lot of the details within our works together come from understanding things he likes to do and what things we can push to do. I think it is really important to be open to this conversation, to listen and observe those details, as they help to make much more unique work.
Though I do work in traditional "precious" materials, I also have an ongoing interest in materials that have more industrial or "lowly" associations. I am interested in how these materials are viewed when they are taken out of their "mass" context. For example, I have been doing a series of works since graduation from the RCA called Super Fake that takes laminates from all different walks of life, be it the KFC chicken shop to the marbles in an East London launderette to those designed by Sottsass, and use them as if they were precious rare wood veneers in complex marquetry designs.
Last year, I got to work with Rosenthal and I really enjoyed getting to make ceramic work so I would love to continue this relationship and experiment with other types of ceramics. I was also very lucky to travel again to Japan. There I visited a beautiful textile and kimono company, Kawashima Selkon, which really got me excited to look to work with these types of materials and specialisms.
P: What challenges do you often face in your design or creative process?
B: Right now we are facing some quite different challenges to the normal, which are adding a new layer of difficulty. I love to talk through projects with my team and to physically visit and touch materials and factories. This is something we are having to find alternative solutions for at the moment. However, both during these times and in normal times, getting into the rhythm of a project can take a few days to settle and that's what I always find uncomfortable—once you set some rules or some points to connect, I find it easier to stay focus. Along the way of designing, there is always the point were you prove principle or not, where you have to take the plunge into reality to see if something you can see in your mind has a place in the real world. This bit can either be very satisfying or terrifying!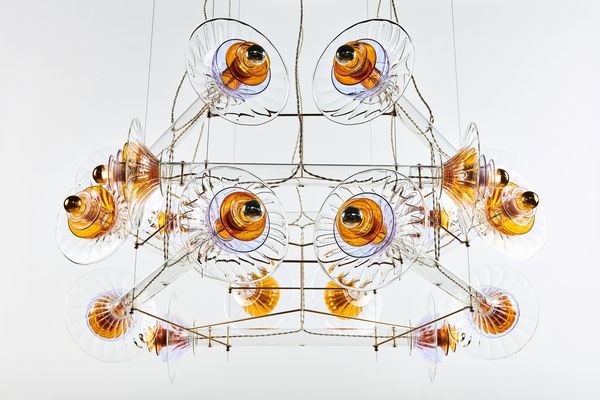 CrissCross Kite Chandelier, made in collaboration with Pietro Viero for Nilufar. Photo credit: EMANUELE-TORTORA.
P: Having to step away from your usual day to day schedule, is there a book/film/project you'll take this opportunity to begin (or return to)?
B: I am trying to keep some of my normal schedule going so that me and my team can work together, but I am enjoying getting some time to draw. As mentioned before and to slowly go through the huge pile of images I have taken over the last two years, so I am trying to use this quiet to get more time with these and to start thinking of the work I can make in response.
The new and original Suspira films are great for color pallette and sound but in two very different extreme ways! Documentaries are another thing I watch to help get me in the mood/inspire. I still remember from when I was a teenager the sound of PICASSO "Magic Sex & Death" and often find myself searching for it online when I want to have something inspiring on. I also have been enjoying some of the documentary being shown on the BBC there is a great one on Aubrey Beardsley and on Peggy Guggenheim and I am trying to find a copy of the documentary I saw on Sir Edward James which I watched when in Las Pozas at the beginning of the year, which was absolutely magical.
Books; I have a few on the go, I just got one on Meisen kimonos which I am enjoying and it is helping my withdrawal from the flea markets, also the new on book on JB Blunk published by Dent-De-Leone have some great visuals.
P: Where is the future of your design practice headed?
B: This only time will tell. I am definitely going to have some reflection in the next months—I think it is important to stay positive even in these difficult times, creativity and artistic expression are important things to nurture. I hope to be able to continue to collaborate with makers and use design as a way to help digest these uncertain times.