Jeweler Robert Procop with longtime client Angelina Jolie.
In today's world, we need more people like Robert Procop. For over 25 years, the Los Angeles jeweler has used his lifelong love of gems and jewels to support his passion for philanthropy. It is through the melding of these two worlds that Robert Procop has created jewelry collections that give 100% of their profits to charitable organizations.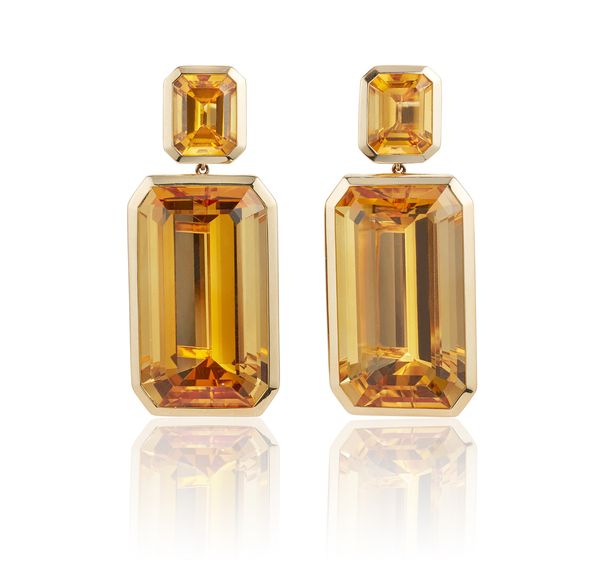 Robert Procop. A Pair of Citrine and Gold 'Style of Jolie' Earrings. Estimate: $20,000-30,000.
One of his most well-known collections is the Style of Jolie, a design collaboration with Angelina Jolie featuring bold statement pieces centered on large colorful gemstones and bezel set in 18k gold. Profits of sale for every piece of jewelry created in this collection are donated to Jolie's foundation, The Education Partnership for Children of Conflict, which is dedicated to opening primary schools for children in conflict areas. A UNHCR Goodwill ambassador, Jolie's foundation opened a 200 – 300 student all-girls school in war-torn Afghanistan and additional locations are currently being planned in areas of great need for vulnerable children.
Angelina Jolie has exclusively worn Procop's jewelry for years, designing a magnificent diamond choker worn by Jolie in The Tourist. At the 2014 Oscars, Jolie wore a striking pair of 42.00 carat bezel set diamond earrings by Procop. More recently, she wore an unforgettable 50.00 carat diamond and platinum scorpion brooch to the world premiere of Maleficent: Mistress of Evil. A true statement piece measuring 3 ½ inches and fastened at the hip of her black Versace gown.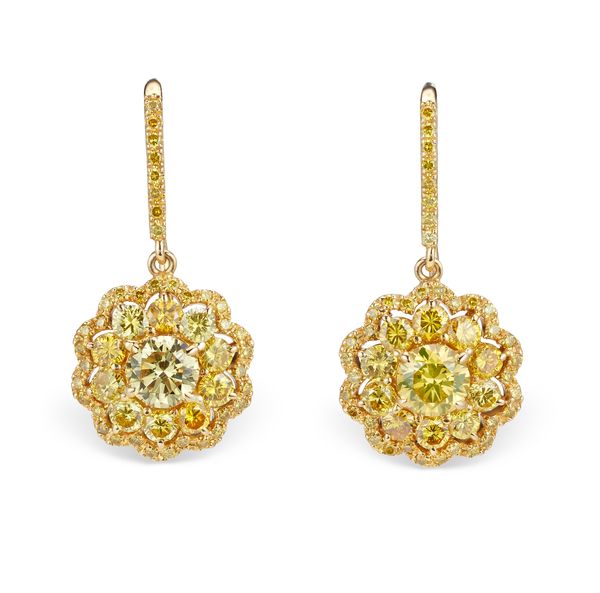 Robert Procop. A Pair of Colored Diamond and Gold 'Legacy Brooke' Earrings. Estimate: $25,000-35,000.
A 30-year friendship between Brooke Shields and Robert Procop lead to the collaboration of the Legacy Brooke collection. Vibrant amethyst and blue topaz cabochons, yellow diamonds, white diamonds and emeralds are at the heart of this collection. Profits are donated to the House of Ruth, a transitional housing shelter and program that helps women and children realize a better start in life by providing shelter, prevention programs, education and other opportunities as they transition out of a life of domestic violence. Through his commitment, Procop has helped build 15 houses throughout the Los Angeles area for the House of Ruth.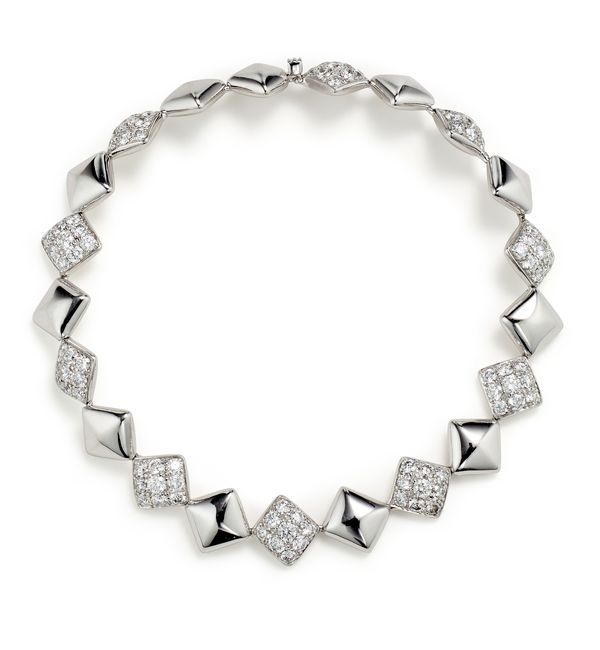 Robert Procop. A Diamond and Platinum 'Queen of Diamonds HM Collection Point to Point' Bracelet. Estimate: $15,000-20,000.
In our current Jewels & More online auction, Robert Procop has dedicated the profits of sale of a diamond and platinum bracelet from his Queen of Diamonds collection to the Black Retail Action Group (BRAG), a 501 c 3 non-profit organization that prepares and educates professionals, entrepreneurs and students of color for executive leadership in retail, fashion and related industries. Robert Procop has chosen BRAG to help give black talent within the fashion and retail business the coaching, mentoring, and tools needed to succeed and the highest levels of the industry.