- By Virginie Liatard-Roessli
Have you ever tried to take a picture of your beloved patinated wristwatch and been disappointed by the result? This is a challenge that arises every time we try to do justice to a watch displaying some patina.
Patina is one of the most romantic effects time can have on a watch. The power of this effect works in our eyes as magnifier of the timepiece's beauty, similar to a face that is not perfectly symmetrical, whose tiny imperfections make a person unique and interesting. Of course, these effects have to remain subtle and balanced. This is different to a watch with a dirty dial or any strong marks that disfigure the dial.
Watches develop patina in many ways. Overly humid weather may cause the dial to develop age spots, the same as the sun would give freckles on cheeks. Dial condition thus gives us information about the history of the watch: like a scar after an injury, a scratch on the dial may have been caused by a clumsy move from a watchmaker during a service. It gives the watch its own identity, like a finger print, as no two scratches will be identical. A watch with patina is therefore a watch that displays some souvenir of an active life.
Here are a few examples I would like to highlight in our upcoming Geneva Watch Auction XI with some charismatic imperfections.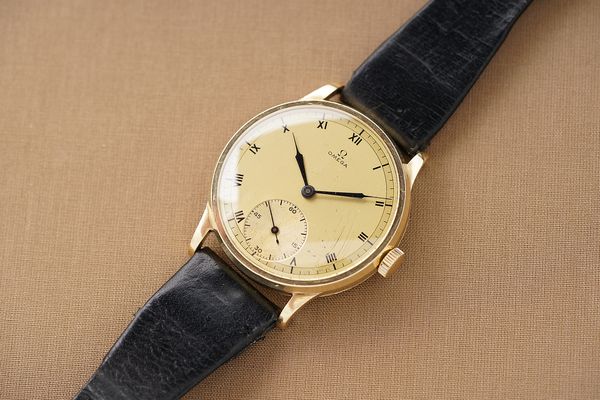 Lot 56, An incredibly large yellow gold Omega
Built over eighty years ago, this giant began its life in Poland where it was delivered in 1939. At this time, wristwatches were either small gold dress watches or more robust stainless steel watches. A yellow gold wristwatch with such a large diameter is therefore extremely rare. The case is in excellent condition, indicating that the watch has not been worn very often.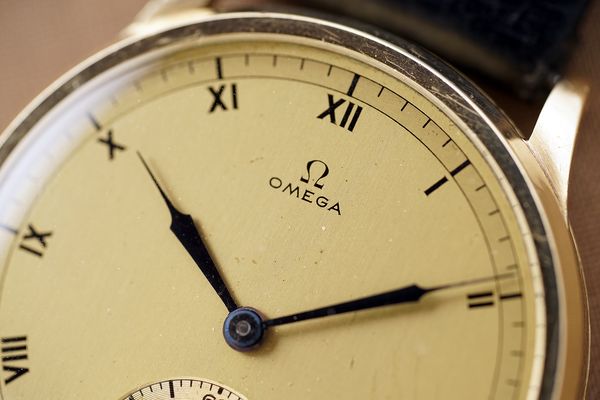 However, the lower right hand side of the dial shows some damage. Since these marks can only have been made whilst the crystal was removed, one can therefore imagine that it was made during a service and that the original owner may have been very upset. This scar has clearly been on the dial for a long time as attested by the color it has developed and is in fact a great proof of the dial's originality.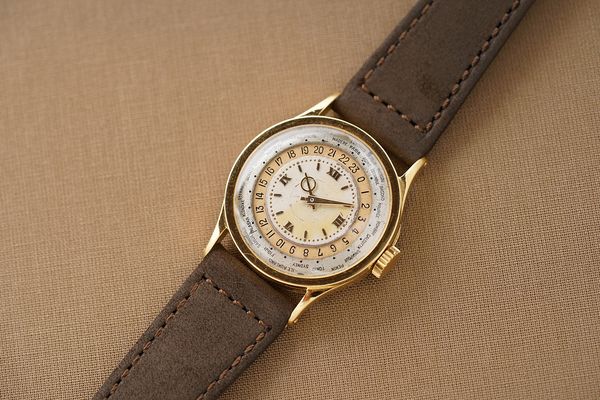 Lot 64 A historically significant Patek Philippe World Time Ref. 96HU
The original purpose of a worldtime complication was to know the time in several locations simultaneously. This watch was therefore intended to be worn by people that were travelling the world or had interest in locations other than their own. But most importantly, it was a dress watch, that was built to be worn carefully during elegant journeys by rail or sea. Even if we like to get romantic about the way people were travelling some 100 years ago, comfort was not as it is today and one can imagine that even such a watch may have been exposed to moisture.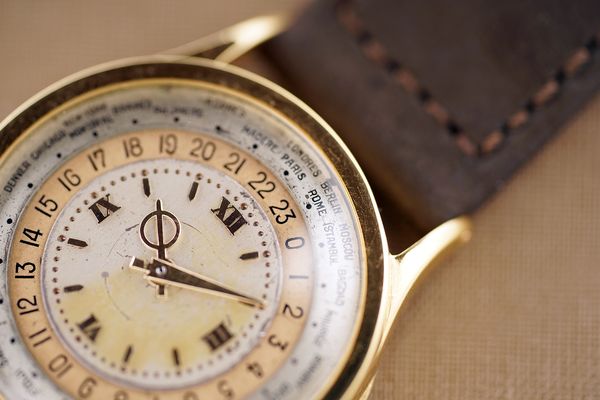 Fitted with a snap-on caseback, the dial was more susceptible to the elements and as a result some subtle patina has built up giving a warmer tone to the central disc of the dial. The outer ring of the dial displays also some marks that can only attest this dial has never seen any restoration which for a watch that is from 1937 is truly amazing.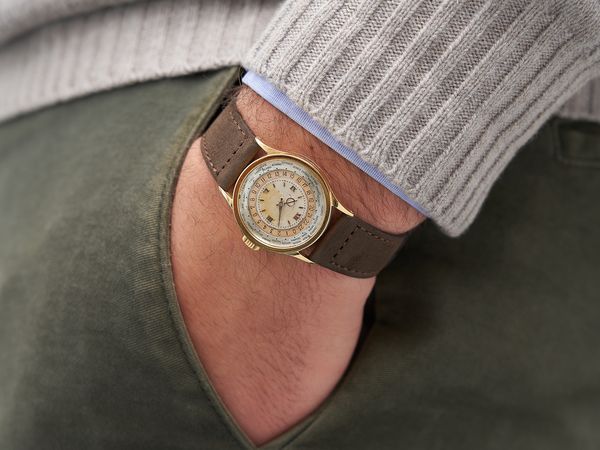 This piece is a perfect example of a watch that has aged honestly with grace and panache without trying to hide the signs of time with artificial methods.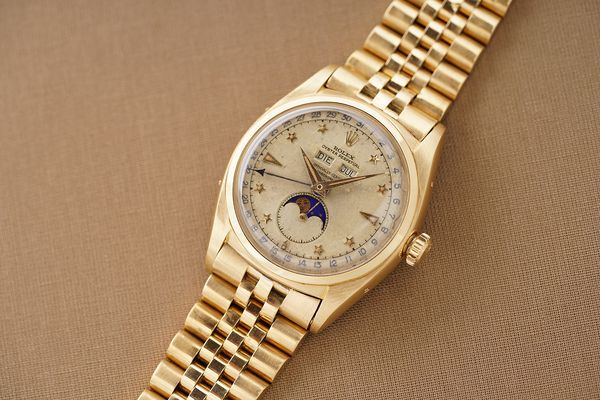 Lot 157 An extremely rare Rolex triple calendar with moonphases and luminous stars on the dial
Once again, this watch proudly displays its 70 years of existence without trying to hide the effect that years have had on its face. The once white dial has aged to a warmer hue but in a very even manner as with the pages of parchment paper over time.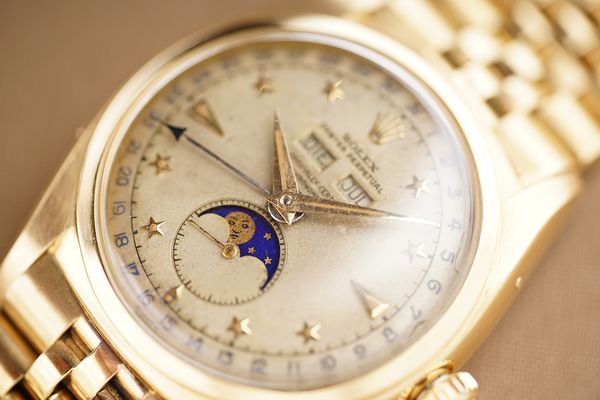 The yellow gold stars sparkle on this canvas like on an old map of the sky.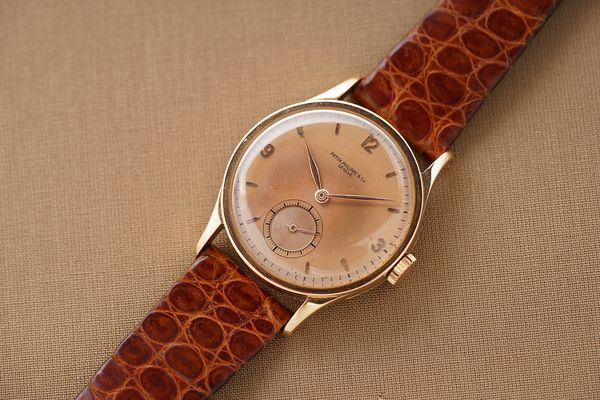 Lot 195 & 200 : Studies in Pink on Pink
Anyone who tries to take pictures of a pink dial would know that this subtle hue is extremely hard to capture, and it can vary from watch to watch. When looking at it in real life, your eyes will be charmed by the warmth and delicacy that emanate from the association of the pink gold and pink dial but in pictures this harmony is at least partially lost. Here we have two examples of pink dials that have aged differently. On the Patek Philippe 570 shown below is a large but even cloud has developed on the center of the dial giving the watch dimensionality.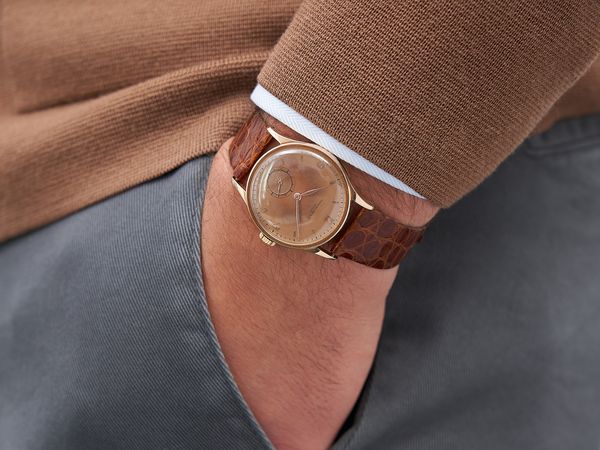 The superbly warm aspect of the dial of the next watch, a Patek Philippe 591 nicknamed "Fagiolino", comes from the light caramel color spots that are evenly spread on its surface. Very much akin to freckles, these marks of time add a lot of charm to the watch without disturbing its beauty.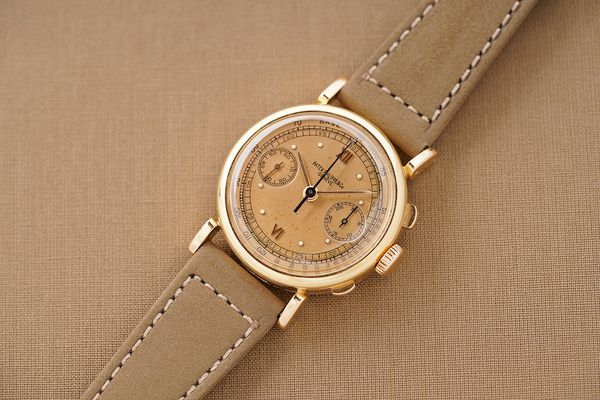 Through. the lens of a camera, the aging process these watches has undergone can be celebrated without hiding those characteristics which make the watch truly special.