Gerhard Richter Abstraktes Bild (801-3), 1994.
20th Century & Contemporary Art Evening Sale, New York.
One of the most influential living painters, Gerhard Richter has been a key player in defining the formal and ideological agenda for painting in contemporary art. His instantaneously recognizable canvases literally and figuratively blur the lines of representation and abstraction. Uninterested in classification, Richter's oeuvre oscillates between unorthodoxy and realism, much to the delight of institutions and the market alike. The investigation of painting's ability to reveal truth is present in Richter's entire oeuvre, from his photo-realist paintings to his abstracts to his softy-blurred landscapes and everything in between—each work reflects Richter's ambivalence towards the medium, asking: though both abstract and figurative painting strive towards the representation of internal or external truths, can that ever actually be captured? Are painting's efforts to represent truth futile? In our attempts to imitate reality or truth, are we actually obscuring it?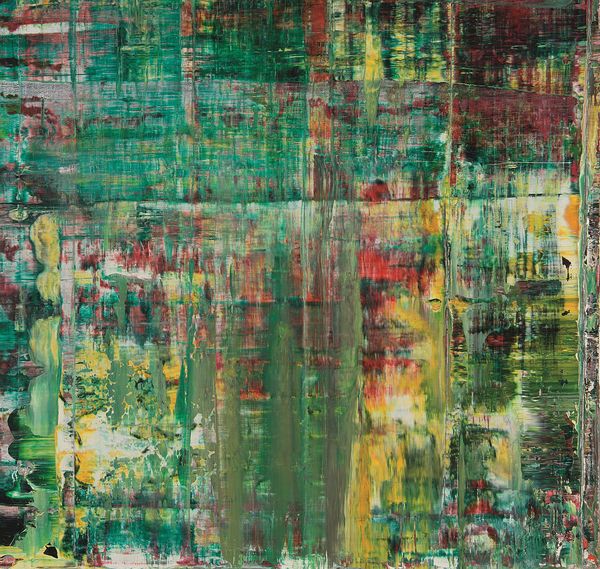 Gerhard Richter Abstraktes Bild (801-3), 1994 (detail).
Executed in a rich, brilliant palette of emerald, yellow and crimson, Abstraktes Bild (801-3) epitomizes Gerhard Richter's adroitness from the apex of his engagement with abstraction. Painted in 1994, the work exemplifies the artist's mastery of his trademark squeegee method in his mature abstracts, resulting in discrete layers juxtaposed with thick, alloyed buildups of paint around the edges of the composition. Abstraktes Bild is a formidable example from one of the most significant genres of Richter's oeuvre, one which was recently celebrated in the large-scale exhibition Abstraktion, held at the Museum Barberini, Potsdam, and is currently being explored in his retrospective at The Metropolitan Museum of Art, New York, which will travel to the Museum of Contemporary Art, Los Angeles.

Considering its newfound vigor and majestic palette in relation to Richter's earlier abstracts, Abstraktes Bild can be read as a manifestation of the immense personal and professional contentment the painter experienced in the early to mid-1990s. His reputation as one of the most influential living artists was cemented in a series of major exhibitions held during the period: first with a 1991 breakthrough retrospective at Tate Gallery, London, in 1991, then his inclusion in documenta IX the following year, and in 1993, a large-scale, traveling survey of his career, Gerhard Richter: Malerei 1962-1993. Of the latter exhibit, which included 130 works executed over three decades, critic Doris von Drathen observed that "there are exhibitions that, like great milestones, reset the standards in contemporary art. Richter's retrospective, launching now at the ARC [Musée d'Art Moderne de la Ville de Paris] in Paris, is of this quality."
Whilst painting Abstraktes Bild in 1994, soon after this bout of professional euphoria, Richter was completing a series of adoring portrayals of his new love Sabine Moritz, who married him and gave birth to their first child together the following year. Similarly to the passionate affection palpable in his abstracts, his figurative paintings from the same year—such as the photorealist masterpieces Lesende (Reader), High Museum of Art, Atlanta—exude a warmth and tenderness for Sabine, a confident buoyancy unprecedented in Richter's oeuvre.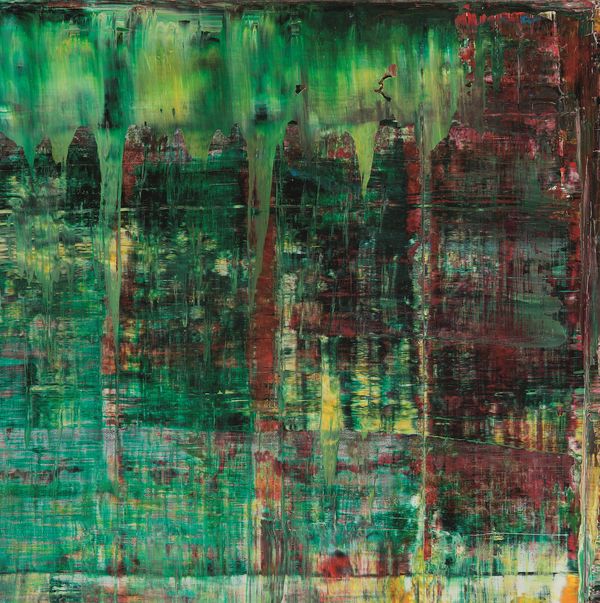 Gerhard Richter Abstraktes Bild (801-3), 1994 (detail).
A triumph of his mature period, Abstraktes Bild presents Richter's dilemma concerning the adequacy of representation both conceptually and formally: the work hints at an internal truth existing on the canvas, which is then obscured by the myriad layers that rest atop it, alluding to his own endeavors to use paint as a truth-telling device, though it always ends up actually concealing what meant to be represented. In the sense, his abstract works address the same issues his figurative paintings do in their foggy, blurred renderings of historical or family photographs. "Abstract paintings are like fictitious models because they visualize a reality which we can neither see nor describe but which we nevertheless conclude exists," Richter concluded in a catalogue text for documenta 7. "[But] with abstract painting we create a better means of approaching what can neither be seen nor understood because abstract painting illustrates with the greatest clarity."