Artist Marie Herwald Hermann
Though the Danish-born and Chicago-based artist Marie Herwald Hermann works most often with clay, it would not be accurate to label her simply as a ceramist. The individual pieces that she constructs on her throwing wheel become part of larger arrangements of objects or, in some cases, entire environments. She continually returns to an arsenal of familiar forms such as discs, vessels, and cups in order to explore both the histories of her materials as well as our relationship to the utilitarian objects of everyday life. Hermann's tableaux often sit on pedestals that extend from the wall, themselves part of the work. She tends to primarily use materials and glazes with muted color palettes—similar to the work of her former teacher Edmund de Waal—of pinks, blues, yellows, and shades of white. Her arrangements of objects frequently juxtapose clay so smooth that it betrays its own handmade quality with newer materials such as latex and silicone. This dialogue between materials and their histories are some of the central preoccupations of Hermann's evolving artistic practice.
Hermann's work belongs to the permanent collections of museums worldwide, including the Denver Art Museum, the Cranbrook Art Museum, and the Sevrès Museum, Paris.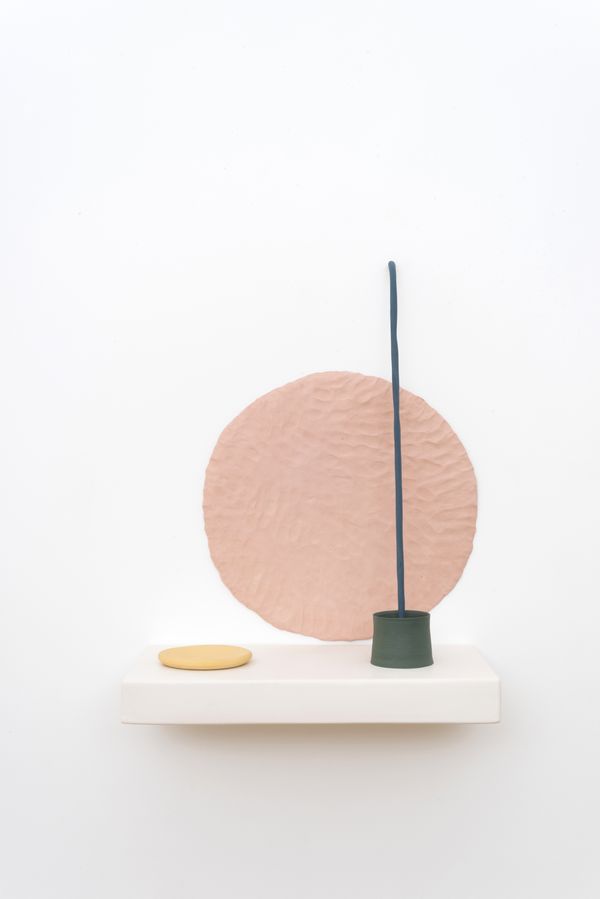 and, in between the drops, the rain, porcelain, stoneware, 2019.
PHILLIPS: Is there a specific space or object within your home or studio that you draw inspiration from, or return to, when thinking about new ideas for your work?
MARIE HERWALD HERMANN: Inspiration is always in flux and changes as our lives and the world around us do. I draw from the "non-spectacular' of everyday life, common objects that I have around my house and studio, as well as the idea of arrangement to underscore how ordinary things can both embrace and be devoid of utility, where the relationship between the repetition of our actions in a domestic sphere and functionality of objects is in constant flux. The key factor is that these domestic objects are utterly "unremarkable". They are not loud. They do not demand our attention. Instead, they are rather silently. They represent a reality that is not meant to impress maybe more record.
P: When deciding which materials you use in your work, what are the most important factors you consider? Are there any materials you'd like to explore next that you haven't tried yet?
M: Clay is where it always starts for me. It is a material that I have worked with for many years, a material that I think through. Even though many other materials are present in my work, latex, silicone, wood and cotton they are always in relation, reaction or in conversation with clay, event at times where the clay is absent.
P: What challenges do you often face in your design or creative process?
M: I have always believed that everyday spend in the studio is a victory. Often just sitting in my studio is when I am the most productive but it can at times feel unproductive. Allowing nothingness to happen often gets put off when you are working with deadlines, remembering not to forget that.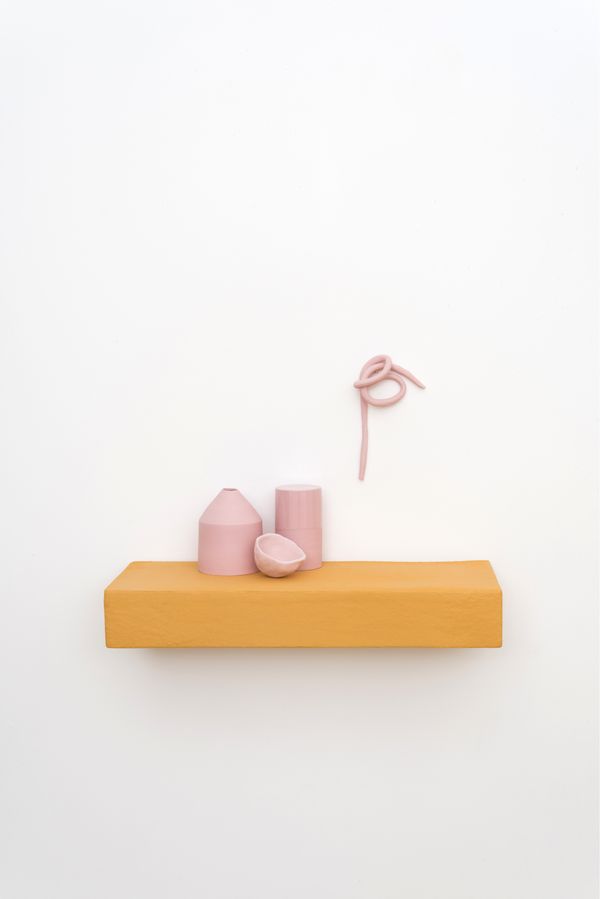 A Heavy Sun, porcelain, stoneware, 2019.

P: Having to step away from your usual day to day schedule, is there a book/film/project you'll take this opportunity to begin (or return to)?
M: A few months ago, I had to take a break from finishing Ocean Vuong's novel, On Earth We're Briefly Gorgeous. It is an incredibly beautiful written novel but emotionally very difficult, but I find this time now, perfect for finishing the last pages.
Even though our daily schedule has altered, there are new additions, I have two kids that are not in school since Chicago public schools wisely are closed for the rest of the academic year and as many parents "homeschooling" is a new challenge so 3rd-grade algebra is what I am also returning to.
P: Where is the future of your practice headed?
M: I am working towards a solo exhibition for the fall with Rayes Finn Gallery in Detroit, an exhibition at Rebecca Camacho Presents in San Francisco also in the fall and on R & Company's exhibition this fall in New York to mark the 50th anniversary of Objects: USA. I am lucky that I can get safely to my studio where I work on my own.
Learn more about Marie Herwald Hermann >
Marie Herwald Hermann at Reyes Finn >