Zao Wou-Ki in his studio in 1973, photographed by Morhor.
20th Century & Contemporary Art Evening Sale, Hong Kong.
The Hurricane Period, the name given to Zao Wou-Ki's period of practice between 1959 and 1972, is considered the apex of his extraordinary career. Among the 100 large panel‐sized works (above a French standard size 80) from Zao's Hurricane Period to have ever come to auction, 22.6.63 and 24.10.63 both passed through the hands of the famous art dealer Samuel Kootz (1898-1982). Kootz was unique in the art market: an aesthete who urged American artists to create a new form of expressive abstract art, whilst his gallery became a testing ground for championing "exactly what I felt was the future of American painting" (Samuel Kootz, quoted in Archives of American Art, "Interview of Samuel M. Kootz conducted by John Morse," Smithsonian Institution, 2 March 1960). Only over 20 large canvas works that passed through the Kootz Gallery have come to auction, whilst the majority remain in private or museum collections. It is exceedingly rare to have two works bearing the same distinguished provenance of the Kootz Gallery come to market at the same time, and Phillips is thrilled to present 22.6.63 and 24.10.63 together at auction.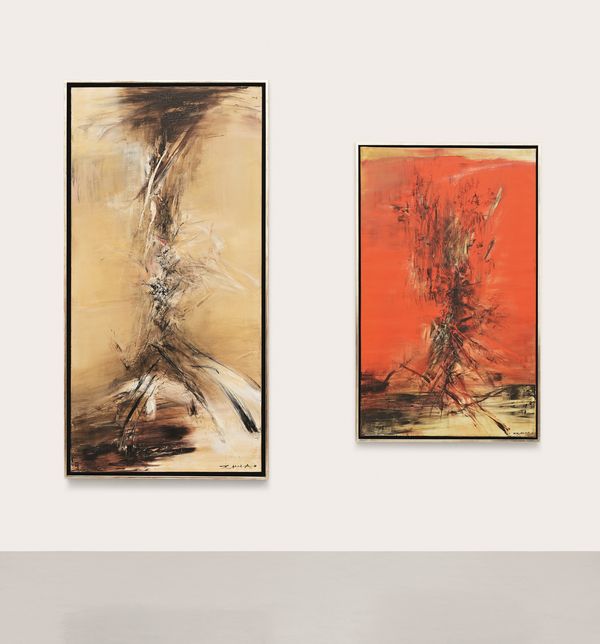 Left: Zao Wou-Ki 24.10.63, 1963. Right: Zao Wou-Ki 22.6.63, 1963.
The Eye of the Hurricane
The onset of Zao's Hurricane Period was precipitated by his travels around the globe in the 1950s. In 1957, already having received acclaim for his "oracle bone" series, Zao decided to leave Paris following the break‐up of his first marriage. He landed in New York in the fall of 1957 and joined there the French artist Pierre Soulages and his wife Colette with whom he journeyed westward for almost two years.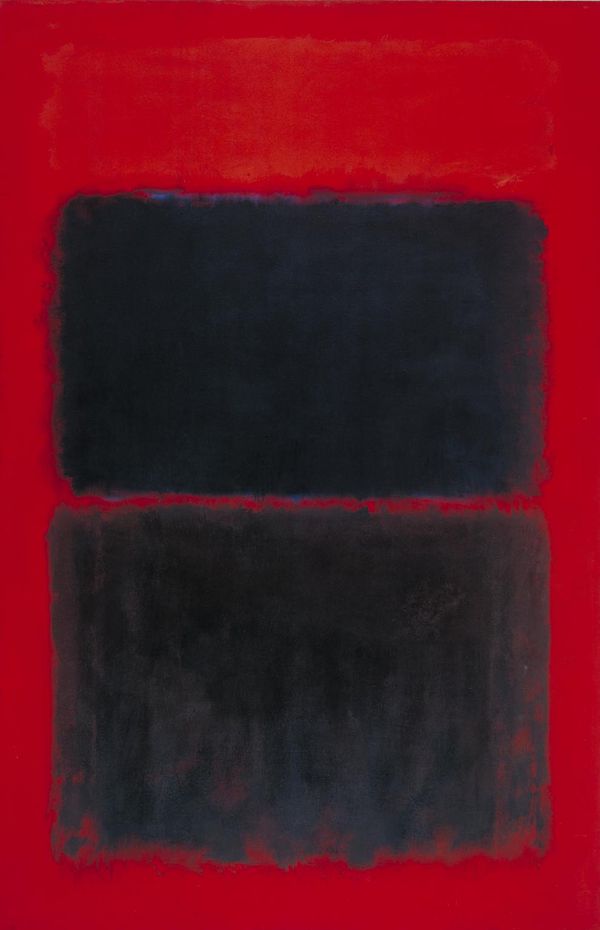 Mark Rothko Light Red Over Black, 1957.
Collection of Tate, London © 1998 Kate Rothko Prizel & Christopher Rothko / Artists Rights Society (ARS), New York
At the vernissage of a Soulages exhibition held at New York's renowned Kootz Gallery, Zao made the acquaintance of Philip Guston, Franz Kline, as well as Samuel Kootz himself. Zao found himself taken by the work of Rothko and Newman, whose work "burst with spontaneity, with violence and freshness" (Autoportrait, p. 112). He particularly admired the physical element of their gestures, with paint 'thrown' onto canvas in ways that completely defied the traditions of the past.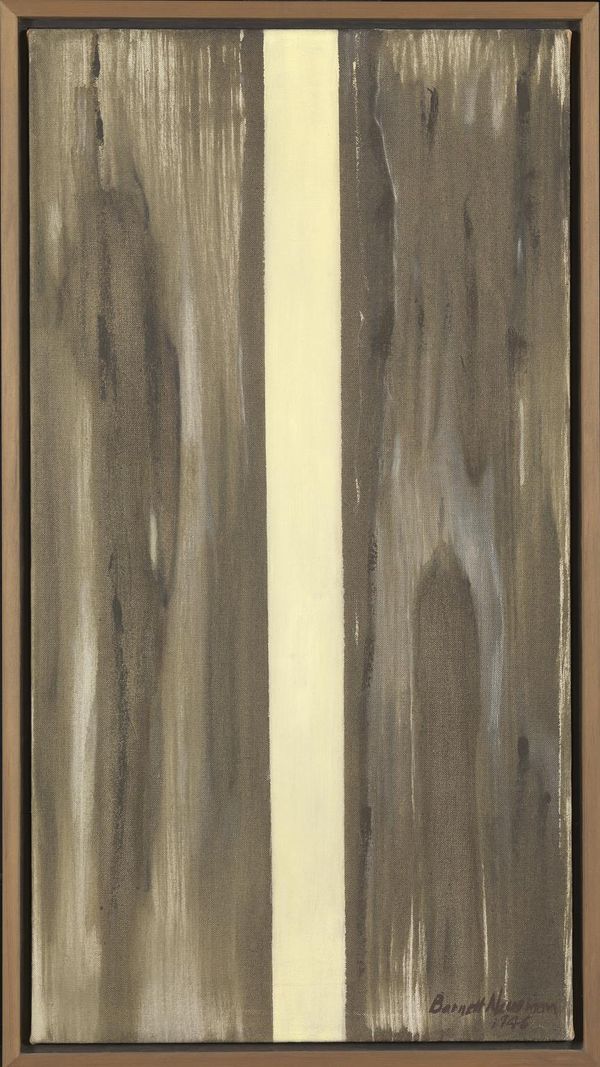 Barnett Newman Moment, 1946.
Collection of Tate, London © 2020 The Barnett Newman Foundation / Artists Rights Society (ARS), New York
Re-energized by his journey and the associated encounters, Zao recognized that he had reached the end of a cycle in his painting: "I wanted to paint the unseen, the breath of life, the wind, movement, the life of forms, the birth of colors and their fusion" (Autoportrait, p. 117). Seized by a "hunger for creation," he painted without stopping even at night (Autoportrait, p. 118).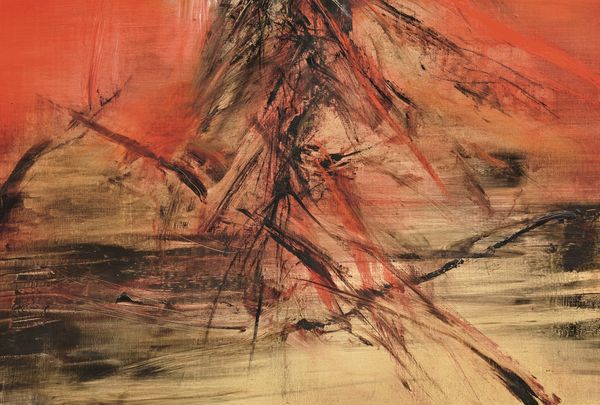 Zao Wou-Ki 22.6.63, 1963 (detail).
Referencing the wild, flowing style of cursive calligraphy that characterized Zao's works of this period, the Hurricane Period marked the culmination of Zao's formative training in traditional Chinese techniques and transition towards a grander and majestic style synthesizing Chinese and Western styles as well as ancient and modern elements. In a symbolic break with the past, and determined to eschew figuration going forward, Zao decided in 1958 that he would no longer give a title to his works, only marking them with their date of creation. 22.6.63 and 24.10.63, both executed within a few months of each other at the peak of the Hurricane Period, are prime examples of this new transcendental abstraction, the result of Zao's decisive break with his esoteric "oracle bone" style in favor of a more primal rendering of a search for the origins of the universe ‐ one beyond the constraints of form.
Why give a title? I only give the date. I am not a poet. Titles are restrictive. I don't want to guide the person looking at it.
Zao Wou-Ki quoted in Grard de Cortanze, Zao Wou-Ki, Paris, 1998
Zao Wou-Ki and Samuel Kootz
Zao signed a contract that stipulated that the Kootz Gallery would be Zao's exclusive agent in the United States and guaranteed the purchase of between fifteen to twenty oil paintings per year. With this new gallery contract, Kootz became an early promoter of these more expressive works and went on to stage solo exhibitions for Zao each year from 1959 to 1966. Furthermore, Kootz organized traveling exhibitions for Zao across the United States, helping Zao to expand his network of American collectors to include individuals such as Joseph Hirshhorn, Larry Aldrich, and Walter Beardsley, as well as major institutions including the Solomon R. Guggenheim in New York (who acquired a work in 1959) and the Art Institute of Chicago (who acquired a work in 1962).
The artist dies if he has nothing to say. If he has a continuity in his statement, call it by one label or another label, no movement is better than the individuals within it.
Samuel Kootz in conversation with Dorothy Seckler for the Archives of American Art, Smithsonian Institution in New York, 13 April 1964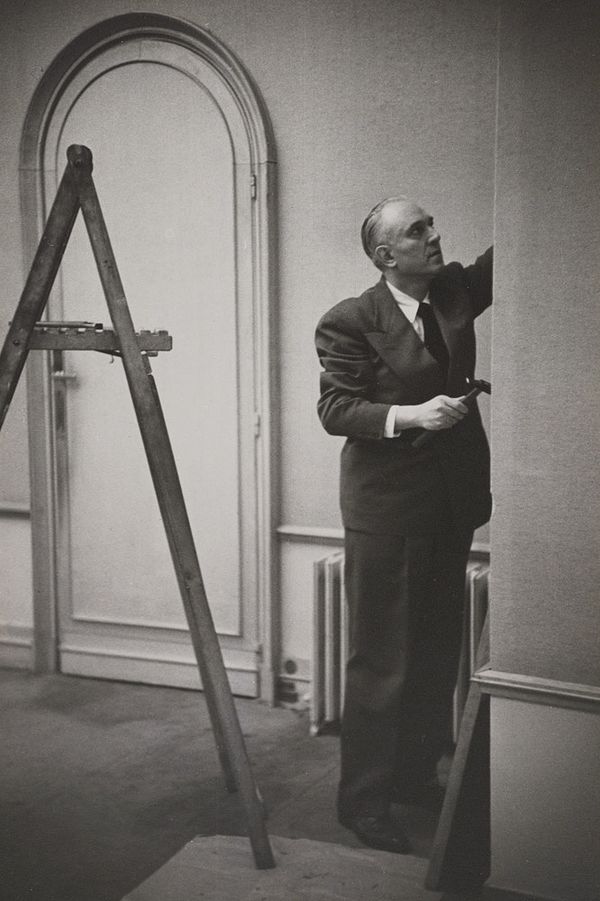 Samuel Kootz.
Kootz Gallery Records, 1923–1966. Archives Of American Art, Smithsonian Institution.
Kootz firmly believed that 'the modern painter is in constant search of a wall - some large expanse upon which he can employ his imagination and personal technique on a scale uninhibited by the average collector's limited space' (Samuel Kootz, quoted in Eric Lum, "Pollock's Promise: Toward an Abstract Expressionist Architecture," Assemblage, no. 39, August 1999, pp. 62-93, online), and in the 1950s he encouraged his artists to try a larger format, bringing together painters of large canvases, muralists and architects for exhibitions that redefined the relationship between the artist and audience. Zao too began to favor large-scaled works (in a French standard size 80 and above) after Kootz encouraged him to shift to bigger canvases so that he could explore the development of his Hurricane Period in an unrestrained manner. Furthermore, the gallerist served as an important sounding board to the artists in his roster, writing to Zao in the 1960s, ''I hesitate to ever ask one of my artists to paint specific colors, but I would be deeply appreciative when I come over at Christmas if you have some remarkably fine all-red paintings." (Samuel Kootz to Zao Wou-Ki, 1960s). With Koot's guidance and input, Zao reveled in his newfound freedom, no longer worrying about style and instead giving in to a pure pleasure of painting:
"The large canvases asked me to battle with space, I must absolutely fill this surface, to make it live and to give myself to it [...] To defeat the surface became my obsession, a challenge which posed numerous problems. Every day brought a new moment of struggle that gave me the possibility of measuring my strength and my requirement. I would know later that equilibrium is easier to realise in a large painting than a small [...] In this way, from a painting of feeling, I passed into a painting of space" (Autoportrait, pp. 137‐138).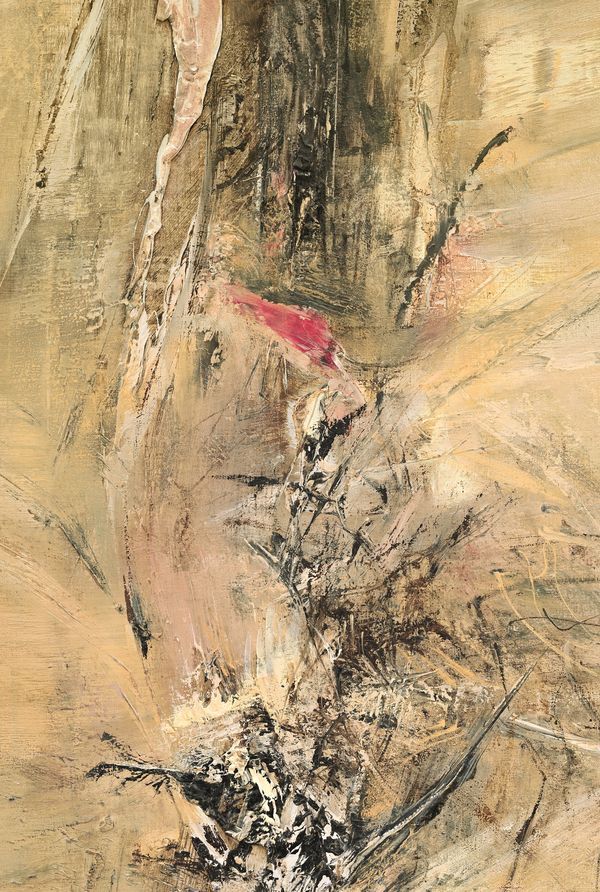 Zao Wou-Ki 24.10.63, 1963 (detail).
Verticality also became a new format in Zao's work, influenced in part by the skylight at his rue Jonquoy atelier in Paris, which cast vertical shafts of light upon his monumental canvases. It was also Zao's reaction to New York's dizzying skyscrapers and sounds, the city to which he returned each year of his collaboration with Kootz. Verticality was also a format explored by Kootz's other artists, including Robert Motherwell whose love of automatism converged with the possibilities of the format in his Beside the Sea series, the oil paint splashed onto the canvas with a force akin to the sea crashing on the shoreline in front of his studio.
Zao's blissful reverie came to an abrupt halt in 1960, when his beloved second wife Chan May‐Kan underwent a thyroid operation. May was a Hong Kong‐born actress of "extraordinary beauty" whom Zao fell in love with at their first meeting during his Hong Kong stopover in 1958 (Autoportrait, p. 113). Suffering from extremely delicate health all her life, for the next decade until her untimely death aged 41 in 1972, Zao was plunged into 'a veritable nightmare', describing this time as "ten years at full speed, the same at which I was driving a fast car" (Autoportrait, pp. 139, 142). Painting became his refuge, and his atelier "the only place of peace where I held onto hope like in the middle of a storm one grips onto a small boat inundated by water from all sides" (Autoportrait, p. 140).
The Hurricane Period paintings of the 1960s reflect this turmoil which had upended Zao's life, and a simultaneous yearning for peace. Zao's singular skill in composition is proven in both 22.6.63 and 24.10.63, where the solemn stillness ruptured by explosive lines that burst forth and fill the atmosphere, battling the elemental and chaotic. The brushwork is grand, proud and vigorous ‐ 22.6.63's inky‐black brushstrokes leaden against a crimson red background convey a thriving, pulsating latent energy beneath the surface of the canvas, whilst in 24.10.63 sparse flying brushstrokes in stark black and brown hues are contrasted with one defiant scarlet red smudge. A large horizontal band of deep black and the sandy‐colored exposed ground appears at the edges of each painting, creating a great impression of depth and a distant glimpse of peace beyond the tempest. The vertical format heightens the sense of compression, whilst interwoven oil pigmented splashes and strokes, full of visual agitation, add to the sense of strong energy and motion trapped within the monumental space. It would appear that the year 1963 was one of introspection and remembrance: in the same year, Zao creates 22.11.63 - Hommage à John F. Kennedy, an emotive homage to the American president.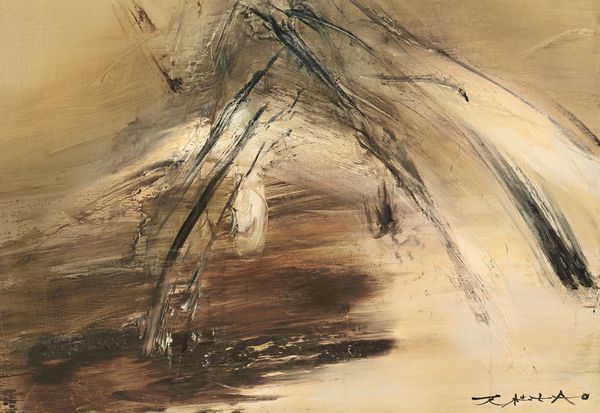 Zao Wou-Ki 24.10.63, 1963 (detail).
"Everybody is bound by a tradition; I am bound by two."
The duality of Zao's artistic senses is manifest in the rhythm of his intercultural and fundamental influences. Traversing classical Chinese traditions and Western abstract expressionism, Zao had succeeded in producing abstract paintings that lingered in the world of landscape but hinted at the celestial realm, bridging his life experience with a meditation upon the nature of existence itself. In a 1962 article published in the magazine Preuves Zao declared: "Everybody is bound by a tradition; I am bound by two."
At the heart of the Hurricane Period was the pinnacle of an exceptional artist's rediscovery of his Chinese roots and unique journey through the Western artistic world, as well as a twist of fate which brought one man's exhilarating personal experience of encountering everything afresh as a stranger in a foreign land to an abrupt standstill whilst he battled the emotional turmoil of tragedy. The confluence of these circumstances gave birth to what is commonly regarded as the finest body of works of one of the few painters to have achieved recognition both in the East and West, and the dawn of a new era of Chinese modernism.
The American Connection & The Collection of Walter Beardsley
When the Kootz Gallery closed in 1966, it ended Zao's contract with them and marked a turning point in the artist's relationship with the American market. He did not have representation in New York until 1979 when he signed with the Pierre Matisse Gallery after the New York dealer Pierre Matisse visited Zao's studio in Paris.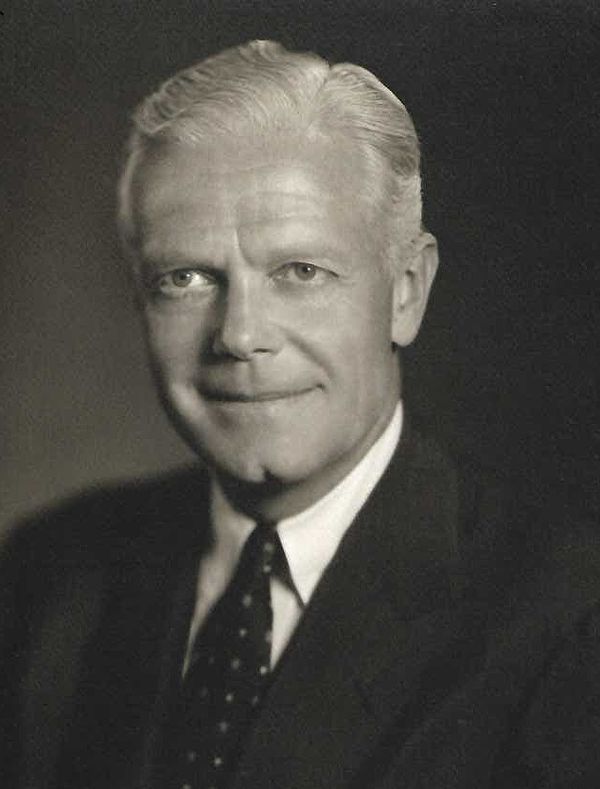 Walter R. Beardsley.
Walter Beardsley was an avid art collector who amassed a world-class collection of modern art, including masterpieces such as Rodin's Fallen Caryatid and Zao Wou-Ki's 22.6.63 and 24.10.63. Beardsley was a connoisseur of art whose key criterion of selection was "I collect what I like." Over several decades he assembled a bold, discerning collection that showed off a keen understanding and love of art and its histories. When invited to exhibit his collection at the University of Notre Dame Art Gallery (now the Snite Museum of Art) in 1967, works by artists such as Georgia O'Keeffe, Marc Chagall and Max Ernst were represented equally alongside artists of diverse cultural backgrounds and artistic movements such as Rufino Tamayo, Jean Jansem and Arthur Okamura. Throughout his lifetime Walter Beardsley donated many of his artworks to the Snite Museum of Art, including O'Keeffe's painting Blue I (1958) and Tamayo's Man and His Guitar (1959), which renamed one of its galleries the "Walter R. Beardsley Gallery of 20th- and 21st-Century Art" in his honor.
The example of Walter Beardsley is not an isolated one and from early on, Zao has been collected by the most prominent and visionary American collectors. As a result of their generous support of the American cultural institutions, Zao's works have been gifted over the years to some of the most prestigious museums across the country.