Salvador Dalí Currier & Ives: five plates, 1971. Estimate: $6,000-8,000.
Editions Modern Online Auction, 5-15 June.
Contemporary and radical in their own time, artists born around the beginning of the 20th century have become icons of modernism, while their styles have disseminated to become instantly recognizable. Throughout the 20th century, these artists were making confident and mature art of their most iconic imagery alongside a younger generation of Post-War artists working in new styles. Their art, and here, their original printmaking, carries the bittersweet patina of elaborate histories and personal storytelling.
Travel back in time with a few works that caught our specialists' attention in the Editions Modern online auction, each work serving as a snapshot of a moment in art history.
Paul Steffens, Editions Property Manager, New York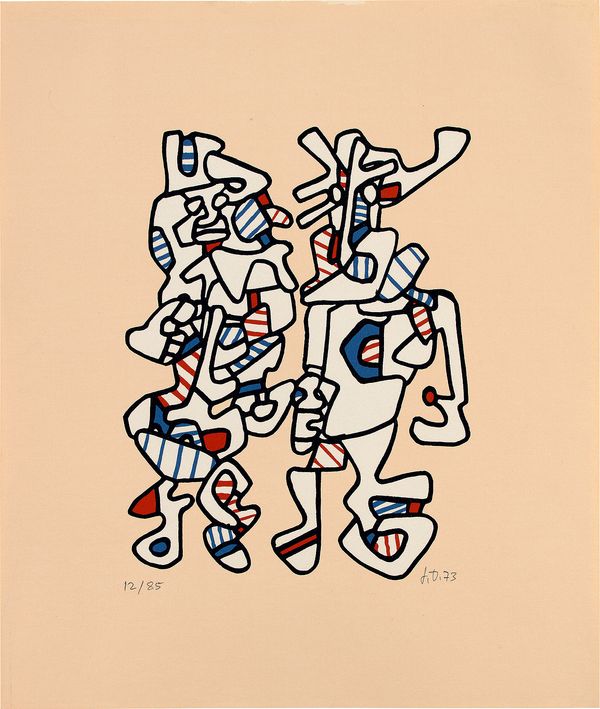 Lot 46: Jean Dubuffet Parade nuptiale (Courtship), 1973. Estimate: $3,000-5,000.
This intimate screenprint features Dubuffet's pared-down, two-dimensional style, with a palette limited to just three colors. When he coined the term Art Brut, Dubuffet opened a Pandora's box that welcomed visionaries, outsiders, the self-taught, yard artists and other marginalized makers. His vision expanded the field and challenged the very definition of fine art.
Kelly Troester, Director of Modern Editions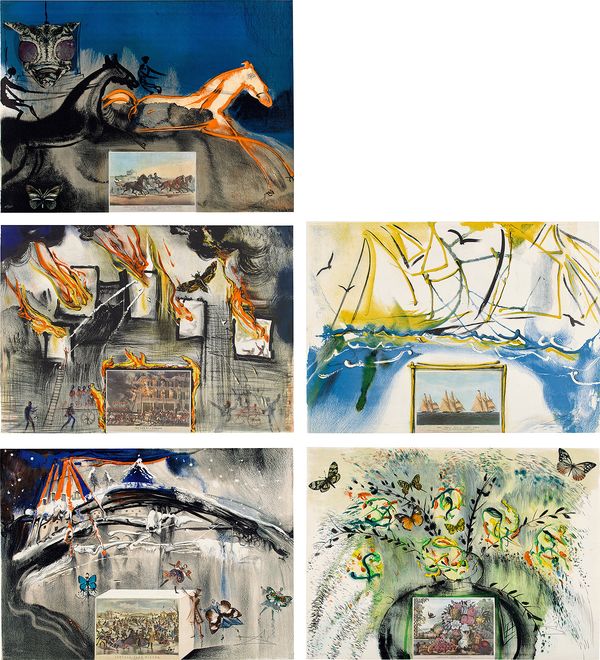 Lot 8: Salvador Dalí Currier & Ives: five plates, 1971. Estimate: $6,000-8,000.
Salvador Dalí's riff on Americana looked back to the 19th century, finding delight in the imagery created by the iconic New York publishing company, Currier & Ives, whose team of artists, lithographers and colorists created over 7500 original prints from 1834-1895.
In the early 1970s, the Surrealist maestro re-envisioned a few of their images, such as our nation's first outdoor ice skating rink in Central Park, Winter, New York (1860); a horse racing scene from a famous 1855 trotting race at Union Course on Long Island, New York; an Atlantic ocean yacht race four miles out from Sandy Hook, New Jersey; and a picture-perfect Hudson River setting behind a lush, summery bouquet of flowers, berries, a hummingbird and trumpet vine.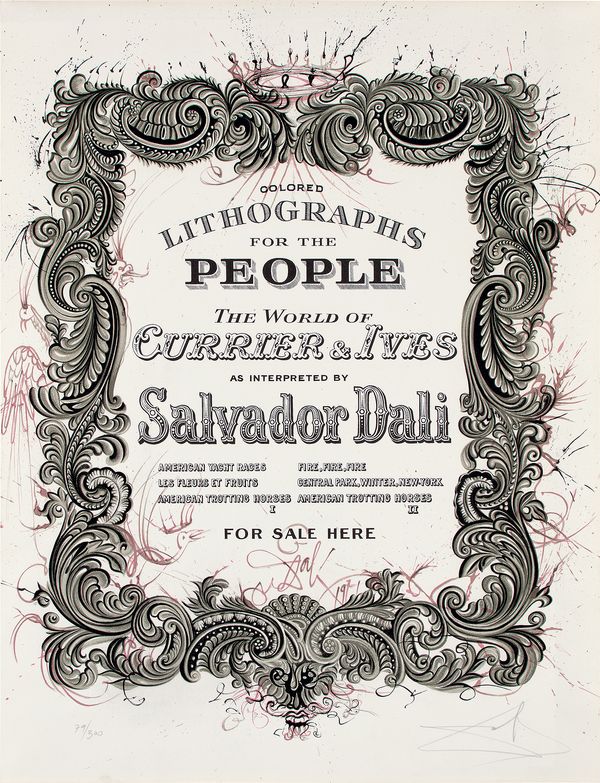 Lot 8: Salvador Dalí Currier & Ives: five plates, 1971 (title page). Estimate: $6,000-8,000.
His homages are drawn in loose movements of color, lots of butterflies and whimsical 'framing' around collaged postcards of the original Currier images. The fonts and wording on the elaborate title page remind me of Walt Disney and Mutual of Omaha's Wild Kingdom Sunday television shows of my youth.
Dalí came to New York for three months each year from the mid-1960s through the early '70s, turning the St. Regis hotel into his studio and began publishing prints with Sidney Z. Lucas, his first exclusive American publisher. Sidney's wife, Phyllis, opened The Old Print Center Phyllis Lucas gallery in the 1950s on 52nd and 2nd Avenue, developing a close relationship with Dalí after Sidney died in 1966. They collaborated on 31 different editions also including Lot 7, The Persistence of Memory, from Changes in Great Masterpieces, 1974.
Sarah Browne, Associate Specialist, New York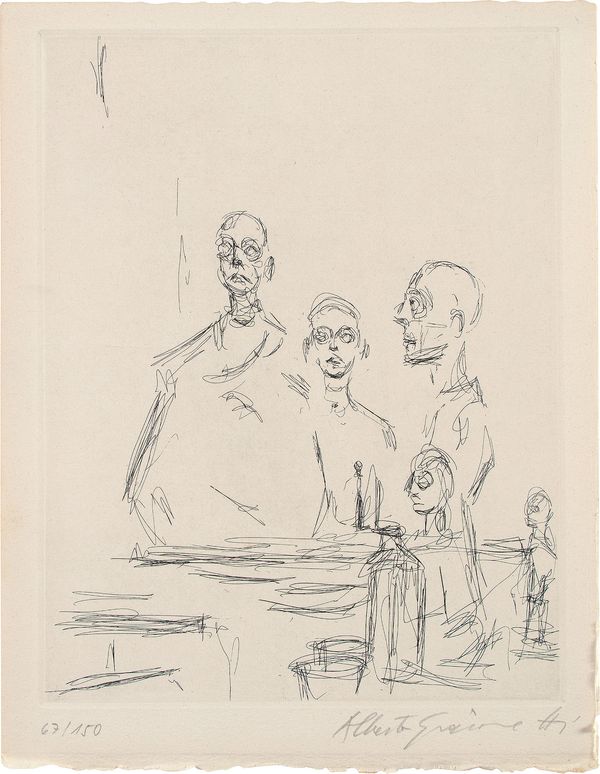 Lot 45: Alberto Giacometti Sculptures dans l'atelier, 1964. Estimate: $3,000-5,000.
Sculpture dans l'atelier allows us to step inside Giacometti's studio and look through the eyes of the master himself. His concentrated, etched lines move the viewer around a space in flux. A Giacometti line is never fully at rest; it lives in nature, memory and imagination; it builds, and it evolves. Giacometti spent his career refining his line as a means to capture the essence of form.
Ana Ziegler, Sale Coordinator, New York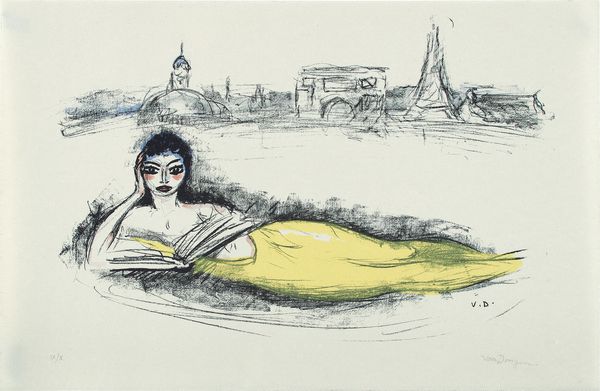 Lot 60: Kees van Dongen De Seine (The River Seine), 1962. Estimate: $1,000-1,500.
Considered a key figure in the Fauvist movement of the early twentieth century, who later joined the German artistic group Die Brücke, Dutch-French artist Kees van Dongen is known for his modernized genre paintings featuring women of high society with almond shaped eyes in sensuous settings.
The present lot, De Seine, from Regards sur Paris, 1960, depicts a woman in van Dongen's style, dreaming of Paris above her. When considering this piece within the present context of quarantine, many have become well acquainted with their chaise-lounge and day-dreaming of far-off places beyond four walls. De Seine, mirrors this sentiment, reminding us of the travels that await beyond these troubling times. So put on your best yellow dress, and look out through your own eyes…
Alannah Bulger, Intern, New York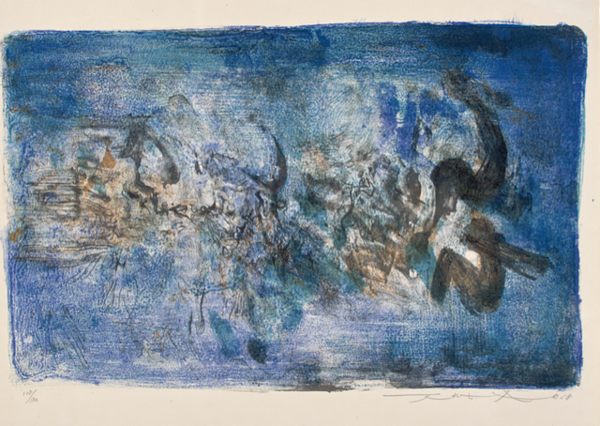 Lot 62: Zao Wou-Ki Untitled, 1958. Estimate: $4,000-6,000.
Zao ​Wou-Ki's untitled print from 1958 reflects two forces of nature that have always energized me: the sea and starry sky. His captivatingly layered abstraction of muted blues and greens draws us into his brilliant work and allows each viewer to individually interpret his print. To me, the coarsely inked blues are a nod to the unpredictability of our oceans and cosmos, caked together with layers of fluid "brushstrokes" that offer a sense of motion intrinsic to these parts of our universe. Wou-Ki was most inspired to create abstractions about these terrestrial domains. He challenges us to use our imaginations and draw our own conclusions about what lies beyond.
Audrey Bastian, Associate Researcher, New York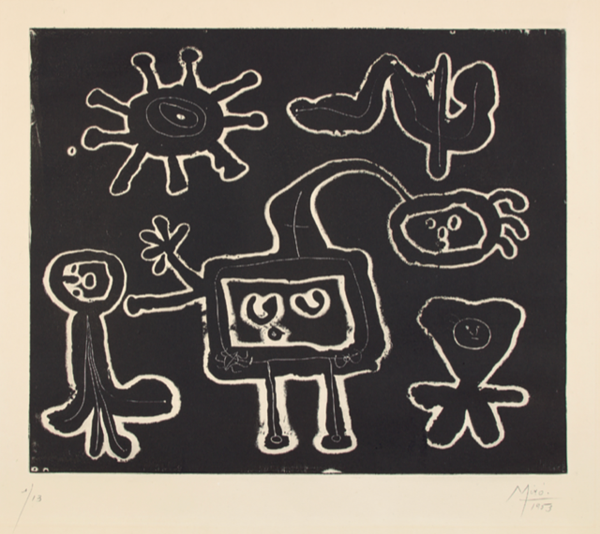 Lot 15: Joan Miró Série I, 1953. Estimate: $2,500-3,500.
Printed in relief, Joan Miró presumably got the idea for the printing of this plate, Série I (lot 15), from William Blake who innovated a similar printing technique he coined 'Illuminated Printing.' This process involved printing etchings in relief, as opposed to the traditional intaglio approach. Inherent to the method of relief printing, Miró created richly inked surface areas punctuated by his signature calligraphic line. There is something so wonderfully printerly about the result. Lines are fuzzy and edges imperfect as ink meets paper, seeping into its delicate fibers.
Miró engraved the plate for Série I in 1947 at Stanley William Hayter's avant-garde Atelier 17 in New York. It was most likely Hayter who introduced Miró to this more experimental approach in printmaking. Miró ultimately printed and published Série I later in Paris in varied editions of 13 each. I love this approach to making multiples, and for me this print embodies that same unconventional attitude.
Robert Kennan, Head of Editions, Europe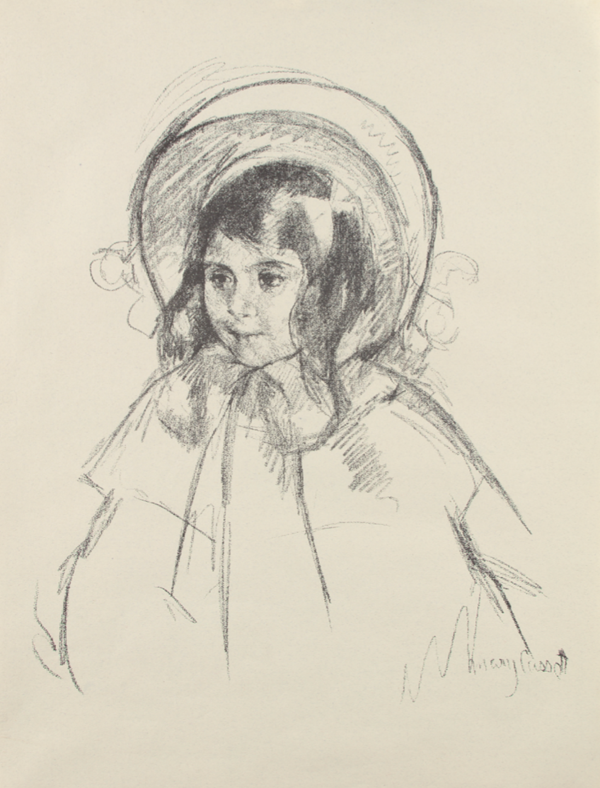 Lot 59: Mary Cassatt Sara Wearing her Bonnet and Coat, c. 1904. Estimate: $1,500-2,500.
Sara Wearing her Bonnet and Coat was Cassatt's second and last lithograph. It was produced using the transfer method, a technique that was finally perfected by her fellow American, Joseph Pennell in 1893. After extensive travel and study in Europe, she finally settled in Paris by 1874 and three years later, invited by Edgar Degas, she joined the Impressionists, as one of only three women and the only American. Encouraged by Degas, she made over 200 prints, mainly etchings, a highlight of which were a series of drypoints and aquatints inspired by Japanese woodcuts made in 1890/91, they are some of the most beautiful in the history of printmaking. The market for her prints has declined over the last two decades; look back at the records and you will see examples of Sara routinely selling for $15,000 plus. Here we've taken off a zero. Could there be a better time to add such perfectly representative work to your collection, by a ground-breaking female artist? The price drop is purely down to fashion, her place in art history is secure. Be brave and bid on this one, it's a dead cert.